Emirates A380 Business Class

Our New Year trip for 2020 ran from late January 2020 to mid-March 2020 and involved 8 nights in Dubai and 43 nights in Phuket. We spent 3 nights in Dubai outward bounds, and 5 nights in Dubai on our return flight.

So our trip included a trip from Heathrow to Dubai (and back) on an Emirates A380 in business class. The second part of our trip Dubai to Phuket was on a Boeing 777, which we report on separately.


Who are Emirates?

In 2019 Emirates claimed to be the world's largest international airline, carrying nearly 58 million passengers to 159 destinations. They operated about 186,000 flights in 2019, that's over 3,500 flights per week. That represents flying more than 885 million kilometres, and servicing 63 million meals. In the minds of many passengers the most memorable feature of Emirates flights is ICE, an award-winning in-flight entertainment system with over 4,500 channels.


What people don't realise that in 1985 Emirates was an operator leasing just two jets from Pakistan International Airlines.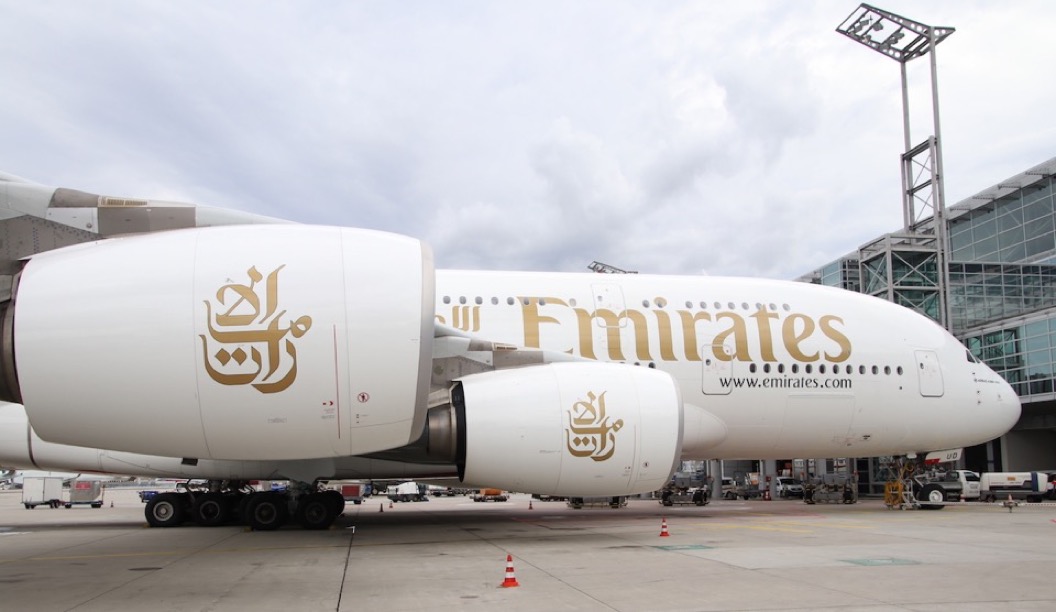 Emirates and the A380

As of early February 2020
Emirates is operating 115 A380's
and has another 8 pending delivery. On the same webpage they mention, amongst other things, that an A380 has 4 million parts. Frankly, I'm not sure that a first-time flyer will want to know that interesting fact. As I read somewhere else, I suspect that more than half of those 4 million parts are rivets.

Emirates received their
first Airbus A380-800
in July 2008, but
Singapore Airlines
were the first to fly the A380-800.

In February 2019 Airbus announced that it would stop production of the A380 at the end of 2021. They still had 17 more to deliver, 14 to Emirates and 3 to
All Nippon Airways
(ANA). In the minds of most experts the A380, despite being embraced by Emirates, was an economic flop.


It was in the 1960's that jet travel took off, and there was a call for larger capacity aircraft. The European market was fragmented, with each nation having its own aircraft industry. The result was a short product life before the local market was saturated. It was difficult to see how these national companies could recoup the development costs for a completely new aircraft design. The fear was that the market would be dominated by US manufacturers. There was a market for a 200 seat aircraft, but trying to stretch existing models meant that the production cost would be at least 20% higher than in the US. A European collaboration was the only way forward, and it started in 1967 with a meeting between France, UK, and Germany. This would be a second collaboration, after Concorde.
The project would be for the A300, and the team from France, UK, Germany, The Netherlands, and Spain would work in English, and use imperial measurements. As a new aircraft designed from bottom-up, the designers included the use of reinforced fibreglass for wing leading and trailing edges, an advanced autopilot, electrically controlled braking, and the ability to control the centre of gravity by pumping fuel to different parts of the aircraft. On top of that the cockpit was completely redesigned to remove the need for a flight engineer. And finally the A300 would be powered by two underwing
turbofan
jet engines. The idea was the underwing engine pods could accommodate engines from
Rolls Royce
,
Pratt & Whitney
, and even
General Electric.

Initially the A300 had a hard time convincing the market, but
ETOPS
(Extended-Range Twin-Engine Operational Performance Standards) came to the rescue. This allowed twin-engine jets to fly over water, and the A300 was rapidly certified to fly further from an available airfield than any other twin-jet aircraft, thus opening up a whole new market for over water medium haul flights.
The A380 had significantly lower per passenger operating costs that the Boeing 747, but it was introduced at more or less the same time as the
Boeing 777-300ER
(2004),
Boeing 787 'Dreamliner'
(2007) and only a few years earlier than the
Airbus A350
(2013). These are also long-haul aircraft, and they are even more fuel efficient (even if they carry fewer passengers).
Some experts say that the demand for the A380 was never well established, others say that it was an aircraft 'before it's time', and perhaps we will need an aircraft like the A380 in 10 years time when airports get even more congested.
Initial projections for the A380 was to sell more than 1,000, but they only delivered 250. It is said that the A380 cost $17-25 billion to develop, and production barely broke even. So Airbus lost money on the A380. However, the A380 paved the way for the A350 (with 900 sales so far), and it established Airbus's credibility as a valid world-wide competitor to Boeing (in particular in the long-haul market).
Singapore Airlines has already mothballed two A380's for spare parts, and in September 2019 Emirates announced that after only 12 years of service they will also start to cannibalise their older planes for spare parts. As owners of nearly half of all A380's this decision by Emirates was the final death blow. They will still fly the A380 unit 2035, but they are the only company that has been able to fly the A380 profitably. It has been said, but never confirmed, that Emirates receives a fuel subsidy, yet fuel costs have increased by 56% since 2016 and now make up 32% of Emirates' operating costs. Emirates profit margins have dropped from 8.4% to 0.9% over the same period. The A380 burns 17% less fuel per passenger than a Boeing 747 but Emirates fills only 76.8% of their seats, and this makes the A380 the world's most expensive commercial aircraft to operate.
The reality is that most of Emirates' A380's are leased, so provided they obtain the service they planned on, they don't have any write-downs. The A380 second-hand market does not exist, but once the lease expires Emirates don't really care what happens to them.
It would be wrong to paint an overly negative picture of the A380. ANA will operate it's three new A380's on Tokyo-Honolulu and will include lie-flat beds for some economy passengers and there will be first class suites with doors. Singapore Airlines has introduced double bed rooms, and also in business class they have joining seats can be turned into double beds.
Quantas
has introduced business class suites. On the other hand
Malaysia Airlines
is looking to replace it's six A380's with the A350, but then to convert some of A380's for
Hajj
and
Umrah
charters. Finally, reading through the different passenger reviews, we should never forget that customers love the A380.

There are a multitude of articles explaining how the failure of the A380 was obvious from the outset, e.g. check our "
Why did the Airbus A380 fail?
".

Video Reviews of the Airbus A380

This webpage is dedicated to our trip Heathrow to Dubai (and back) on an A380. There are a multitude of written reviews on the different seating options in a A380, but more interestingly there are also some video reviews. Let's kick-off with a review of
Emirates A380 business class
(including their 'bar experience'), and then we have
Emirates A380 business class
(including the chauffeur pick-up and drop-off and airport lounge). For comparison have a look at
Emirates A380 economy class
(including Heathrow check-in), and
Emirates first class
(also including Heathrow check-in).

Here is a rather unique video, a so-called 'air to air' view of a flying
Emirates A380-800
, and here is an even rarer
race between two Emirates A380's
.

For a quick view we have "
How it's Made?
", but to really understand the A380 check out "Airbus A380 Construction and Documentary"
part 1
,
part 2
,
part 3
,
part 4
,
part 5
,
part 6
,
part 7
,
part 8
,
part 9
, and
part 10
.


Pilot an Airbus A380

As an interesting addition to the passenger viewpoints expressed above, what about the view of the pilot? We will start with a
A380 Takeoff from Heathrow
and a
A380 Landing in Johannesburg
. Then we have the
BA - Take a Tour of Our A380
, and there are "Ten things you didn't know about the Airbus A380" (
part 1
,
part 2
).
Now we can have a look at the
Airbus A380 engine run-up and pre-taxi checks as seen from outside
, and here is a great
A 380 preparation for take-off with cockpit view
. What comes up, must come down, and here is an excellent 30 minute
cockpit video of a A380 landing in Heathrow
and here we have an
Emirates A380 landing in Dubai
.
This video is of the
Emirates college and academy crew training centre
, and here we have the
Emirates Airbus A380-800 simulator
.
We conclude this section with an
A380 C Check
, a
full maintenance routine
made every 20-24 months.


Our Aeroplane

Let's move now to our actual trip.

A quick scan tells us that Emirates flies to Dubai from several different UK airports, namely Heathrow, Gatwick, Manchester, Birmingham, Newcastle and Glasgow, and there are usually 7 non-stop flights a day from Heathrow to Dubai, 6 with Emirates and 2 with British Airways (BA). Emirates alway flies the
A388
(which is the code for the model Airbus A380-800), whereas BA flies a variety of aircraft. I've seen BA fly both the
Boeing 777
with models 777 and 777-200 (code 772) and the
Airbus A350
with the models A350 XWB (code A35X), A350-1000 (code 351), and A350-900 (code 359). The different codes represent different versions of the original design, e.g. the
Boeing 777-200
was a design for United Airways, whereas the
A350-1000
is the largest variant of the A350.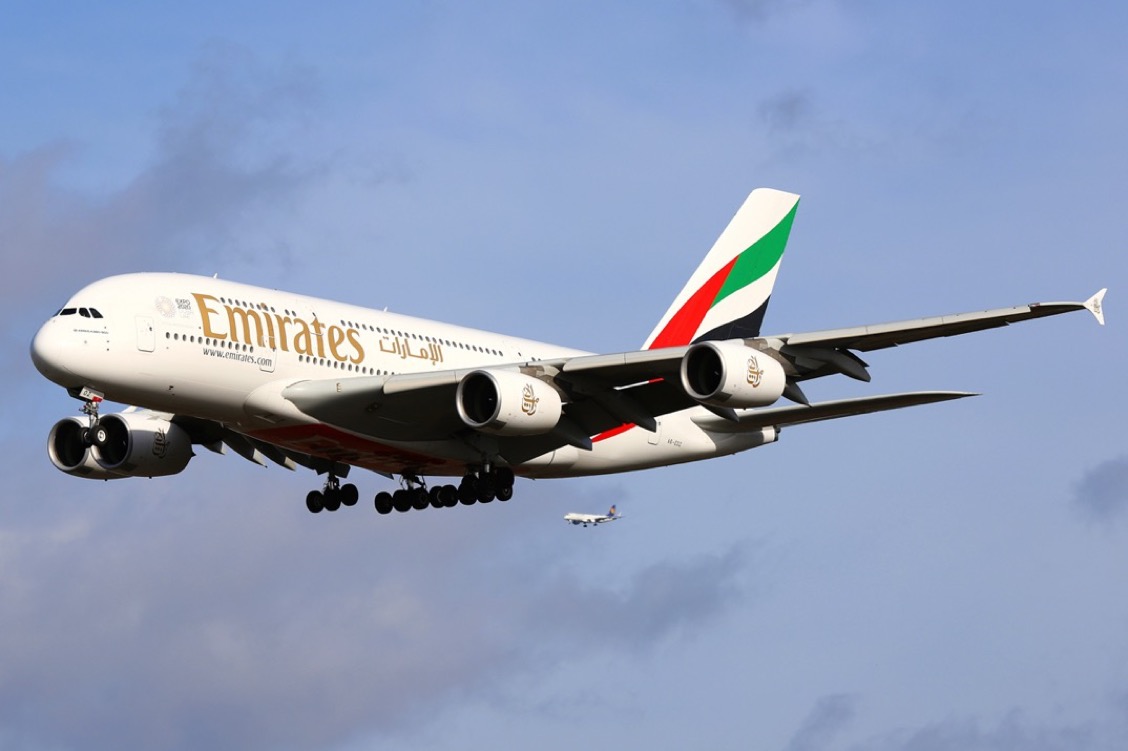 On the day our flight EK004 was serviced by an A380-861 (A388) registered A6-EOZ (serial number 210). This aircraft was delivered in January 2016, so it was exactly 4 years old, and it was still decorated with the 'classical' Emirates brand, not that we could see it in the dark. The aircraft had not made a registered flight for the three days preceding our departure data. It had flown in from Dubai in the morning, arriving in Heathrow at 18:20 local time. Our flight left from Gate 5 at 20:23 (3 minutes late) and landed in Dubai (Gate B21) at 07:28 local time (8 minutes late), for a flight time of 7:05 hours. On average this particular aircraft flies around 260,000 km/month, with an average of just over 5,000 km/flight (so around 51 flights/month). The following day it would fly Dubai-Johannesburg-Dubai.

I'm told that the official total flight time is from when the parking brake is released at the departure gate, until it is again put on at the arrival gate.

The photograph is our aircraft landing in Frankfurt on 21 February 2020, and there is also a video of our aircraft landing on the 1 January 2020 in Manchester.

We can see below that the route taken by our A6-EOZ. It usually involves flying over Twickenham and flying straight down to the coast past Canterbury. The flightpath just touches France near Dunkirk, before continuing directly to Brussels and Liege, before passing by Frankfurt. It can continue across Vienna in Austria, or avoid Austria by passing over the Czech Republic before turning to fly over Budapest. Then it's over Bucharest, and over Turkey, but avoiding Syria. The last leg involves flying either over Iraq (Baghdad and Basrah) or Iran (skirting a large part of Turkey and passing near Tabriz and Shiraz) before entering the Persian Gulf and landing in Dubai. From one day to another the preferred routes can change. The differences are minimal, around 25km and maybe 10 minutes.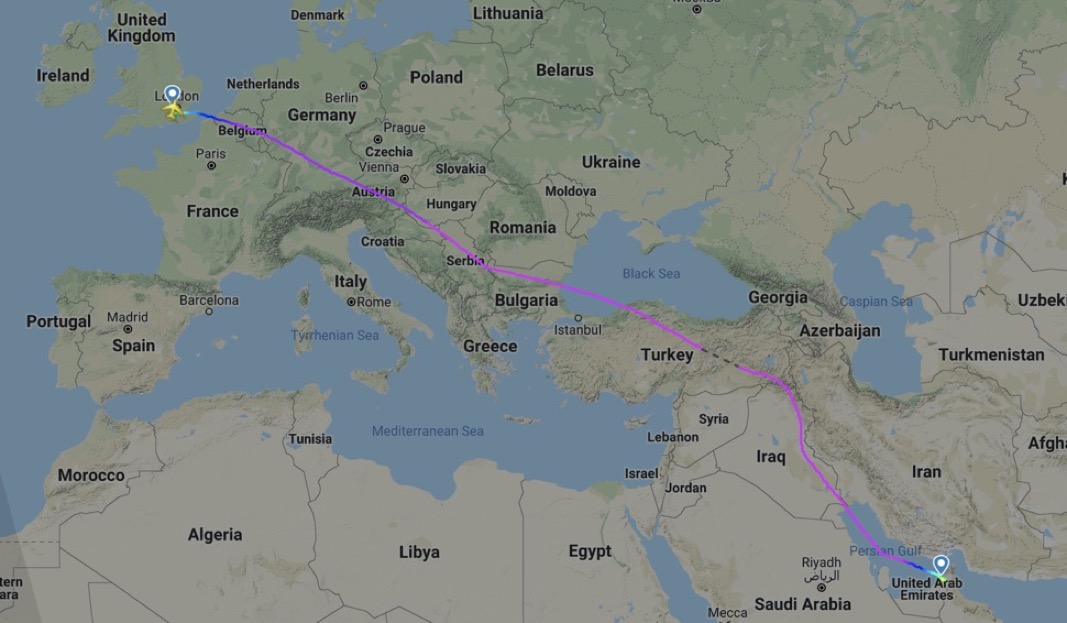 Associated with each aircraft there is also a seat configuration code, for our's it was F14C76Y429 (you can often see this expressed also as 14F/76J/429Y). That means 14 first class, 76 business class and the last 3 digits actually represent different physical configurations of economy seats. In fact Y399 and Y427 were the original configurations, Y399 with the 'cabin crew rest compartment' (CCRC) on the main deck and Y427 with no CCRC. Now Y401 and Y429 are the same two configuration respectively, but where two extra seats have been added at 80A/K. There is also a Y426 configuration where the crew rest area has been moved into the cargo hold and some toilets have been moved and the galley space changed around. All this might appear to be unimportant, but the CCRC on the main deck actually occupied an area of 28 seats. Also from the code we can deduce that our particular A380-800 did not have a CCRC, and thus was destined for the Europe and Middle East market (i.e. not really long-haul).
There are other features that also characterise one aircraft from another in terms of their internal configuration. Our aircraft A6-EOZ has also be 'defined' as "Non-ULR flat-beds, Weber seats in Y, ICE digital widescreen", but what does that mean? Clearly, 'non-ULR' is to differentiate the flat-beds from those found on ULR flights. URL means 'ultra-long-haul', or aircraft modified to fly long distances, e.g. the A350-900URL carries an additional 24,000 litres of fuel and has a range of nearly 18,000 kilometres. This means that it can fly 20-hours non-stop, thus making non-stop Singapore-New York flights possible (and Singapore-Los Angeles and Singapore-San Francisco). Previous options for Singapore Airlines had simply proved uneconomical in the past. Singapore did not changed their seat designs, but have reduced the payload to 67 business class seats and only 94 premium economy seats. What they have done is use a 1-2-1 configuration for business and 2-4-2 for premium economy, with everyone also getting a lot more leg room. Boeing has also a ULR offering with a new Boeing 777-8 that can carry 384 passengers just over 16,000 kilometres. Frankly I spent a lot of time trying to identify the difference between an Emirates non-ULR flat-bed and their ULR flat-bed, but I couldn't find anything.
Concerning 'Weber seats in Y', they are a US-based manufacturer of aircraft seating, and are owned by the French company Safran. The 'Y' refers to economy class.
The 'ICE digital widescreen' refers to the screen used for the in-flight entertainment system. There are in fact three different ICE screens, the original ICE (1st generation), the ICE digital widescreen (2nd generation) and a new ICE System (3rd generation). The different systems are often characterised by the size of the screen, but they also involved updates in the number of channels on offer, etc.

You can pick up a lot of information using flightradar24, and RadarBox and ADS-B Exchange also process flight data. And then there are planespotters, PlaneMapper, FlightAware, FlightStats, FlightMemory, and flightera.net. And euclaim provides some free information on arrivals and departures in Europe.


Boarding our A380

Now that we have looked at Emirates and their A380's, and run through a collection of optional video's on what is a fantastic aircraft, we can now board.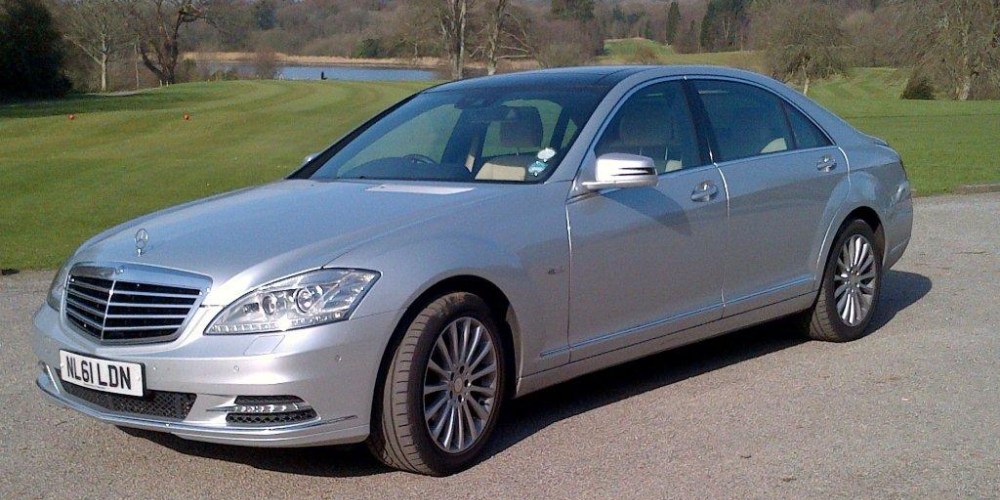 We had been picked up from our hotel by a chauffeur as part of the Emirates business package, and they dropped us off at Heathrow Terminal 3. We have described elsewhere our fast track through check-in, UK Boarder control, and our arrival in the Emirates business lounge. This is a great video describing the Emirates check-in and business lounge.


Boarding

In Heathrow boarding was so easy. The business class gate is directly in the Emirates business class lounge. And there is a sky-bridge that takes you directly to the upper deck of the A380. I must admit there is just
a little tingle of appreciation and anticipation
when you see the hostesses waiting for you in their elegant and stylish uniforms.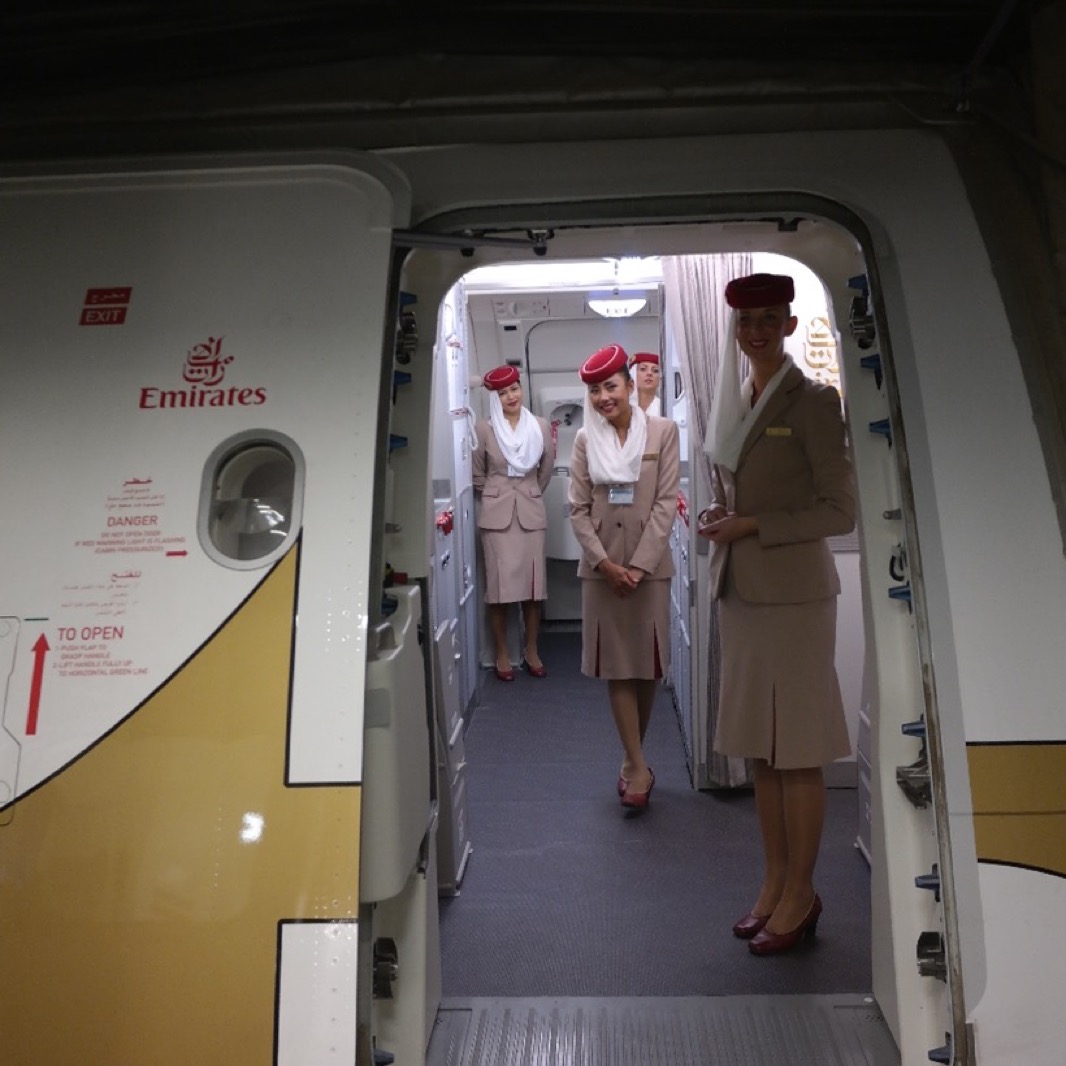 The below photograph is perhaps one of the most evocative, in that we can see the true size of the A380 as compare to a Boeing 737. As we walk through the sky-bridge and onto the upper deck we don't really fully appreciate the size of the beast.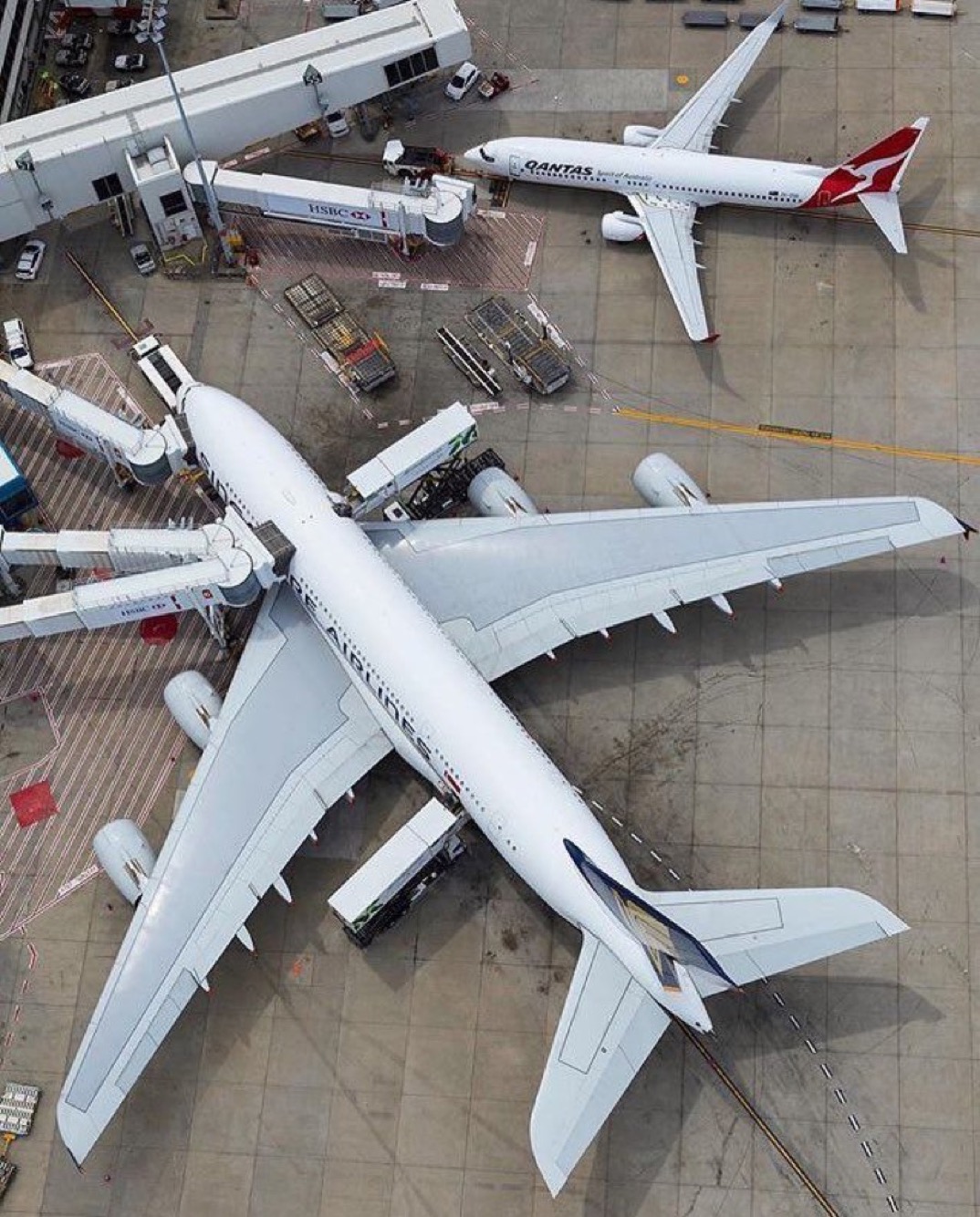 And now a little test. Which of the two photographs below do you prefer?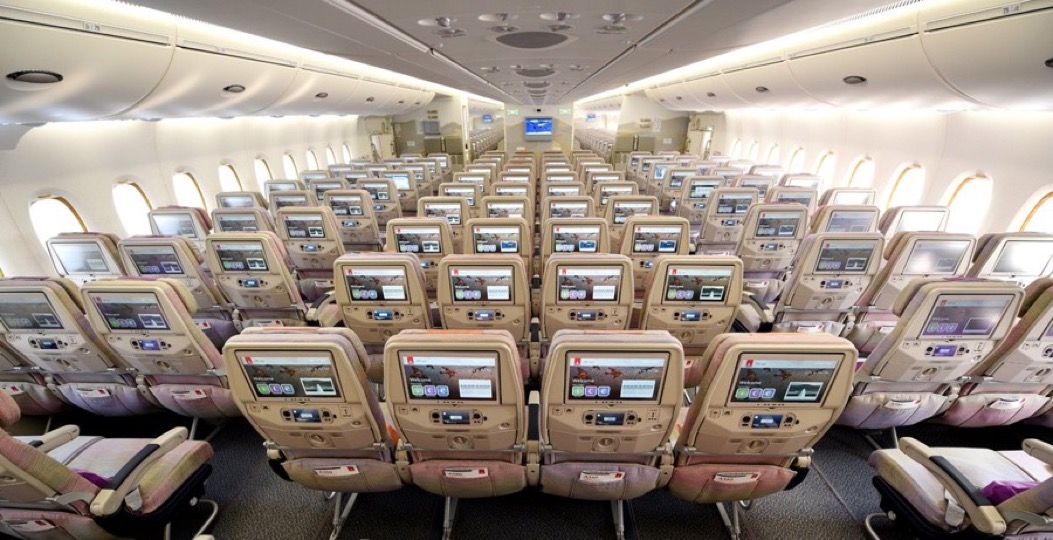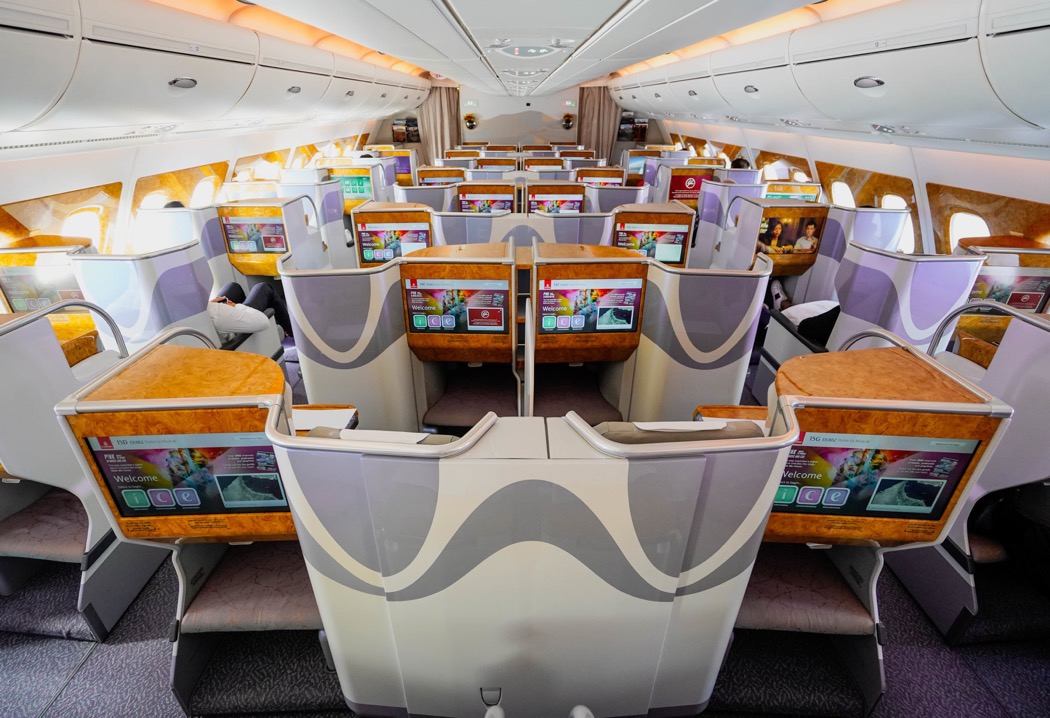 We entered the A380 on a separate sky-bridge and the entire upper deck is business and first class (this was a 3-class flight). Frankly, we did not even imaging that there was an economy floor below us.

Below we can see the 1-2-1 staggered seating in the business class on the upper deck. Flying to Dubai we were in seats 16E/F, and flying back to Heathrow we were in seats 18E/F.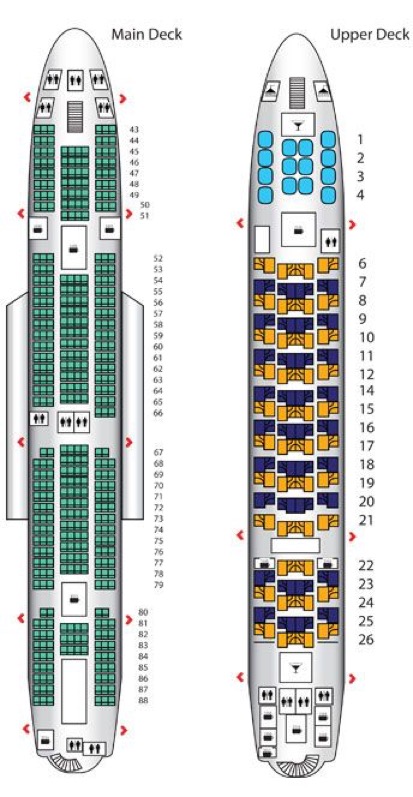 There are three different seating arrangements on the A380-800. There are two versions of the 3-class A380 but as far as I can see the differences are only in the economy class on the lower deck. The 2-class version of the A380 has 58 business class seats on the upper deck and another 557 economy seats spread over the two decks.
If by any chance you decide to fly on an A380 it's a good idea to read through the reviews to know which seats are best and which to avoid. Just as an example, on the 3-class A380 in economy passengers with children are often seated in row 43, whereas rows 45, 54, 67 and 80 have more leg room. Rows 50 and 51 are near the galley and can be noisy. Row 52 is often reserved for passengers with babies. Row 65 is near the toilets. The best seats in economy are said to be 68A and 68K.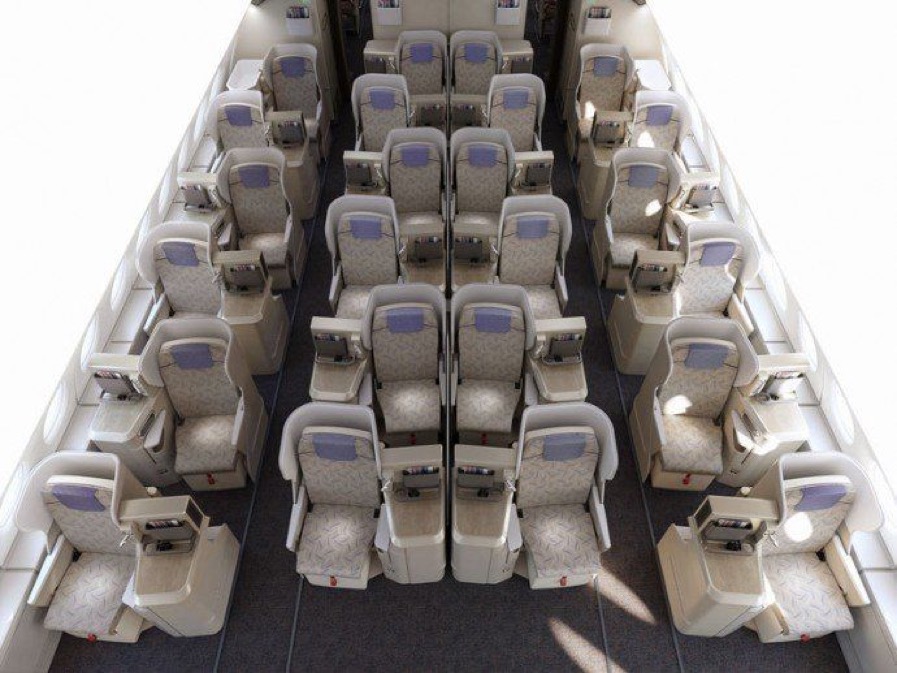 The above photograph comes from another operator, but it helps demonstrate the staggered 1-2-1 seating pattern in business class. You can see down each side that there are completely separate alternative window and aisle seats. In the middle there are two seats, but set in two different configurations. One is just two single seat packages set next to each other. The other is really designed for couples, with the seats almost touching each other. There is a screen between these seats, but it can be lowered to make it a cosy option for couples.
Generally the staggered seating is considered by many travellers as more comfortable, and giving the impression of more space.

The welcome on board was simple and efficient. The upper deck looks spacious, clean, modern, and yes there is a little sense of occasion.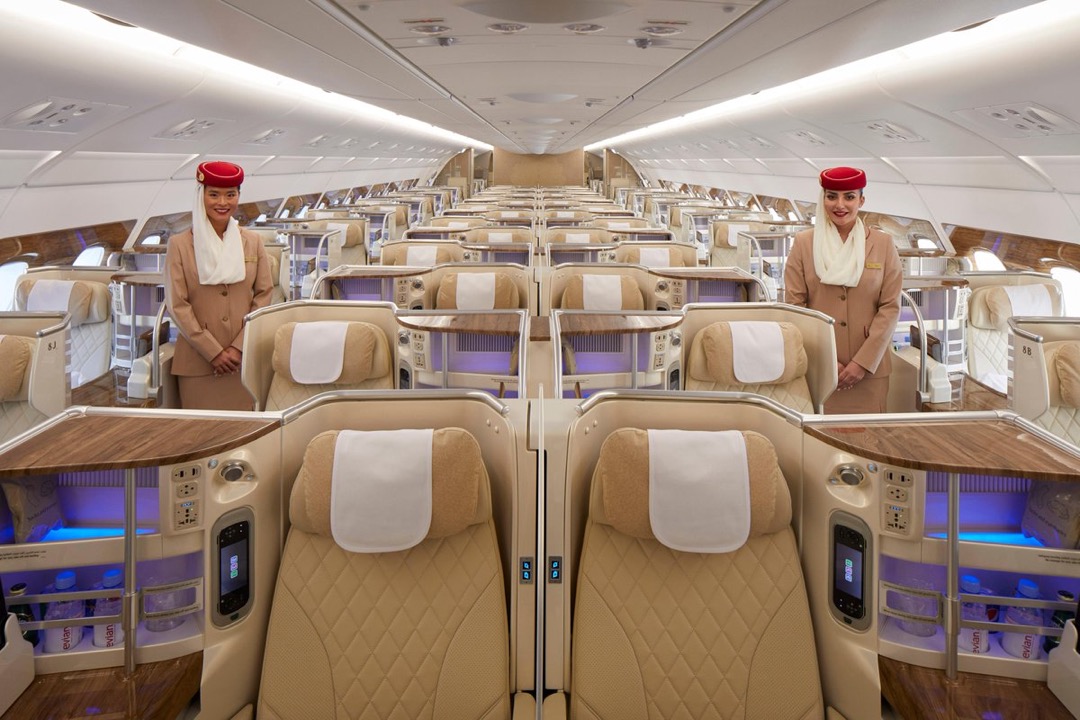 As a couple our seats were paired in the middle row, with a separation panel that you can lower. I've heard that they called these the 'honeymoon seats'.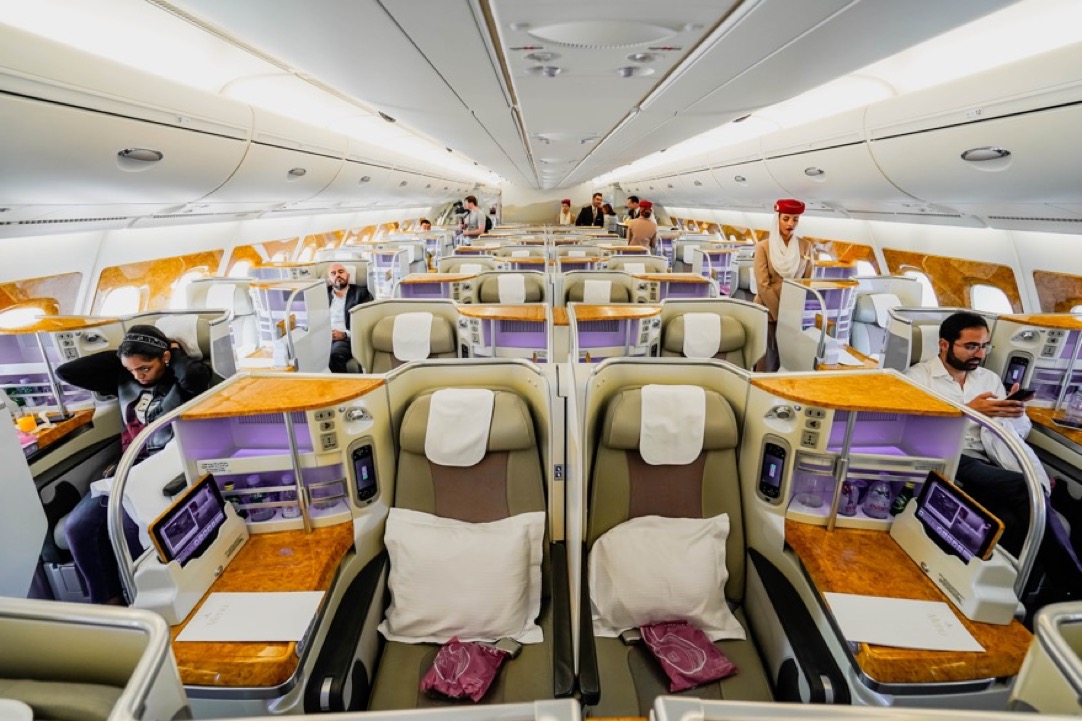 We found in each seat a cushion, and in the foot alcove a blanket and the noise-cancelation headphones each sealed in a plastic bag.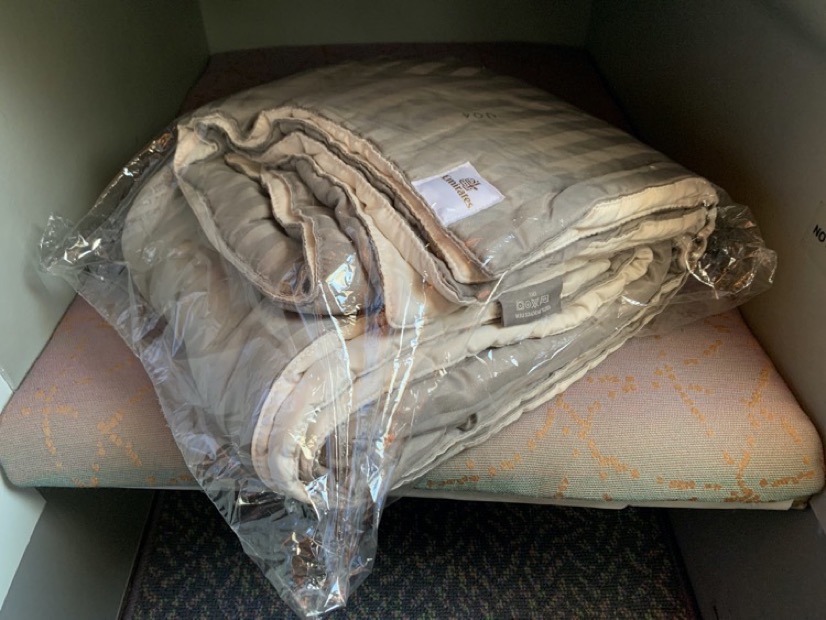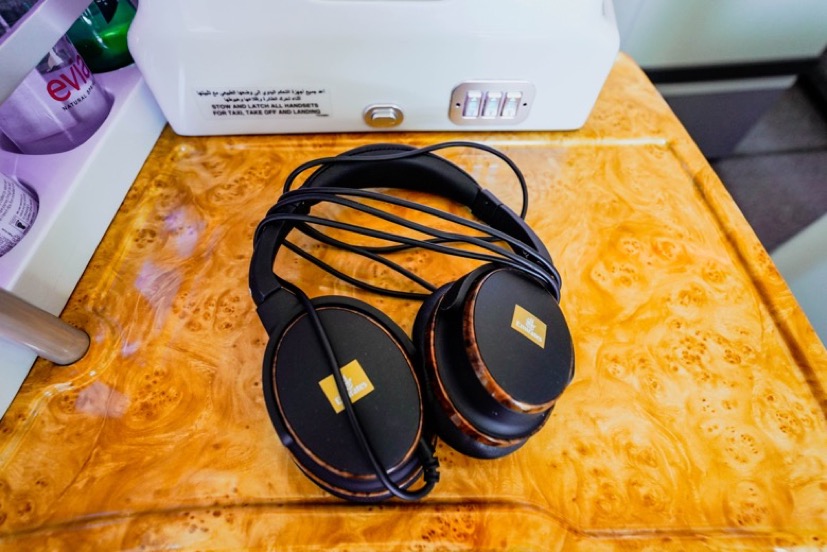 First Impressions

There was plenty of space in the overhead locker, and I could slip my small backpack in the space under the foot alcove. So with everything stowed away nicely you can finally drop into your seat.

Once installed in our seats, the cabin staff came around with hot hand towels, and a tray of drinks (including Champagne).

Sitting back, hands clean, siping Champagne. I see this short moment as a turning point in a trip. You may have been preparing the trip for sometime, you had to make the booking, and you did the online check-in. With a little help from Emirates you have made it to the airport, got through check-in, immigration and customs, and security. Anticipation has been fed in the business lounge.

But now sitting in the aircraft, the trip had really started. From now on, everything should be plain sailing.

So, still well before take-off, we could finally look around and survey our space.

When boarding the first thing you notice is the overall decor. Some see it as a strikingly modern, sleek wood-rich interior, even if they recognise it as an acquired taste. It's not a domestic decor, nor something you would have at home, but it's something that does set the tone for a quality experience. Others see the decor as 'too much in your face', and lacking a sense of classical restraint. Others have called it cheap and even disgusting. One person even called it a 'Trump style' decor. My own personal take on the decor is that I felt it captured a little bit of the old-world glamour of air travel. What I want is that it all comes together and reinforces that sense of occasion. The world-weary traveller might see the decor and compare it with other premium travel options, but I want the decor to add to the pleasure that my wife and I have in travelling to distant places. It was our first trip to both Dubai and Phuket, so a little bit of glitz and burled wood can't be bad.

The seats are well cushioned and are 50 cm wide, and have a 122 cm seat pitch. You have four options, which they call take-off, recline, dining and flatbed.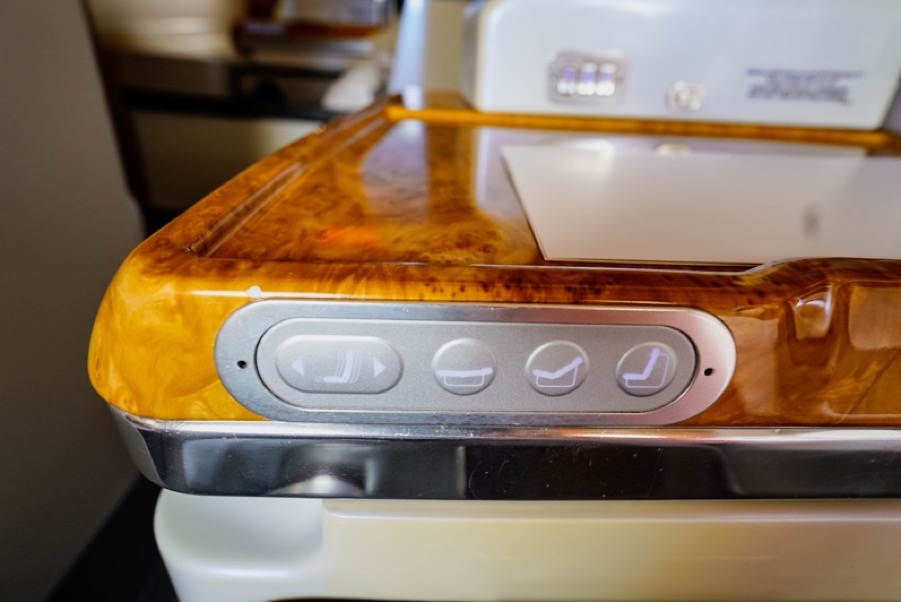 In front of your there is a foot alcove that you used when the seat is in flatbed mode. Otherwise you can also store stuff in there. It did look and feel a bit narrow. Some people claim it's the downside of the 1-2-1 configuration. I personally find the 1-2-1, as compared to alternatives so much better that I'm prepared to accept a slightly narrower foot alcove.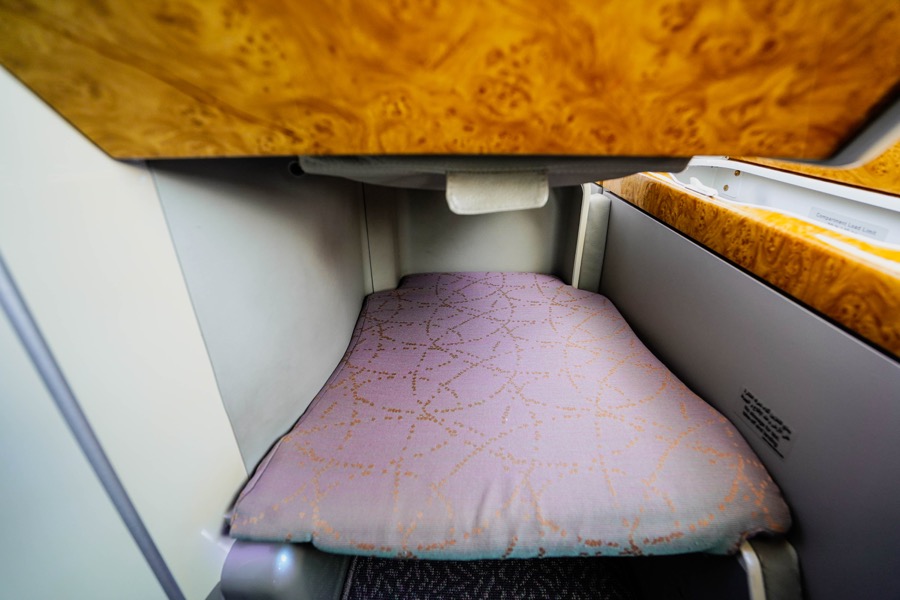 Underneath the foot alcove there is an additional cubby hole or storage space for a backpack or handbag (and/or shoes).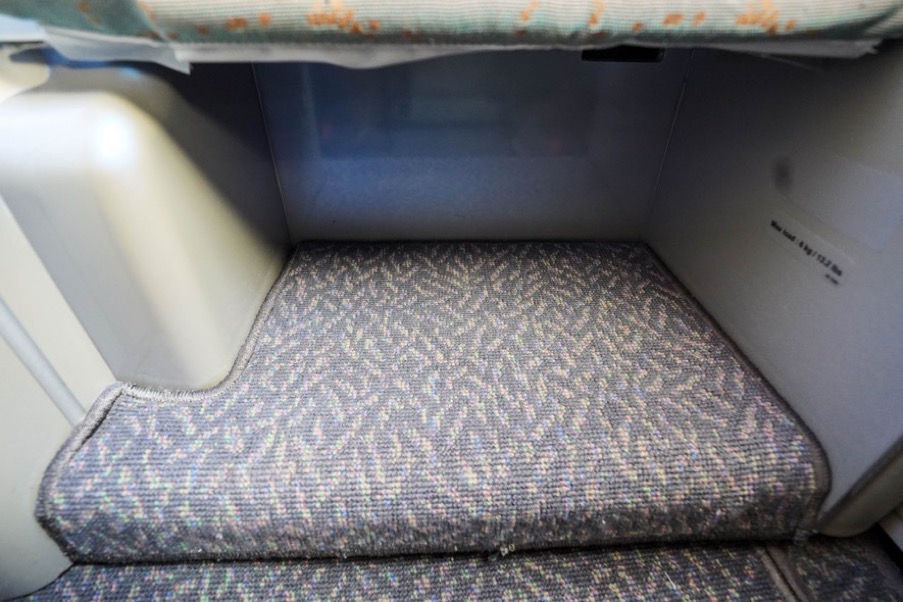 Once you're settled in, you can have a look at the minibar. There you have still and sparkling water. You can also see the collection of sockets, HDMI and USB ports, and the socket for the noise-reduction headphones. You can also see the remote control for the Emirates entertainment system, and the vanity light.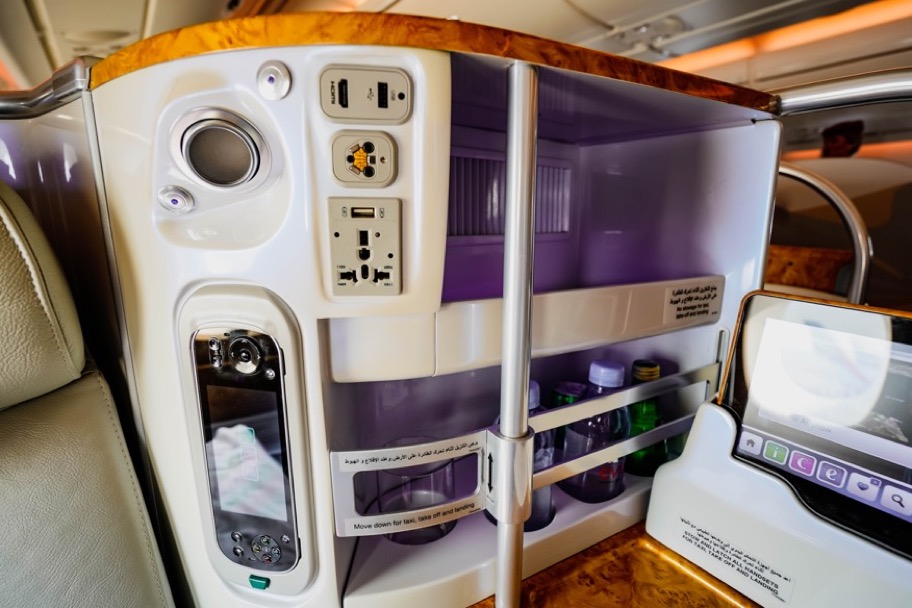 And just to the side you can see the tablet that controls the Emirates entertainment system, called ICE.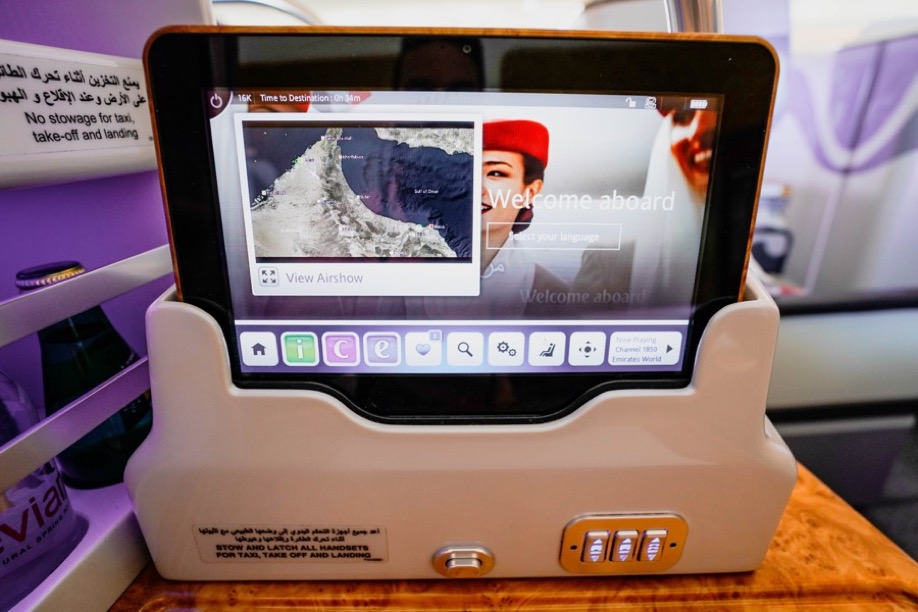 You can detach the wireless tablet and use that, but the 27" screen in the seat back is also a touch screen. They say that there are more than 2,000 films, TV programs, etc. available, but I didn't count them. ICE means information (I), Communication (C), and Entertainment (E).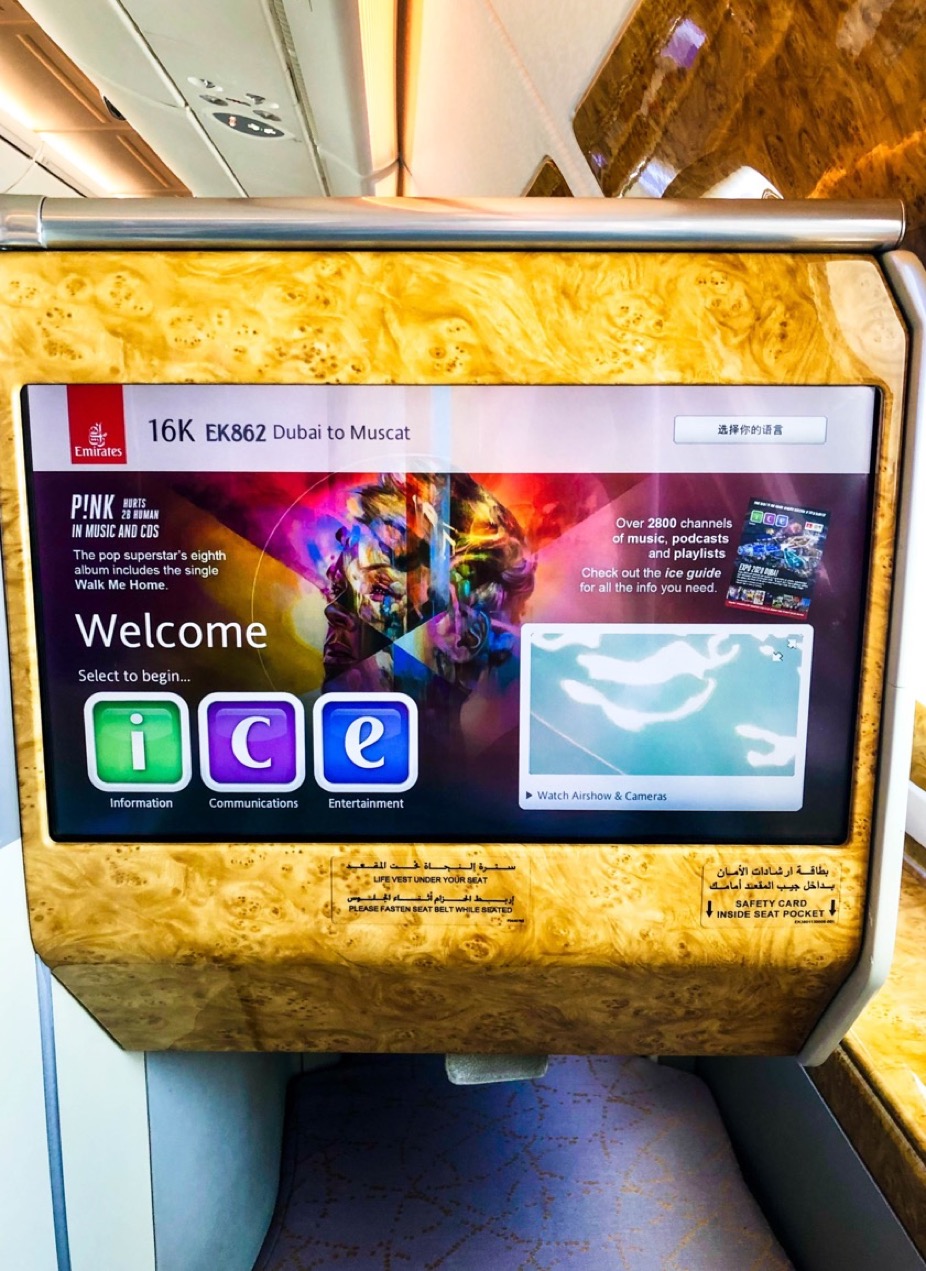 All you need to do is pick your program, plug in those noise-reduction headphones, and sit back.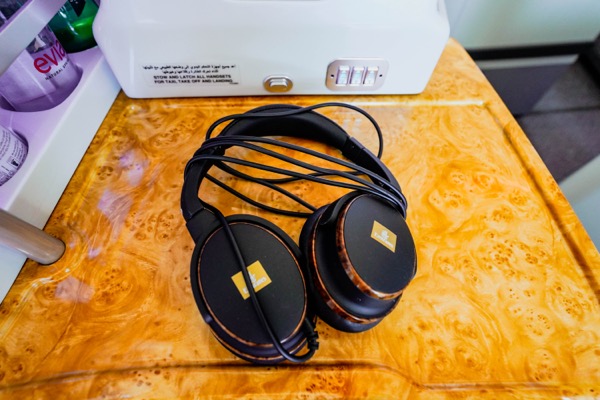 I will be perfectly honest with you, I watched a film but I can't for the life of me remember what it was!


Safety Briefing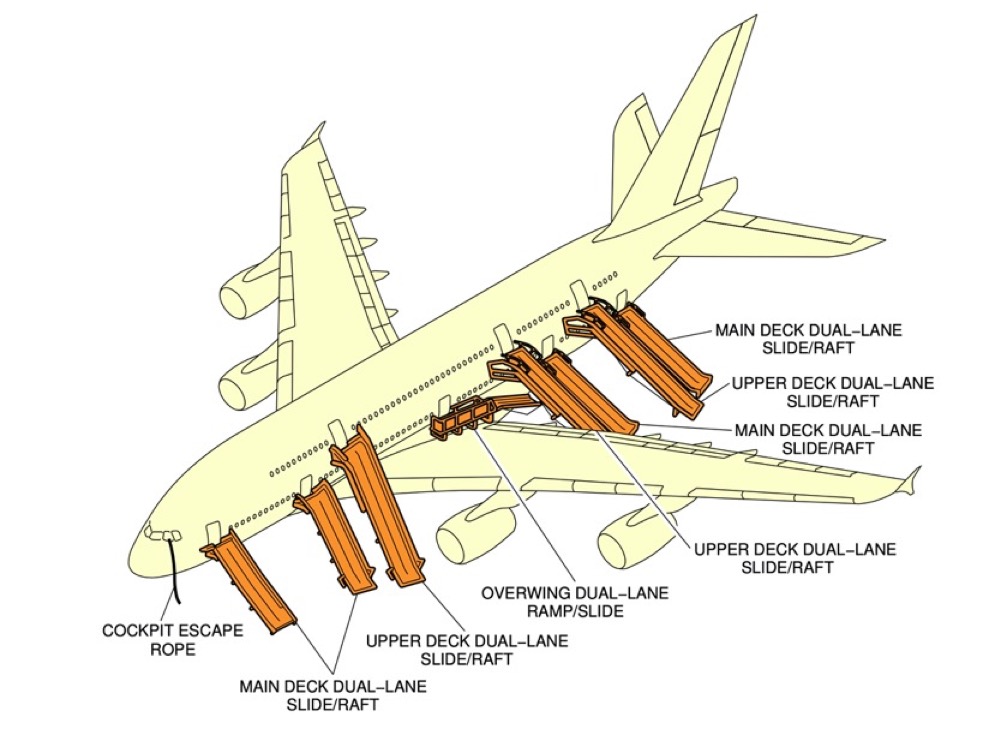 The pre-flight safety demonstration is presented on the ICE system, here is the Emirates In-Flight Safety Video used.

And if you are interested have a look at this 'unusual' safety video from Emirates.


Vanity set

I'm not sure when but at one point both my wife and I received a vanity set (also called an amenity kit or toiletry bag).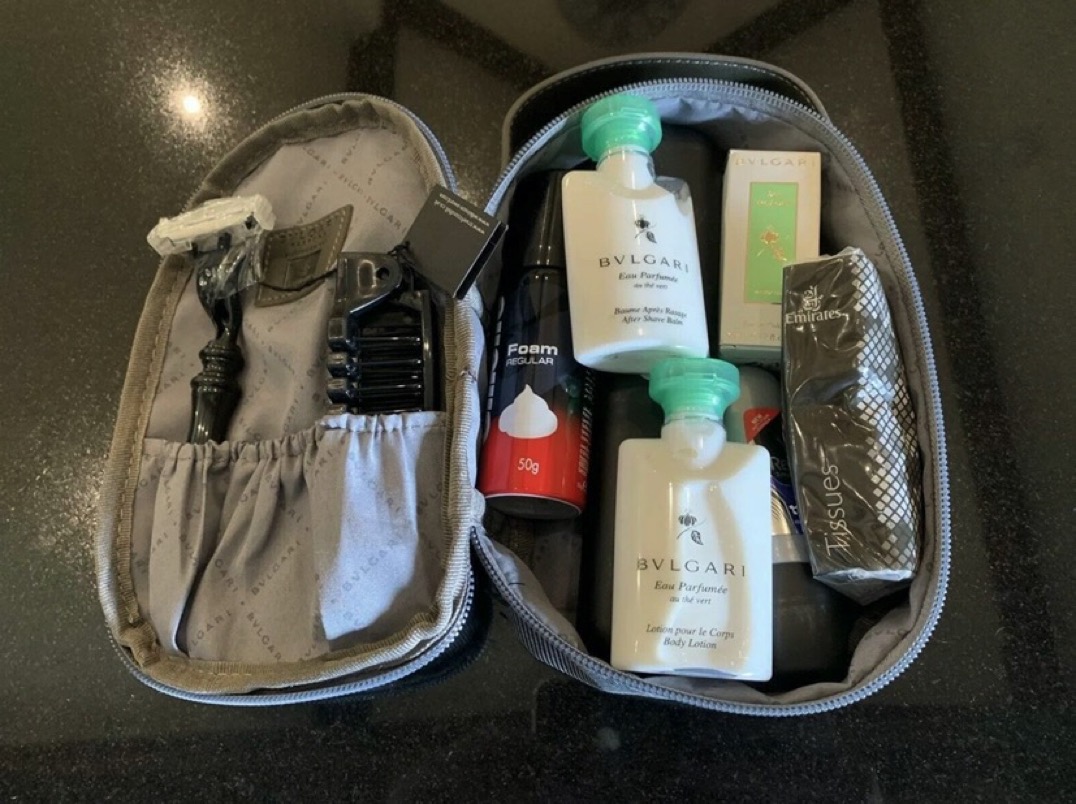 The men's Bulgari kit (above) looked quite useful with the razor and deodorant, etc., and the woman's set (below) looked equally interesting with the dental kit, lotions, etc.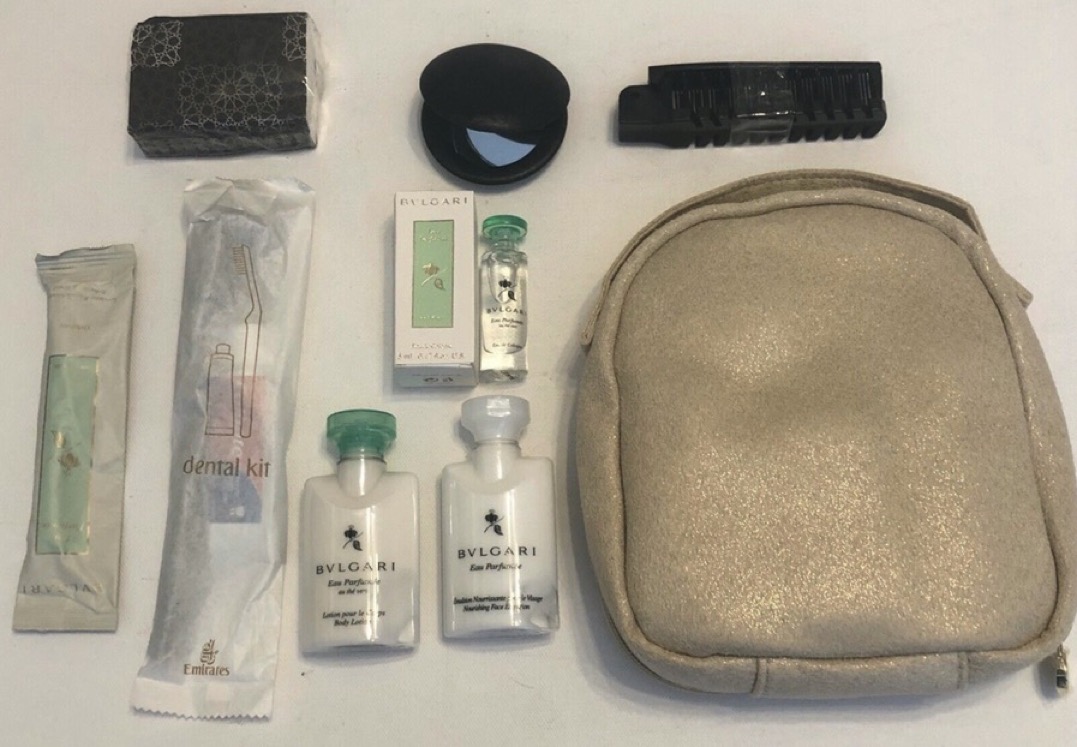 Our flight was only about 7 hours, even if it was an over-night, so we did not really test the contents these vanity sets. That did not stop us from taking both kit's with us to our hotel in Dubai downtown. I had expected that we would receive other kits during our route London-Dubai-Phuket-Dubai-London, but it wasn't to be the case because they were daytime flights.

In addition, socks, eye mask, and ear plugs came in a separate package in a compartment beside the seat.


Food & Drink

It so annoys me that I went through the whole flight without registering almost anything, in todays world no photographs on my iPhone means no memories. But I have tried to piece together our flight experience. We had left Gate 5 at Heathrow Terminal 5 three minutes late, at 20:23, and were expected to land the next morning at 07:20. So even before take-off we had been handed a menu which included a dinner and a breakfast. Along with that we had a separate drinks menu. So in addition to the safety briefing, as we took-off we could decided on our appetiser, main course and dessert, and not forgetting the wine. I've not been able to find the exact menu on offer for our outbound flight, but the one below comes really close.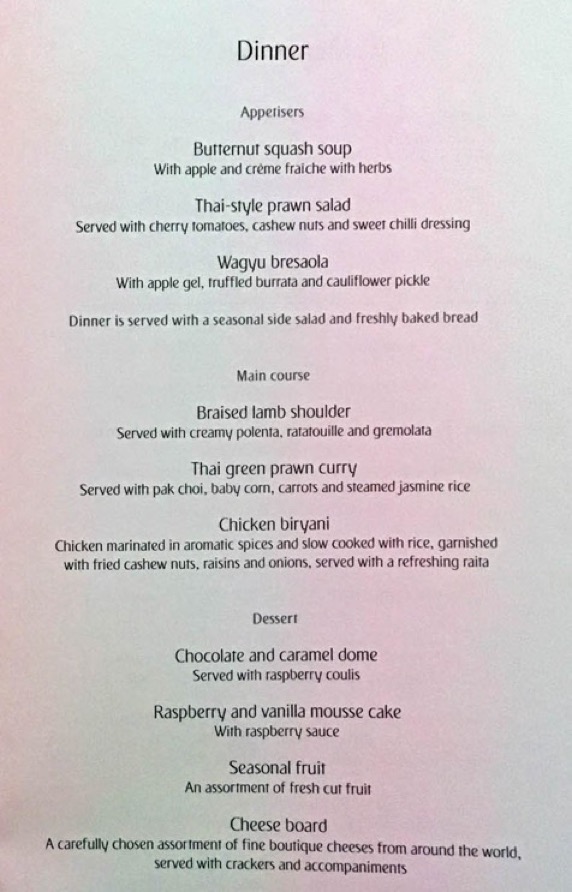 I say it comes close, because I remember taking the Thai-style prawn salad, the chicken biryani, and the cheese board. But not that close because I would have certainly took the chocolate and caramel dome had it been on our menu.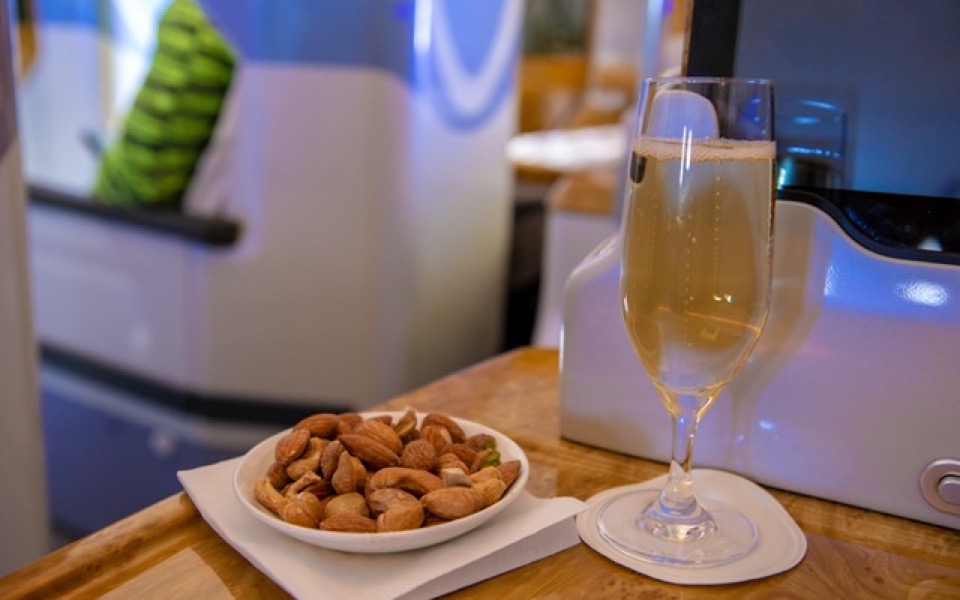 In any case, after take-off a hostess had come round to offer Champagne and warm nuts, and take our orders. Unfortunately Emirates does not do dinner-on-demand. Emirates offers Veuve Clicquot (to which many people appear to add the term 'yellow label') which is not my favourite Champagne. I find it just a little too dry for my taste. My own personal suggestion would be to replace it with something like Perrier-Jouët Blason Rosé, which would both taste better and look far more elegant (for about the same price per bottle).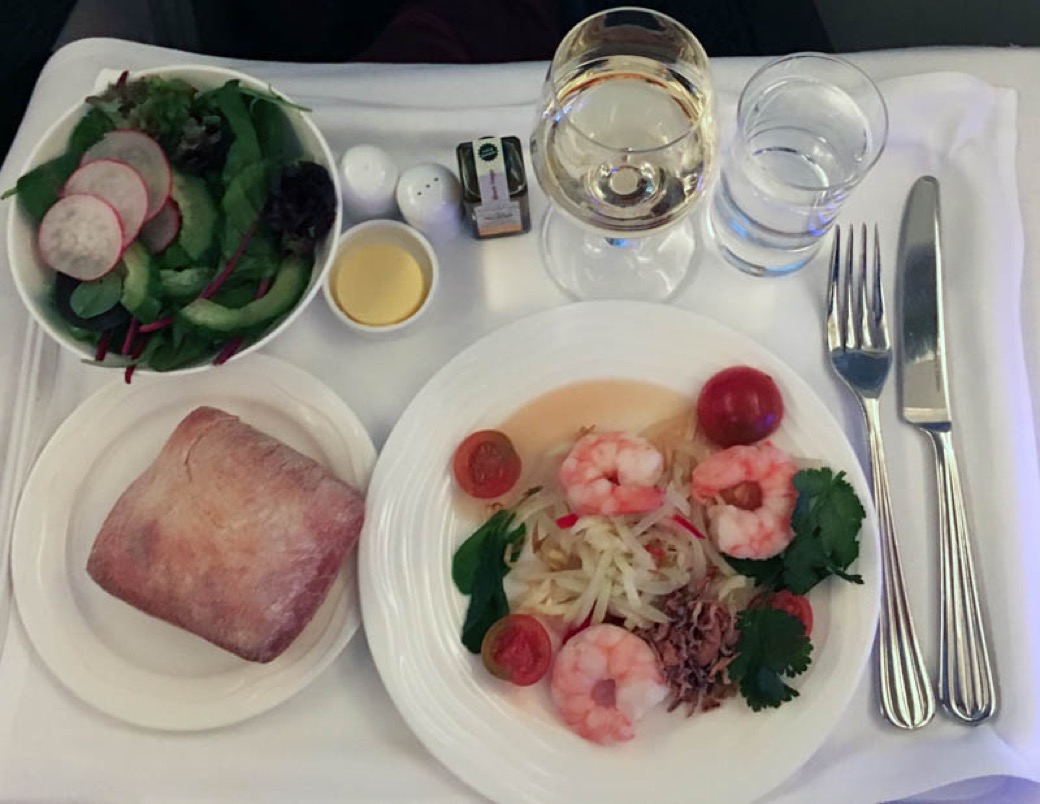 Soon our appetisers arrived. A cotton table cloth was placed on to a table that swung out from under our side table. Then a tray came with a cotton napkin, metal cutlery, and hot bread. I enjoyed the first course shrimps with a glass of Pouilly-Fuissé, a top-of-the-range Mâconnais.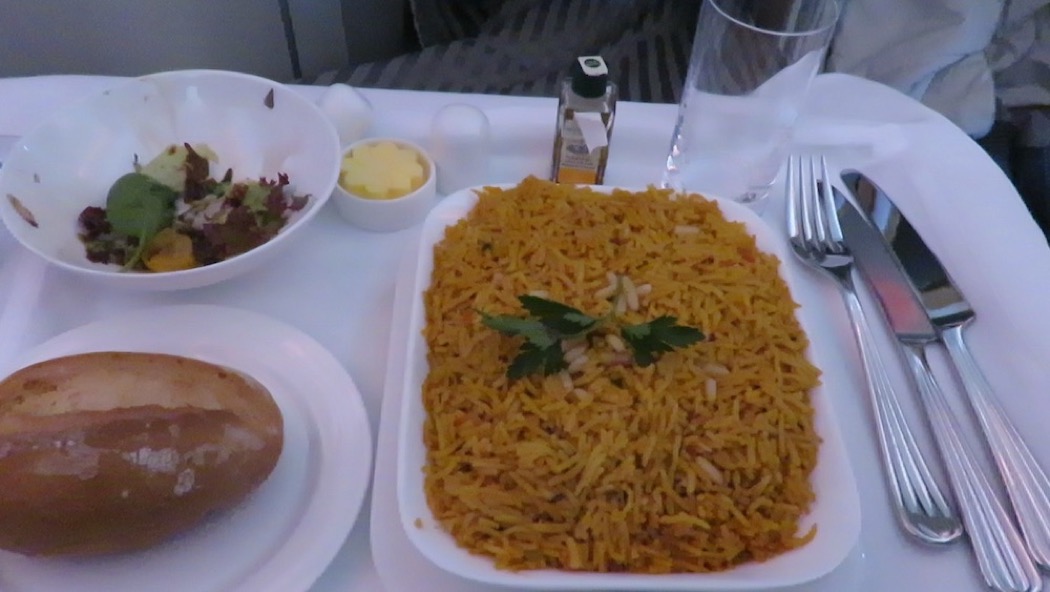 I had ordered the biryani as a main course, and to my surprise what arrived was identical to something I had tried in the Emirates lounge in London. The photograph is not mine, but it captures exactly the kind of undifferentiated blob that appeared. On top of that it actually did not taste as good as in the airport lounge, but in any case I was disappointed to see the same thing offered in both the lounge and on the flight.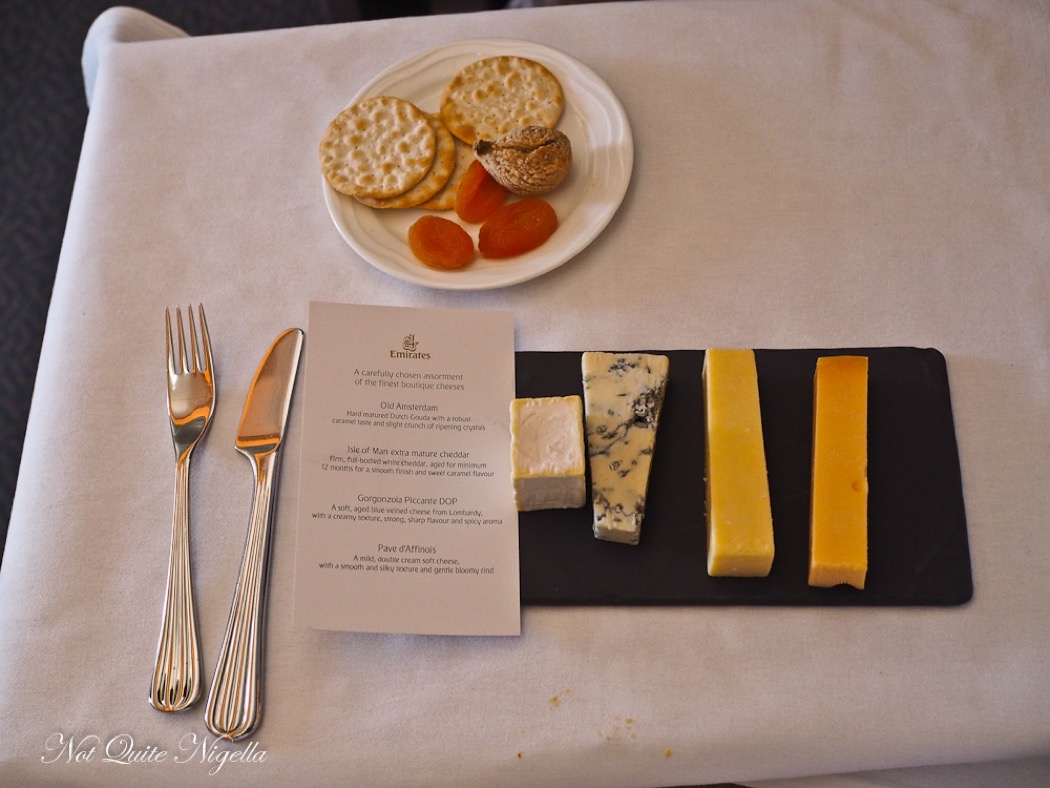 My being not happy got worse, because I had ordered the cheese plate with a glass of red wine. The photograph above is just an example I picked from the web, but you can just see what you get. A little regiment of pre-cut fingers of cheese. You know immediately you are going to be disappointed. Have a look at the cheese plate below and tell me which you would prefer? What we see below is what I expected to see, but didn't.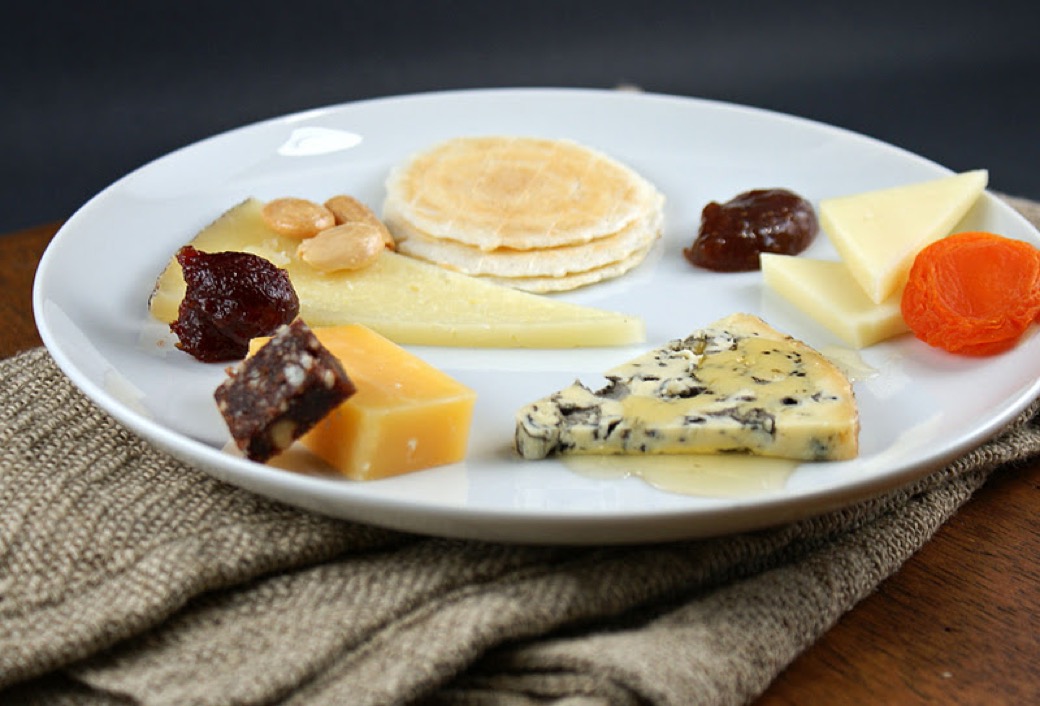 And on top of all that, the cheese arrived cold. I made the mistake of asking for cheese on our return flight, the combination of tastes on offer were different, but they also arrived cold (and thus tasteless).

I don't want to be too negative. The food is attractively presented on the trays, and I like the way the cutlery is nicely rolled in the napkin with a strong metal napkin ring. The appetiser was nice, and I guess it depends also on what you pick from the menu. But globally over the four business class flights we took with Emirates the main courses were the least elegantly presented, and the most bland. Scanning through the web I am sure that for 'airline food' Emirates is 'above average' and may even be in the 'top 10', but there is still lots of room for improvements. Like they say on the school report 'can do better'.

I do feel that the Emirates lounge has something to do with my judgement. You arrive in the lounge just a little hungry, you snack as and when you wish on a variety of food choices, etc. and have the possibility to taste the different wines on offer (or just take the Champagne). You can take your time. Then on the plane you may not be as hungry, and you have to pick from a menu. Everything is served in a businesslike way, but it lacks that 'je ne sais pas'.

In addition my wife had booked the gluten free option. So there was no menu choice, and she found the food totally tasteless. For our return flights we changed her menu option back to 'normal'. However, she still remained less that fully convinced with what was on offer.


In-Flight Entertainment

Until now I have not mentioned the Emirates ICE, their in-flight entertainment system. This is considered by most people to be the best in the world. On our flight we had the 2nd generation 27" digital widescreen, and a multitude of films, etc. Given that this flight was a night-flight I only watched one film, and I can't remember what it was. On our other three Emirates flights I could fit in two films, and just as easily forget them immediately once I had disembarked.

I did notice the 'warnings' that Emirates could censor some scenes in the films, but frankly I did not notice.


Getting some sleep

A non-negligible feature of the business class is the opportunity to sleep comfortably on a flat-bed. As I've mentioned above our flight was a night-flight, but only about seven hours long. If you deduct dinner and breakfast, the best we could expect was to get 4 hours of sleep.
After dinner the hostesses came around to arrange the flat-beds with a kind of thin futon or mattress topper to make the lay-flat seat feel more comfortable. So along with the cushion and blanket provided when we embarked, you can make a convincing case for a decent nights sleep.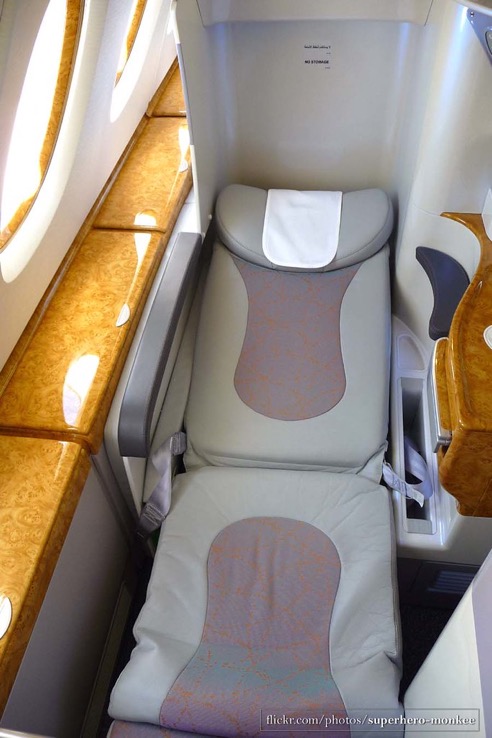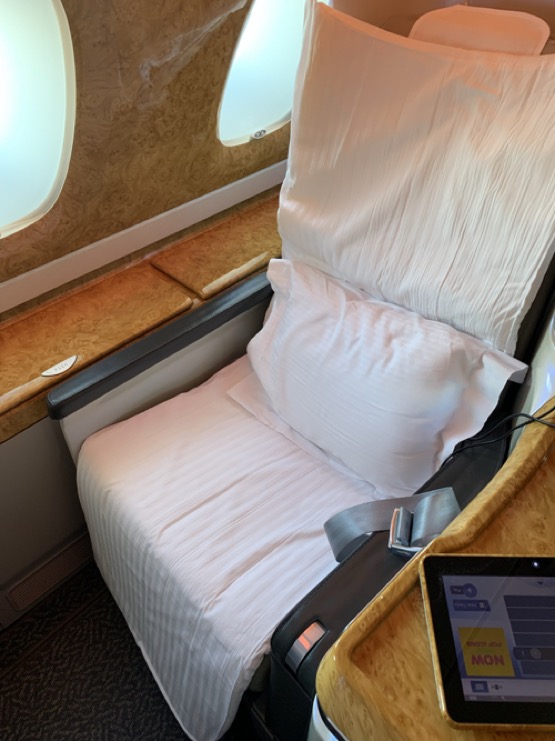 About 90 minutes before landing we were woken up with a simple continental breakfast, about which there is little to add. Coffee was good, and it was exactly what I needed. My wife always take a green tea, and tea always seems to perturb the clock-work regularity of cabin crews.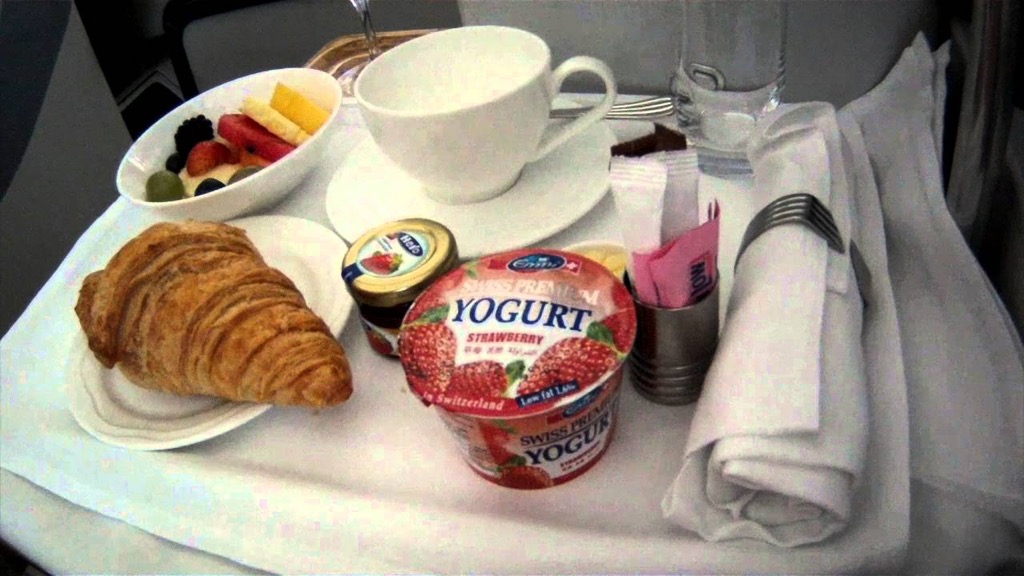 The one thing I regret not trying was the bar/lounge at the back. It's famous, and is often quoted as a key onboard experience unique to the Emirates A380.


Conclusion for London-Dubai

This was our first experience flying business class on an Emirates A380. There are a lot of positives. The aircraft itself is impressive, the business class, the flat-beds, the entertainment, and overall service with the food and drink, etc., make up a very convincing package. A package that is difficult to 'un-fold' from our stop-overs and visits to the city of Dubai.

There is room for improvement concerning the food (main course) and perhaps on the service.

The combination Dubai city and Emirates business class is a world-beater.


Our return flight

Following on from our flight London-Dubai we continued with a flights Dubai-Phuket-Dubai with Boeing 777's, reported elsewhere.

So some weeks later we returned to Dubai for a 5-day stop-over, before completing our return trip back to our home base (through London). So again our trip Dubai-London was on another Emirates A380. This time it was on flight
EK005
which left Dubai at 16:05, arriving in Heathrow the same day at 20:00 local time.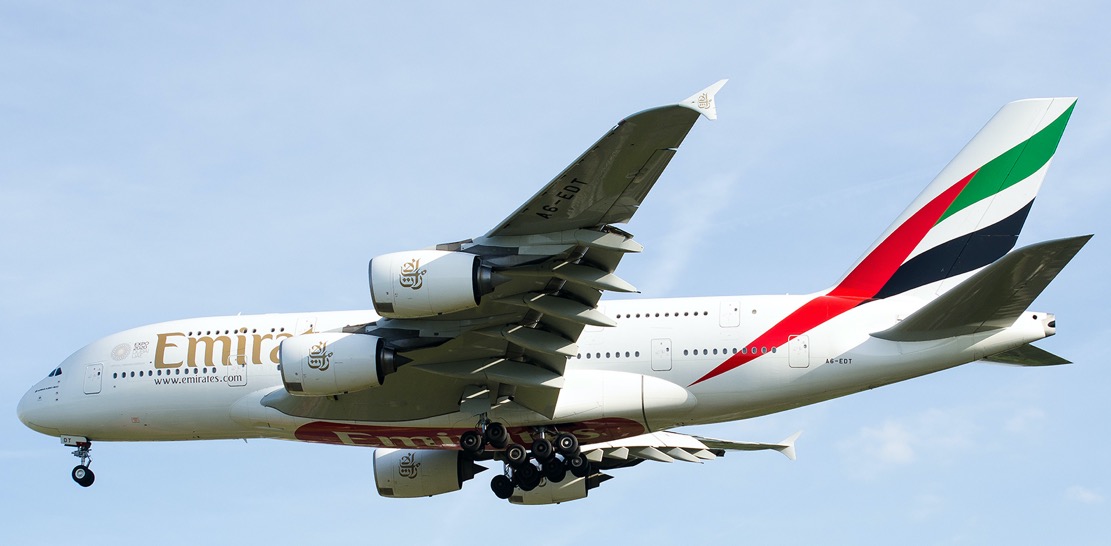 Our aircraft was a A380-861 registered A6-EDT (serial number 90). This aircraft was delivered in July 2011, so it was 8.7 years old, and it was still decorated with 'classical' Emirates design with just a small mention of Expo 2020. The aircraft had flown in from London, arriving at 05:50 local time. Our flight left from Gate B19 at 16:10 (5 minutes late) and landed in Heathrow at 20:12 local time (12 minutes late), for a flight time of 8:02 hours. It's interesting because other reports having A6-EDT leaving at 16:25 (20 minutes late) and landing at 20:08 (8 minutes late). The problem is always the same, one report mentions the time the aircraft left the gate, and the other mentions the time it took off. So for one the total time of the flight was 8:02 hours, and for the other the aircraft was in the air 7:44 hours. The only thing they agree on is that we covered 5,505 kilometres.

Naturally we also have a video of A6-EDT taking off from Manchester Airport.

I am not going to describe in detail our return flight, but I would like to mention a few specific points.


Initial impressions (again)

In preparing for our business class flight on the Emirates A380 we had checked out their
video
, and we had even viewed our seating arrangements with their 3D 'immersive experience'. And our first flight London-Dubai met those expectations.

So you can imagine our surprise when we found a different seating arrangement for our flight Dubai-London. This is what we had seen on our flight London-Dubai, and what we expected to see on Dubai-London.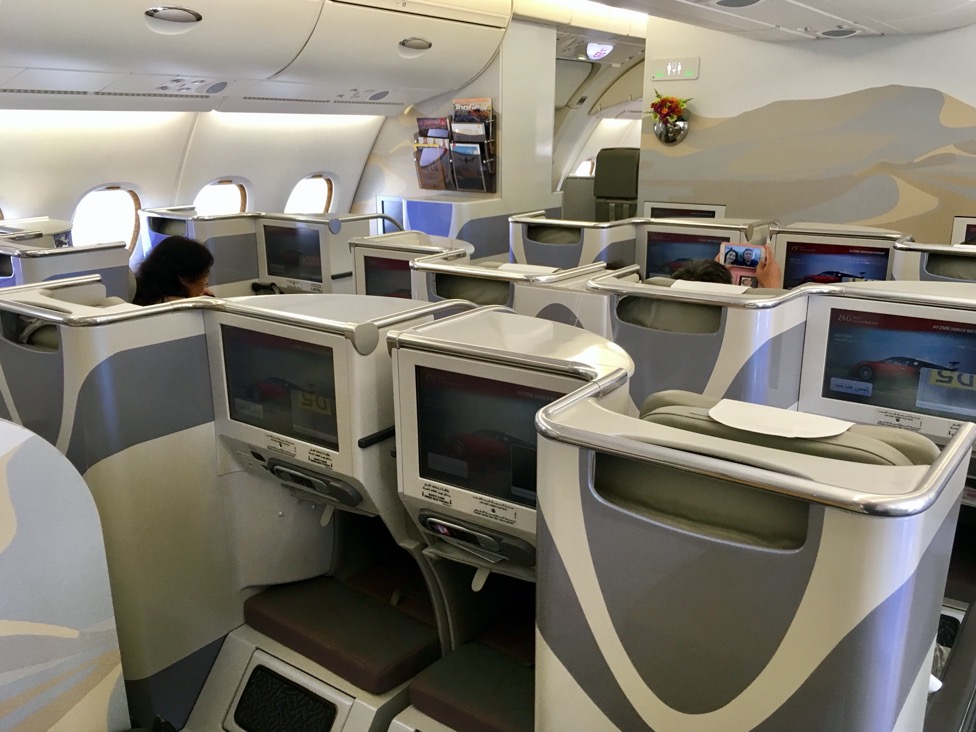 But what we actually found was a cabin that looked like it had not changed from 2008, when Emirates launched the A380 service.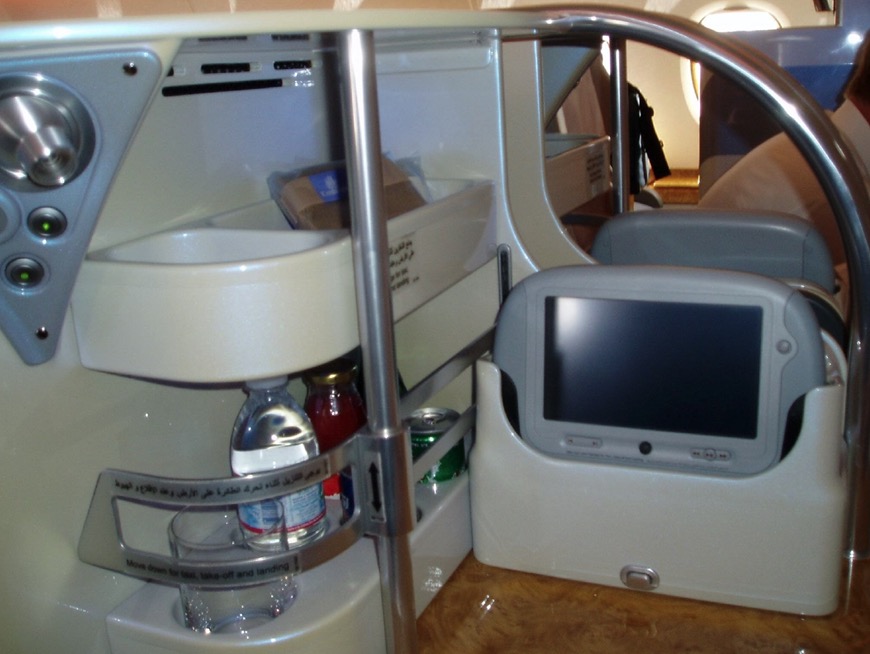 The Emirates 500 channel ICE (information, communication and entertainment) was already installed on the A340-500 in 2003, and in 2005 it was also fitted as standard on their new Boeing 777-300ER aircraft. At the same time Emirates started to retrofit their Boeing 777 fleet with the same system. First class received a 23" LCD display and the business class a 17" LCD display. It was in 2005 that the SkyCruiser 79" lie-flat seats were installed in the first class on the Boeing 777-300ER's, and ICE was increased to over 600 channels. The business class also received the same lie-flat beds, but only 18.5" wide. At the time the Airbus A330 had a 72" nearly lie-flat 'sleeper', but they quickly came up for replacement. Seatback email and sms services were also introduced on all Emirates aircraft. Work had already started on a next-generation ICE planned for introduction in 2007 on both the A380 and B777. This system, called the Panasonic eX2, would become the new standard, and there was talk of 1,000 channels of movies, music and games. In 2007 Emirates was the first airline in the world to allow the use of mobile phones inflight. In 2008 everyone was writing about the 'shower spa' in the A380 first class ('just' two bathrooms with shower facilities), and 17" LCD touch-screen (also in first class). But the 34" wide full-flat beds in business were just as important, and a 10.6" screen in economy might seem ridiculous today but in 2008 it was a major selling point. At the time Singapore Airlines were setting the standard for in-flight entertainment with 100 movies, 150 TV programs and 710 music CD's. In 2012 an ICE system with 1,300+ channels, and including TV shows was being marketed. From 2012-2013 the new A380 had larger HDTV screens (called 'digital widescreen'), and all classes including economy were wi-fi enabled, and by 2013 ICE now had 1,441 channels with 323 movies. By 2015 ICE was offering 2,100 channels in 35 languages. Mobile phone services were introduced in 2014-2015, and the 2-class service was introduced in 2015. In 2016 a new generation of ICE appeared on the newly delivered A380's and B777's, with the industry's largest screens in first and economy class (32" in first, 23" in business and 13.2" in economy). The result was an ICE with 2,500 channels in 30 languages. However there were no plans to retrofit this to existing 777 aircraft because Emirates plans to replace all existing aircraft with the new 777-300ER or 777-X in 2020.
In 2016 Emirates started calling the earliest A380 'vintage'. In 2016-1017 the A380 were delivered with a more spacious business class cabin with the removal of overhead lockers along the windows, and expanded overhead lockers in the middle aisles. Also a newly revamped on-board lounge was introduced in 2017. In October 2017 Emirates signed a deal to equip their future Boeing 777X fleet with the Thales AVANT in-flight entertainment system. By 2018 ICE had over 3,500 channels in 432 languages, and with over 700 movies. In 2019 Emirates mentioned covering some of their A380 orders to A330neo's and A350's. They also mentioned that ICE had now 4,000 channels with more than 1,000 multilingual movies, and that live TV was being installed.

One of the best ways to understand how the A380 evolved in the Emirates fleet is to look at the tail signs, the unique registration shown near the tail of the aircraft. Deliveries are in sequences, for example the first batch delivered were registered starting A6-EDA,… So it is possible to identify each interior configuration against the aircraft registration. I'm certain lists exist, but I have not find them.

Below we have a few photographs from the launch of the A380 business class in 2008, and as far as I could see our trip Dubai-London was in one of those original configurations.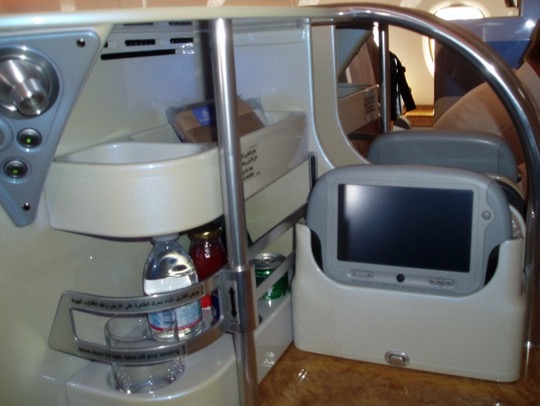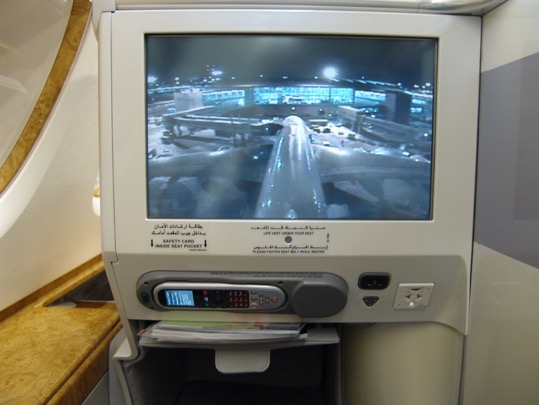 It's amazing how important first impressions are. We thought we knew what to expect. In particular the big surfaces of shiny wood, and the big screen surrounded by more shiny wood. Like it not, that expanse of shiny wood had become synonymous with Emirates, with the A380, and with our business class ticket. And also I had not realised how important it was, once installed in my seat, to see that big screen.
Instead we got a much duller cabin, a smaller dull looking screen, and the need to immediately rationalise what we were seeing. Yes, it was business class. Yes, the seat was the usual lie-flat, even if the foot alcove looked smaller. Yes, there was some shiny wood here and there. Yes, the screen was smaller, but it would do. We did not use the handset/games thing, and the smaller tablet would certainly do the same job.
And yes there were differences between the 2008 version and what we had. If you look carefully you can see that we had two small shelves between the screens (which I saw could be used to store you shoes). And the tablet had acquired a shiny wooden frame. But these minor differences just highlighted the fact that on this A380 the 'business class experience' had not evolved much since 2008.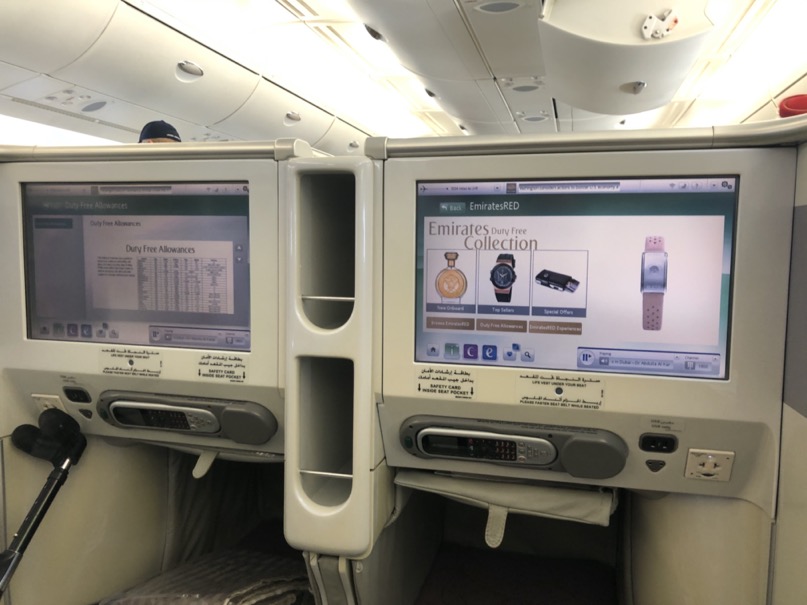 The rest of our flight Dubai-London was in many ways a copy of our trip London-Dubai, except that my wife slept for most of the way. I say a copy because we got our glass of Champagne with the warm nuts. I watched two films, but can't remember what they were. And we didn't try out the bar/lounge at the back.

This flight, leaving at 16:05 and arriving in Heathrow the same day at 20:00 local time, was considered a day-time flight. So we were offered lunch and afternoon tea (which we refused). For lunch I started with the smoked salmon appetiser, which was excellent (I kept with the Champagne). And my wife enjoyed the carrot and ginger soup. Sorry about the odd coloured lighting.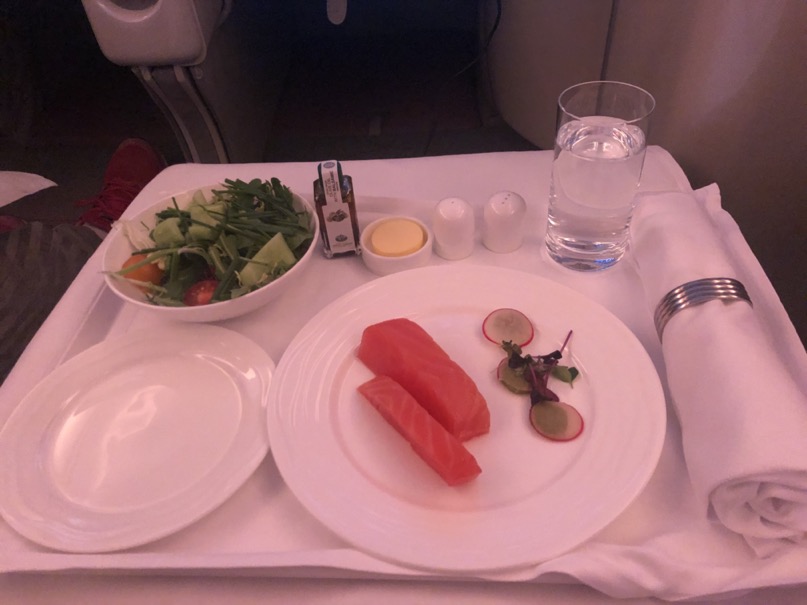 We both then took the Jal pari masala, stir-fried prawns served with steamed rice and okra sauté. My wife found it too spicy, whilst I found it excellent even if it look terrible on the dish (sorry about the lighting).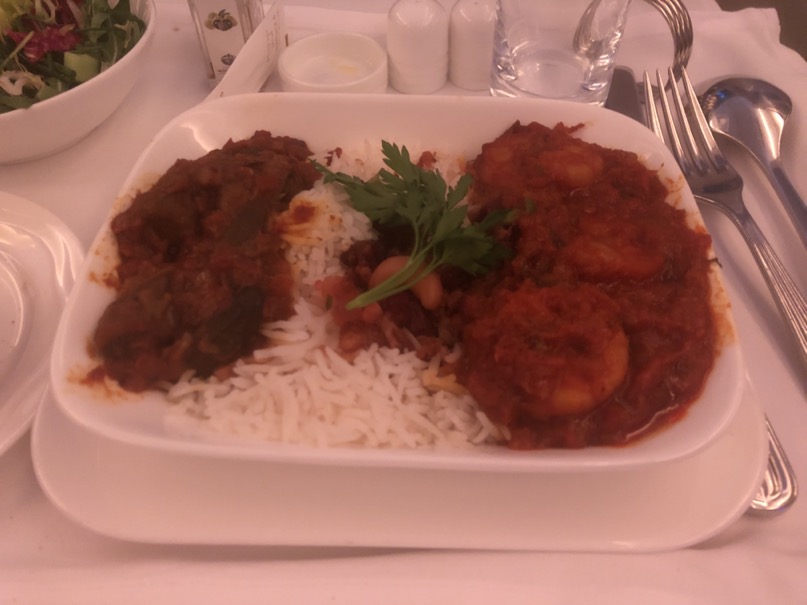 With the main course I had decided on the Collazzi 2015 from Tuscany, which lost the battle with the spicy prawns, but recovered slightly when I mistakenly decided to again take the cheese board. On the board was a Dutch Gouda, a Pavé d'Affinois, and Stilton. Served cold the first two cheeses had no taste, but the Stilton managed to save the day. Emirates tried to sell the Collazzi as "in the Super Tuscan category as opposed to being a Chianti", but it failed in the battle with the Stilton. Possibly because the Collazzi was also served cold. Had both the Collazzi and the cheeses been served at civilised temperatures, I'm not sure who would have won, but it would have been nice to have participated in the battle.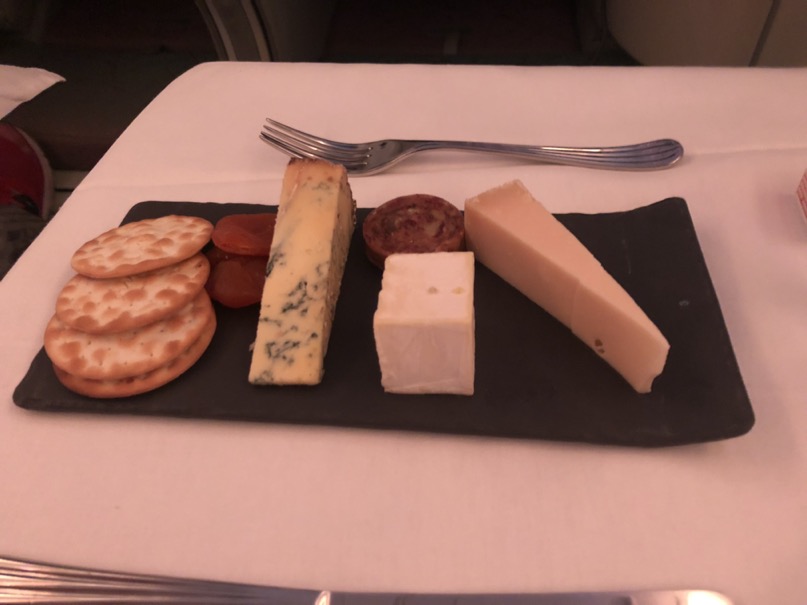 Conclusion for Dubai-London

This was our second experience flying business class in the A380. I was disappointed with the older 'interior design' on this return trip. But this did not detract from the fact that the A380 is a fantastic aircraft, and the A380 is better than the Boeing 777.