Phuket - Thai Food and Fruit
last update: 09 May 2020


Our New Year trip for 2020 ran from late January 2020 to mid-March 2020 and involved 8 nights in Dubai and 43 nights in Phuket.

This webpage is about Thai food and fruit.

We were in a tourist resort, in a tourist region, on a tourist island (Phuket) in a country that attracts a lot of tourists. It was the high-season and the Chinese New Year. So we certainly don't claim to have known and eaten 'authentic' Thai cuisine, but nevertheless on this webpage we have tried to capture a little of the culinary traditions and tastes of Thailand.

In our resort there were a number of dining options, some open every day, and others providing a 'once-in-a-week-experience', e.g. grill, seafood Thai buffet, street food market, BBQ, etc.

In particular I was surprised to see the variety of fruit at breakfast, some quite unknown to me, although my wife knew most of them.

Below we start with some typical Thai food options, before looking at the range of fruit available in Phuket.


Our first evening meal

Our first evening meal was in a small Thai 'street market' set near the central pool area of our resort. The basic idea was that there were small 'street' stands set up, each offering one particular dish.

I took the Phad Thai (200 Bhat) and my wife took the Chicken Satay (150 Bhat). I took two glasses of local beer (100 Bhat each), and my wife took a small bottle of water (50 Bhat). My wife finished with a coconut ice (150 Bhat). So our total was 650 Baht (€19).


Phad Thai
(or Pad Thai) is a very typical modern Thai dish that you can find almost anywhere. It is based on rehydrated dried
rice noodles
which are
stir fried
with
eggs
and chopped
tofu
. I took the fresh
shrimp
version, which looked more or less like the photograph below (except mine was on a plastic plate).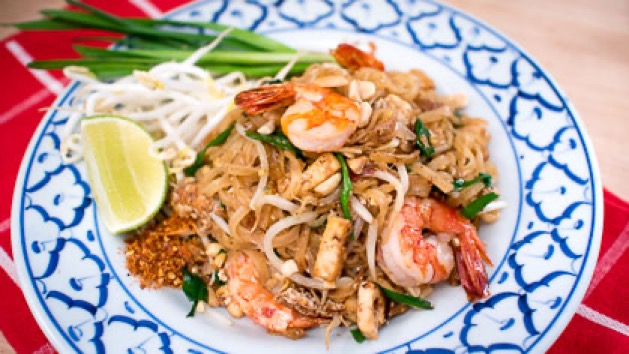 As one author put it Pad Thai is a 'chaotic melange of rice noodles, egg, tofu, shrimp, tamarind and vegetables garnished with crushed peanuts'. It is said that there are regional variations, with the South adding chili peppers, shallots, and roasted coconut milk. Frankly I'm not sure what they put in mine, but it was somewhat darker and redder than what we see above. However, it was also served with bean sprouts, chives, and a lime wedge.

My wife had Chicken Satay, which is the Indonesian national dish. The dish is simply small pieces of marinated chicken, on a bamboo skewer, grilled and served with a sauce. The sauce is often a mix of soy and peanut sauce.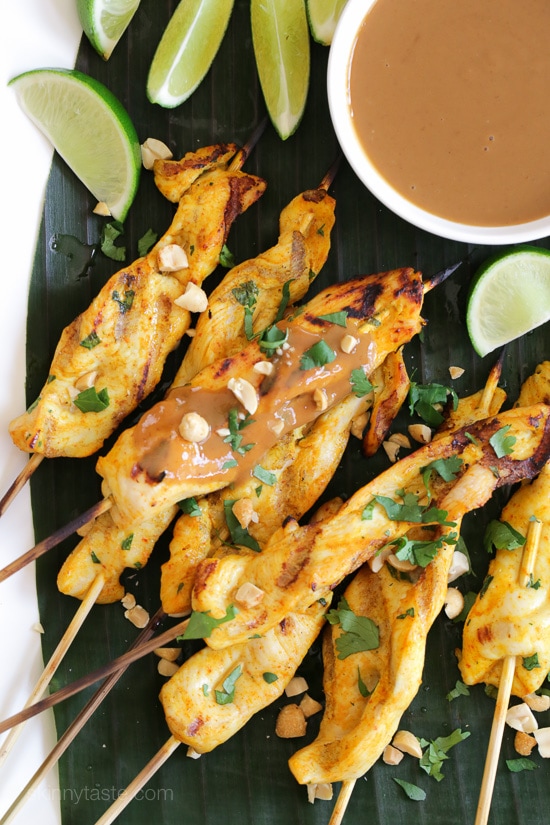 If there are regional variations, then the Thai version of Satay tends to be smaller and thinner than some of the others you see in Asia.



Meals at the hotel

One evening we took the 'Taste of Asia Buffet', which we felt was very average and far too expensive (around €30 each). There was a far superior evening buffer at the beach club, but with a far superior price as well.

Another evening meal option at our hotel resort was 'poolside'. Everyday there was an afternoon Sushi offering (12:00 to 18:00), however they also had a menu with other Thai specialities such as pasta and pizza.

We took Chicken Satay and Thai spring rolls, followed with ice cream. We had a well served and very tasty meal (12 Chicken Satay and 10 spring rolls).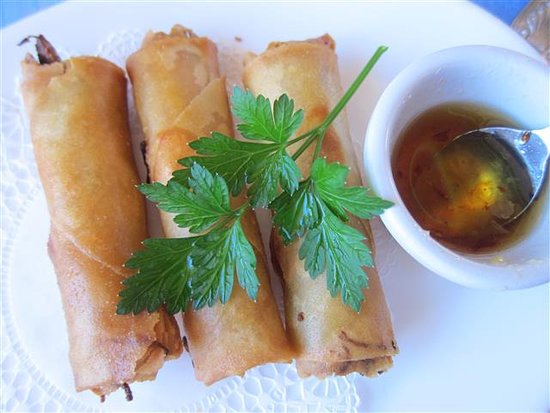 Spring Rolls (Poh Piah) are a popular dish found throughout East, South, and Southeast Asia (so from China to Philippines). However, the wrapper, filling and cooking technique vary depending upon the country or origin. Thai spring rolls are usually made with ground pork, sliced cabbage and thinly sliced carrot and onion, so similar to the Vietnamese Chả Giò (or Nem). The Thai rolls are more or less the same size as the Vietnamese Nem but the fried wrapper is thinner and pastry-like. Normally I would have rolled the Nem in large salad leaves before dipping them in Nước Chấm, a Vietnamese fish sauce. In this case the Thai Nem were served with a sweet chili sauce and a very small side salad.
The price for 10 spring roles was 275 Baht, and for the 12 pieces of Satay Chicken was 325 Baht. A small bottle of mineral water cost 50 Baht, and a nice large Singha draught beer cost 190 Baht. Add to that 10% service charge and 7% VAT.

Another time we tried the Thai Fried Rice with chicken (Khao Phad Gai). This is a very common dish served all over East Asian, Southeast Asia, and South Asia. Typically it is stir-fried rice with egg, some vegetables and chicken. In principle Thai fired rice is made with the fragrant long-grain Jasmine rice (but frankly I'm not sure this rice was used for our meal).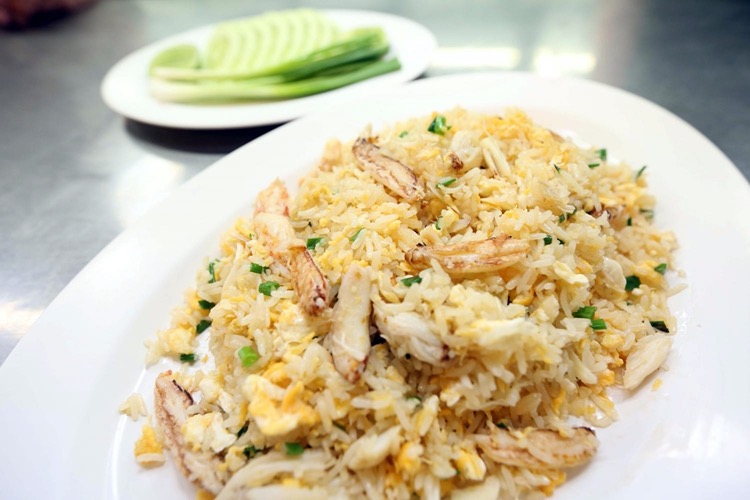 Our version had plenty of boiled pieces of chicken, a lightly fried rice, and was nicely compacted into a dome. However, it was also served with a fried egg on the top, which I doubt is a traditional presentation. It was served with sliced cucumber which is part of the traditional dish. We were not that impressed. It was certainly a healthy choice, but very bland.


Meals away from the resort

Several times we had an
evening meal
at
MK Live
in the 'Central Festival' shopping centre. We liked the place because it served a good, simple
Hot Pot
(also known as a 'steamboat' or
Chinese fondue
). It is a very simple meal. In the middle of the table there was an electric hotplate, and everything starts when they place a simmering pot of soup stock on it. The soup is just water, salt and some spices. You can pick vegetables, fish and meats from the menu. We picked scallops, prawns, sliced salmon, and thinly sliced chicken.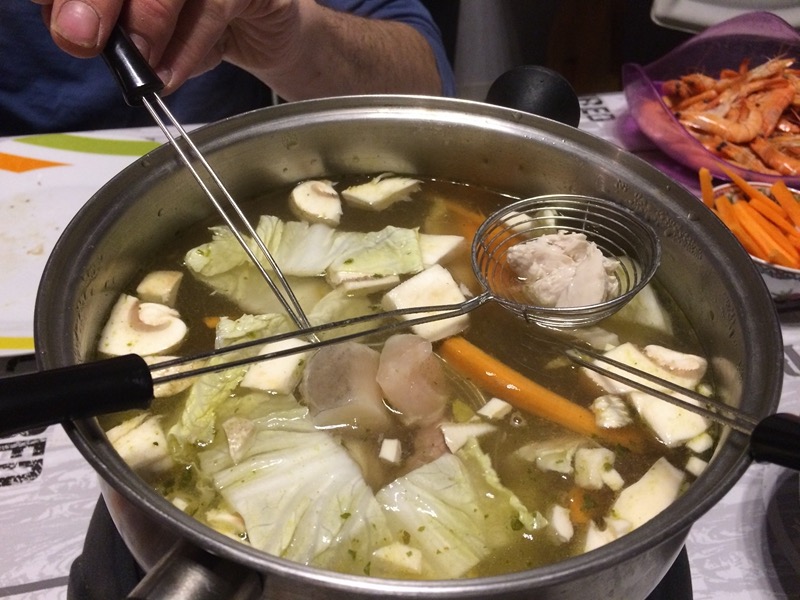 Basically we cooked what we had ordered in the hot soup, and ate it with rice and a spicy sauce. The total cost was just under 700 Baht for two. And we occasionally finished our evening meal with an ice cream at a different stand in the food hall (230 Baht each).

On our trip to see the James Bond Island (see our trip report) we had lunch on the floating village Koh Panyee (or Ko Panyi). The restaurant was a large and well built wooden structure at one end of the island, and the food was well prepared and very tasty. There is even a Tripadvisor review of the restaurant, but I wonder sometimes if they are writing about the same place. It only received a 3/5, and my guess is that the reviews were written by people who had had breakfast before that their hotel. We had started our trip at 06:00 in the morning and lunch was our first meal of the day. It makes a difference, and we would rate it as a 4/5 because it was simple, fresh and authentic.
Reading through the comments on the restaurant I suspect that (a) it helped to arrive early and not be part of a big tourist group, and (b) we ate with a Thai couple who were known at the restaurant.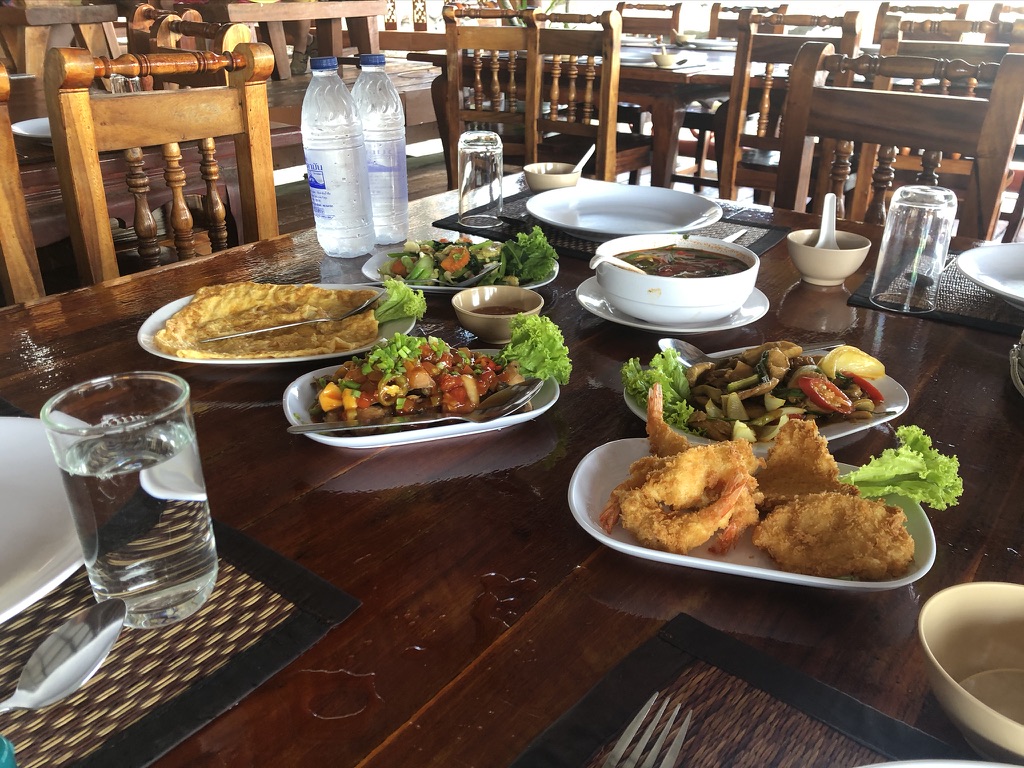 On the table we can see some deep-fried sea food, a light chicken-cashew Thai curry, and fish plate, some vegetables, an omelette (khai jiaw), and a vegetable stew/soup, plus rice. Being a Muslim village, there was no alcohol. The soup was a surprisingly good light lemongrass vegetable soup that tasted as if it should be spicy, but it wasn't. I liked the chicken-cashew curry with some rice, but I wasn't convinced about the local fish dish that had too many little bones in it for my liking. At the end we had some fresh pineapple cut in slices. As usually it was a pale colour and quite crunchy, but still tasty.


Local village food

We quite often ate in a small local restaurant, which had a nice terrace and tendency to play music from the 70's though 90's. They had a 'happy hour' and a menu with a really odd mix of Thai and Italian food. We tended to always take a starter of
bruschetta
. In the local village you basically had two options, a real street-style Thai or a up-market Euro-Thai option. If you went for the street-market option, comfort would be limited but the price would be quite low (and who knows about hygiene?). If you went with the 'Euro-Thai' option, they would pick you up from your hotel, but the prices would be similar to those practices in the resorts nearby (and hygiene might be better).

Here are a few of the dishes we tried:-


Som Tam Gai Yang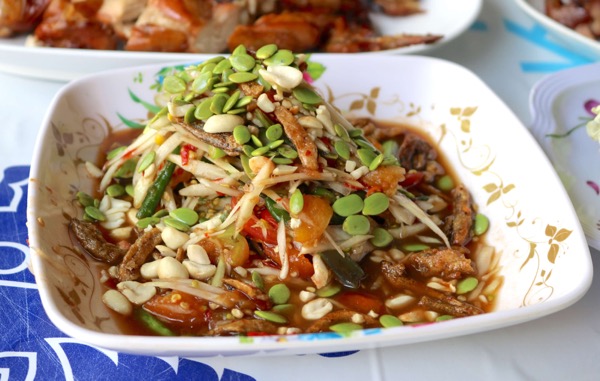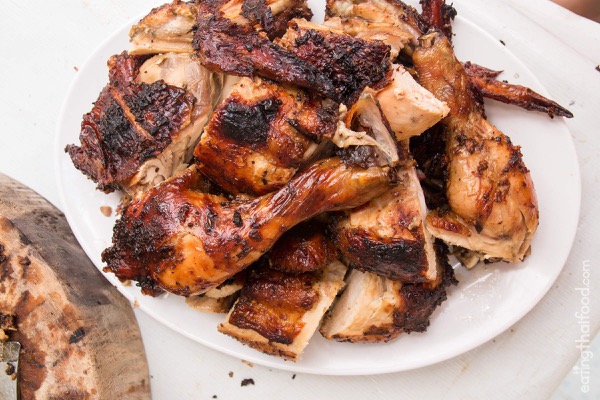 As far as I can tell Som Tam is a green papaya salad but a bit chopped and crushed up. It is a very popular dish in Thailand. We had this option a few times and it looked and tasted different each time, so I'm not sure what went into it. The photograph above more or less captures what I remember, except I can't remember seeing so many green beans. The Gai Yang is grilled chicken, often flattened out so as to ensure it's well cooked. The chicken could be more or less salty, chopped up and served with a couple of sauces.

Yum Woon Sen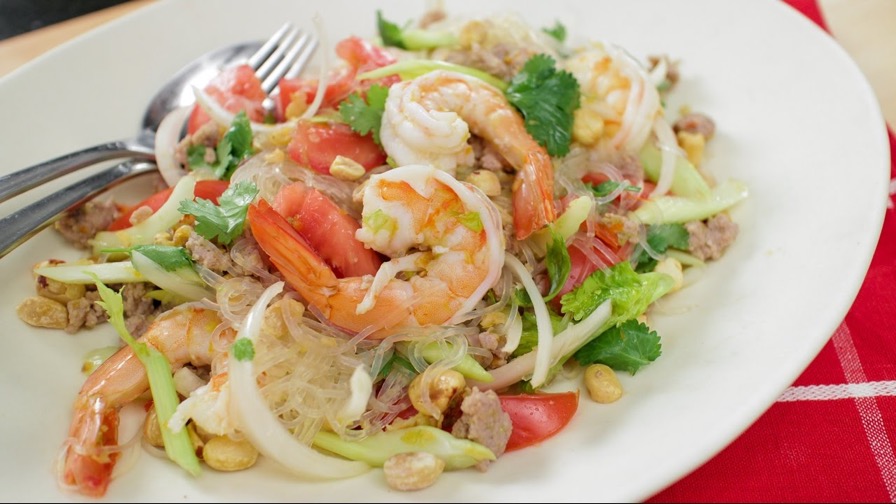 Yum Woon Sen are glass noodles which was very fresh tasting and we had it with shrimps, The above photograph captures quite well the dish I remember.

Tom Yum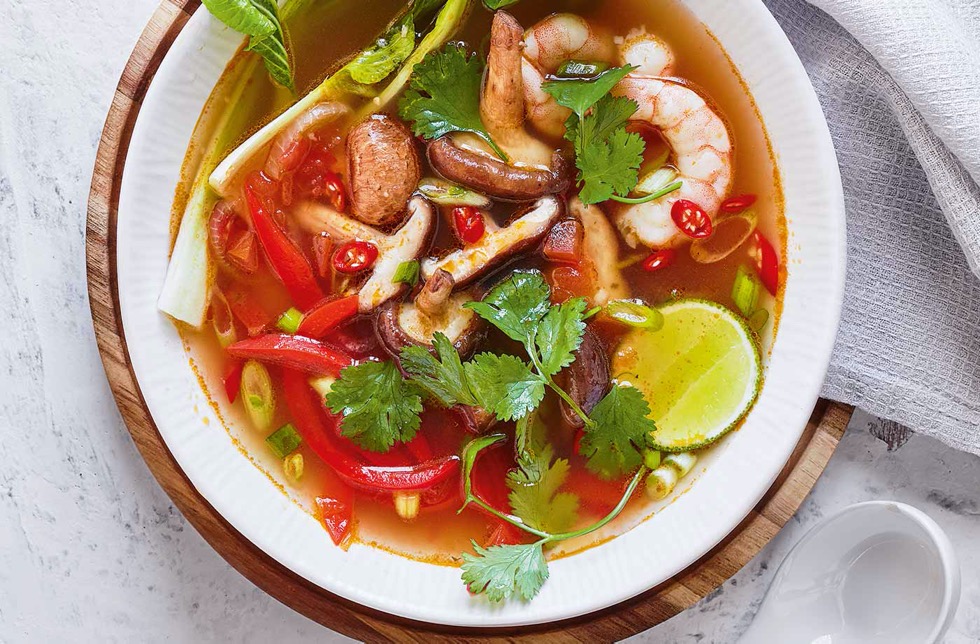 We occasionally had Tom Yum which is a kind of light soup with lemongrass and chilli peppers. We had it a couple of times as a starter, and once it came with shrimps. The photograph above is near to what I remember, but ours was lighter and the bits were chopped up.

Phad Kapraow Gai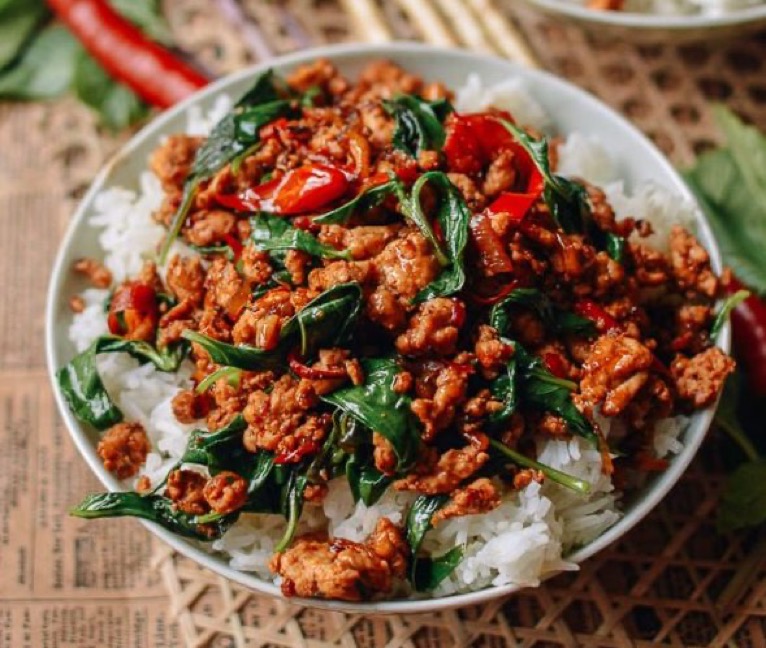 Phad Kapraow Gai is a Thai basil chicken, so stir-fried chicken caramelised with garlic and holy basil, on some rice, and sometimes with a fried egg on top. This was one of my favourite dishes, but without the egg.

There are lots of website for Thai recipes, here are just a few:-
Thai Street Food
Thai Food Plus
Thaifoodmaster
EatingThaiFood



Fruit

One of the most impressive components in the Thai culinary experience, is the variety of fruit available. If you want to know more about the agricultural production of Thailand, you can check out their production statistics
here
. More generally the
World Crops Database
can help isolate what different fruits look like and sometime what they are used for. If your interests is about growing some of these fruit you could have a look at the forum
Farming in Thailand
.

I'm just going to point to the different types of fruit we found in Thailand, although I'm not always sure of the Thai name.


Mango (
Ma-Muang
)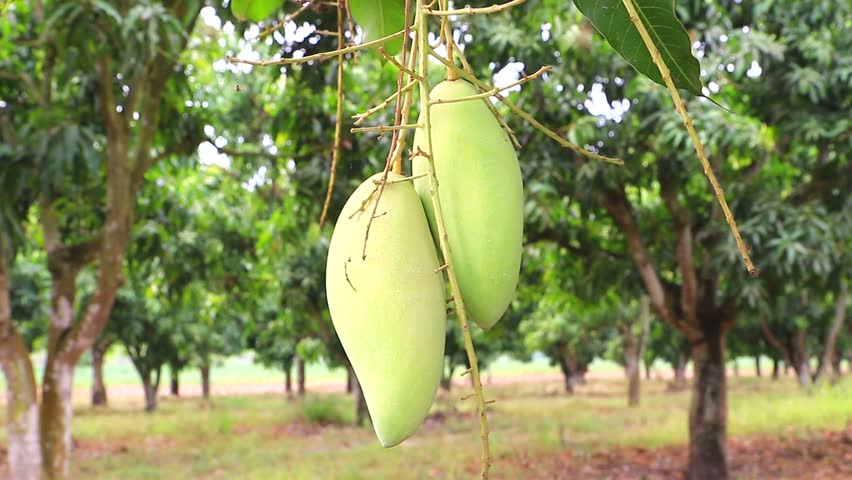 The mango probably arrived in Thailand from either India or Burma. Thailand is the fourth producer of mangoes in the world, and it's the largest fruit industry in the country. From what I can understand there are quite a variety of mangos including ones that are pale yellow or green. Ripe mangos turn yellow or orange and are among the sweetest fruits in the world. Mango can be eaten with a sugar/salt dip or used in Thai salads.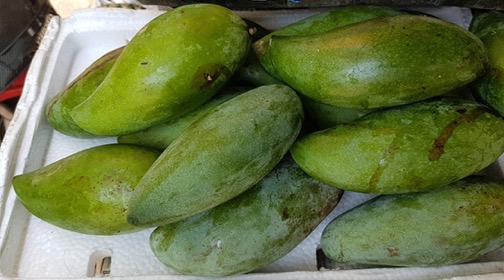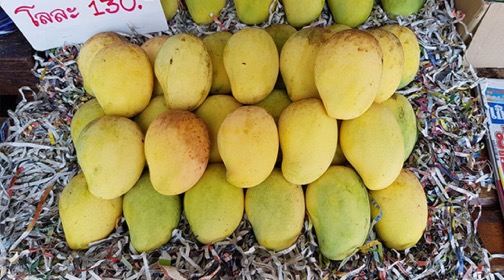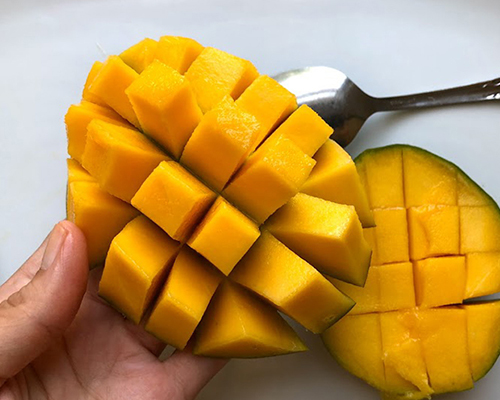 You can find mangos in spicy Thai salads, in Thai curries, and as desserts. As an example this webpage really described the basic mango sticky rice.

There exists also a plum mango, which is related to the mango, and with its seeds is entirely edible. The taste can range from sweet to sour, and the light smell of turpentine is perfectly normal.

"How Well Do You Know Your Mangoes?" is a great Michelin Guide article about Thai mangoes.

The six major economic fruit crops in Thailand are longan, durian, mangosteen, rambutan, mango and longkong. You can see them all on this webpage.

Guava (Farang or Thap Thim)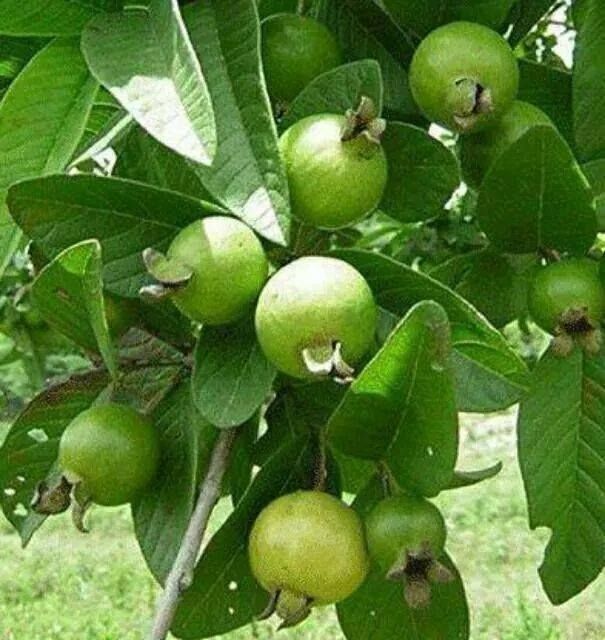 The guava or 'farang' has a double meaning in Thai, since it also means a western foreigner. The guava is native to Central America and was carried to Southeast Asia by the Spanish or Portuguese. Thailand is the world's third largest producer of guavas, and some people call the Guava the tropical apple. In fact it has the texture of a young apple, and is usually eaten raw, dipped in salt or sugar mixed with dried chilli. You can easily find guava juice.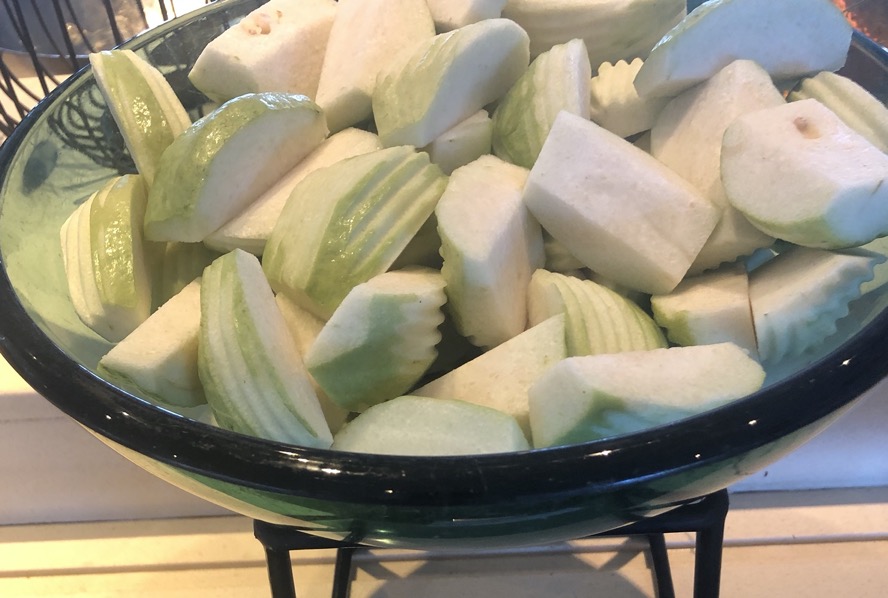 Check out "Production Technology and Main Features of Thai Guava".

Rambutan (Ngor)

The origin of the rambutan is unknown but is said to have been introduced into Southeast Asia by Arab traders. It is a small, sweet, sticky, white golf-ball sized fruit covered in hair. The fruit has a mildly acidic flavour, and you can find them canned in a sweet syrup.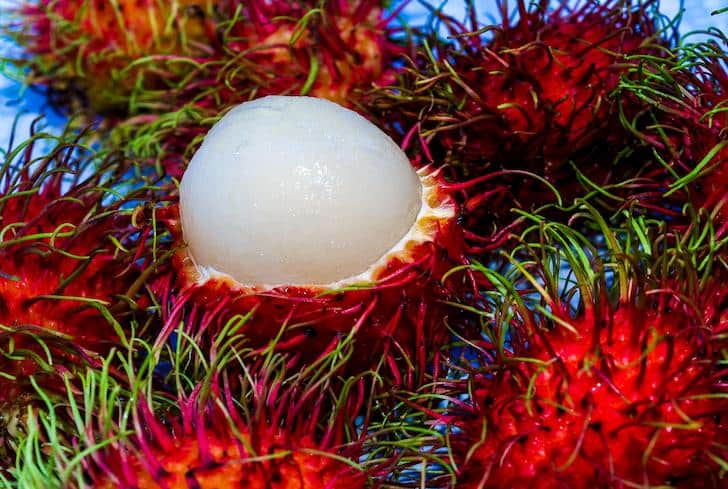 Check out "Exporting Rambutan to Europe", and I quite fancied the recipe "Thai Duck Red Curry with Rambutan".

Jujube (Pud-Sa)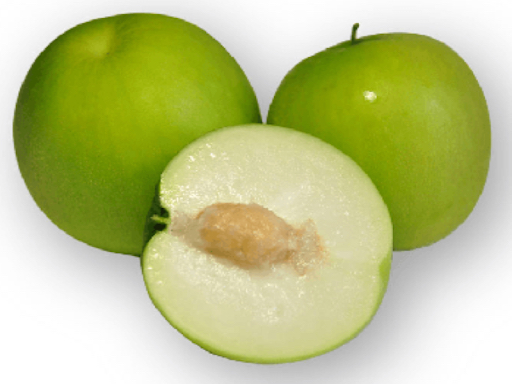 The jujube is a bit like an apple with a lower acidity. When young it is a smooth-green, and as it matures it goes brown to purplish-black, and dried it looks like a small date. In Thailand you can find it as a candied dried fruit that can be eaten as a snack.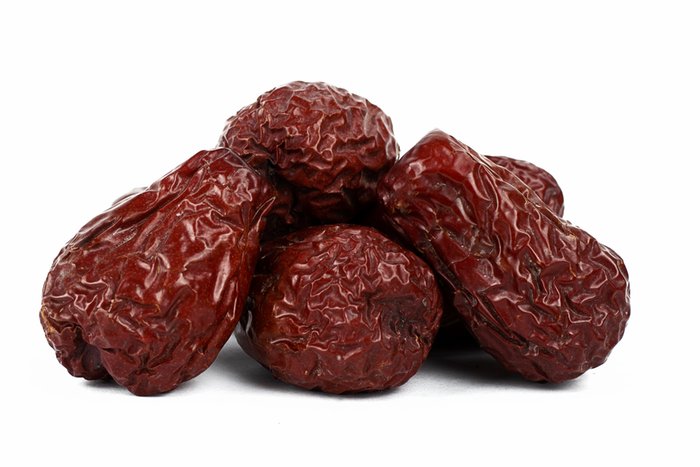 To understand more about the jujube check out "The Jujube Production System in Ban Meng".

Longkong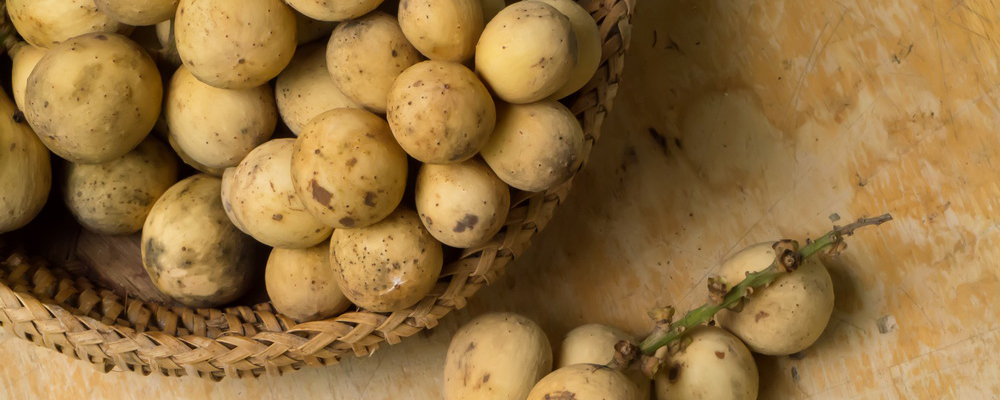 Lansium parasiticum is often known as 'langsat' (Lang-sard), which is actually a slightly different variety Lansium domesticum, however all originate from Malaysia. The fruit is large, more or less round, and looks like a potato clustered like grapes (see above). Some people think they look a bit like longons. The flesh tastes a bit like grape and grapefruit, but the seeds are bitter and should not be eaten. Longkong is very similar but is a bit sweeter, a bit less yellow, and the seeds are less bitter (see below). In some texts this variety is called Lansium domesticum, and it has a thin peel, which excludes a milky sap. There are about five white or pinkish segments of different sizes, most are sweet but can have a sour edge, and one or two segments can contain a seed that is bitter.
It would appear that there is some confusion between langsat and the longkong, because they are different fruits of the same species. The Langsat is when the skin sticks to the fruit. Longkong is used when the skin is easy to peel off, so without the milky latex. The Dutch call the fruit langsat and the French call it longkong, and to make it easy the English and Germans call them indiscriminately by both names. This article tells us that longkong is actually a Thai sterile cross between langsat and the duku from southern Malaysia. I guess the idea was to keep the taste of the langsat but get rid of the latex (Wikipedia dumps all three under langsat).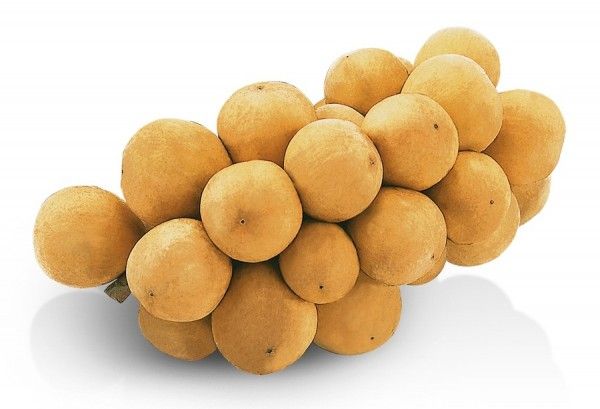 Longan (Lam-Yai)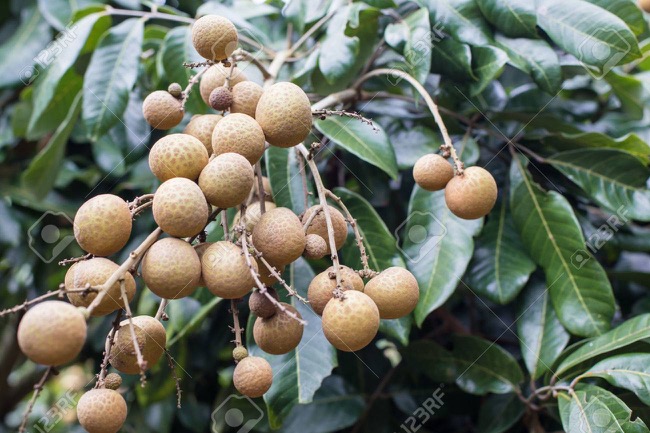 The longan is related to the lychee and rambutan, but is less aromatic. It is native to South China but appears to be much appreciated in Thailand. There are two varieties, one with a light pinkish flesh, and the other a bit greenish, and there is another variety called 'long tong', that is sweeter and more expensive. The longan is often called 'dragon eye' because it represents an eyeball when shelled, with the seed looking like a pupil/iris. You can find them in soups, snacks, desserts and sweet-and-sour foods. Even the seeds can be boiled and eaten.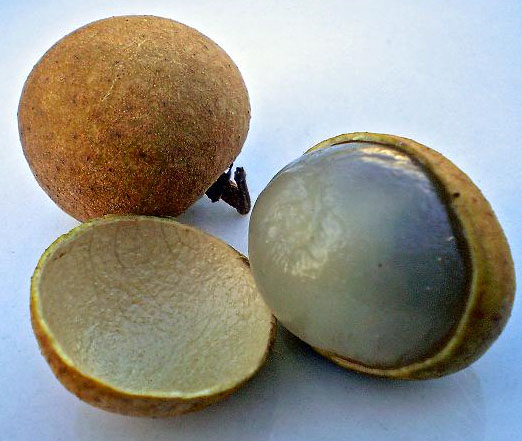 This article highlights that the longan is a politically and economically sensitive fruit that is mainly grown in northern Thailand. It is sensitive because China represents 80% of the Thai export market for this fruit, and there is a constant risk that they impose non-tariff trade barriers.

Sapodilla (La-Moot or La-Mut)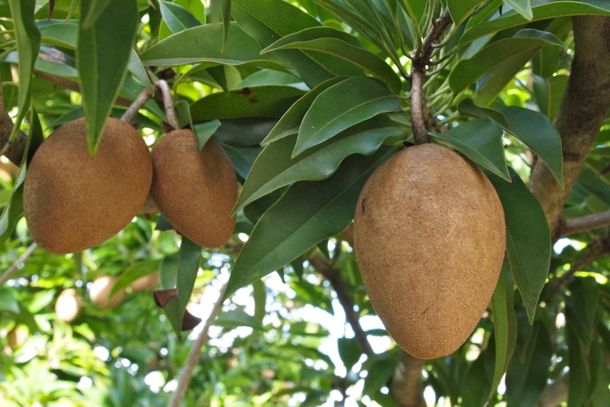 Sapodilla is native to South Mexico, and arrived in Malaysia through the Philippines. It is a large fruit which looks a bit like a well-ripened pear, and when it's well-ripened it has a very sweet honey-malty taste. The seed has a little hook on it and can catch in the throat.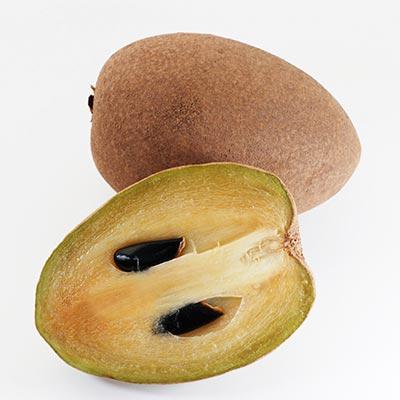 Interestingly, this article tells us that the sapodilla and star fruit (see later on this webpage), along with the durian, banana, orange, papaya, and guava, have significant health benefits for the geriatric population.

Mangosteen (Mang-Koot)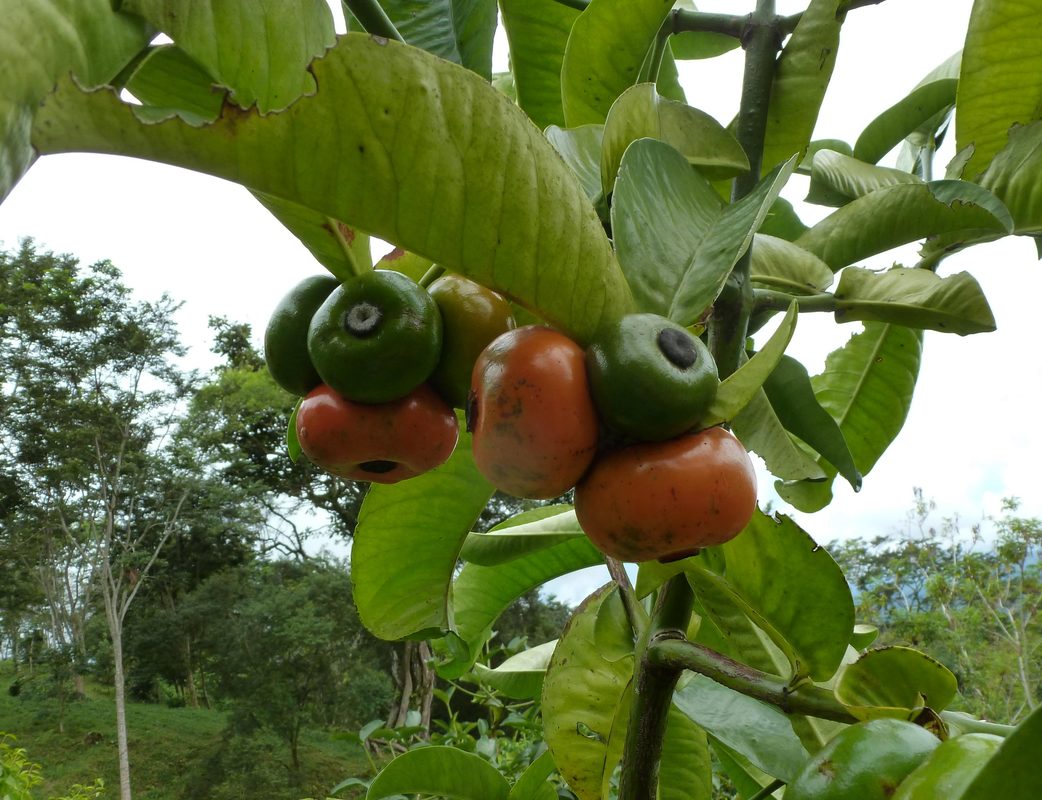 The Mangosteen probably originated on the Malaysian peninsular. It is sweet and tangy, very juice and a bit fibrous, and has the consistency/texture of a citrus fruit. The fruit is often called the 'Queen of Fruits' owing to its 'cooling' properties, in contrast to the 'heaviness' of the 'King of Fruit', the durian. They are often served together.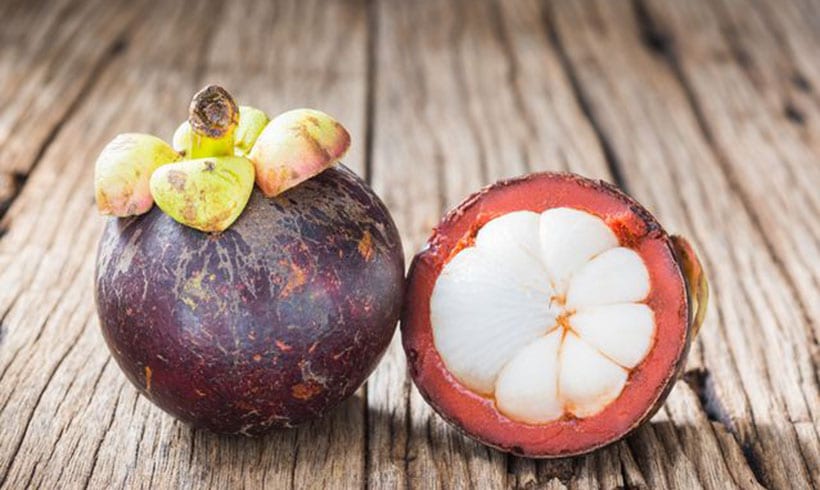 We have already mentioned that a simple fruit can be weaponised in trade wars. In 2019 this article described how prices of one of Thailand's most prized fruits were affected by China when they decided to apply GMP (good manufacturing practice) and GAP (good agricultural practice).

Pomelo (Som-Or or Som-O)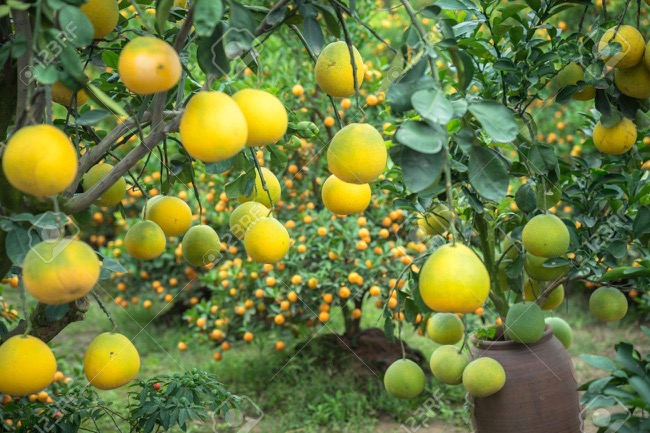 The pomelo is native to Southeast Asia, and is a large citrus fruit related to the grapefruit that can weight in excess of 1 kilogram. The taste is mild grapefruit, and there is a pinkish version that is sour and usually not eaten. The rind can be candied. The usual white variety can be found in spicy Thai salads and as a dessert when dipped in salt, sugar and chilli flakes. The juice is appreciated.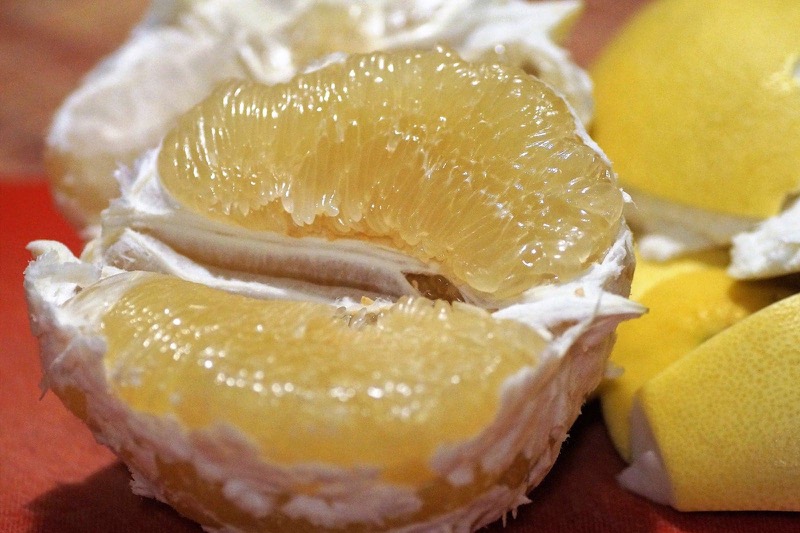 Here is a cool little menu for making a pomelo salad.

Dragon Fruit (Kaew-Mang-Korn or Gao Mung Gorn)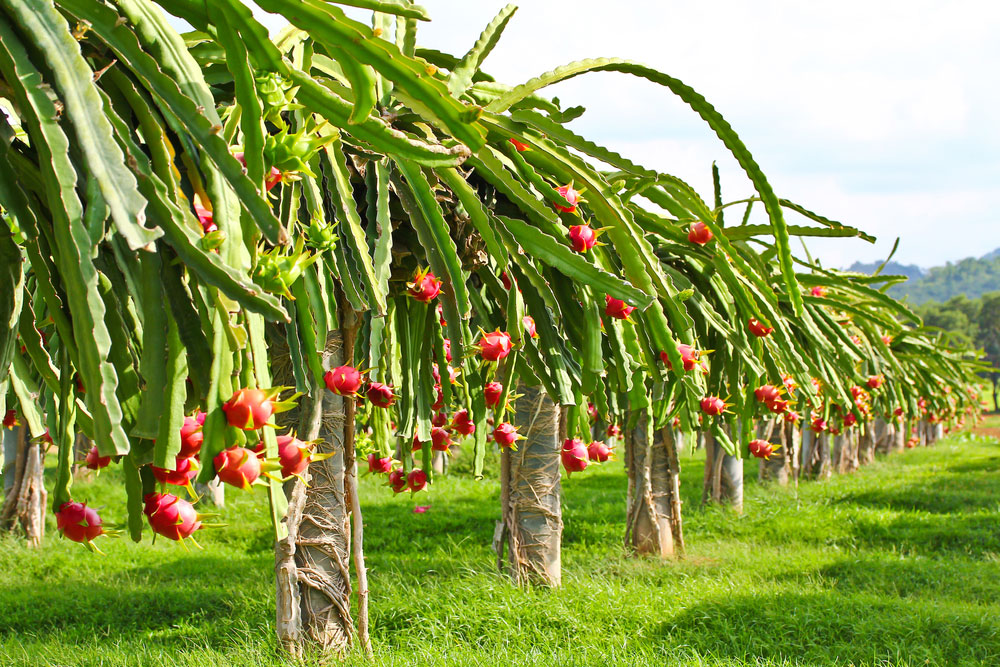 Originally from Central America, the pitaya (Dragon Fruit) is a large fruit of a cactus, of which certain varieties are sweet. The ones we saw were red/pink-skinned with white flesh. The texture is like a kiwi because of its black, crunchy seeds, and the taste is slightly citric. It's often added to a fruit salad more because of its appearance than taste. They say that they are more tasty when fully ripe.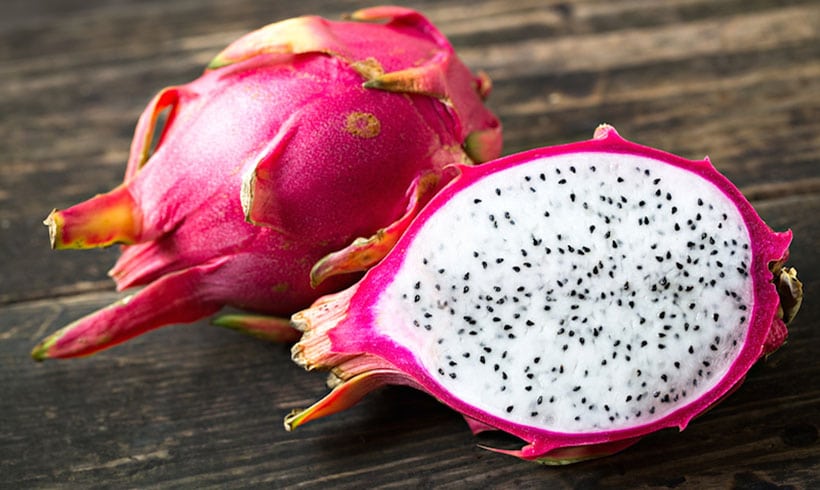 For those people who don't know this fruit, here is summary of it's health benefits and how to eat it.

Banana (Kluey or Gluay)

We all know the banana but in Thailand they have at least 30 varieties, and they can grow almost anywhere (whereas Europeans just know the Cavendish). The large buds of the banana flower (below) can also be eaten. Also the leaves are used as natural wrappers for steamed or grilled fish. The ones you often see are the little crescent-shaped banana. Naturally they can be eaten raw, but they can also be eaten as a banana curry (Kaeng Luk Kluay), with steamed sticky rice (Khao Tom Mut), or with coconut milk (Kluay Buat Chi), or just grilled (Kluay Ping) or as sun-dried chips (Kluay Tak).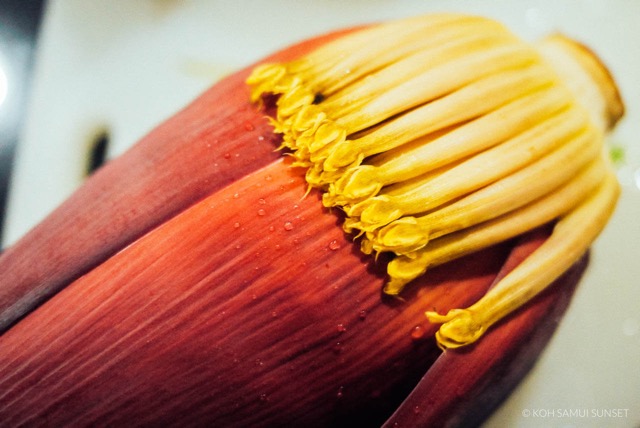 Here is an article about "Kissing your Cavendish Goodbye". And mentioning the weaponising of fruit in trade wars, oddly enough the Chinese are actually leasing land in Thailand to grow bananas.

Durian (Mon Thong or Tu-Rian)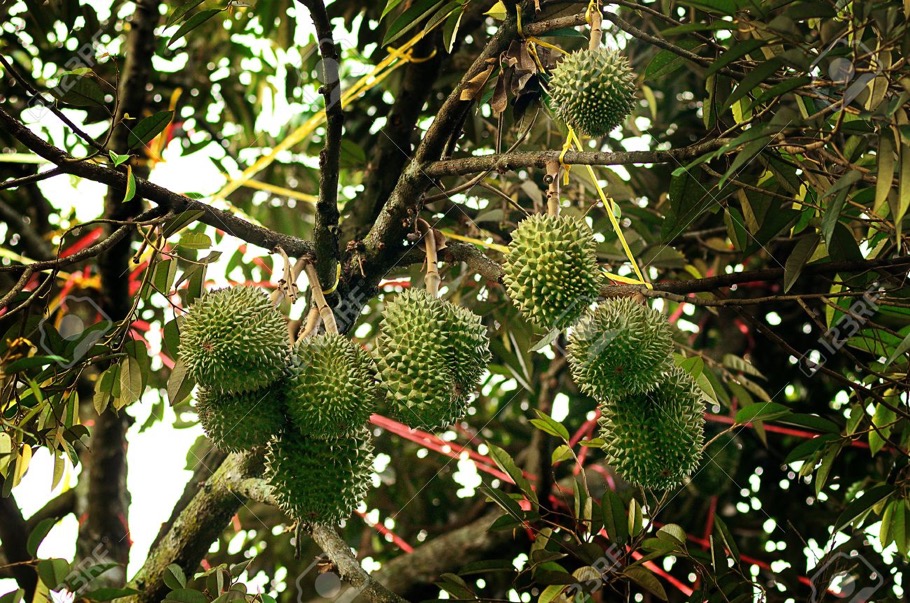 There more than 100 varieties of durian in Thailand, and in some places it's called the 'King of Fruits' because of its large, thorn-covered rind. It originated in Borneo and they can easily be bigger than a persons head. They are usually thick, full-bodied, creamy and have a mild sweet taste. It is usually loved by locals, but is considered an 'acquired taste' by foreigners.

Thailand and Malaysia account for about 90% of the global production of the durian. One problem is that the durian is being imported by China, and Thai farmers are taking on even more debt so they can abandon other crops in favour of the durian. China takes 90% of Thai experts of the durian (at the time Malaysia did not have an import agreement with China).

This webpage is all about cooking with the durian.

Rose Apple (Chom-Poo or Chom-Phu)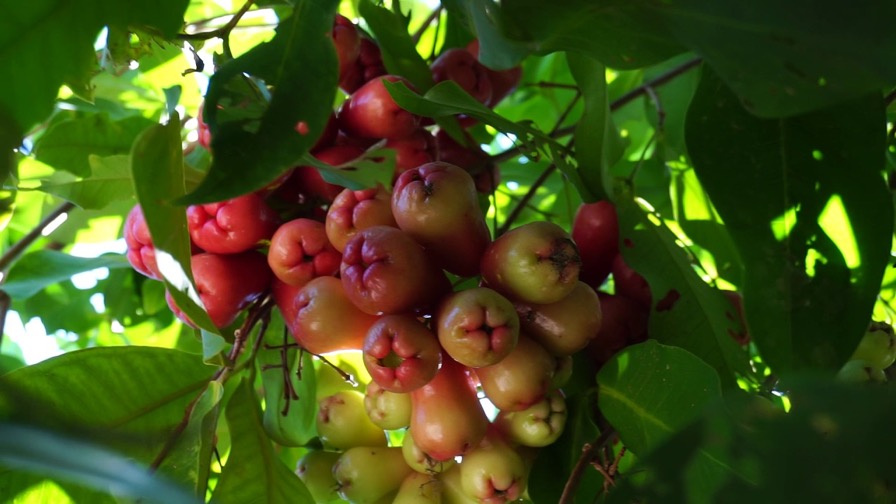 The rose apple is known throughout the Indo-Pacific region, and is often equated with the guava, and they look very similar. They can be red or green and look a bit like a small bell-shaped pear. They are crisp, crunchy and have a light, refreshing taste, and it gets its name from the pleasant floral smell. You can also eat the skin, and it's often used for preserves and jams. A popular dish is when it's mixed with shrimp in a spicy Thai salad.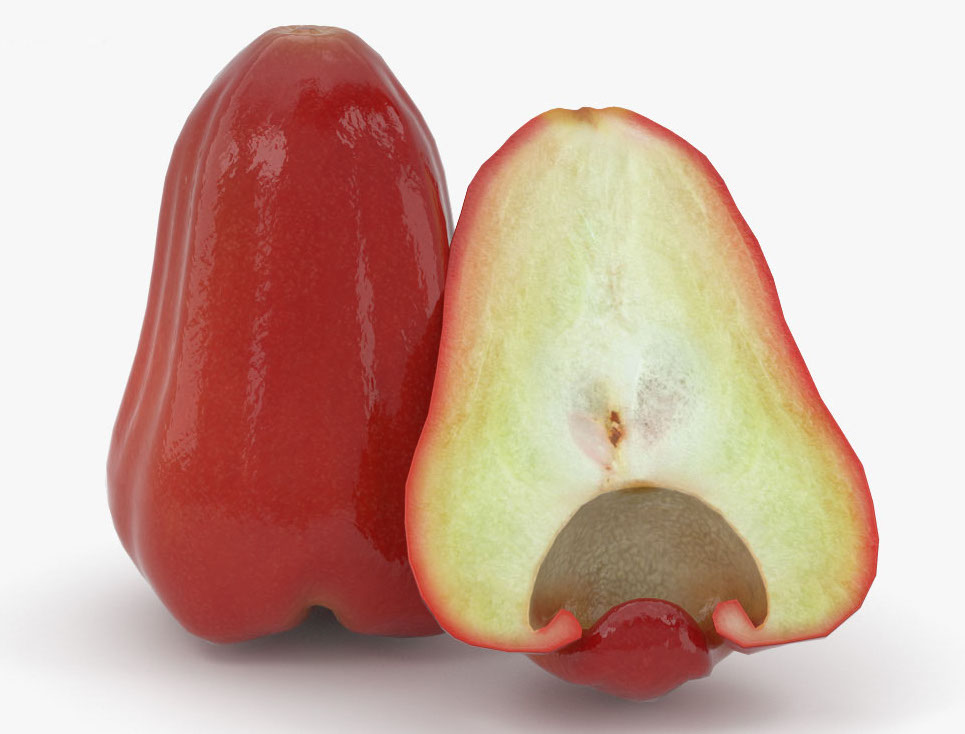 The name rose apple in English appears to have been a translation of the Indian name gulābī jāmba.
Here is a nice webpage commenting on how fresh they are to eat.

Lychee (Linchee or Linjee)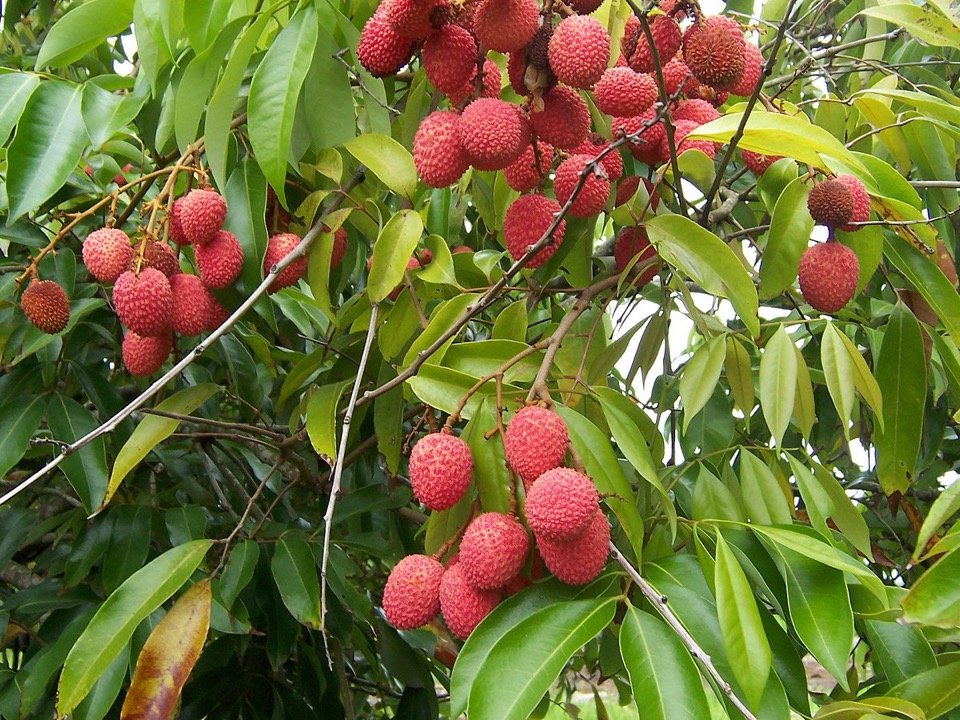 The lychee was originally domesticated in China, and is a small bright red fleshy fruit with a floral smell and a fragrant, sweet flavour. It is usually consumed as a dessert.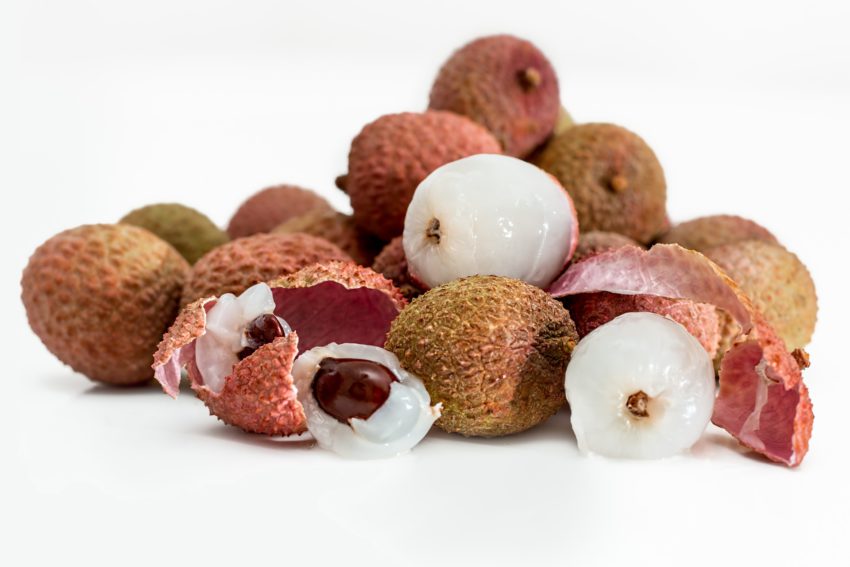 I just liked the idea of a Thai mango and lychee curry.

Coconut (Maphrao or Ma-Praow)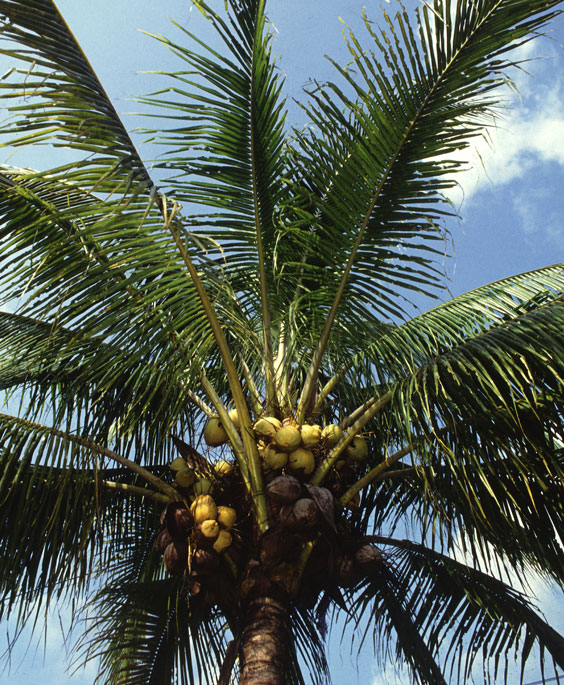 The origin of the coconut is much disputed between the New World and Maleysia, however it was certainly known to the Greeks in the 5th C AD, and could have arrived in Sri Lanka and India as early as the 2nd C BC. It is used in many things, from food to cosmetics, and even as a bio-fuel. You can eat the inner flesh of the mature seed, and drink the coconut milk. The flesh can be fresh or dried and can be used in both sweet and savoury dishes. The milk is used in many types of Asian cooking. There are also hundreds of receipts for Thai coconut dishes, and in particular Thai curries.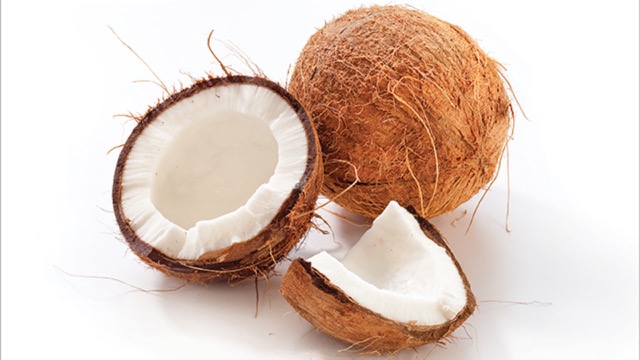 As a bit of trivia, is the coconut a fruit, nut or seed? It can be all three, but the real definition is that it is a one-seeded drupe.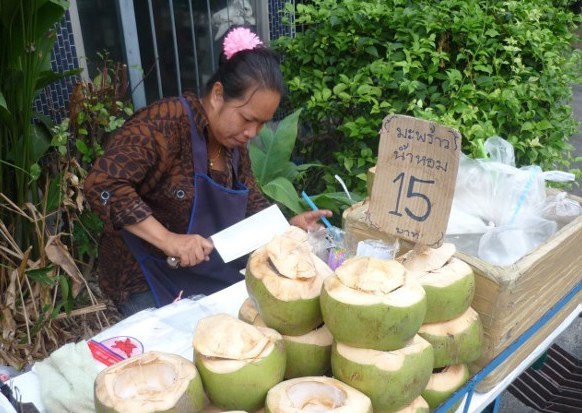 In Thailand you find young coconuts (Ma-Prao Orn) which are in a shaped ivory coloured shell. They are harvested directly from the tree before it has time to age and drop like the more mature white and brown husked coconuts. The juice is refreshing and the meat is soft and a bit jelly-like, and can be eaten with a spoon. They are usually trimmed in some way when served.

Thailand is one of the world's largest producers of coconut, but at the same time Thai factories are importing cheaper coconuts from aboard. This decease in demand for domestic coconut is driving down prices, and pushing many smaller farmers further in to debt. Here is a cool little article on "Coconuts in Thai Life".

Star Gooseberry (Ma Yom)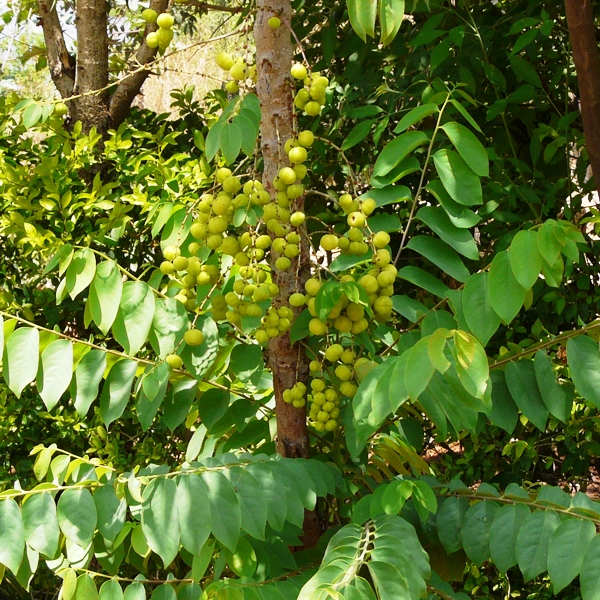 The star gooseberry is a small yellow berry fruit, and does not resemble the gooseberry, except that it tastes sour and tart. The tree is said to bring good fortune, and it provides a much needed shade in summer.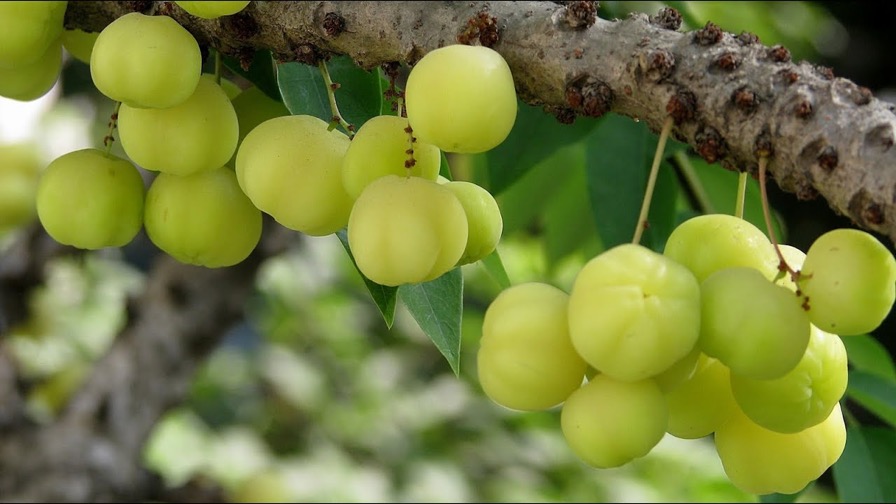 Here is a nice little recipe for a "Cape Gooseberry Chilli".

Jackfruit (Khanoon)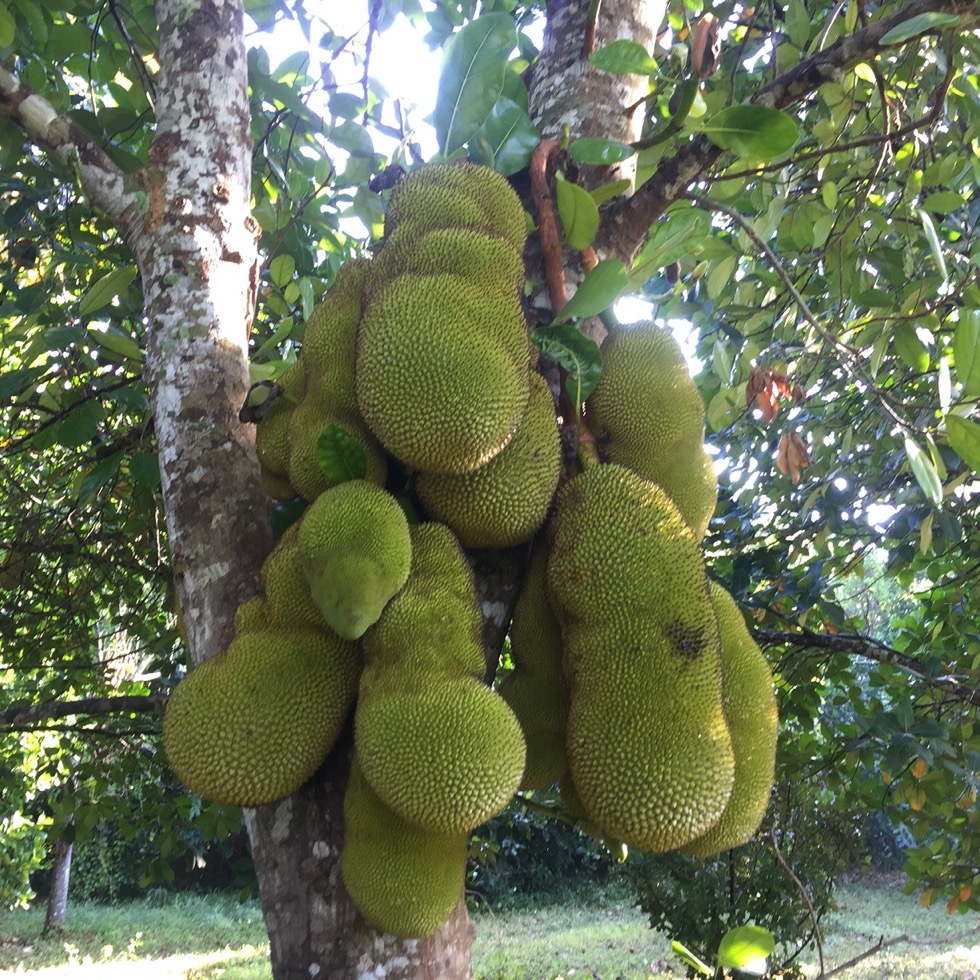 The jackfruit is native to India and was probably introduced into East Africa by Indian traders. The fruit is related to the fig and mulberry, but can weigh as much as 50 kilograms. It's the largest tree-borne fruit in the world. Thailand is a major producer, and they preserve it canned in a sugary syrup. The interior seeds are crisp, crunchy and have a taste similar to pineapple but milder and less juicy.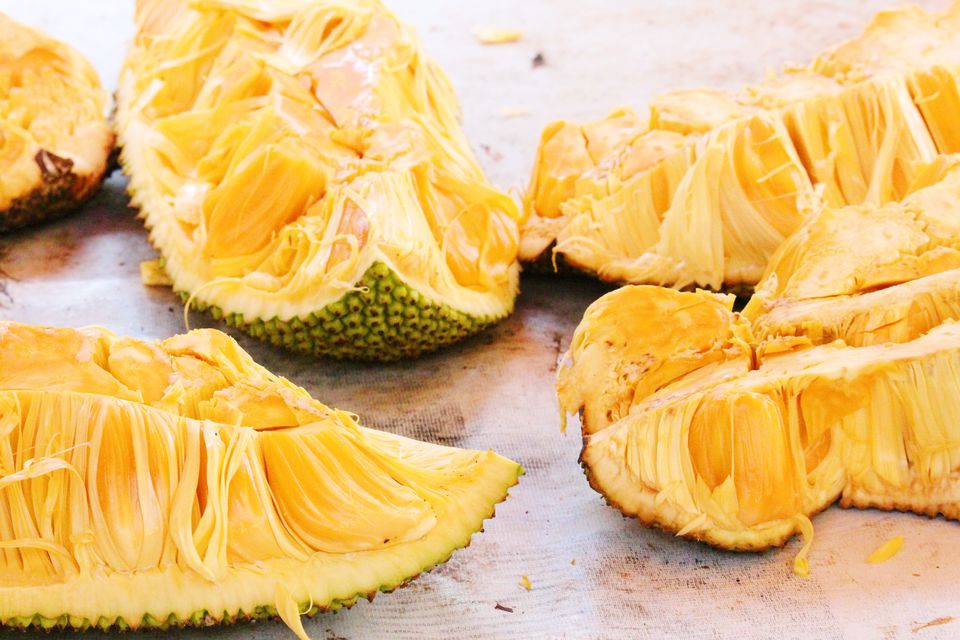 Frankly I had never heard of this fruit, but here is an article about it being the tree to feed the world. The English name 'jack' is from Portuguese jaca, which probably derived from Malayalam chakka.

Pineapple (Sapparod)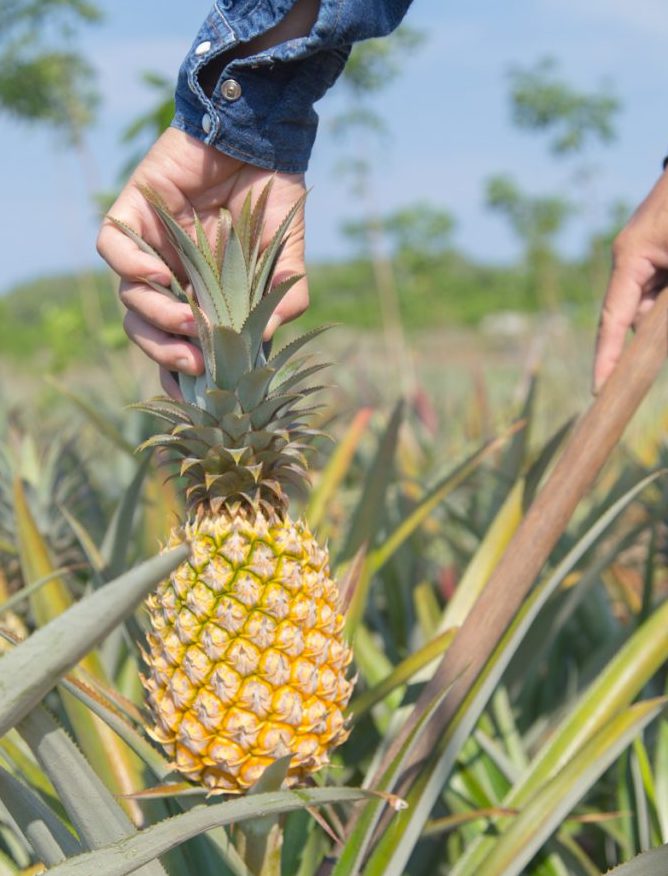 Thailand is a major producer of pineapple, and there is even a cultivar called 'Phuket'. I think that Thailand is one of the world's fourth largest producer of pineapple, and the pineapple is the world's third most important fruit crop, after bananas and mangoes (citrus fruits being considered sub-topical products). Originally from the Amazon it was introduced by the Portuguese. You can of course find fresh pineapple and a variety of juice, but you can also fine pineapple jam, candy, leather, powder (for juice production and as a flavouring), vinegar and wine.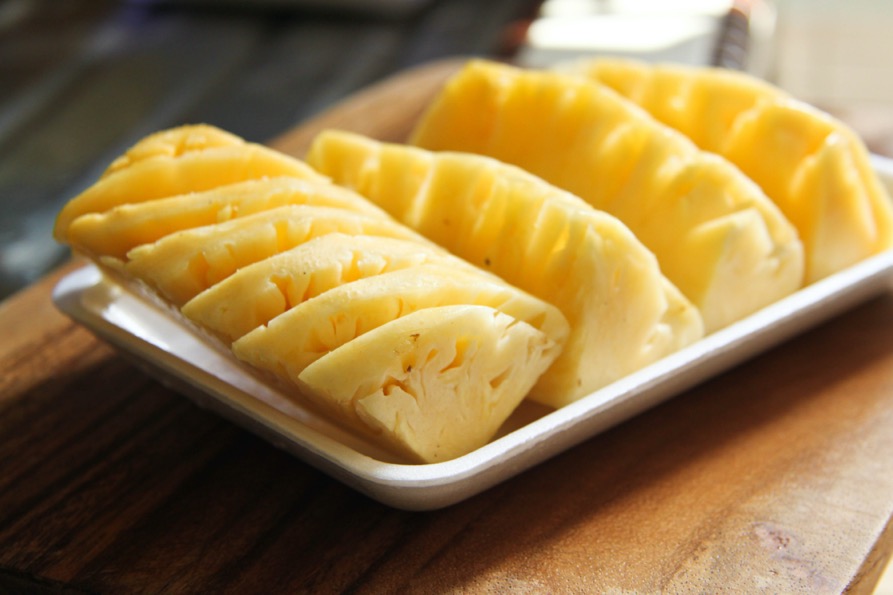 Santol (Krathon)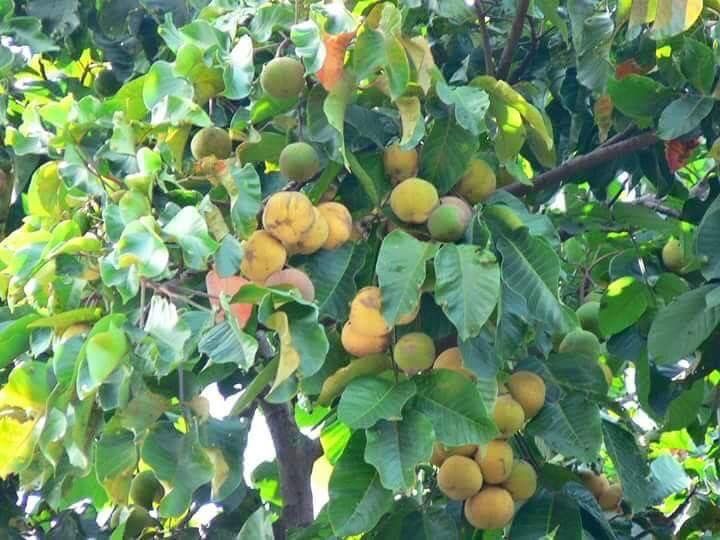 The santol can be found in two varieties, green and red. They look a bit like peaches and have a similar texture, but the central pulp near the seeds can be either sweet or sour. It is commonly called wild mangosteen in English.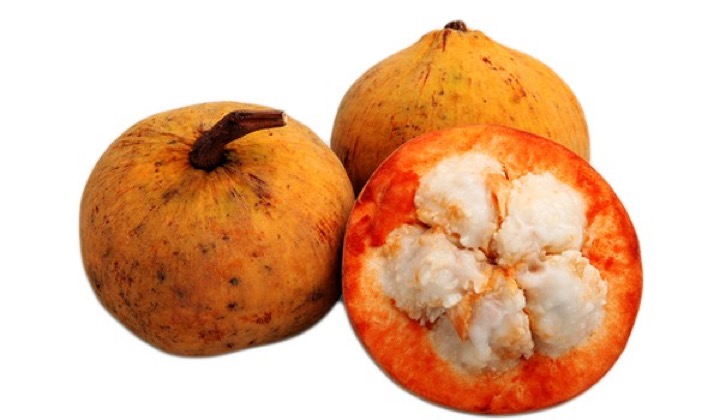 In Thai cuisine this fruit is used to make som tam when still not fully ripe. It is also one of the main ingredients in Thai curries with either pork belly or prawns.

Tamarind (Makarm)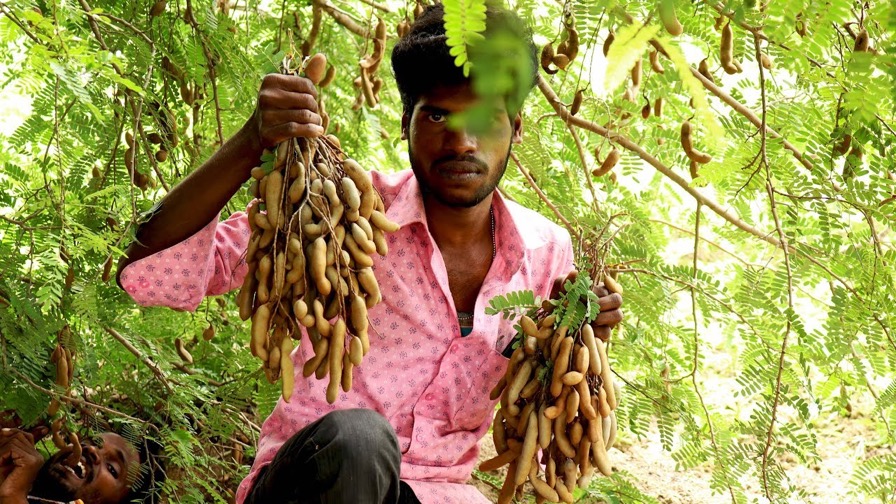 The tamarind is a pod-like fruit that contains an edible pulp used in cooking around the world. It is usually found as a sour paste and is used in chutneys, Thai curries, etc. There is also a sweet variety that can be eaten fresh (and comes mostly from Thailand).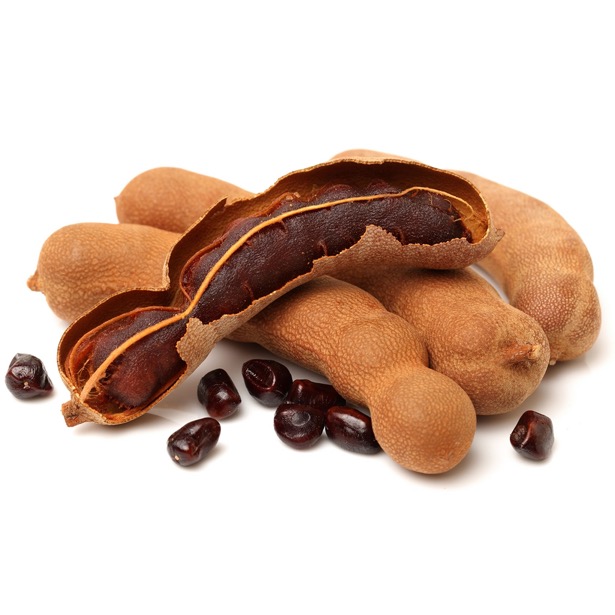 Thailand is a major producer of tamarind, along with India. In addition to being a food stuff, it is also used as a preservative, paper adhesive, and in jute products and textile printing.

Star Fruit (Mafeuxng)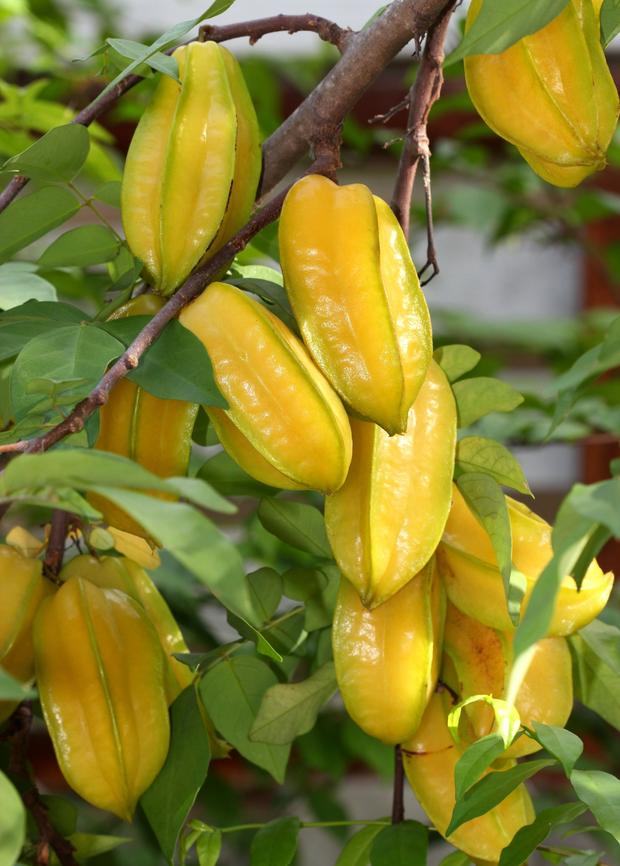 The star fruit has a distinctive cross-section, it looks like a star. The flesh is crunchy, firm, and extremely juicy, and it is sweet but a bit tart.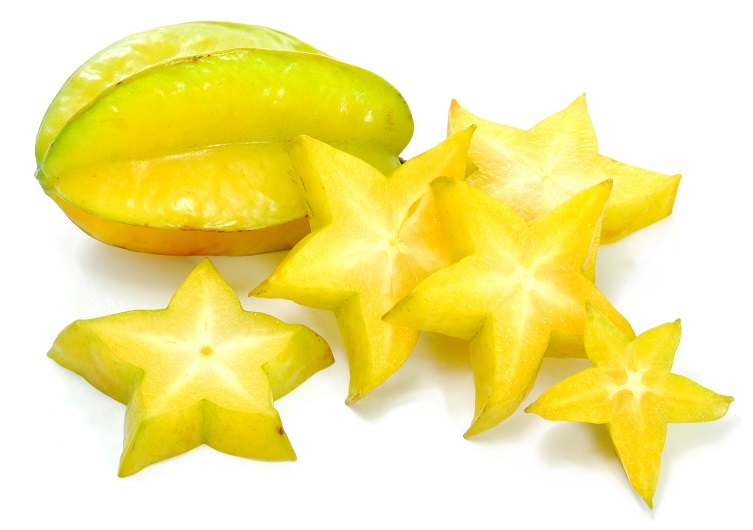 The star fruit is native to Thailand and both types, sweet and sour, are grown extensively. It is increasingly being considered a useful fruit for reducing cholesterol levels (LDL) as an antioxidant and anti-inflammatory treatment for the elderly.

Papaya (Ma-La-Kaw)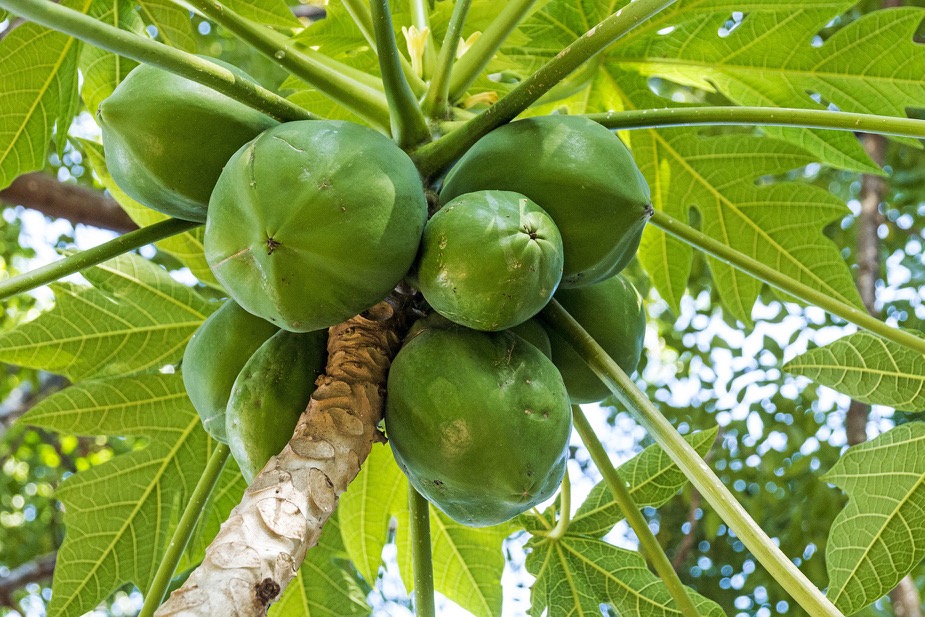 Papaya is commonly grown in two varieties, one has sweet orange flesh and the other yellow flesh. Both picked early are green, and you often see 'green papaya' mentioned in recipes. It was probably native to Central America, and carried by the Spanish to the Philippines, before diffusing through Southeast Asia and India. In Bail it was known as the 'Spanish banana'. The Thai name comes from the fact that it was introduced from Malacca, the Portuguese trading town.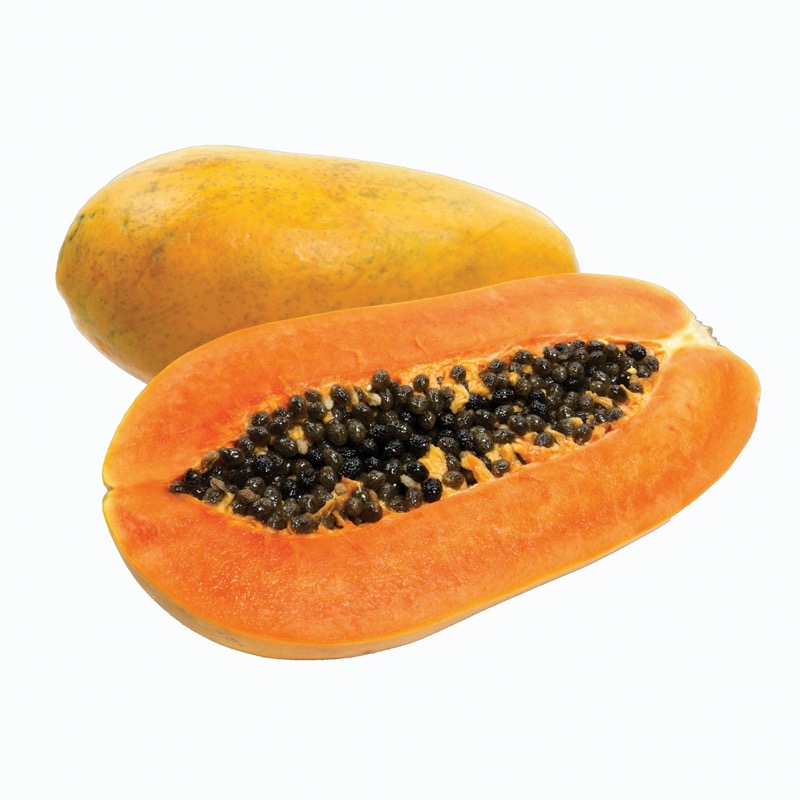 In Thai cuisine, papaya is used to make Thai salads such as som tam and Thai curries such as kaeng som when still not fully ripe.

Sugar-Apple (Noi-Na)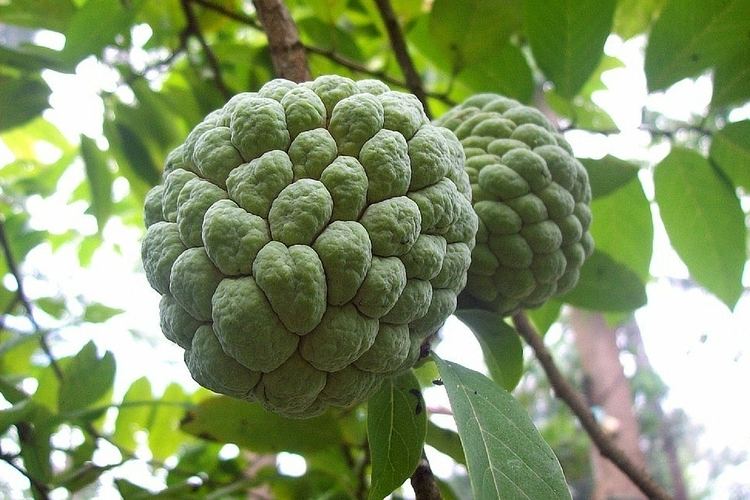 Sugar-Apple has a fragrant and sweet flesh, creamy white through yellow is often called 'custard apple' because it resembles and tastes like custard. There appear to a number of varieties of this fruit with names like Soupsop, Sweetsop, and Bullock Heart, all originating in tropical America, e.g. West Indies. One variety was brought to Asia by the Dutch, and gained the name 'Dutch durian'. This fruit arrived in Thailand from Malaysia.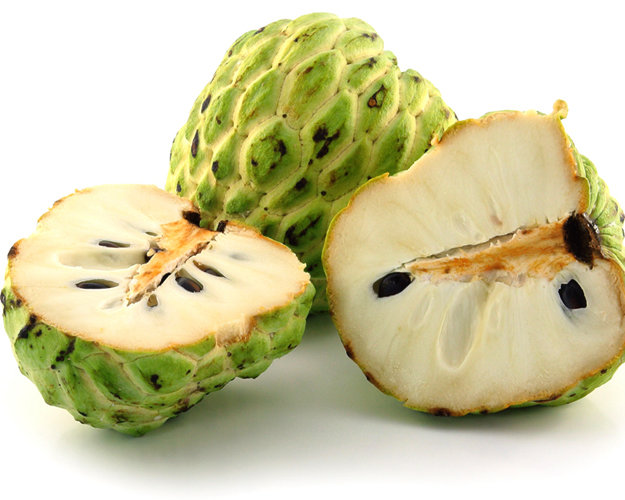 Surprisingly this fruit is not well known because it spoils easily and does not travel well. However it is now recognised as a source of acetogenins, which have a strong anti-tumour activity.

Snake Fruit (Ragam)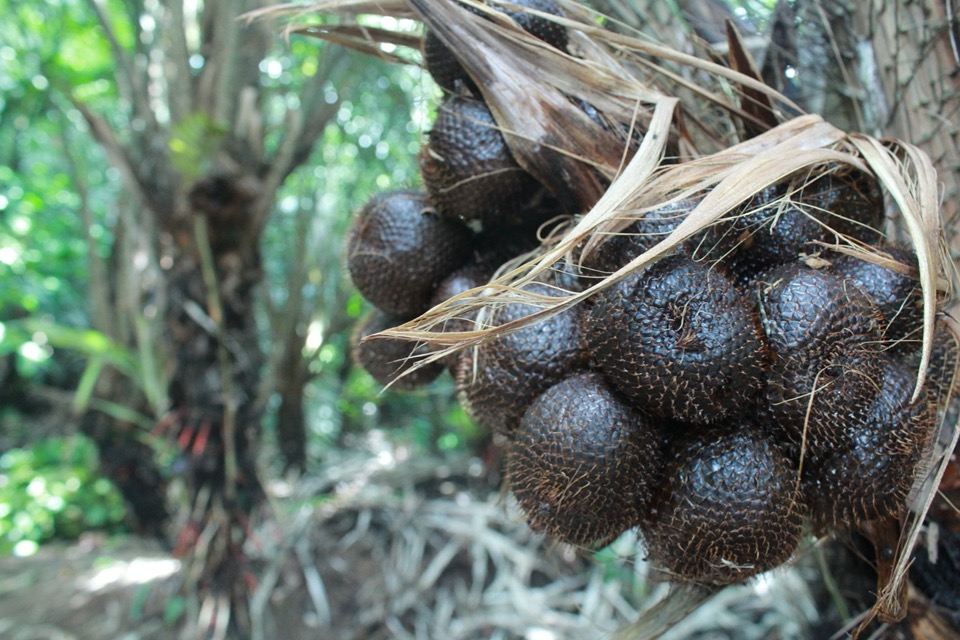 Snake Fruit got it's name from the fact that is has a reddish-brown scaly skin. It's shaped a bit like a fig, but has spines. You need to peel it carefully, and eat the pulp, which is usually sweet with an acidic-tangy aftertaste.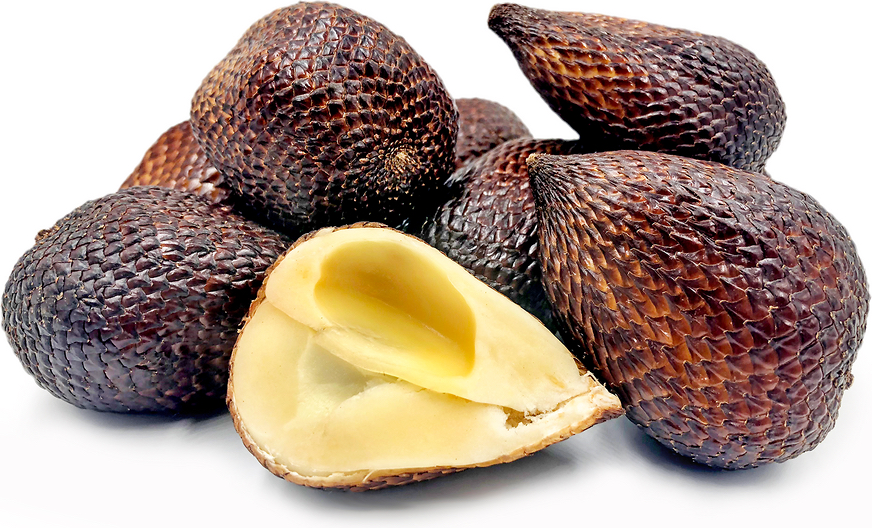 If this fruit is new to you, check out this excellent summary.

There is a lot of confusion about the above snake fruit and the Sala (Sala) fruit, which is in the same family 'Salacca'. Below we have a photograph of the sala fruit which is a bit longer and thinner than the snake fruit. They are supposed to be more edible than the snake fruit.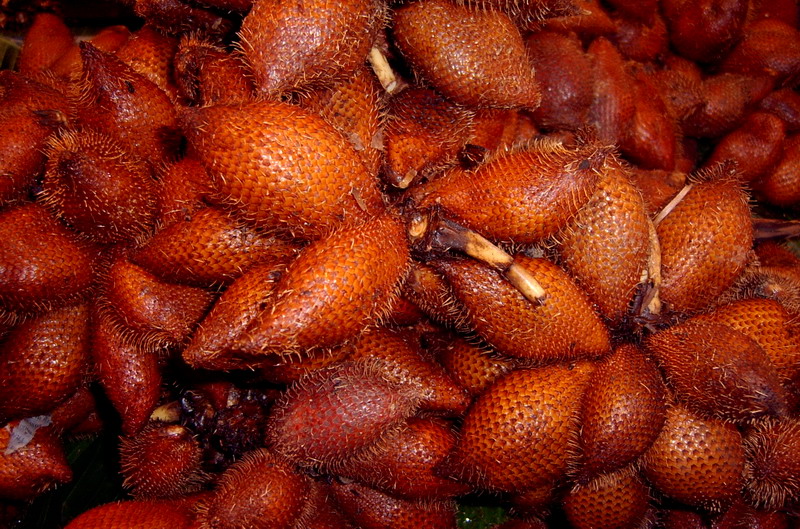 I remember seeing this fruit at breakfast, but they called it snake fruit, and I must admit it did not look that appetising. Finally I'm not sure which is which because both varieties appear on the web with the name snake fruit.

Mafai (Burmese Grape)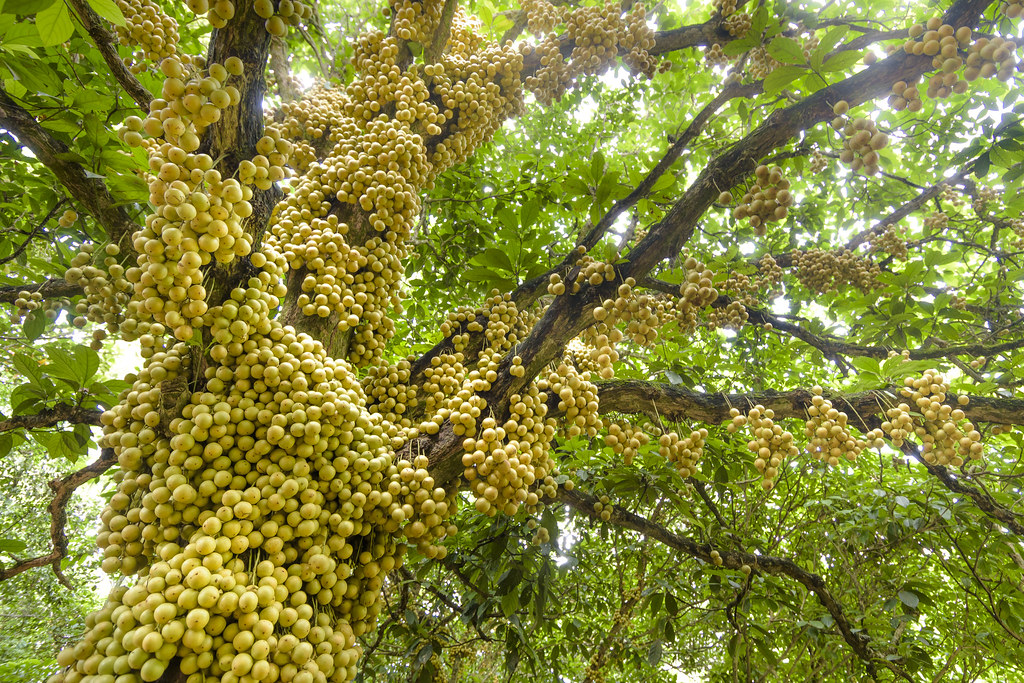 Mafai is also called the Burmese grape and it's a small fruit that can be eaten fresh or stewed. The fruit is oval, coloured yellow, pinkish to bright red, is about 2.5 to 3.5 cm in diameter and has 2-4 large seeds in a white pulp. It can easily be confused with another fruit called the Mafai-Farang, which is pinkish, yellow or brown, 2 to 5 cm in diameter, and has 3-5 seeds in a white pulp.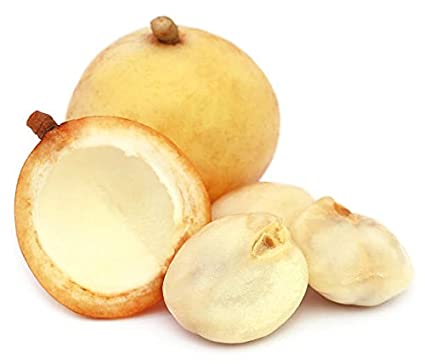 I've seen a lot of confusion on the web between this and other varieties of Baccaurea, and each fruit looks a bit different. We did not see this fruit at breakfast, and I can't remember seeing it at the market.


Vegetables in Thailand

Not the topic of this page, but Thailand also produces the following vegetables - Kangkong (
water spinach
), lettuce,
Chinese Kale
,
Pak Choi
(a type of
Chinese cabbage
), cabbage, cucumber,
asparagus bean
, garlic, chilli, tomato, asparagus,
okra
, baby corn, and watermelon.