Airport and Hotel Security
last update: 14 March 2020


I've tried to compile a useful guide to both airport and hotel security, and I've inserted some comments (in italics) based upon our winter trip of 53 nights to Thailand and Dubai, through London.


Airport Security

During our trip to Thailand and Dubai, via London, we went through six different airport security checks.

Firstly we made sure to have
all essential items
, e.g. passports, etc., and
all valuables
in our hand luggage. We made
check lists
to ensure that all our stuff went into the right suitcases and bags. Half the battle in going through airport security is to be fully prepared. We took photographs of all the contents, and photographs how they were packed in to our suitcases.

The most important thing was to look after
liquids/creams
, etc. Each person is allowed a 20 cm by 20 cm zip-loc type transparent plastic bag. Liquids must be in small bottles (each less than 100 ml) and the plastic bag can't contain more than 1000 ml. To be absolutely sure we would have no problems all our creams, gels, powders, etc. went into our 'check-in' bags. We used the small plastic bottles and a bag specifically designed for air travel. You can find them in most supermarkets. We made sure the two small bags (one each) were easy to find so we could put them separately in the plastic trays used for the security screening.

I must admit that we missed a 20 ml tube of cream that got mixed up with the collection of medication that was packed separately in our carry-on spinner. But it was never detected.


The next most important things were the
laptops, iPad's and iPhones
. I made sure that they could be removed and placed separately in the plastic trays used for the security screening. In addition we were carrying three different iPhones, so they also went into the trays so they could be seen by the security people. I also made sure that they were all charged, just in case we were asked to switch one on.

I was wearing a jacket with zip pockets, so I could load them will all metal objects (e.g. watch, keys, coins, etc.), and passports, boarding cards, etc., and then simply zip them closed and drop the jacket into one of the plastic trays.


Only once my wife was asked to remove her
shoes
and be re-scanned.
Of the six security checks, I removed my belt twice, and it was 'picked up' twice. So twice I went through the security screening with a
metal buckle on my belt
, without it being detected.


We had prepared all our
prescription medication
for a two month period in a separate compression bag with documentation and prescription details. This went into out carry-on spinner.

At no time was our collection of medication checked or questioned.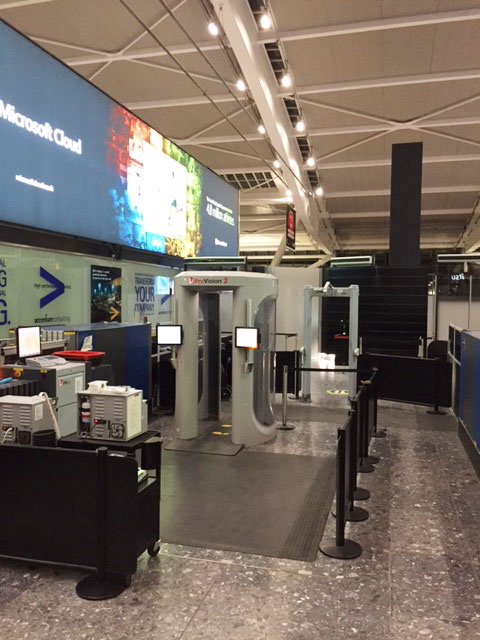 On the return flight from Heathrow to our home airport, we were subject to a full body scan. I had read that they were being used in numerous airports, etc., but it's the first time I've seen one. I had no option but to use it, without any indication that it was not a routine security scan. I suppose I could have refused and had a 'pat-down', but I've read that in the UK the passengers cannot refuse the scan. I've also read that the market for these machines is still quite small (ca. $120 million for 2021), meaning that they are not routinely installed everywhere. Secondly, there was no indication of the type of machine being used, e.g. millimetre radio-wave scanner (active or passive), or backscatter X-ray scanner. Was I checked with the later radio-wave model or the older backscatter X-ray model which is known to emit low-energy X-rays that can bounce off a passenger's body and increases the risk of cancer, particularly with the staff operating the machines?
The idea of the backscatter X-ray full body scanner is that low energy X-rays are used to penetrate through clothing, but most of the waves bounce off the skin surface. So detection is at the same side as the emitter, and the image is of objects hidden under clothing or taped to the skin.
The millimetre-wave (MMW) version uses part of the spectrum between radio waves and infrared waves. The waves pass easily through textile fabrics but cannot penetrate skin. In addition part of the thermal radiation emitted by the human body is also within the same frequency range, allowing so-called active and passive scans. The passive scan just uses the natural thermal radiation, whereas the active scan used the reflected signal from the millimetre-wave scan. There is also a sub-millimetre wave (SMW) scanner that produces higher resolution images, but with less penetration through fabrics. The reflection from the body is used to create a 3D image for the security check. They are faster and only require a single stationary position. It looks as if the one I saw (and 'used') was this type. Frankly, I'm not sure why they would use this for someone wearing a t-shirt and light-weight trousers.
More generally these types of scanners were installed in 2010 after security controls failed to detect someone who then went on to attempt a terrorist attack on a Northwest Airlines flight from Amsterdam to Detroit. At the time the use of these scanners generated some considerable controversy, still today there are questions about passenger privacy.

Airport security is an interesting and important topic. Today checkpoints at the entrance to airport grounds allow some kind of initial security check. Under vehicle inspection is also increasingly being used. Inside the airport, the way forward looks to be automated screening lanes using large plastic bins or trays. The trays are tagged and can be diverted for additional inspection. Facial recognition is being offered as another way to speed up and improve airport security controls. Once the passenger has been identified and their belongings scanned, they then move to the full body scanner. The idea is to develop semi-automatic inspection routes able to handle 500-2000 passengers an hour.


Hotel Security

Here I've collected together recommendations from multiple webpages:-

Use door stops on hotel doors (I bought a set of door stops and used them at our resort)

Use the room safes at all times, if in doubt leave valuables with the front desk

Do not leave valuables on the beaches or around hotel swimming pools

Set up Health app on iPhones

Carry with you a travel first-aid kit

Lock bags, etc. with TSA approved locks (I bought a set of combination locks with short flexible steel cables that could lock suitcases, bags, etc. and could be opened by the airport authorities for inspection)

Carry a small 'personal alarm' (I bought a small key-fob personal alarm and LED light, but did not use it)

Split cash and credit cards and put them in different pockets, and keep some local currency in a separate pockets so you don't 'flash' a role of money each time

Save emergency numbers in the contacts on your mobile phone. For example, 112 and 999 are the emergency numbers in the United Kingdom, in the United Arab Emirates they are 998 and 999, and in Phuket they are 191 for police and ambulance services, and 199 for fire (I've read elsewhere that in Dubai fire is 997, crime is 998, and emergency medical services is 999)

Use a money belt or money pouch for carrying money, passports and credit cards (I bought a soft pouch that sits inside the belt of my trousers or under my t-shirt)

Take photographs of all official documents with your iPhone, and if possible leave a set of copies with family or friends at home

Always take ATM receipts, and don't stand there counting your money in public

Don't use ATM's in poorly lit or hidden areas

Try always to use ATM's in banks. There are 'generic' ATM's in hotels and convenience stores, etc., over which there is far less oversight and they could more easily be equipped with illegal card readers

Keep with you a list of contact points in case you lose passports, credit cards, etc.

Inform your bank and credit card companies about your travel arrangements

Try to avoid using 'unsecured connections' when accessing banks, etc., and login's to email accounts, websites, etc., (and always only use https//: websites, and there is https everywhere for Firefox or HTTPS Everywhere for Safari)

Carry all important documents, tickets, passports, money, credit cards in a transparent Zip-loc bag so you can see them at all times as it goes through airport scanners, etc.

Put watch, coins, keys, etc. in zip pockets in a jacket so it all goes through airport scanners at the same time

When in the aeroplane place important 'stuff' at the bottom of rucksacks, bags, or vanity cases so that they must be emptied to get at any valuables

In hotels check that doors and windows lock properly, and report any defects (and check them regularly during longer stays)

Take a flashlight with you when travelling

If you rent a car try always to keep the tank full and fill up in large, well lit petrol stations

Use reputable taxi companies

Otherwise, enjoy your holidays…