Paseos Maritimos
last update: 31 January 2021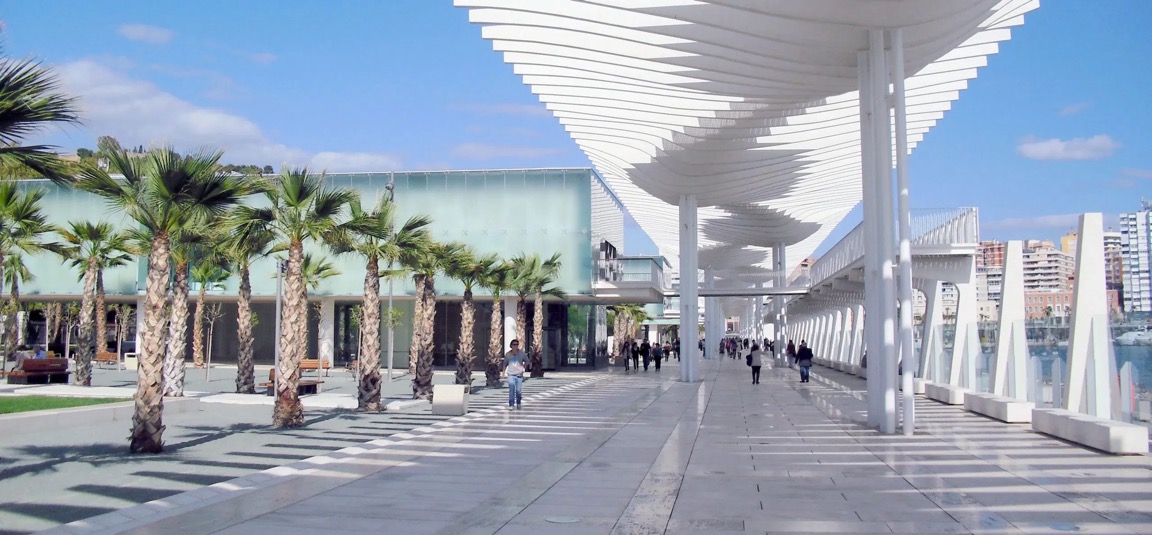 Introduction

The paseos marítimos may not be that well defined, but for many people Málaga's seaside walks include:-
Paseo Marítimo Antonio Banderas, a 1-2 km bicycle path through the area of Málaga called Huelin (barrio malagueño de Huelin)
Paseo de la Farola, which is the walkway past the Faro de Málaga, and out to the Marina Málaga Real Club Mediterraneo and the Cruise Terminal
Paseo Marítimo Ciudad de Melilla and the Paseo Marítimo Pablo Ruiz Picasso which runs from Baños del Carmen to the port, and boarders the Playa de La Caleta and Playa de la Malagueta
And some people would even include the Paseo Marítimo Bajondillo in Torremolinos, which is not actually in Málaga.

However we are going to focus on the port area in central Málaga.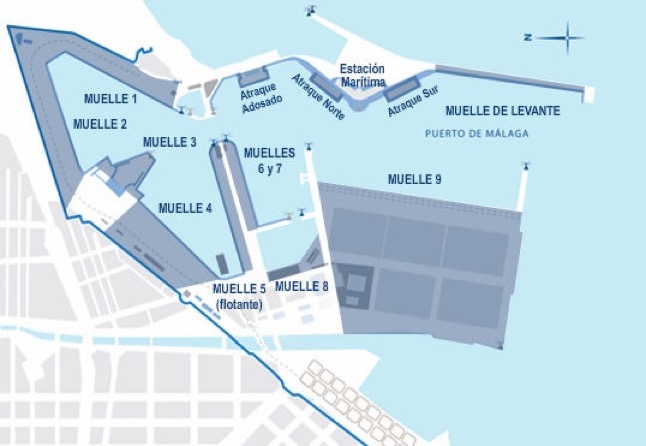 So let's look at the Puerto de Málaga, which in many ways is really four different ports. The first is an industrial port, the second a ferry port, the third a port-of-call for cruise liners, and the fourth (and most recent) two muelles (wharfs or docks 1 & 2) in the heart of the city that are now home to gardens, restaurants and cafes, and have become ideal places to stroll with friends.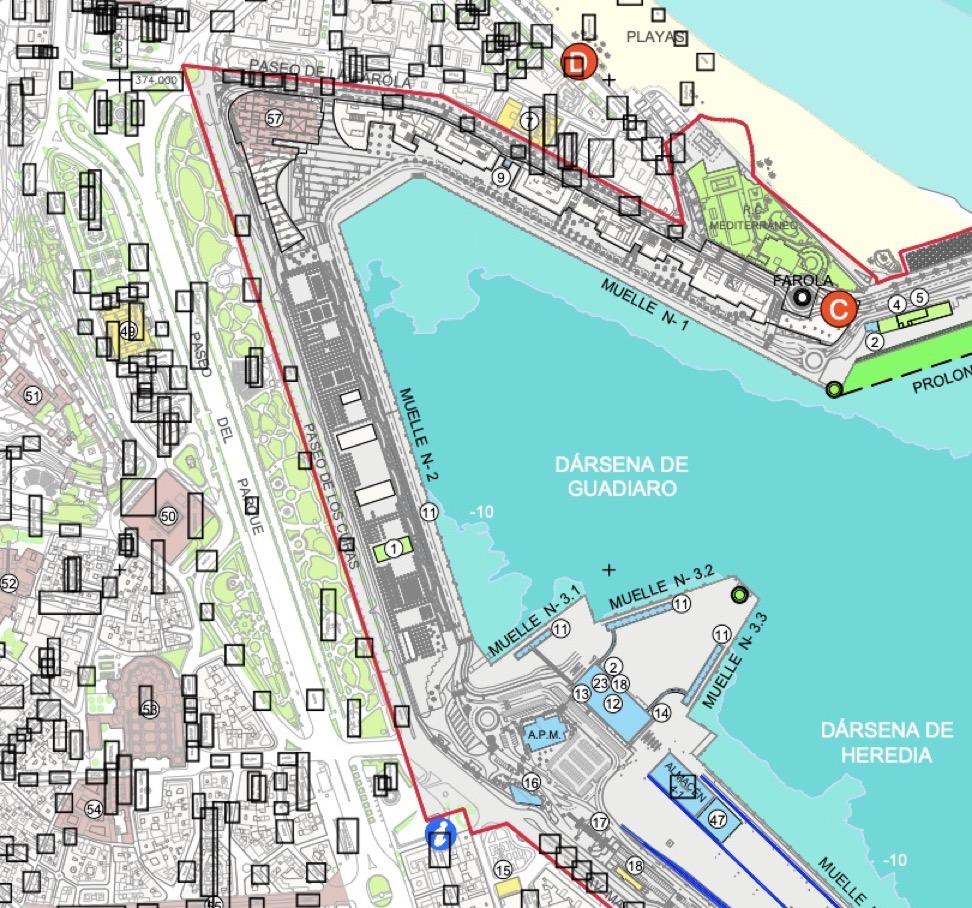 We will look first at these two new muelles or docks. We can see that we are in centre of the city, with the Málaga Museum (no. 50), Alcazaba (no. 51), Museum Picasso (no. 52), the Cathedral (no. 53), Palacio Episcopal (no. 54), and the Centro Pompidou (no. 57). We can see "C" (la Farola) and "D" (Playa de la Malagueta). Concerning Muelle 1 & 2, we can also see the access building (Estaciones Maritimas Levante) for the cruise liners (no. 1), along with the access dock (no. 11). Other access buildings are at the cruise liner terminal. And we can see the ferry terminal (no. 12) with their quays (no.'s 11).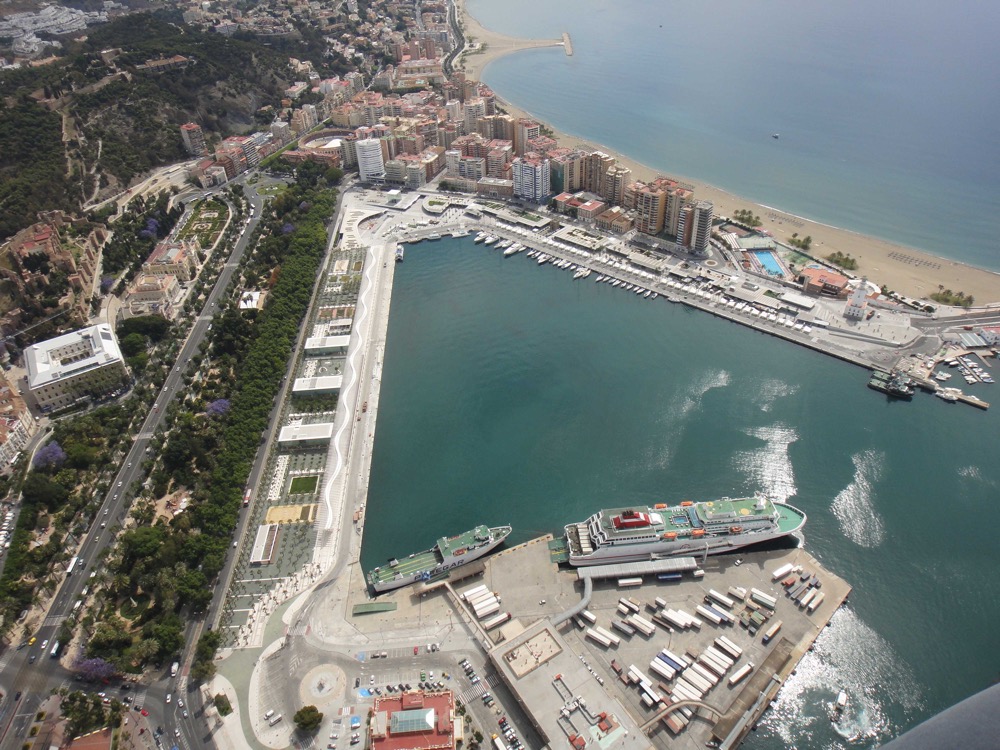 Muelle 1 & 2

The quay you are most likely to see first is the
Muelle 2 "Guadiario"
. You can't miss it!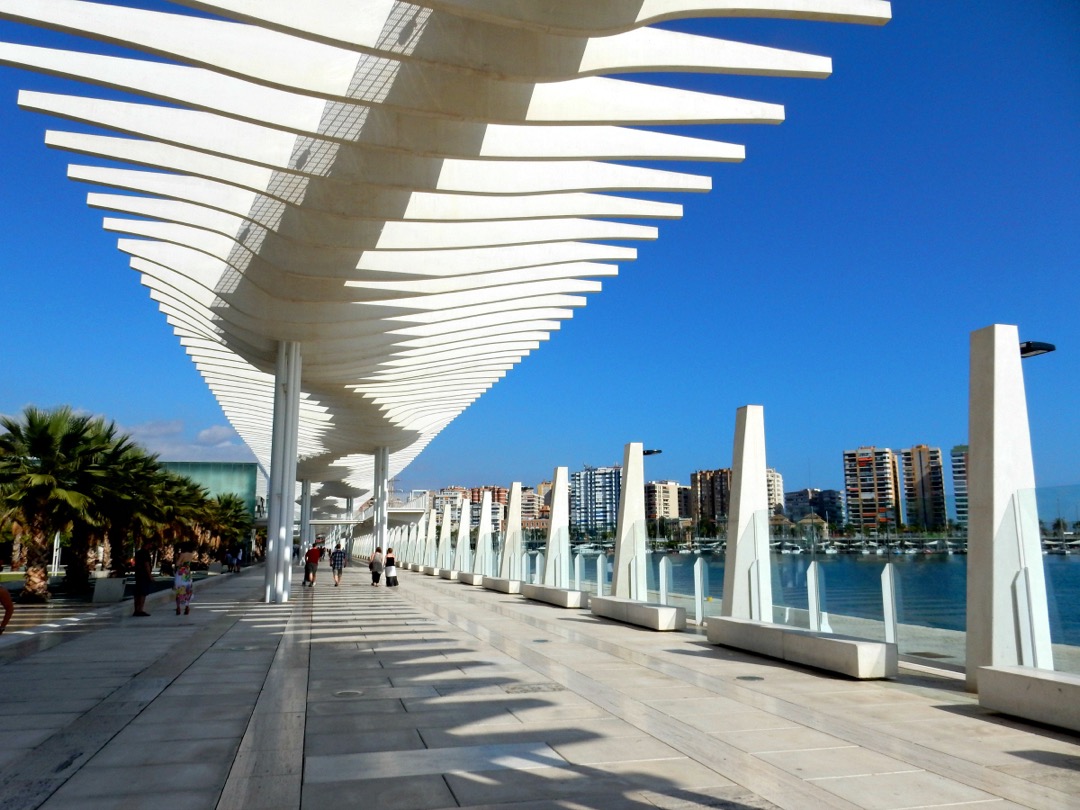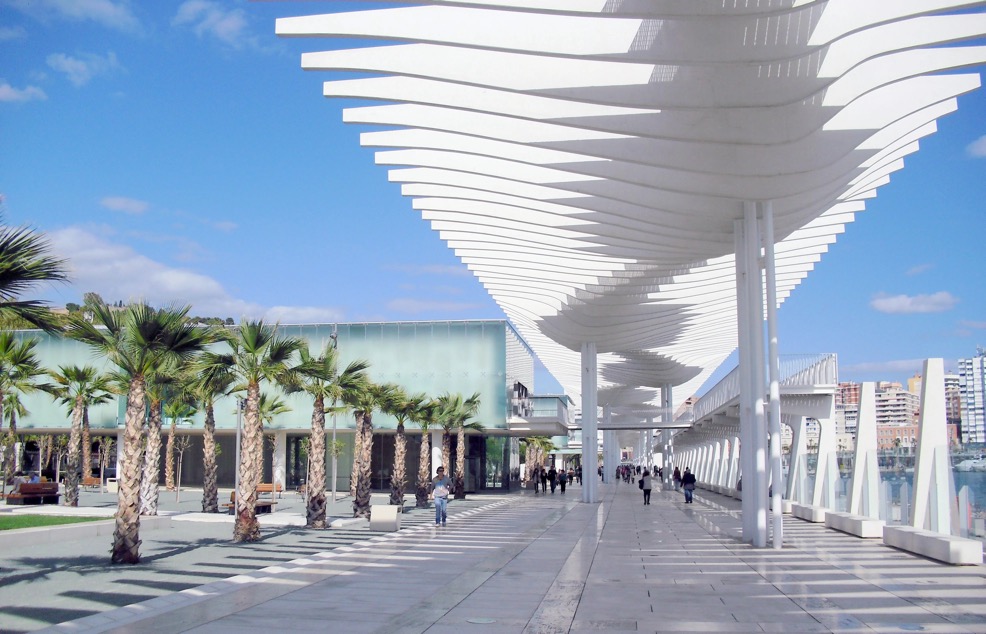 What I particularly like is the way the whole "experience" constantly reminds one of waves set against a pure blue sky.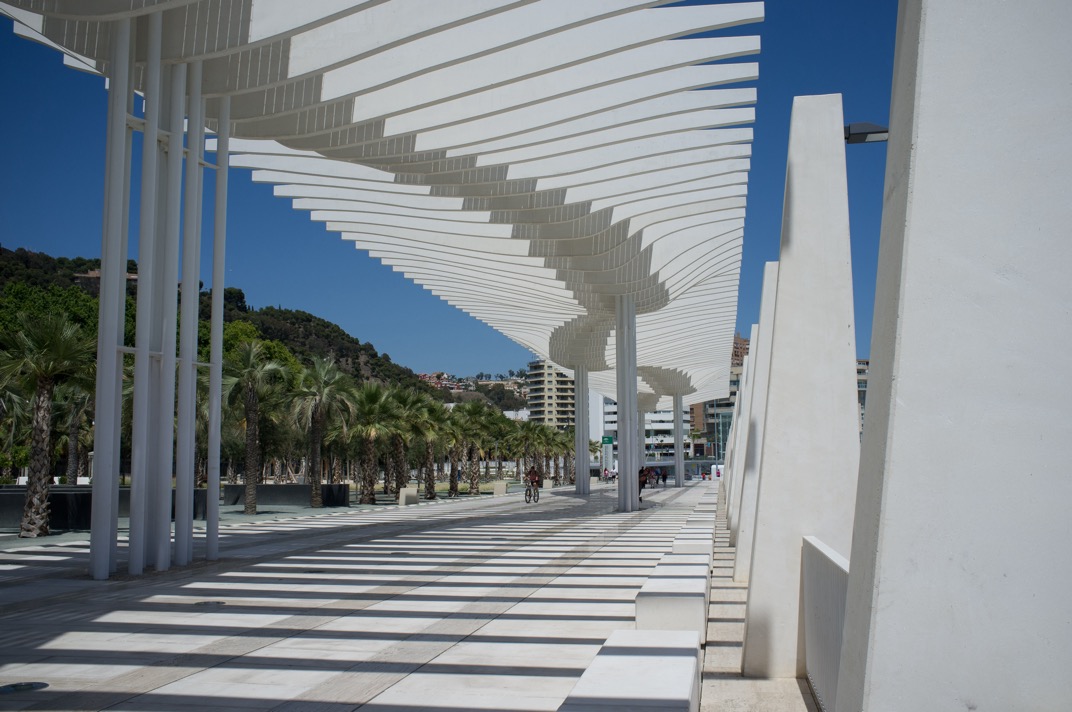 As you can see below Muelle 2 can accommodate quite large cruise ships, and not forgetting that there is a custom-build cruise liner terminal beyond Muelle 1.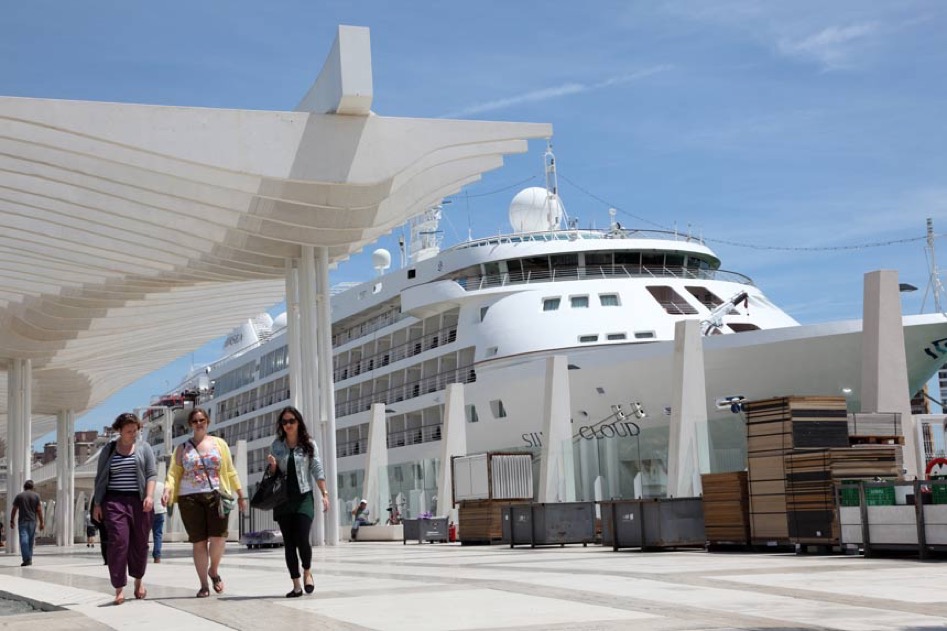 Originally there were grain silos on this dock, and now it is planted with 420 palm trees (resistant to the dreaded red palm weevil), and a botanical garden is gradually emerging. An additional 400 fruit, olive and deciduous trees were planted more or less at the same time. Another 7,400 ornamental plants and herbs have been added in 2014-2015. The idea of the palms is that they create shade, thus humidity, and this microclimate is good for the other plants in the park.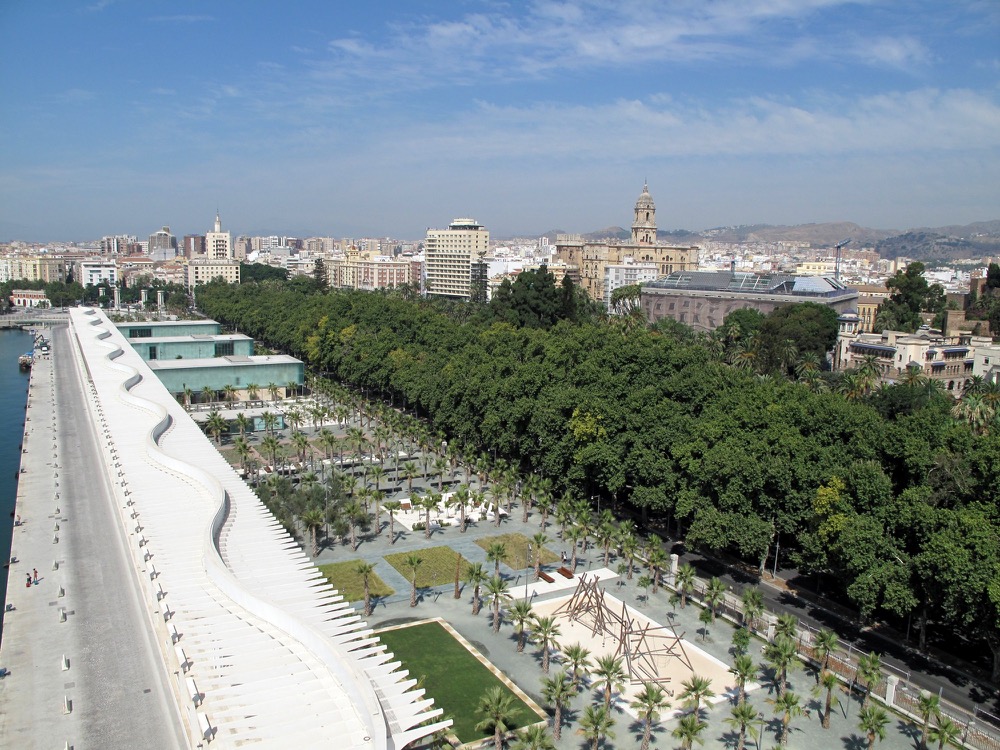 It's impossible to imagine that Málaga was the first port in Spain to build grain silos, and they built them (between 1948-1952) in front of the town hall, the Bank of Spain, and main building of the University of Málaga. They were originally used to store wheat from Argentina. However, as we can see below, this did not stop the port from actively welcoming cruise ships of the time.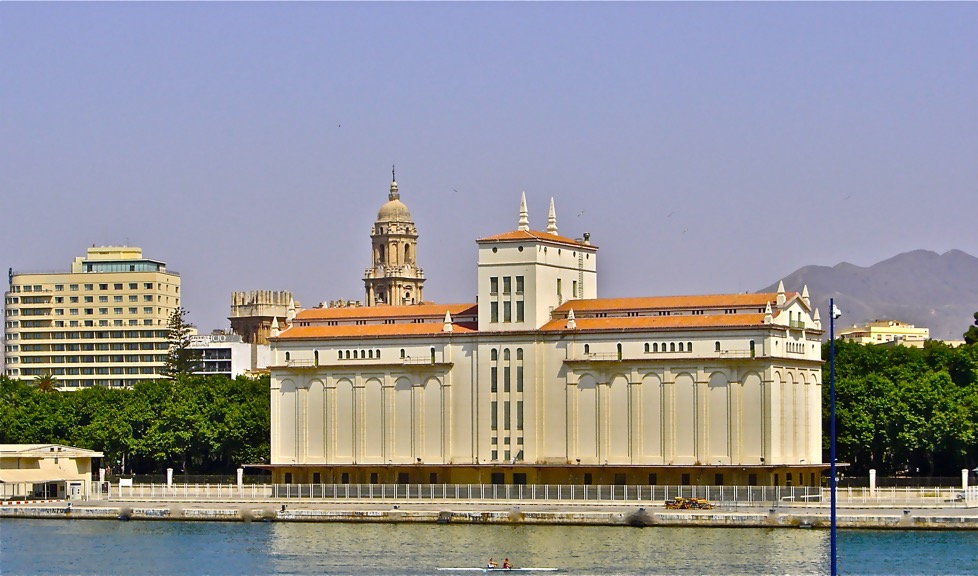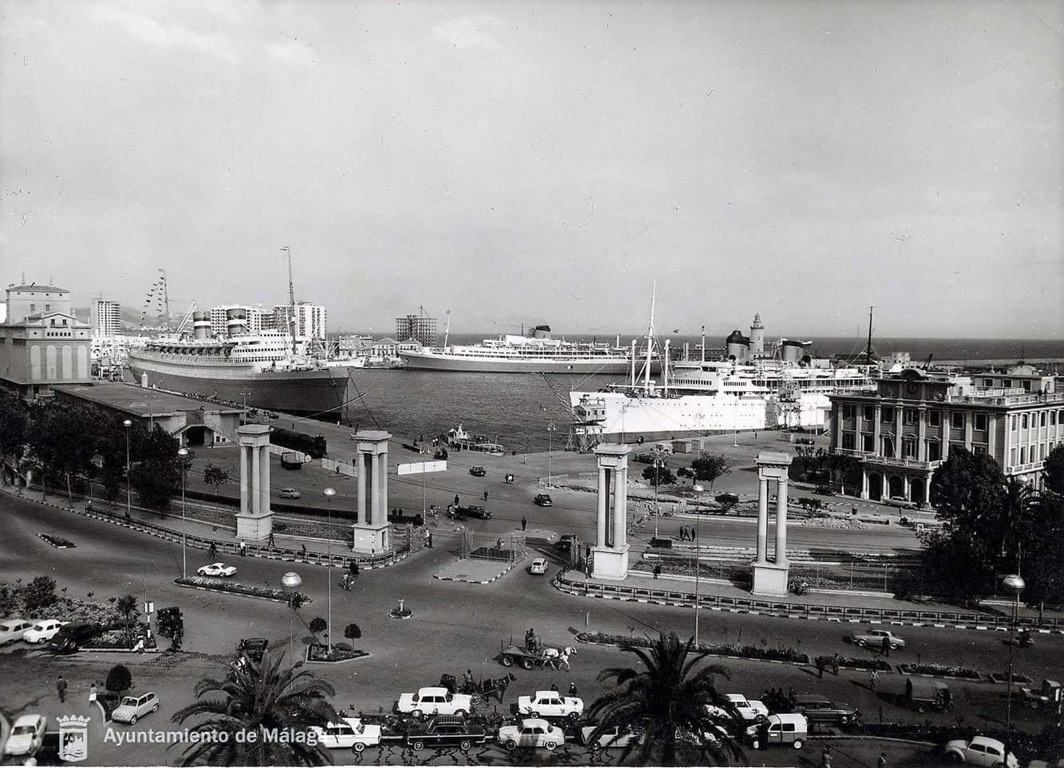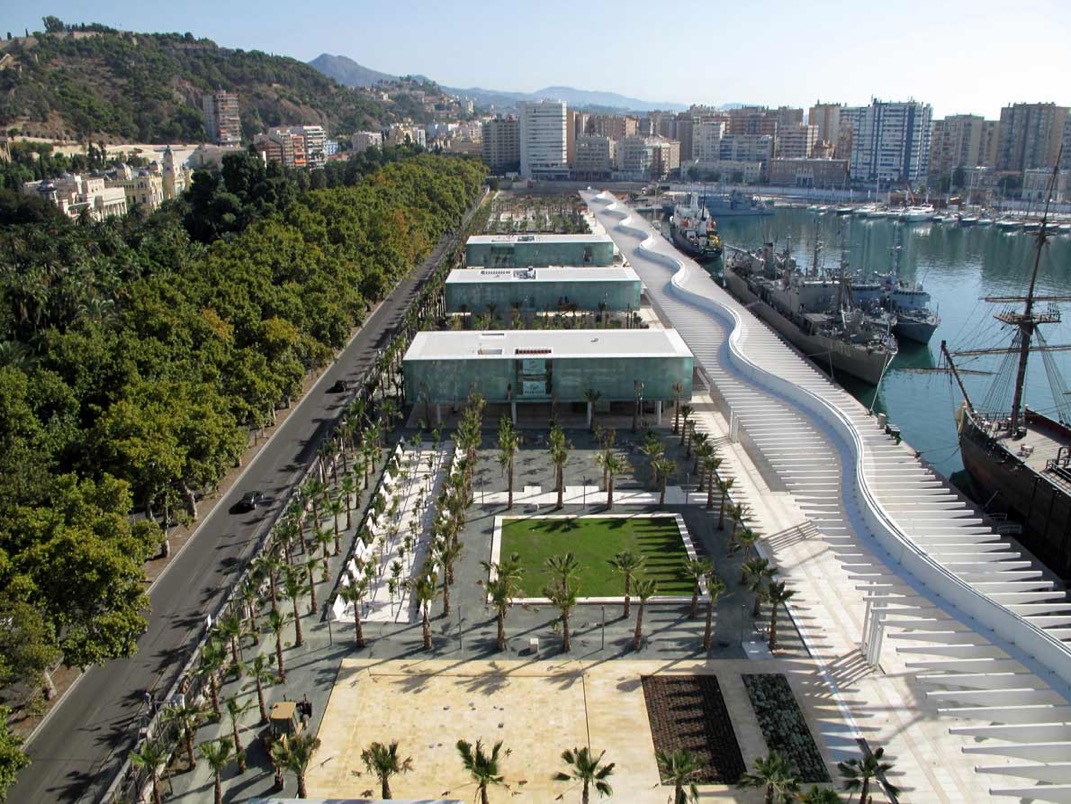 In the above photograph we can see more or less all the Muelle 2, with the "old" gardens Paseo del Parque on the left (which is actually the name of the street that runs along the far side of the park). We can see the street called Paseo de los Curas. Then we have the Muelle 2, which has also been renamed Palmeral de las Sorpresas.

You can read the architects report on this work, but I must say it's probably the best € 24.45 million I've seen spent in ages (that's only €158/square metre). We can see below how the port gradually developed in importance as compared to the historic centre of Málaga, but the port remained separate and distant from life in the city (even fenced off). What this project did was change the "centre of gravity" of the city, pulling it far more to the water edge.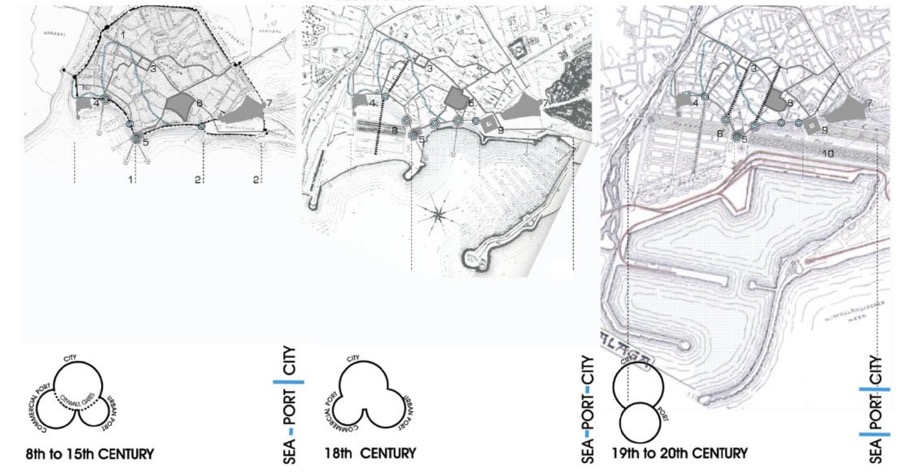 In the last photograph, ust below us out of view, is the restaurant "El Palmeral". We tried this restaurant, and as you would expect with an up-market tourist restaurant it had a good terrace, and on top of that the food was both good and reasonably priced.

If you look carefully in that last photograph you can see three rectangular glass buildings:-

One is an access building for the cruise liners moored along the dock.

One is called the Espacio Iniciarte, which is an exhibition space (sala de exposiciones).

One is the Málaga Maritime Museum, which they call Museo Alborania Aula del Mar. It has both an exhibition area, and a research and classroom area. It even has a special Turtle Patio for turtles recovering before being returning to the sea. The Alboran Sea is the western part of the Mediterranean Sea, between Spain and the north of Africa.
And Muelle 2 is just as impressive at night as during the day.


Next to Muelle 2 is Muelle 1 "Ricardo Gross" (sometime called Muelle Uno, "Quay One" sounds better than "Dock One") with its € 80 million renovation of (designer labels) shops, restaurants, and 30 moorings for "exclusive yachts". And, perhaps more importantly, a 24/24 1,000 place underground carpark.



Historically it was common practice to separate a port from the city with a wall, and it was Carlos III (1716-1788) who opened up the port to the people of Málaga when he decided to sell the wall.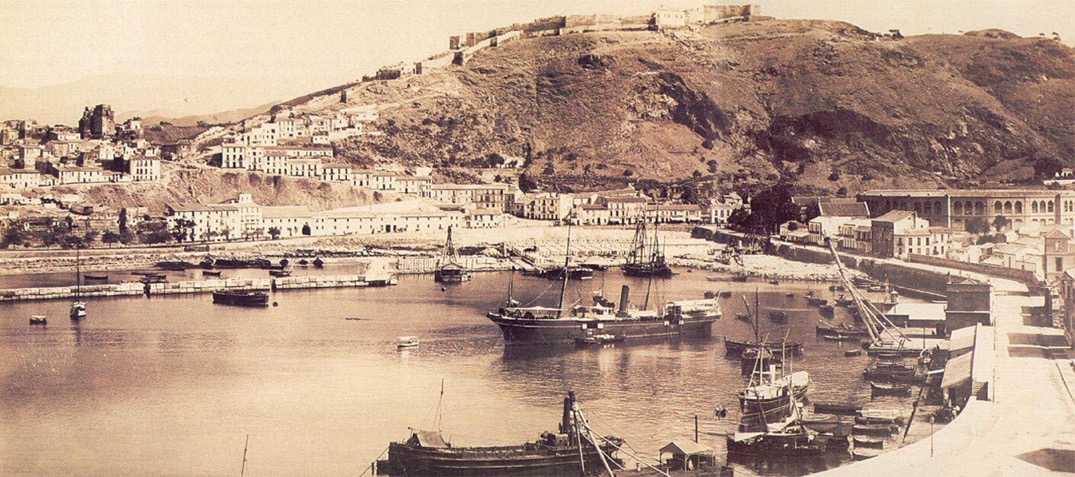 Above we have the past and below the present.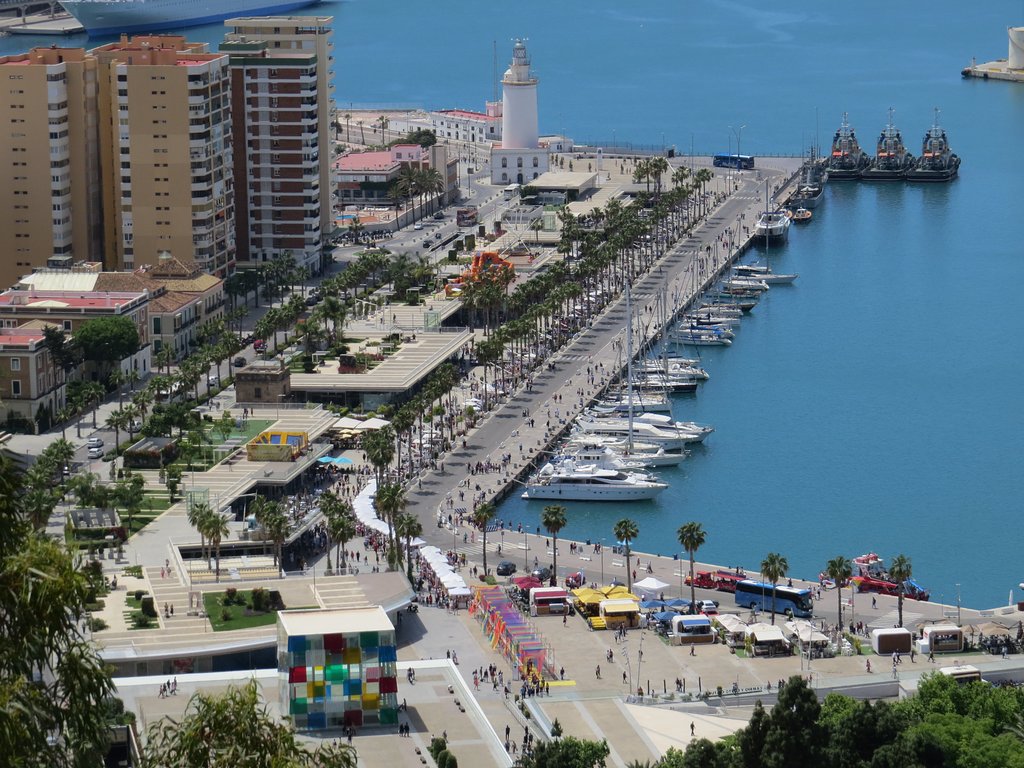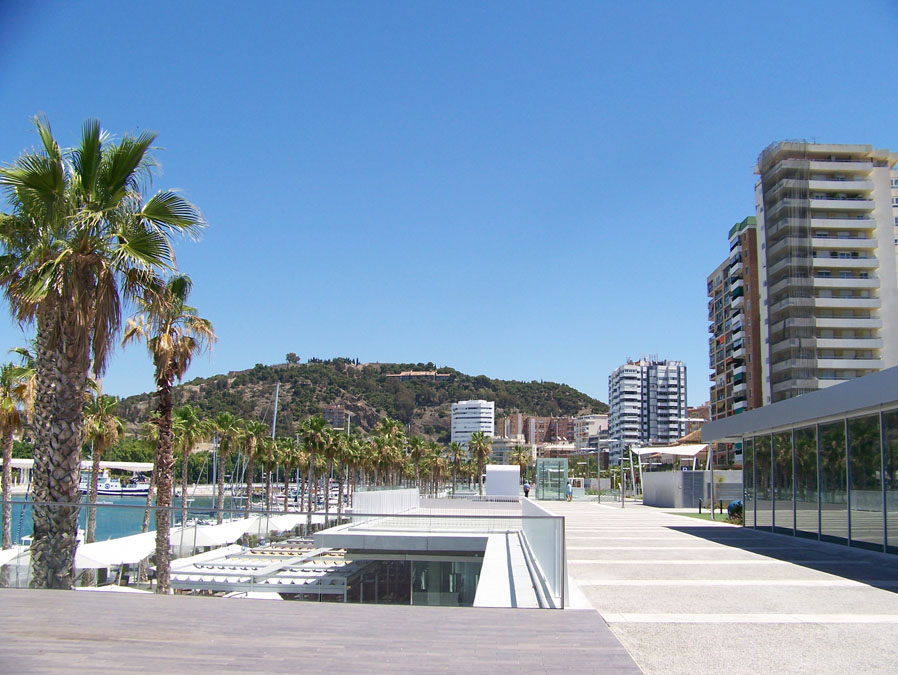 Muelle 1 has two levels, what might be considered a quiet upper level paseo, and a lower level paseo with the all the shops and restaurants, etc.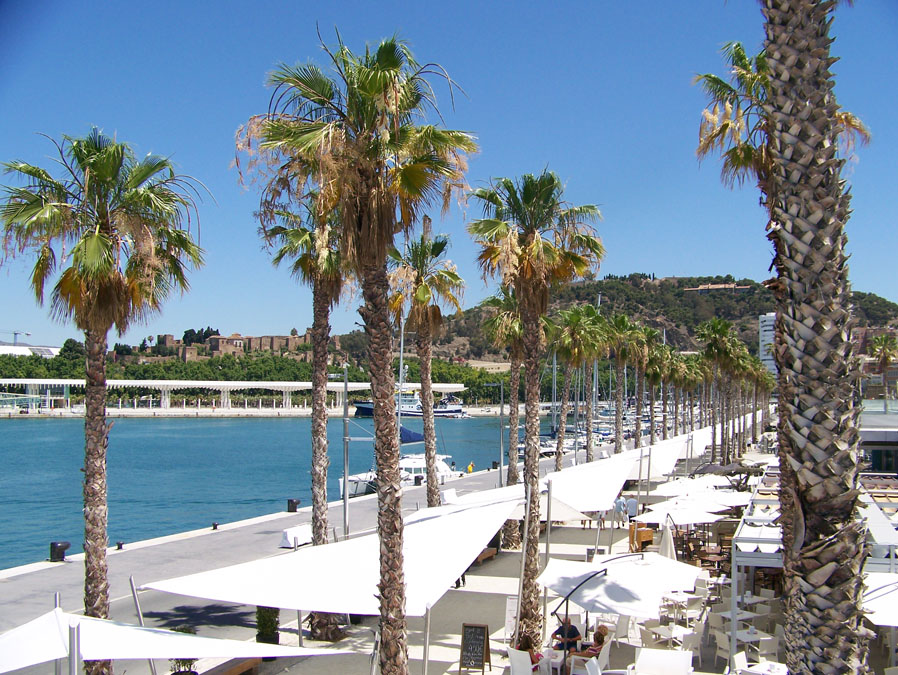 La Capilla, on Muelle Uno, over time became a symbol of the city (see below). Inaugurated in 1725 it has been disassembled and reassembled, stone by stone, several times. Originally called Nuestra Señora del Mar, there was an image of the Virgin on the ground floor and the chaplain lived on the upper floor.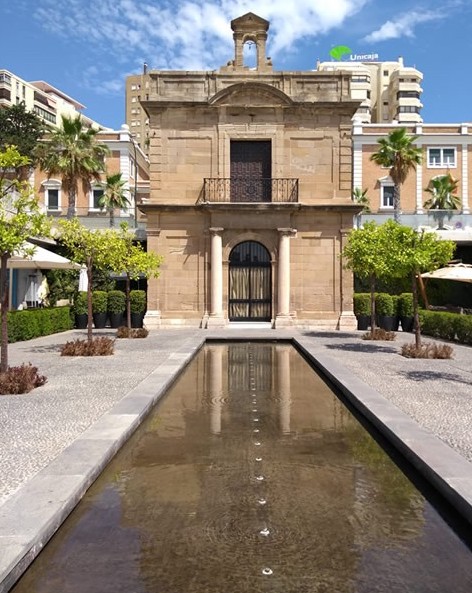 The other thing many people don't notice is that the light at the end of the pier is called the "Farola", which actually means lamppost and not lighthouse. This lamppost is 38 metres tall and built in 1817 according the plans of Joaquín María Pery y Guzmán, a Spanish naval engineer.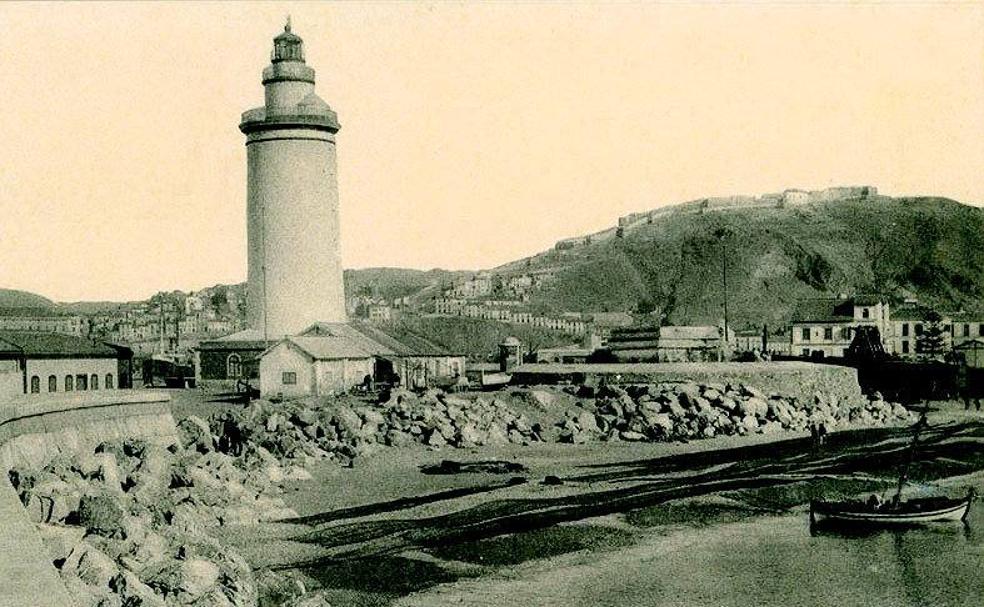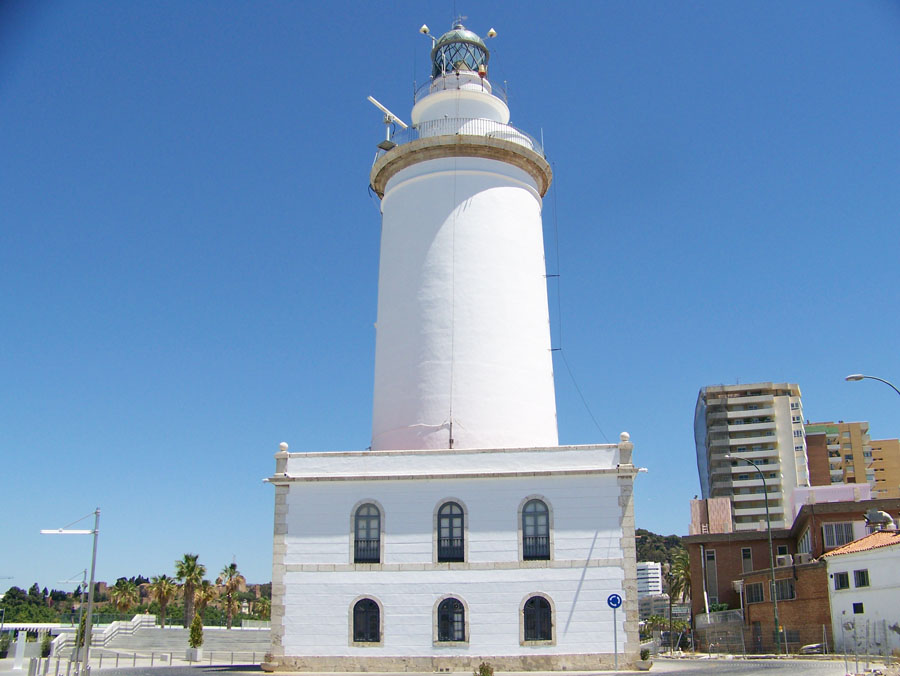 The view from the balcony is spectacular.



Here and there you might have see a coloured glass cube. This is unsurprisingly called "El Cubo" and is an extension of the Centro Pompidou in Paris.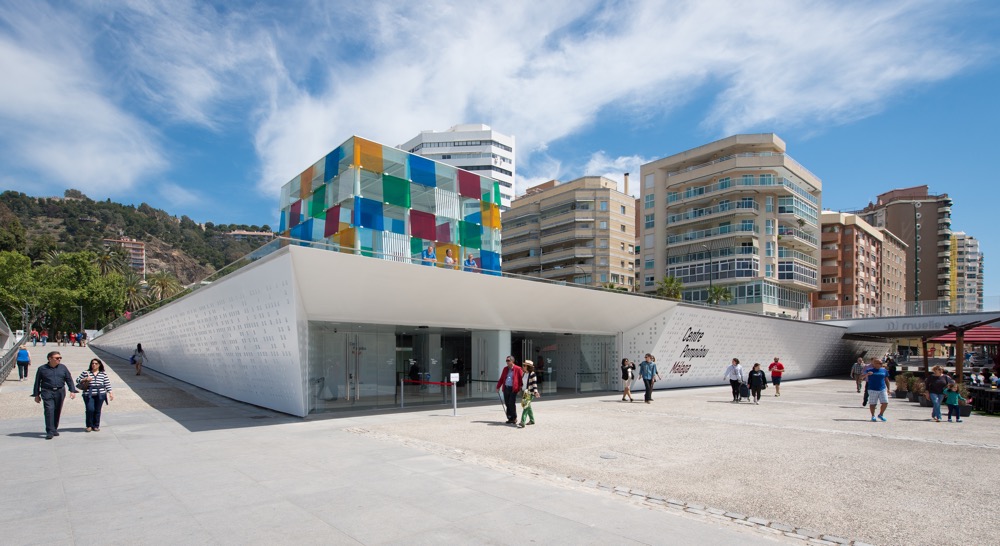 Clearly this major investment in Muelles 1 & 2 reflects the way Málaga now sees its future. Trade has always been the engine of the city, but the nature of world trade has changed. Container-style traffic (and more generally commercial traffic) is on the increase, the ferry with Melilla is an important link with northern Africa, and the city has become a major stopover for cruise liners. Looking at what has been achieved, the city was right to seek a new model of urban integration for docks 1 and 2 (Muelles 1 & 2). But the "union" of the port and the city is already an old dream of Malaga. For more than 30 years they debated, corrected and projected seven different versions for remodelling of the old docks 1 and 2, and it was only in 2014 that we began to see the results.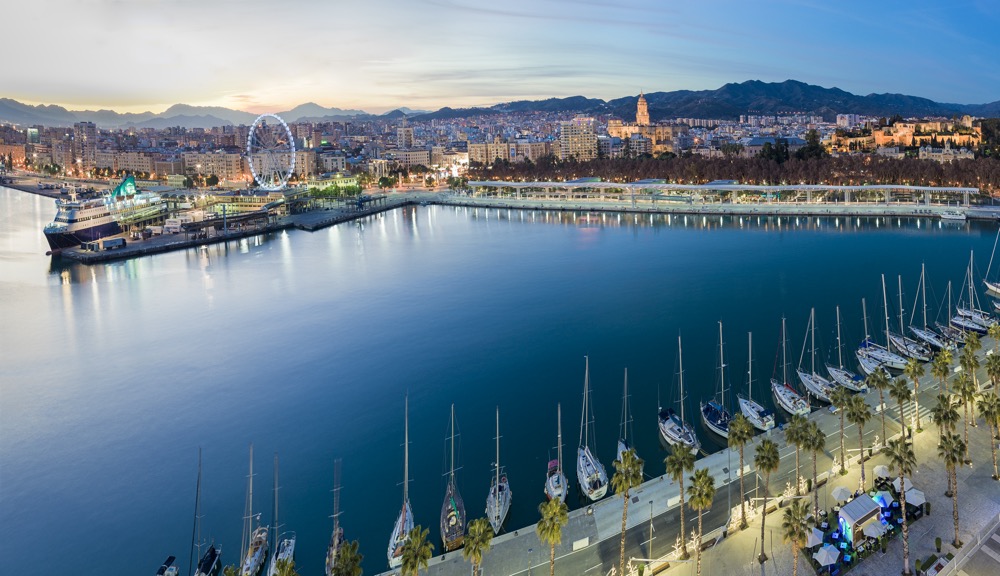 Before we more on to the rest of the port infrastructure in Málaga, above we have just that last little look at what for me is a fantastic architectural, maritime and social success (even if the Ferris wheel has disappeared).

The Ferris wheel became quite a tourist attraction, but because it needed some modifications and repairs, it was finally more economic to take it down. There has been discussion about a replacement, but it appears that Marbella is considering a big "London Eye" type wheel as well.


Málaga - a strategic review
If we
take a "step back" we can see that the approach taken in Málaga is quite different from those taken in other port areas such as Barcelona, Gijón and Alicante. Málaga has committed to trade as the "engine" for change, and that means attracting as many visitors as possible. Lots of outdoor space and shopping facilities show Málaga's commitment to trade, against other alternatives adopted in other ports.


Alicante port
also began its plans for bringing together the port and the city some 20 years ago. They also moved the port activities to docks away from the centre of the city, creating
an open field. However, they have bet on a marina as the main attraction. Given that the marina was some distance from residential areas, they were able to open restaurants, bars and clubs. Málaga preferred not to create too much competition with its existing bar-club areas.
The
port of Barcelona
is the largest in Spain. The renovation in the port was linked with a larger effort by the city to reinvent itself. The key bet is the big building "
Maremagnum
", which has become a "classic shopping centre" where there have the usual brands. Málaga's commercial bet differs in that there is not a closed building and the aim is to attract more exclusive brands, or at least a wider range of shopping options to those already in the city.
Gijón
, considered by many as a model of integration of the port and the city, has a much more innovative approach. Cultural infrastructure and urban renewal have been the engines of recovery. A promenade, a marina and two urban beaches have been created, which have pulled leisure and commercial activities to installed themselves nearby.


In many ways the model of civic integration adopted by Málaga, was at least in part, conditioned by the budget adopted in 2004 (although the original plan was already adopted in 1998). Out went the planned cinema and entertainment centre. The budget reduced the options, and the commitment to banish the bars and nightclubs was another constraint (avoiding to damage existing facilities in the city). The shopping was seen as the main attraction. Also there was an idea to install an additional pontoon for large yachts, now reduced to just 30 moorings. The city wanted "culture" to replace the original idea of movie theatres, and the result was "The Cube" sitting between dock's 1 and 2. I might add that the projected cinema centre would have been actually bigger than the grain silos, and possible as much an eyesore.


Let's tuen to
Muelle 4 "Heredia"
which
is presently a commercial dock. The plan is to construct office buildings there, including new premises for the customs services. The plan was that the buildings would be multi-story but the ground floors would link with the city and
muelle 2
. Not sure where they are now with those plans.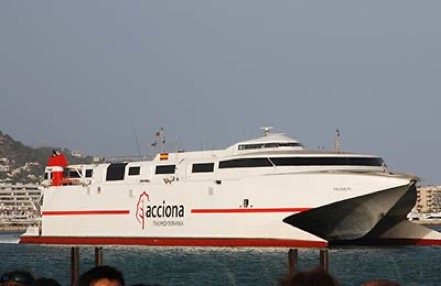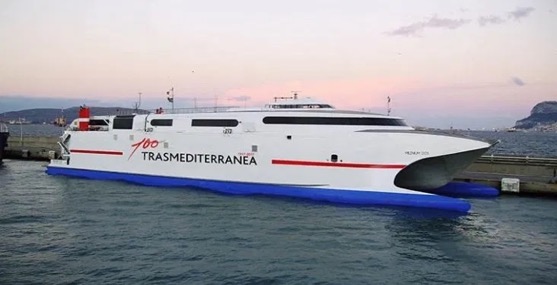 During our visit in 2014 we reviews the situation with the ferries in Málaga, however we did not revisit the situation in 2020-2021. In 2014 we saw that Málaga operated RO-RO ferries to Melilla (as does Almeria), whereas Algeciras services Tangier and Ceuta, Tarifa serves Tangier, and Cadiz serves the Canary Islands. In addition to the movement of goods between Málaga and Melilla, more than 214,000 people also made the trip. With the cruise liners, passenger traffic through Málaga was in excess of 600,000 in 2014. The ferries were provided by Trasmediterranea, and they had a total of 16 ships. In 2014 we saw both Fortuny and Sorolla, both "superferries" that can carry 330 vehicles and 1,000 passengers (both were built in Spain in 2001). They even have an onboard swimming pool, jacuzzi, gym, and sauna. The duration of the crossing from Málaga to Melilla is about 6:15 mins., and they leave daily. In addition we also saw the Australian built Milenium Dos (2003) which is a high speed catamaran able to carry 267 cars and 900 passenger. I am not sure why it was in Málaga because it usually does the Ceuta-Algeciras route. The above photographs show "acciona", whereas today they carry the name Trasmediterranea. My understanding was that this new name was created by Acciona (a construction, services and renewable energy company) to facilitate the sale of the shipping company, a sale that has now been suspended after the positive results of a restructuring (as per-2014).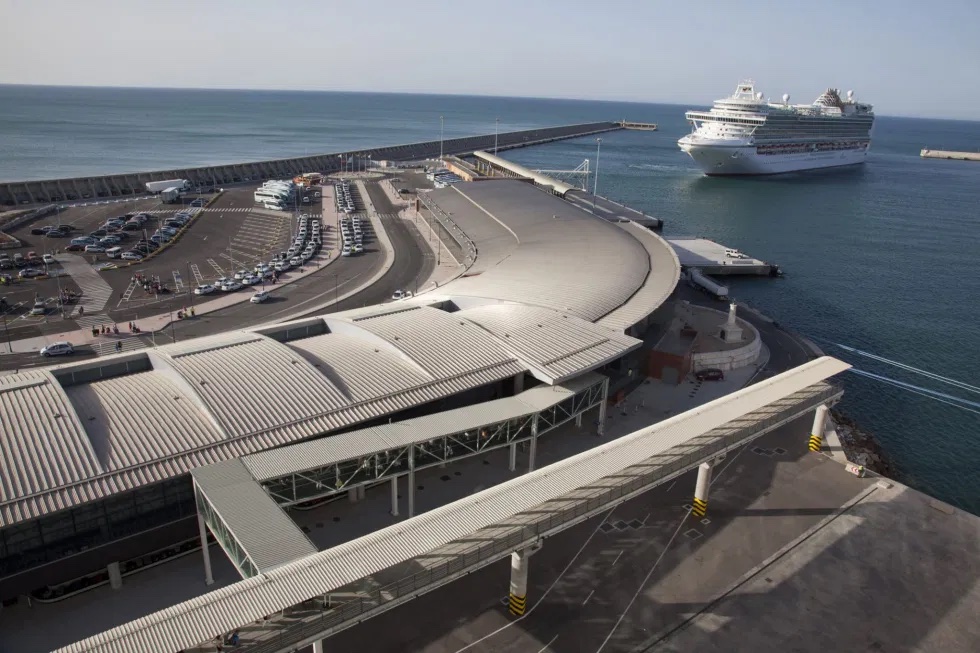 Málaga is the 2nd most important destination in Spain for cruise ships, and they are able to host the largest cruise lines in the world. In 2014 they received 220 cruise liners and 407,870 passengers. As we were leaving Málaga the Norwegian Epic was docking with its 4,100 passengers and 1,700 crew.


Málaga Port - Muelle by Muelle
We are now going to look in more detail at the overall plan and operation of the port. And we start with a detailed plan of the port.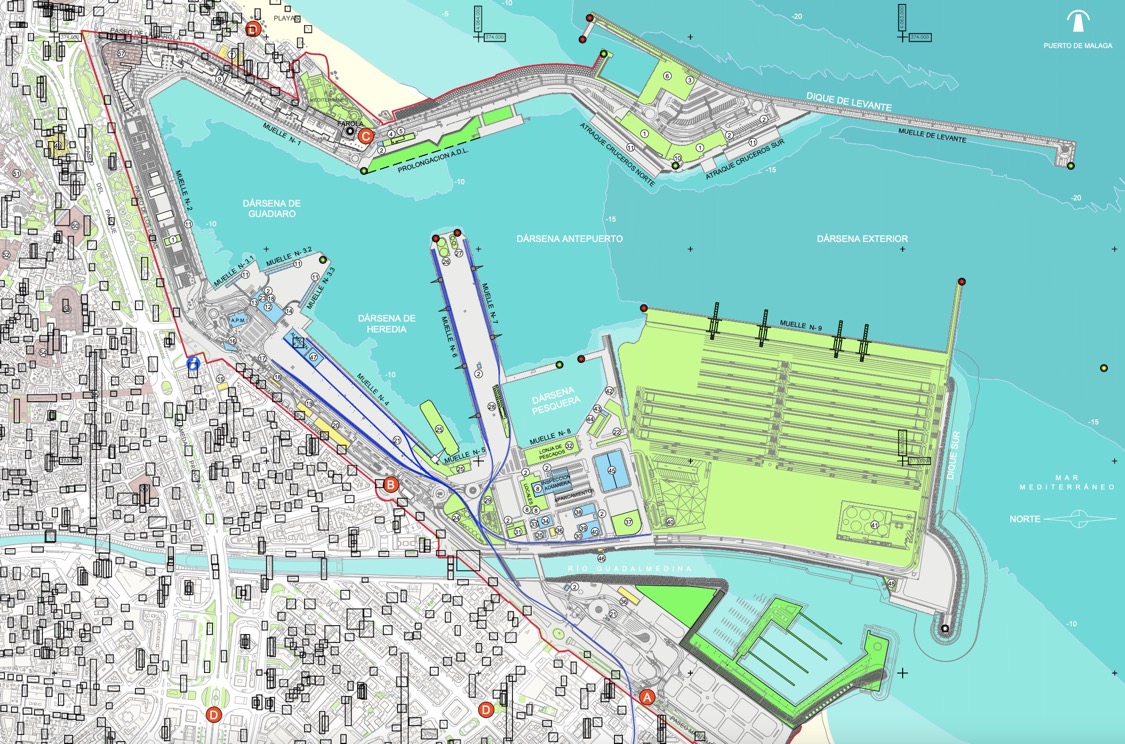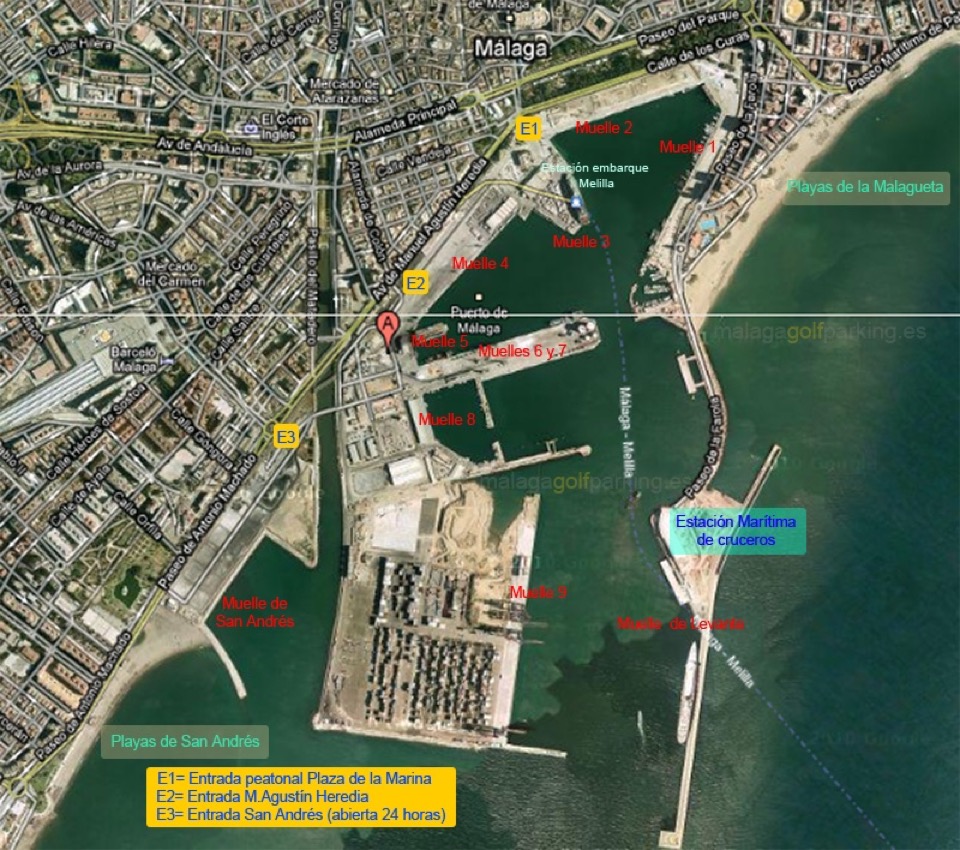 Taking the detailed plan, and starting at the top right-hand corner, we have the so-called Muelle de Levante, which is used to dock cruise ships (terminales de crucero).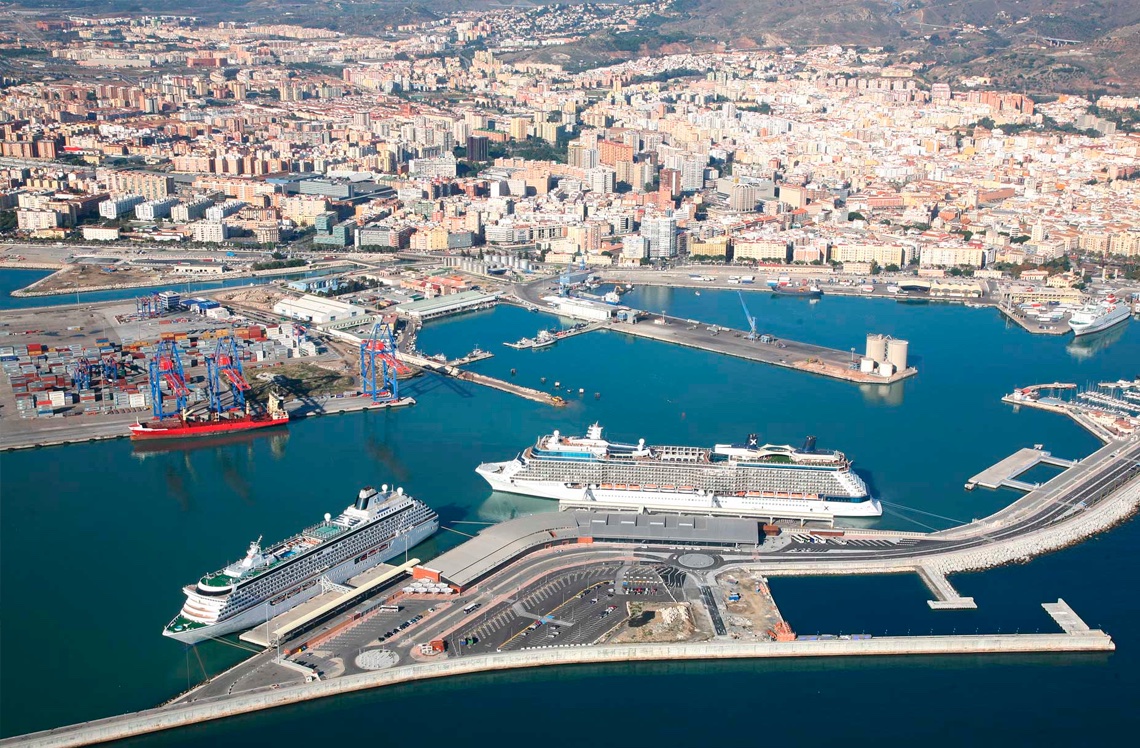 There are two berths able to handle ships of 294 m and 350 m long. The two independent terminals have been designed to handle 1 million passengers annually. Above we can see both berths in use. If we look more carefully, what we are really looking at is a dyke going south out into the sea 1235 metres long. I maybe wrong, but my understanding is that there was already a long breakwater out to sea, and the objective of the development was to extend this and use it as a new passenger boat terminal. To do that they built an additional defensive dyke as seen below.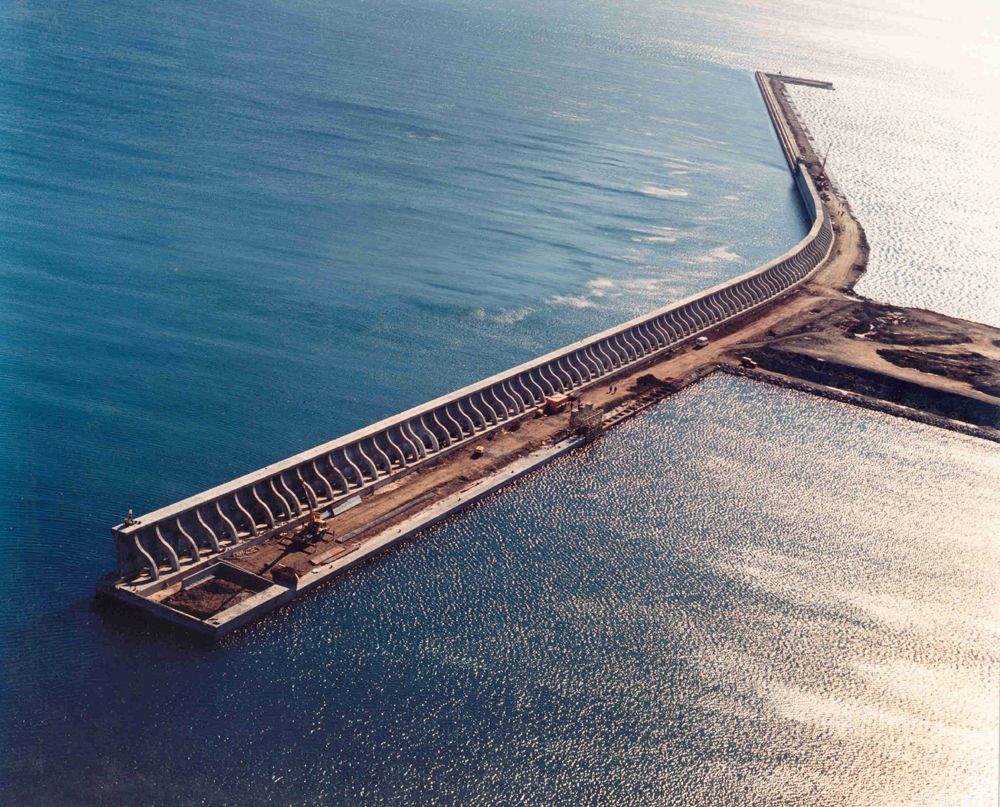 This dyke appears to be in two parts, a series of 30 caissons anchored to the sea floor, and a series of buttresses set on top. I presume the buttresses were designed to protect the port and cruise ships from any excessing storms, waves and flooding. The caissons (a kind of concrete box) were 42 metres long, 21 metres wide and 21 metres high, and weighed 41 tons each. The caissons were anchored to a 13 metre deep foundation set on the sea floor. This meant that the caissons protruded about 3 metres above sea level. On the caissons were buttresses approximately 8.5 metres tall and 7 metres deep, creating what is called a "muro del espaldon" supported by a "contrafuerte del espaldon", i.e. a kind of curved "back" resisting the sea and supported by buttresses. The shape has been called "Gothic" (I resume because of the flying buttress appearance), and with the curved face towards the sea, there were considered to have a certain "aesthetic appeal". The total structure cost about €60 million.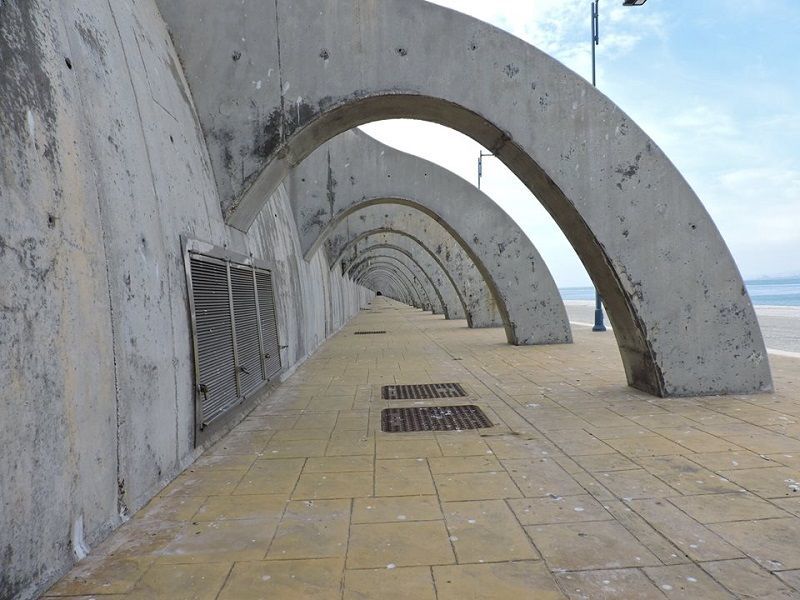 The problem today appears to be that built in about 2001 the dyke should have lasted 50 years. The two companies that did the work also did other work in the port. And there are on-going legal proceedings concerning irregularities detected in those structures. What has now been seen in the buttresses of the dyke is a dangerous degradation, sufficient to close part of the dyke to public access. Reports already in 2016 said that the buttresses where falling to pieces, e.g. bits falling off exposing the metal reinforcing structure. Which judging from the below photograph, looks a credible description.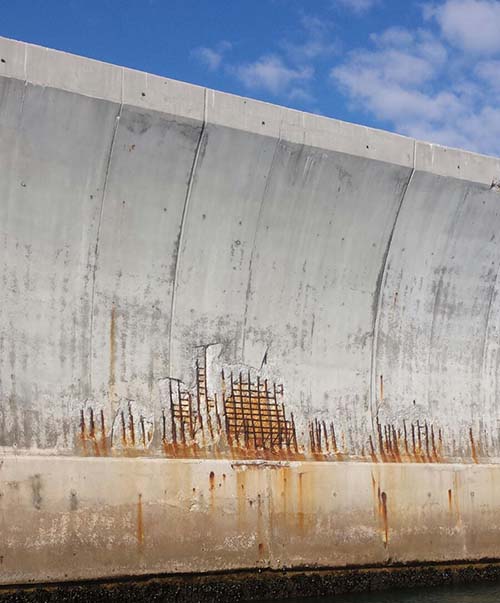 Now continuing anti-clockwise we come into the very heart of the port, and also the heart of the new development. In fact the inner basin is surrounded by 7 different docks (muelles). First there is Muelle 1 "Ricardo Gross", which now consists of shops and restaurants. Then moving anti-clockwise there is Muelle 2 "Guadiario", which can berth cruise ships, and is also home to restaurants and the palm tree gardens.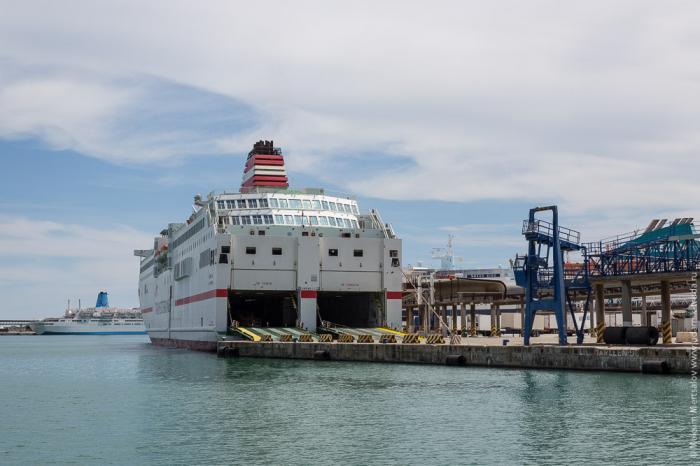 Muelle 3 "Canovas" sticks out into the inner basin, and is the RO-RO ferry terminal with mobile hydraulic gangways for passengers and vehicles (principally for Melilla).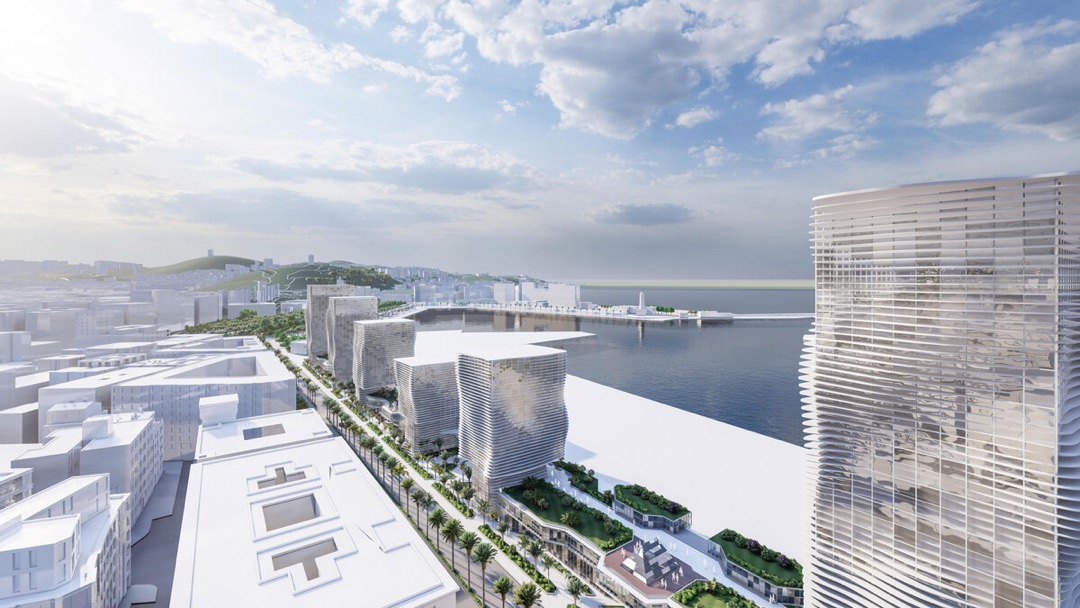 Muelle 4 "Heredia" is a commercial dock, mostly used for rolling stock carrying solids, liquids and general merchandise. However there are plans to convert it to a SkyscraperCity (as seen above).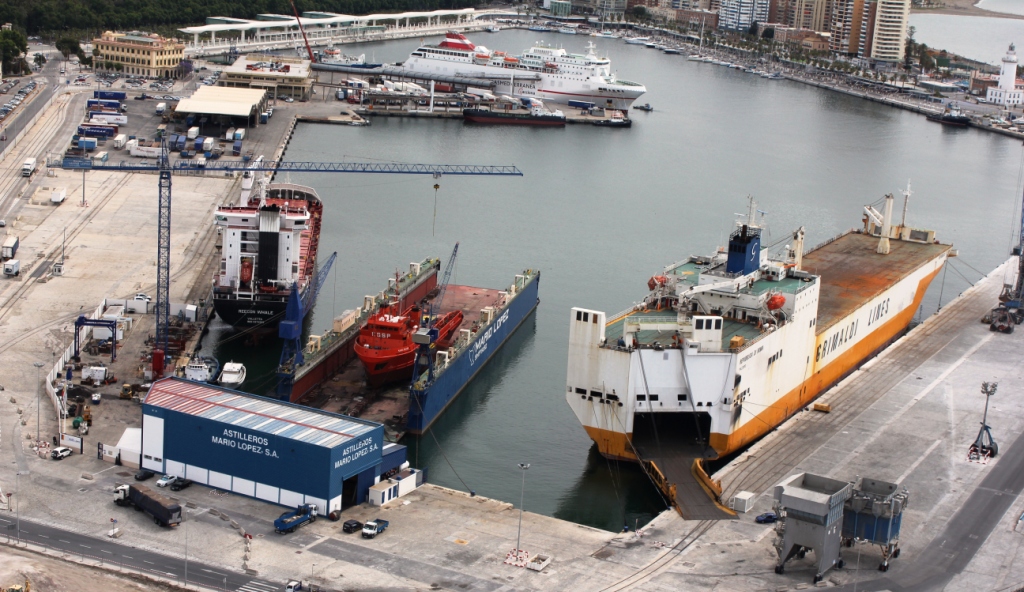 Muelle 5 "Dique Flotante" is for a floating dry dock.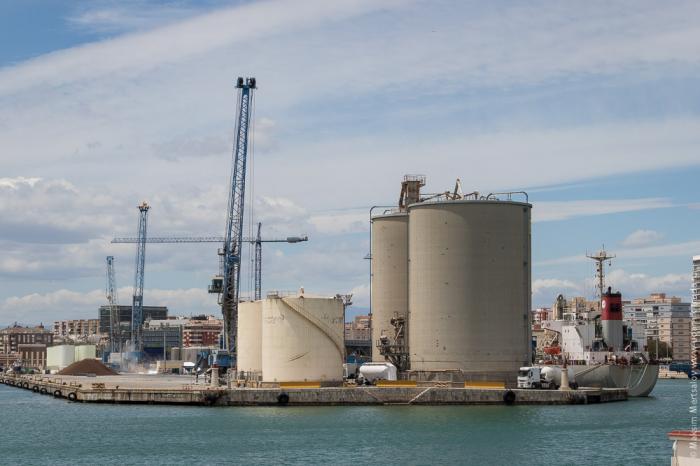 Muelle 6 and Muelle 7 are together called "Romero Robledo", and are for solids, liquids, and dangerous goods.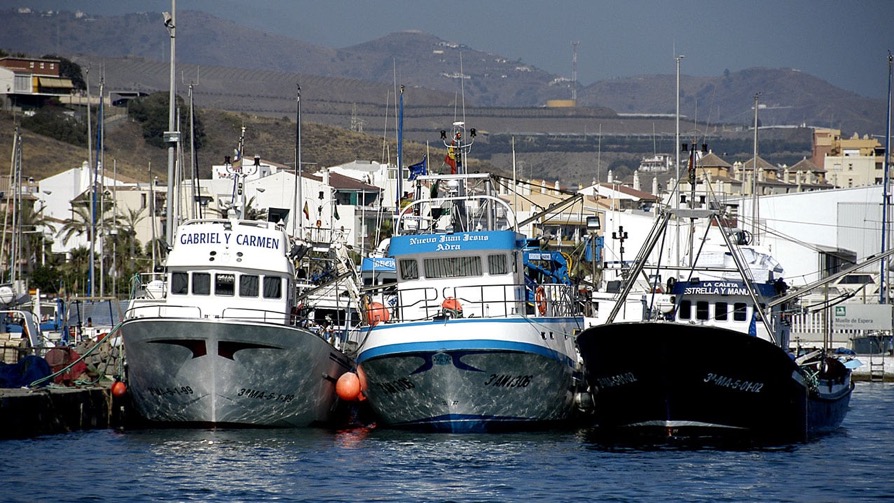 Still within the inner basin there is the fishing port (puerto pesquero). The docks are also home to more than 2,600 cubic metres of cold storage, and a facility producing 50 tons of ice daily.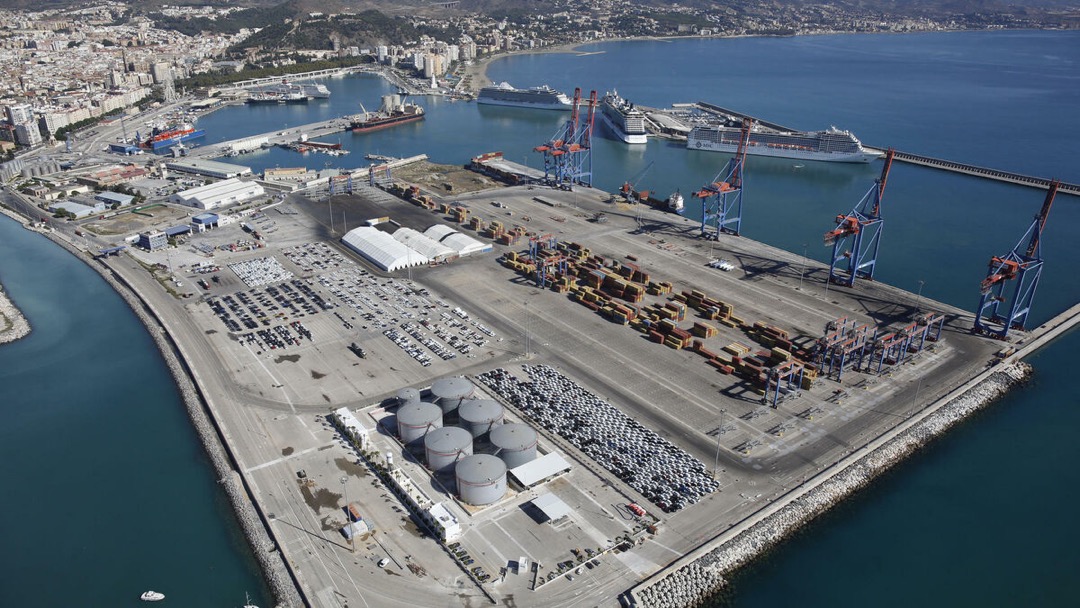 The big grey area in Muelle 9 which is a multi-purpose dock, including for containers.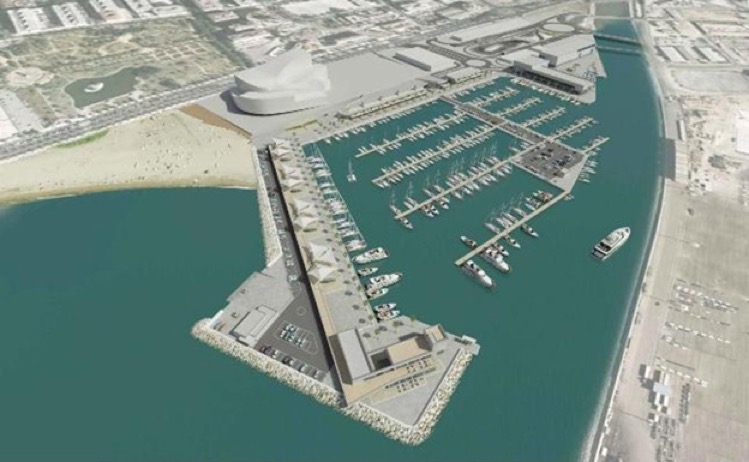 One of the most recent developments is the decision to build a new nautical sports dock with a capacity of between 500 and 600 births. As of late November 2020 there were two options on the table, one from the usual Qatari investment fund. The plan is to develop the San Andrés esplanade, which is just next to Muelle 9, but on the right bank of the Guadalmedina River. The plan is to target vessels up to 30 metres, with a small number of places for vessels up to 50 metres. This development is expected to link to the Marqués de Guadiaro dock, where the work will soon start on a dock exclusively for megayachts. I remember in our first visit to Málaga they had already been planning this new marina since 2010, and it's seen as partnering other developments on the San Andrée platform, namely a new Malaga Auditorium and headquarters of the Oceanographic Institute (where the work has nearly finished).


Málaga Port - where next?
The commercial-industrial port has about 71 square kilometres
of what they call "flotation", and more than a million square metres
of land space, storage, etc. Traditionally the bulk of the activity of the port is for clinker, grain, cement, petroleum, dolomite and olive oil. The port also is active in the cabotage of goods. The trend has been to increase land space, with a new multipurpose dock for container and new vehicle traffic.

Over the years Málaga has moved from being an importing port, to an exporting port. For example, of all the goods moved in 2014 (2.3 million tons) 27% were imports and 73% exports. Imports were cereals, sunflower seeds, soya meal and fertilisers. Exports were dolomite, cement and clinker. Dolomite is an ornamental stone and is also used as concrete aggregate. Clinker is basically like small stones made by sintering limestone and clay in a cement kiln. Clinker can be stored in dry conditions for several months and can easily be handled, so it is traded internationally in large quantities. Upon delivery it is ground and used in local cement plants. In 2014 about 140,000 tons of bulk liquids were handled, mostly olive oil both for import and export.
Cabotage
is the movement of goods (or passengers) between two places in the same country by a transporter from another country. Cabotage on the route Málaga-Melilla totalled more that 500,000 tons in 2014, and 477,000 tons in 2019. The vast majority of these units were in the form of unaccompanied trailers transporting cars, food and drink, non-metallic minerals, and building materials.

Provisional figures for 2015 showed an increase in imports (and a decrease in exports), and a substantial increase in cabotage on the line Málaga-Melilla. What was also noticeable was a decrease in the transport of liquids, compensated by an increase in the transport of bulk solids. Most striking was a 64% reduction in the handling of containers (down to only 29,000 units), and a 16% increase in the importation of vehicles (up to 41,000 units). However, in the 2019 report container traffic had sharply increased to over 1.4 million tons, and vehicle imports had reached 75,000 units.

The 2019 report noted that the port had handled nearly 3.6 million tons of goods, with an increase of 8% over the previous year. The main source of revenue for the port were cruise ships and the movement of bulk solids. In the report summary they highlighted the increased shift to moving agri-foods (principally grain, flours and soya), which is considered a bulk solid along with cement and clinker. The report also highlighted the 288 cruise stopovers that brought 477,000 passengers into M
á
laga.

There was an interesting list of ships using the port, and naturally Spanish registered ships were top of the list. However, the port was used by nearly 1,900 vessels from 41 different countries, notably Cyprus, Malta, Grand Bahamas, Italy, Hong Kong, Panama, Liberia, etc. Naturally the vessel registration may have no relationships to the origin or destination of the goods being transported. The ports of origin of cargos (which may not be the origin of the good themselves) were in descending order Brazil, Argentina, Ukraine, Spain, Romania, Morocco, United Kingdom, Bulgaria, Nigeria, India, etc. Whereas the principle destination ports were in descending order Spain, Gabon, Italy, United Kingdom, Guinea, USA, Jordan, Morocco, Canada, China, etc. Spain as a destination just represents RO-RO of containers to ports such as Barcelona, Valencia, Alicante, Las Palmas, Tenerife, etc.

The report of 2019 included some information on the ferry link with Melilla, where more than 192,000 passengers embarked, and nearly 220,000 passengers disembarked in M
á
laga. A total of nearly 32,000 cars were embarked, and nearly 36,000 disembarked.



As an interesting aside, and I guessing it is due to the tourism and port activities of Málaga, is that the city hosts Consulates from 27 different countries. In addition to 17 European countries there is Saudi Arabia, Brazil, Canada, Chile, Ecuador, USA, Philippines, Haiti, Panama, and Morocco.


As a final aside I found out about some of the costs (2014 prices) incurred for different services provided by the port of Málaga. For example assisting and "escorting" a 20,000 ton ship into port would cost you around €2,000, plus €200 for each act of mooring and unmooring. The port would charge you for dealing with any waste, e.g. you can count on €90 for 250 kg of non-toxic waste. Whereas waste water would cost you €50 per cubic metre, with a minimum of €600.

On the other hand if you were looking to buy a mooring for you 12-14 metre motorboat it would set you back about €50,000 in Málaga, whereas in Marbella it would cost you between €70,000 and €100,000. The same mooring would cost you at least €140,000 in Puerto José Banús.