Phuket - Beaches
last update: 09 May 2020


Our New Year trip for 2020 ran from late January 2020 to mid-March 2020 and involved 8 nights in Dubai and 43 nights in Phuket.

There are around 30-35 beaches on Phuket Island, depending upon which webpage you read. And there are also lot's of lists of the 'best 10', 'the 20 most beautiful', or the '14 top rated'.

I read one comment that said tourists visit on the West coast, locals and expats live on the East coast.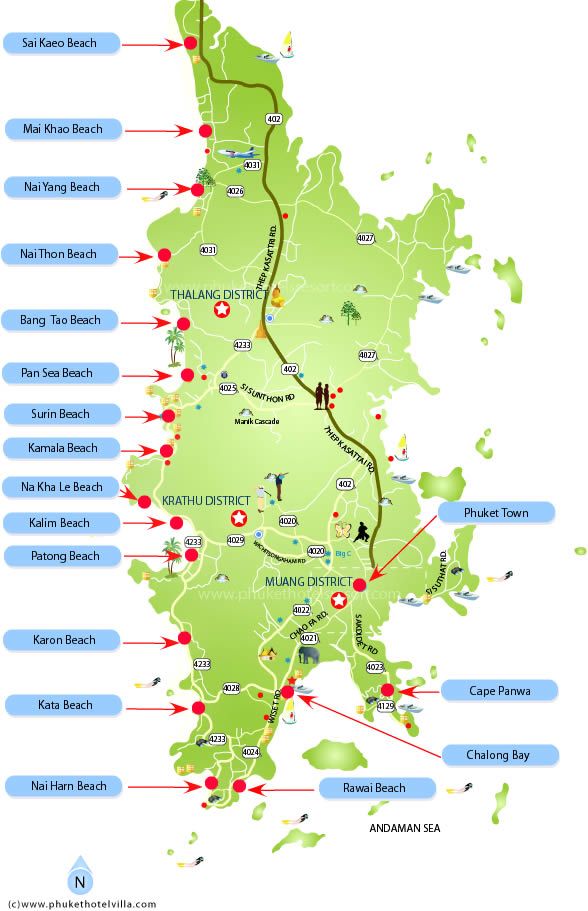 It is true that all the famous beaches are down the West coast, and many of the local communities are on the East coast. The West coast in more 'picture postcard' beautiful, with many beaches carved into pretty bays surrounded by headlands and hills in the background. But it is also an area for tourists, and it can be crowded in the high-season. The East is flatter and looks more boring, and the East coast beaches don't have the same reputation as the West coast beaches. Along the West coast there are the busy beaches such as Patong and Kata, and the quiet beaches such as Mai Khao and Nai Thon. Kamala and Bang Tao are popular with families.

Our resort, the Angsana Laguna Resort, was on Bang Tao Beach on the West coast, but we did venture out to look at the other beaches on the West coast going south from Bang Tao Beach to Karon Beach.


What does 'beach access' mean?

Our resort, the Angsana Laguna Resort, had direct beach access. What this meant was that we could walk to the end of the resort, and we would be on the beach. You would find loungers, towels, security, and some sort of service provisions (in our case provided by locals). This type of direct beach access is rare. Of the 10 different offerings on the Laguna Resort, only three had direct access to the beach. The other resorts were more or less near to the beach, but not 'on' the beach. This meant that guests had to make an effort to get to the beach, e.g. walk across a road, take a shuttle, etc. And also these other resorts had no reserved area on the beach, e.g. no loungers, security, etc.

It is very difficult to find a list of all the resorts on Phuket Island that have 'direct beach access'. There are a few here and there, but most mention 'beach access' and 'just across the road', or 'short walk'. And most have no reserved area for the resort.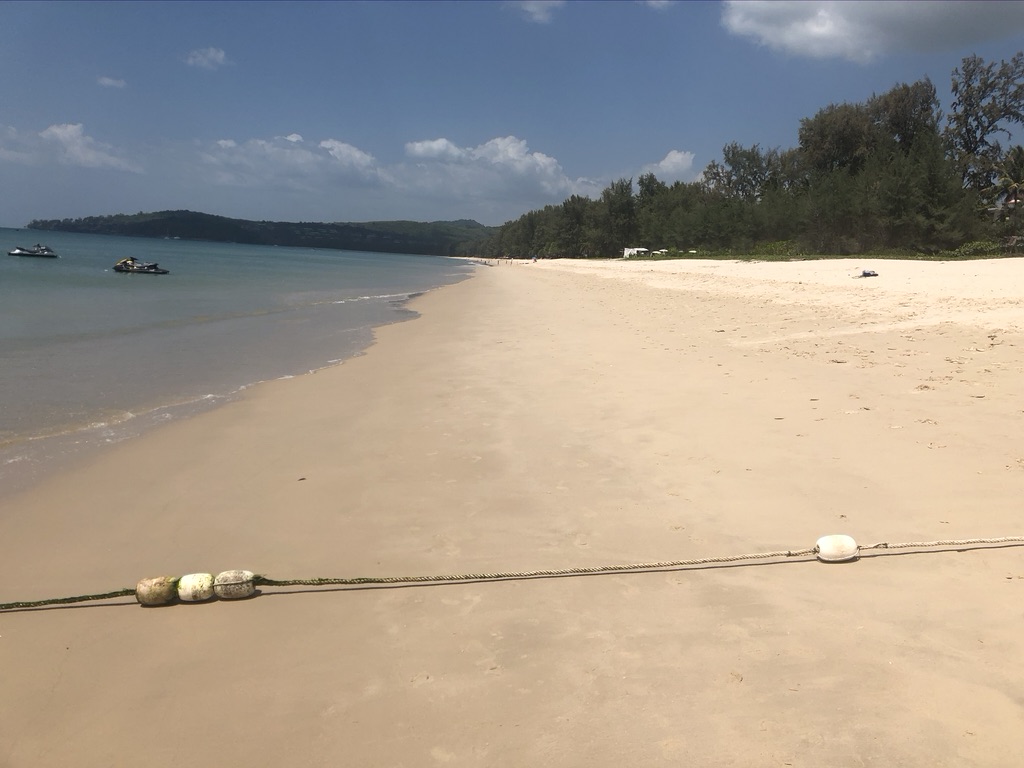 This was 'our' 6-7 kilometre long Bang Tao Beach, above looking North, and below looking South. To the North was very quiet, and to the South there are a few more resorts, etc. so a few more people.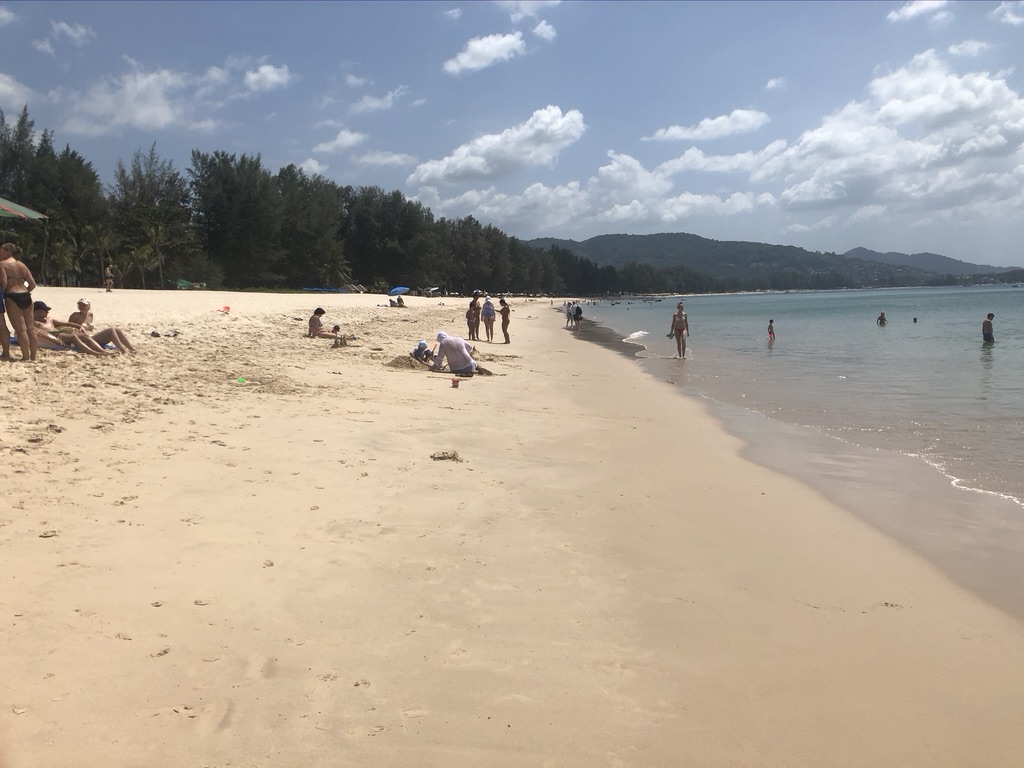 How one appreciates a beach will depend on how 'usable' it is. For us Bang Tao was perfect, except that my wife found that the waves were just a little bit too strong for her. But we can see that Bang Tao was clean and not at all crowed.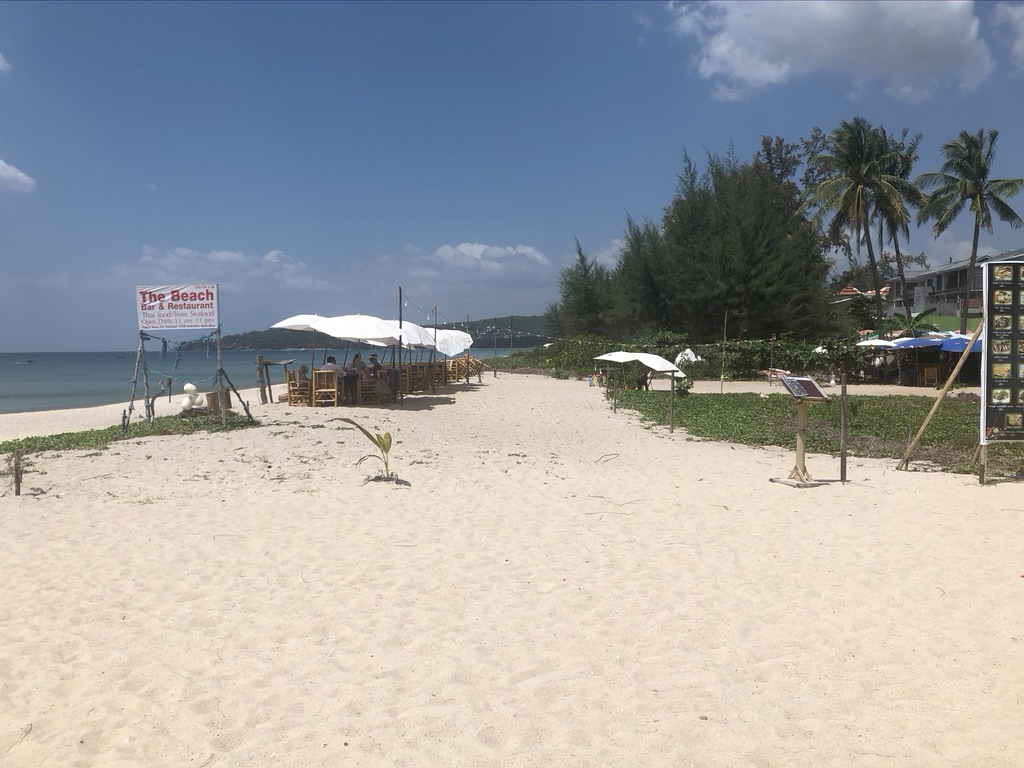 For someone arriving in a car, Bang Tao might look completely different. There are two ways to approach beaches such as Bang Tao. Firstly there are small roads that run parallel to the beach. Here and there they provide access to parking, beach huts, etc. It's almost impossible to say if the access is 'official' and what is the quality and type of services on offer. Some are beach restaurants, some have loungers, etc. Some look fairly well organised, others look a bit 'off limits'.

There are also roads that run down to the beach and stop. Next to our resort was a local road that just provided access to the beach. Visitors to the beach would have to park, and either bring everything with them, or negotiate a lounger, etc., under the tree line. They would, of course, have the same access to the same beach as those in the resort, but the 'experience' might be less compelling.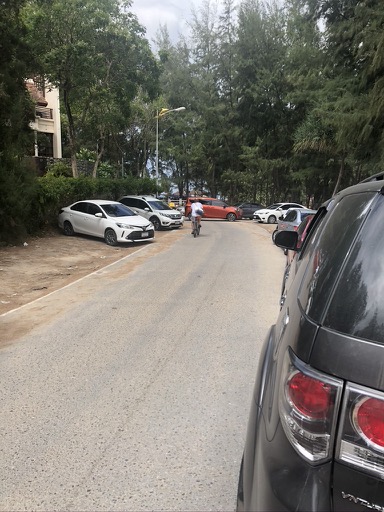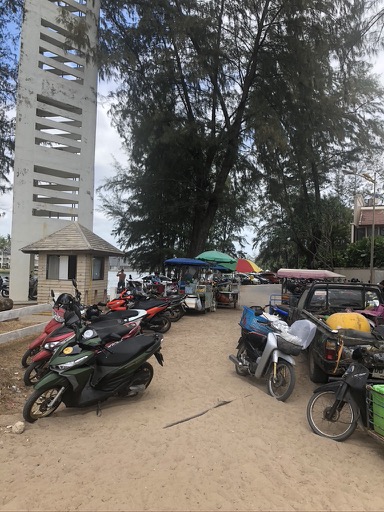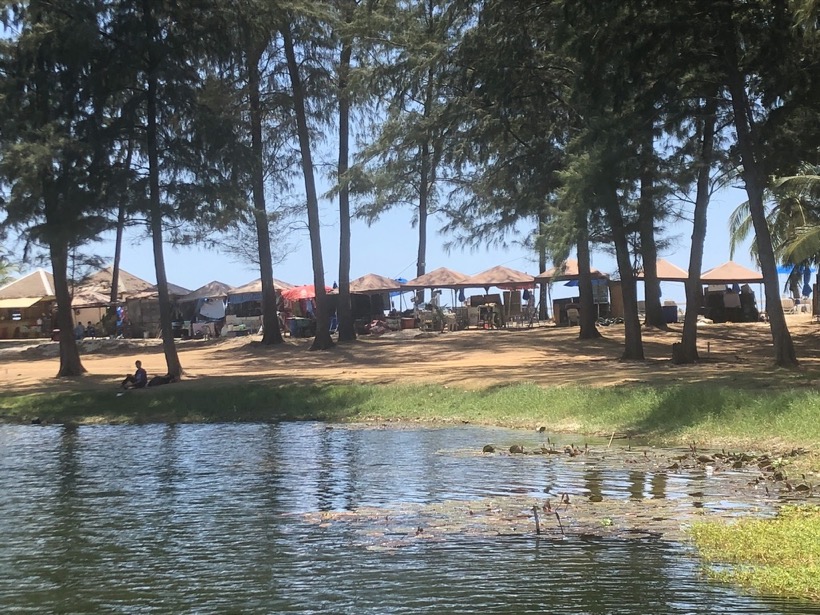 Below we can see the Bang Teo Beach, with the Outrigger Resort in the foreground, and looking North to a part of the beach called Leyan Beach.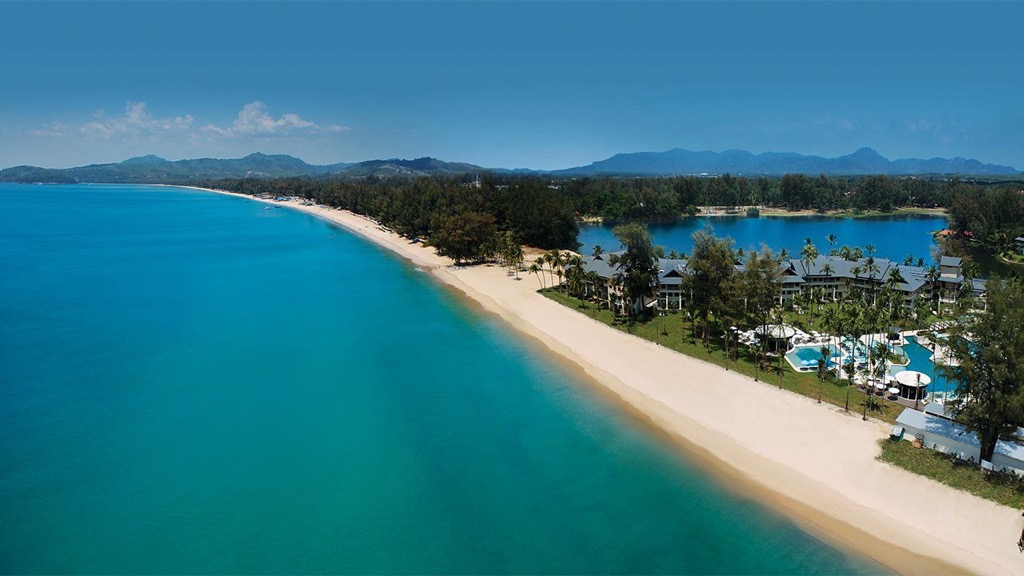 Layan Beach is one of the quieter beaches, and well worth a visit (even if it's not that easy to find). Beyond that there is a small island (Koh Kala) and sandbar which creates a semi-lagoon. The area is not quite unknown because there are a few resorts hidden away in the vegetation (check out Trisara and Anantara), and it has recently been 'discovered' by developers who are building quite substantial ownership-resorts.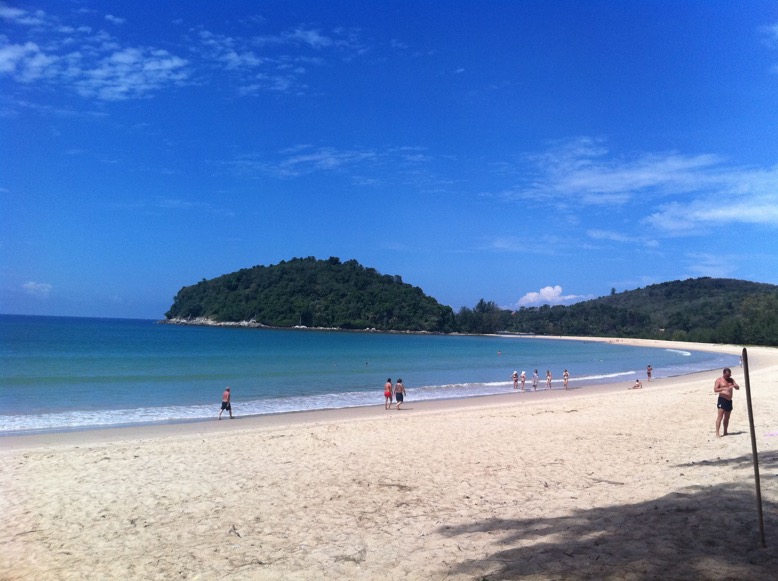 Leaving Layan Beach we are going to venture South to Karon View Point. We will swing past Surin Beach, go past Kamala Beach, drive along the famous Patong Beach, and look over Kata Beach from the Karon View Point.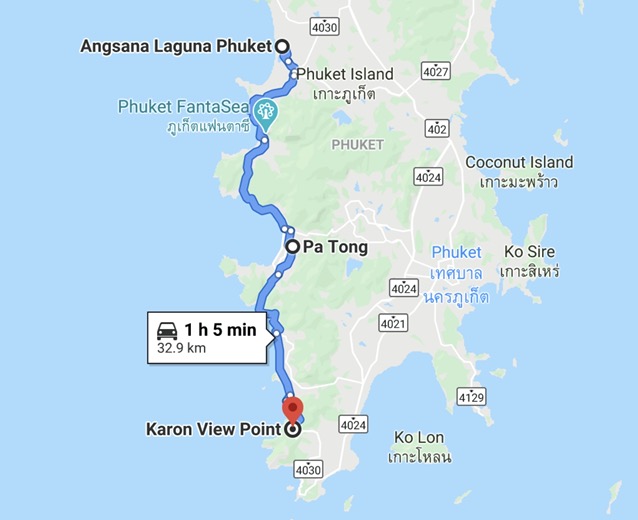 Surin Beach is quite small compared to Bang Tao Beach, and is known for it's clear water and biggish waves. The quality of the water and sand makes this smallish beach one of the more beautiful beaches on the island. You may be able to just see the small viewpoint sticking out into the sea, and behind that there is another even smaller beach. I'm told that the public park along the beach front is a long-abandoned golf course, and this has kept the hotels away from the beach front. This beach area is attracting more and more rich tourists.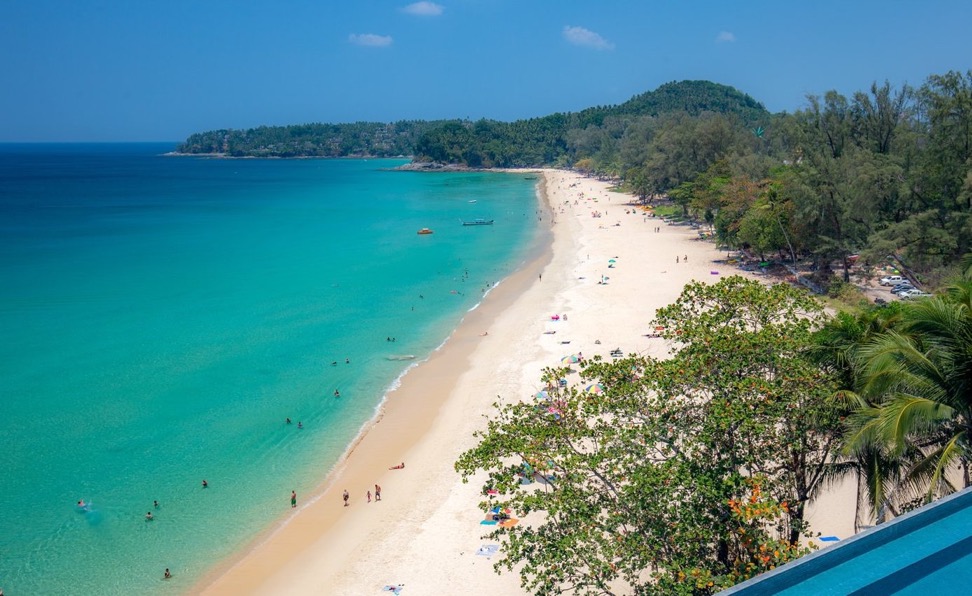 There is also a very small beach called Laem Sing which sits between Surin and Kamala Beach. The waves are said to be quite strong, but the small beach is protected by a large promontory.

Next is the 3-kilometre long Kamala Beach, which is another beautiful, quiet, family-oriented beach. If you are looking for a village feeling, perhaps this beach is the one for you.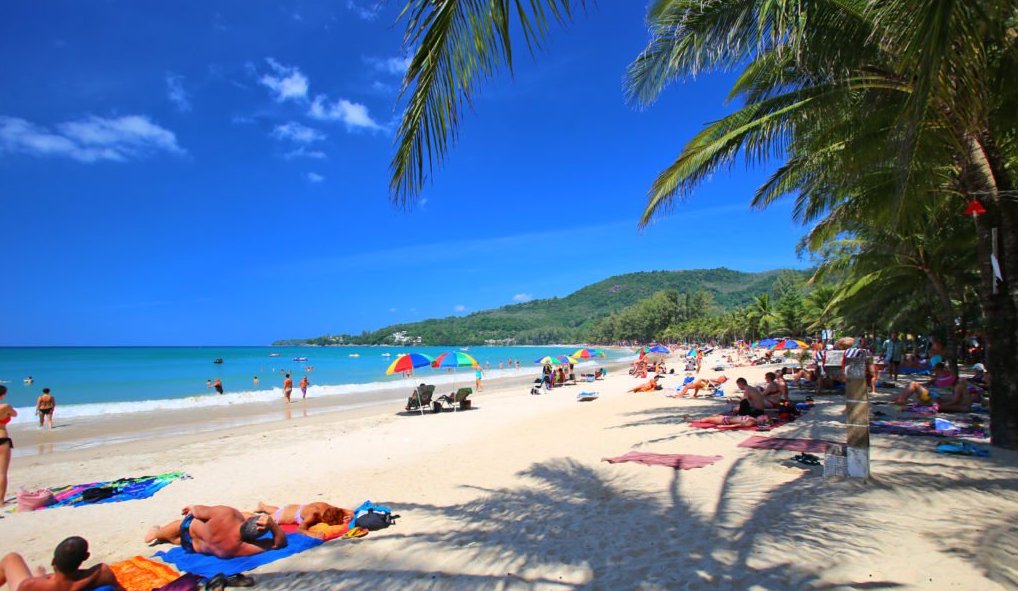 Now we hit Patong Beach, which is not a quiet, family-oriented beach. It's been a bit of a drive across land and then along the coast, but it's worth it. Patong Beach is nearly 3 kilometres long and almost always crowded. It is where you can find Phuket's nightlife. On the Web there are 1,000's of photographs of really crowded beaches, but when we visited, it was not overcrowded. Of course by comparison with other beaches on the island, Patong Beach will always stand out as representing the worst of mass tourism.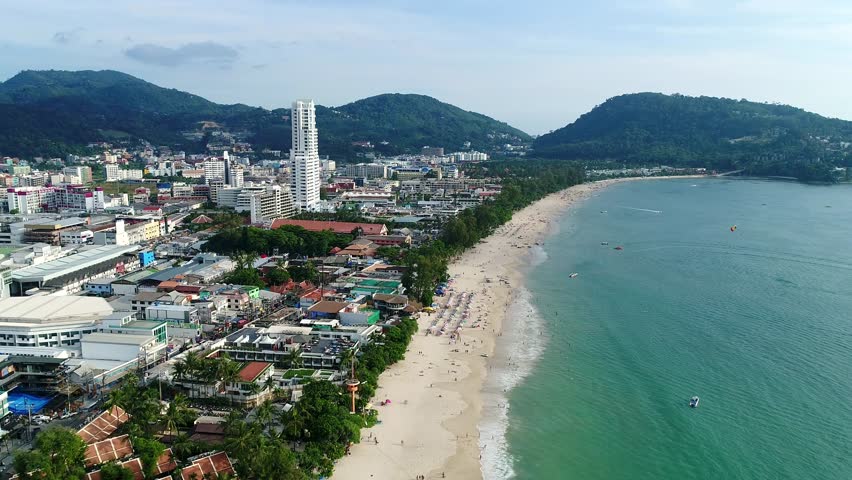 Karon Beach, further to the South, is also a popular beach. Generally the beach is considered better than Patong, the sea is cleaner that at Patong, but most younger people find Karon Beach boring. There are a number of developments spread out along nearly 2 kilometres of beach, which means it's popular with couples and families.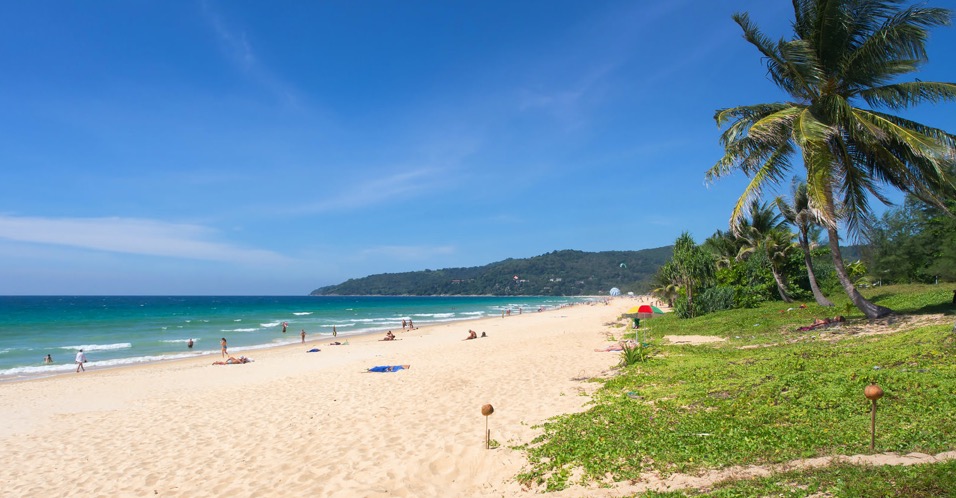 Our final destination is the Karon View Point. We are now looking back to the North, and we can see in the distance Patong Tower on Patong Beach. Nearest to us we have two beaches, the nearest is Kata Noi Beach, and just beyond that is Kata Yai Beach. These two beaches are considered calmer than Patong Beach and more elegant than Karon Beach.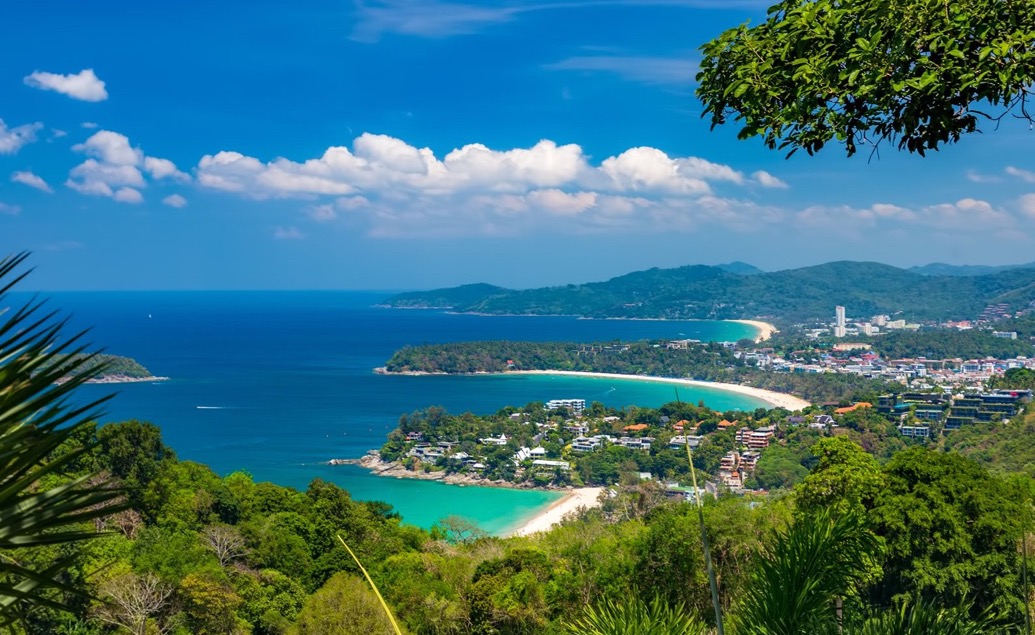 For some more information on the beaches of Phuket you could do worse than checkout true-beachfront.