Phuket - Shopping, Supermarkets and Prices
last update: 09 May 2020


Our New Year trip for 2020 ran from late January 2020 to mid-March 2020 and involved 8 nights in Dubai and 43 nights in Phuket.


Forward Planning

Since we intended to spend quite some time in Phuket we needed to decide what to bring with us, and what we could expect to find locally.


I must say that our intention in coming to Phuket was not to buy 'stuff', but we knew we would have to re-source a few basic cosmetic and bathroom products.


I made different lists for our carry-on and check-in luggage, and lists for medications, etc. But it appeared impractical to bring everything we might need with us, e.g. shower gel or toothpaste we could buy locally. Travelling for nearly 2 months meant focussing on the essentials (i.e. medication), and taking a limited amount of clothes and sundries.

But just to check I scanned the web for comments, etc. concerning a variety of products that sounded like they may pose a problem.


The products I checked were Sisley, Avéne, Nivea, La Roche-Posay, Eucerin, and Corsodyl. What I learned was that Sisley you can find in any high-end shop for cosmetics, and Avéne, Nivea, La Roche-Posay and Eucerin can usually be found in chemists such a Boots.
My wife swears by the
Corsodyl
toothpaste and mouthwash (a gks product). Searching the web you immediately find references to mouthwash being available in chemists and supermarkets (Tesco and Boots were mentioned). One reply clearly said that Corsodyl was available in Tesco. Another reply said to focus on the key ingredient
chlorhexidine
.
The difference between forward planning and reality

Our first trip was to see Boots in the 'Central Phuket' shopping mall. According to the Boots
international store locator
there are quite a few stores throughout Thailand, and there are three in different parts of the 'Central Phuket' shopping mall.
With our visit to Boots, reality 'hit us'. Yes, Boots have shelves for
La Roche-Posay
and Eucerin, but not the specific products my wife uses. However, it was possible to find a couple of decent replacement items. Surprisingly Nivea was almost non-existent, and I did not see any Avéne products.
Turning to Corsodyl, Boots did not know the product but they were able to supply a local mouthwash called MYBACIN. Corsodyl contains 2mg/ml chlorhexidine digluconate, whereas MYBACIN contains only 1.2mg/ml. Also they did not have a single toothpaste based upon chlorhexidine.


Key Messages

One of the most amazing things is that
foreign newspapers and magazines are almost impossible to find
. When travelling my wife and I enjoy buying English and French newspapers and magazines (something we don't do at home). No one in the hotel appeared to even understand the question, and locals could not say where you could find foreign press. In the '
Central Phuket
' shopping mall there were two places that were worth a try. One shop had a few books in English, and (oddly) lots of texts translated into Thai, but where the cover retained the original title in English. The other shop, called Asian Books, had a small range of English books and a few magazines. During our 43 day stay we went there twice. I managed to find FT Weekend on the following Thursday, but with the magazine, for 160 Baht (€4.7). I also found Wired for 495 Baht (€14.50) and BBC Science Focus for 875 Baht (€25.5). As you can imaging at that price every word was read with interest (twice).


The best suggestion, which we never tested, was to check out the local 7eleven, with the idea that they might have Thai newspapers in English.


The reality is that some well-known
cosmetic brands
are available in Phuket (e.g. Nivea,
La Roche-Posay
, Eucerin,…), but not necessarily the whole range. In addition specific product names can be different (e.g. Eucerin's Atopic-Control is called OMEGA in Thailand).
Information presented as factual on social media can easily be wrong. For example, people affirmed that Corsodyl toothpaste and mouthwash were available in Phuket but we could not find them. However, a weaker local chlorhexidine-based mouthwash was available. Except for Colgate and Listerine, bring your own toothpaste and mouthwash.
High-end cosmetic brands such as Sisley, Clinique, Dior, etc. were all available. Prices of cosmetics, etc. in Phuket looked to be competitive.
There are outlets of Tesco and Boots, but highly focussed on local brands, etc. For example, you can easily find the usual household items, but not the usual brands found in Europe.

One of the most surprising moments was when in the big perfume retailer in Floresta, we found that they did not stock Monique's favourite
aux-de-parfum
World by Kenzo
. We were told that they only stocked Kenzo for men!


Shopping Centres

The first thing to realise is that
tourism is a major economic contributor
to both Thailand and Phuket. The island receives around 10 million tourists annually. So there is a well developed series of large-scale commercial offerings, e.g. shopping centres, supermarkets, etc.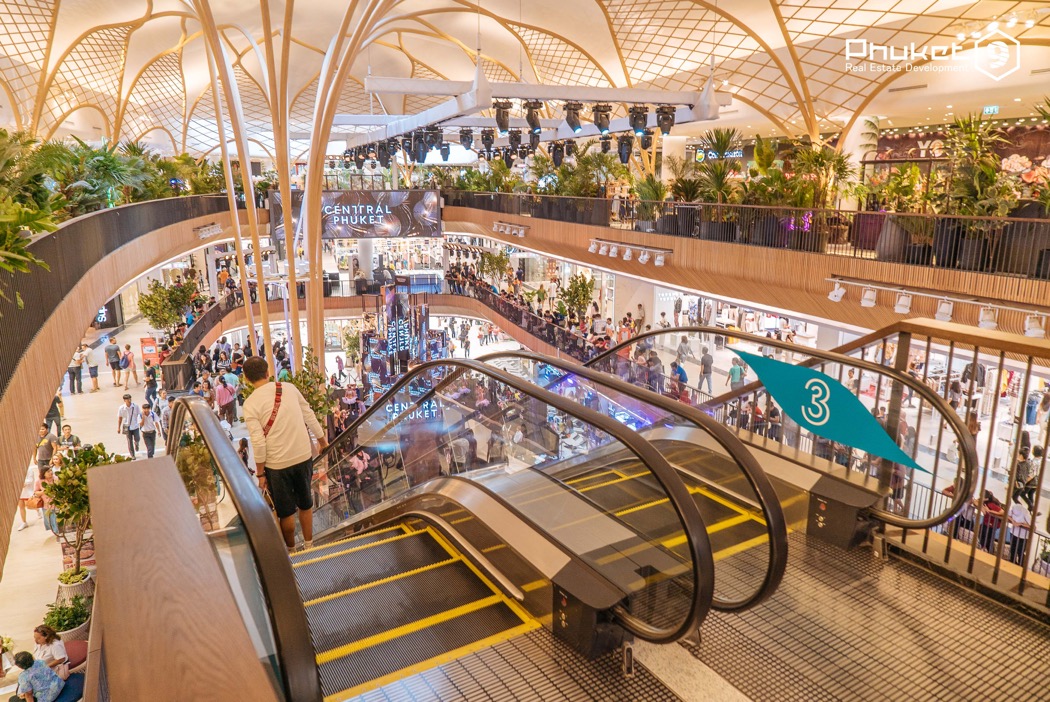 The top of everyone's list is 'Central Phuket' which consists of two interlinked buildings, the Festival and Floresta (you often see 'Central Festival' mentioned). Our first visit was to see Boots in the Floresta building. The reality is that there are three Boots in the shopping centre, but two of them are just one-width shop-window stores with a limited supply of products such as La Roche-Posay or Eucerin. The other is a very small unit which appeared to focus on fulfilling prescriptions. The larger Boots had both La Roche-Posay and Eucerin stacked on shelves, but my impression was that you only find the simpler products, e.g. skin cream but not with the extra additives (e.g. Omega, Q10, etc.) you see back in Europe. In addition you can't find your usual shower gels or shampoos. Some big name products are available, but the selection is very limited.

So during our first visit we bought at Boots:-
La Roche-Posay Lipikar Gel Lavant for 323 Baht (€9.3)
The identical item retails in Europe for €7.3
Boots Gentle Feminine Wash for 175 Baht, discounted to 99 Baht (€2.9)
This identical item retails in the UK for £2.29 (or 95 Baht)
Eucerin 50ml OMEGA Soothing Cream (offer - 50% on second tube) for 1,280 Baht (€37.7)
This can be found also in 250ml bottles, and there is a version with 12% Omega Plus, however the range OMEGA Soothing Cream is not on the Eucerin website.
Eucerin 200 ml UltraSENSITIVE Micellar Water for 540 Baht (€15.9)
This product might just be Eucerin Dermopurifyer Micellar Water at an online cost of €13.6 in Europe.
MYBACIN 250ml for 70 Baht (€2.1)
The 300ml Corsodyl costs about €5 in the UK.
DOVE 'go fresh' 550ml body wash for 155 Baht (€4.6)
There is a DOVE 'go fresh' 500ml shower gel that retails for about €7 in Europe.

I contacted Eucerin about the OMEGA cream. It does not appear on their main website. They informed me that different names are used in different places, and that OMEGA is the same as Atopi-Control. If this is true then a 50ml Eucerin Atopi-Control retails in Europe for about the equivalent of 560 Baht, whereas it is in fact available online in Thailand with the same name for around 690 Baht.

On the other hand you can find all the usual high-end cosmetic products, e.g. Sisley, YSL, Hermes, etc., in the 'department store' part of the shopping mall.

One of the most surprising moments was when in the big perfume retailer in Floresta, we found that they did not stock Monique's favourite aux-de-parfum World by Kenzo. We were told that they only stock Kenzo for men!

Now I know you are going to throw your arms up in the air and roll your eyes, but we did go to Starbucks. Every shopping mall in the world has at least one Starbucks. In the Tesco-Lotus shopping mall it looked like the only decent place you could sit down. We had an Americano (110 Baht or €3.1) and a Green Tea Latte (140 Baht or €4). And yes, we actually also stopped once in a Starbucks in the 'Central' shopping mall. There we had a Granini Apple Juice (95 Baht or €2.7) and a San Pellegrino Pomegranate and Orange (85 Baht or €2.4). So Starbucks appear to price itself more or less the same everywhere.

We also stopped for an ice cream in Godiva in the 'Central' shopping mall, and with a cappuccino and a hot chocolate, that set us back 930 Baht or €26.5. Can't think why anyone would stop a Godiva, when there is a Starbucks nearby.


Buying swimwear

We found in Floresta, the 'department store' part of 'Central', an extensive collection of swimwear. This was fantastic because there is not a vast selection of swimwear in our home city (particularly in winter). My wife bought two new bathing costumes.
The first was a one-piece from
Relleciga
which retailed online for $71. The retail price for the same costume was $96, still very competitive as compared with prices in our home city.

This had a second label from Lagoon Boulevard, located in Phuket, which claims to be in partnership with Relleciga. They appear as the official distributor of Relleciga in the Central shopping mall.

The second was a two-piece from ELLE which would appear to be brand of
I.C.C. International
, a Thai company for cosmetics, hair and skin care products, sports ware and fashion products. They claim to have licensed the name ELLE from the French publisher Hachette Filipacchi Presse. According to their website they are linked (in someway) to Arrow, DAKS, ELLE, Guy Laroche, Lacoste,
le coq sportif
, Mizuno, …

Despite trading under a variety of high-profile names, I've not been able to find and price online two-piece swimwear from ELLE.
When is a vanity case no longer a vanity case?

Vanity cases have been around for a very long time. There is even a claim that an inlaid cedar box containing ointment, perfumes and a hand mirror was found in
Tutankhamun
's tomb. In the 14th C the French had the highly decorated and very elegant '
nécessaire de voyage
', and in the 18th C the 'dressing case' was an absolute necessity for the British gentleman. As the 'dressing case' went out of fashion for men, it came into fashion for women in the 1920's. It is said that Charles Arpels, co-founder of
Van Cleef & Arpels
, designed the slimline vanity case. Sotheby's has a nice article on the
history of the vanity case
, but the focus appears to be on precious cases for precious jewellery. Today the vanity case is a practical way to pack those tried-and-tested beauty essentials. Some types of small vanity cases are designed to pack squarely inside a suitcase, but we are talking here about a handheld hard-shell beauty case in a Samsonite series called 'Cabin Collection'.
Travelling around I've noticed that fewer and fewer women are carrying beauty or vanity cases. My gut feeling is that much of what a woman needs (or man for that matter), goes into the carry-on. They must put their cosmetics and stuff somewhere, because on average a woman uses 16 products a day. So I guess it all goes into the carry-on spinner.
Anyway, the real story was that during our trip to Thailand my wife's vanity case decided to lock itself permanently. We forced it open, but then needed to look for a replacement. Again this took us to the Central shopping mall. Now in Dubai the malls had plenty of shops full of suitcases - don't ask me why. But in our favourite shopping mall in Phuket we found only three places that sold suitcases, and none sold vanity cases. How odd!
One of the three places just sold luggage in a 'pop-up' location, but the others had proper shop, i.e. one was a branded Samsonite shop and the other was the main department store. They both sold a variety of luggage makes, some known, some totally unknown. There were plenty of Samsonite products, but no vanity cases. We settled on buying a stand-in from
Samsonite RED
. Now the only problem is that what we bought does not appear on the Samsonite RED website. Yet it looks very much like a typical Samsonite weekend bag that retails for around $110, but its branded Samsonite RED. The bag we bought looks very high quality and is tagged and labelled everywhere with Samsonite RED. However, the warranty and invoice called the bag a Akoni Mini Boston. A search on 'Akoni Mini Boston' produces a number of Asian websites mentioning Samsonite RED. So who knows, a fake, a real new product, and product for the Asian market,…?


In any case we bought the Samsonite RED bag for 2,750 Baht (€80), and we also bought a set of 'smart' packing bags, etc. for another 2,300 Baht (€73). So, all in all, we replaced the vanity case that you can still find for around €55 (plus shipping) with an alternative that cost us €153. We needed a replacement, and my wife was happy.

Holiday gifts

Near the end of our stay we started to look around for typical holiday gifts for friends. Frankly, it was not clear in our minds what would make a nice holiday gift, but that could still be packed in our suitcases. Whilst cultural 'markers' are everywhere, it is actually difficult to know how representative they really are of Thailand and Phuket. We gave up in the end and went for a few items that had Thai connotations, and at least had been made in Thailand.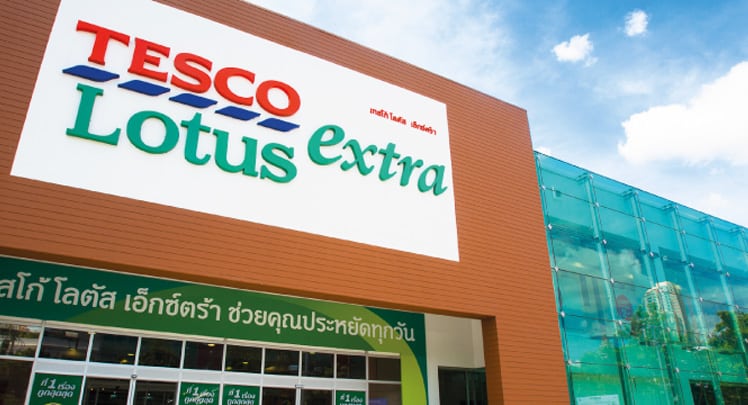 TESCO is well established in Thailand and in Phuket, under the brand 'TESCO' Lotus. We visited the largest TESCO Lotus shopping mall which was only about 2 kilometres from the 'Central' shopping mall. We found a shopping mall that was more designed for the average Thai. We did not enter the supermarket, so can't comment on the products available.

Since our visit TESCO has sold off the Lotus brand in Thailand.

I had identified two other shopping malls, but we never bothered to go and see them.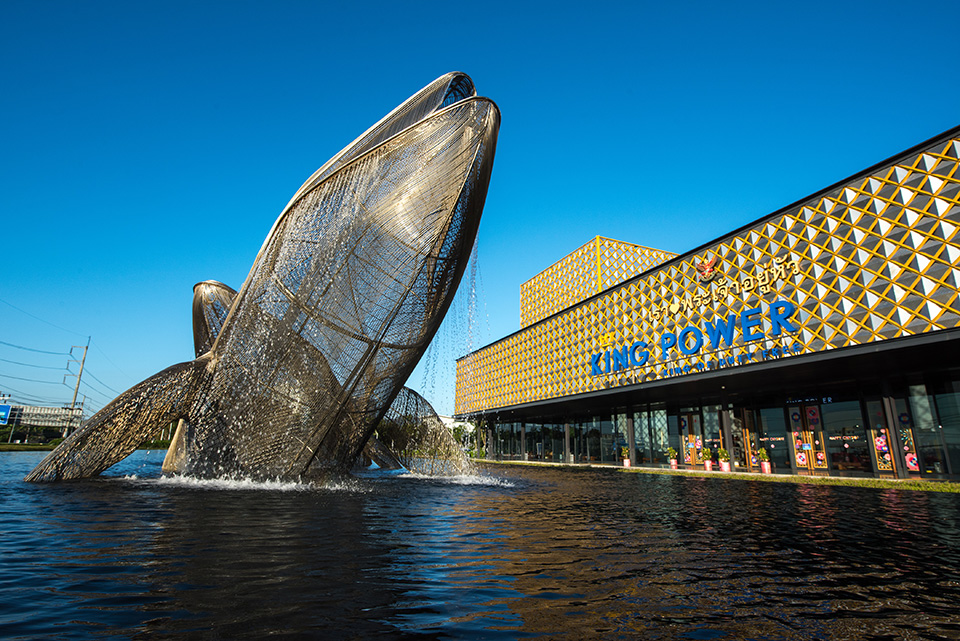 'King Power' is another shopping centre, and they provide a list of brands which helps (e.g. Sisley and La Roche-Posay are mentioned, but not Avéne or Eucerin).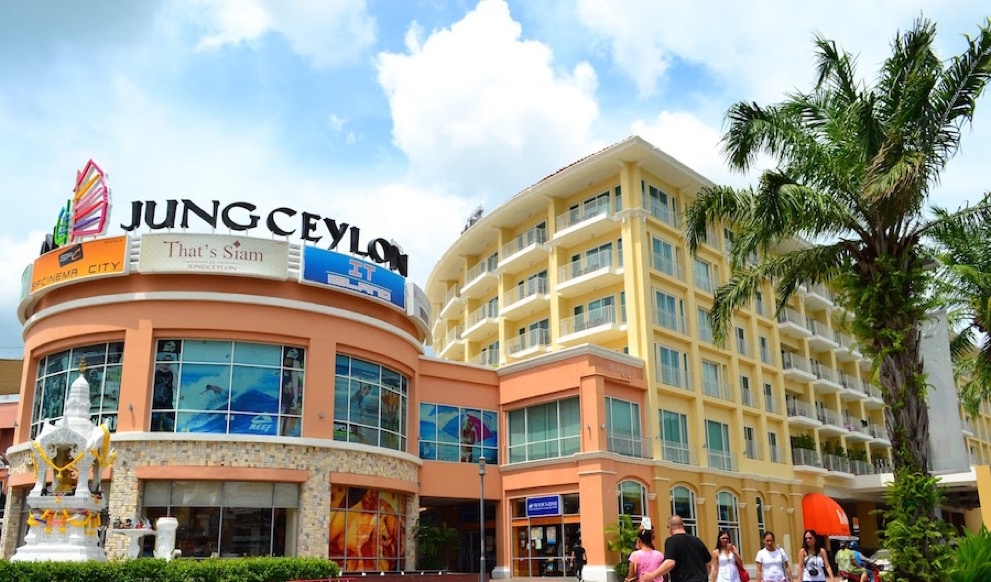 'Jungceylon' is near Patong Beach, and is one of the biggest shopping malls on Phuket Island. Someone wrote that it's a mid-range shopping mall, thus sitting between the high-end 'Central Phuket' shopping 'experience' and the TESCO Lotus supermarket.


Our local supermarket

On the Laguna site (our hotel resort) there was a place called Canal Village, and it was home to a small supermarket. It was surprisingly well stocked in the basics, even if most of the basics were local Thai products.

What was quite interesting was to look at a few items that were also available in our hotel mini-bar.

Let's start with a simple
bottle of water
(500 ml). In the site restaurants and on the beach it cost 50 Baht, in the mini-bar the price was 90 Baht, and in the supermarket it was 12 Baht. In the 'Central' shopping mall a small bottle of water would normally cost 20 Baht, which was reasonable.

A small can (325 ml) of Coca-Cola cost 100 Baht in the mini-bar, and 20 Baht in the supermarket.

A Ritter milk chocolate bar cost 260 Baht in the mini-bar, and 85 Baht in the supermarket.

A small 'can' of Pringles (42 g) cost 85 Baht in the mini-bar, and 15 Baht in the supermarket.

A small can of local Singha beer cost 22 Baht at the supermarket, whereas it cost 170 Baht in the mini-bar.

Also in the supermarket a 500 ml can of Singha beer cost 35 Baht, but in the poolside restaurant we paid 190 Baht for 500ml of draught Singha.


More on our mini-bar

Just to close our little review on shopping, lets look at the other things in our hotel mini-bar. We could also find the following:-
Marmaduke Shiraz 2915 from Margaret River, Australia cost 1,800 Baht in our mini-bar (so over €50). It's not a bad wine, but the 2015 is no longer available, however the 2017 retails for around 800 Baht/bottle.
The Georgiana Sauvignon Blanc 2016 from the same producer also cost 1,800 Baht in our mini-bar (so over €50). Again not a bad wine but it actually retails in Thailand for just over 300 Baht/bottle.

In some respects it was far better to consume some of the 'harder' alcohol's, where the hotel mark-up was lower. For example:-
Johnnie Walker Black Label (20 cl) cost 850 Baht in our mini-bar, but in a shop it would cost 400 Baht.
Gordon's London Dry Gin (20 cl) cost 490 Baht in our mini-bar, but in a Thai supermarket it cost 240 Baht.
Hennessy VSOP Congac (20 cl) had a price of 1,800 Baht in our mini-bar, whereas you would need to spend around 850 Baht in a Thai drinks shop.