Hotel Gravina51, Seville
last update: 23 December 2021


Given the world we live in (late 2021 with the new strain Omicron) we had to wait until the last minute to book a hotel in Seville over Christmas 2021.

Some hotels were fully booked on one or more days over Christmas, others didn't have rooms with walk-in showers, others had no safe parking. A few were just ridiculously expensive, and yet others included an expensive and elaborate formal meal on the night of the 24th December.

Finally we booked 5 nights in the 4-star Hotel Gravina51. A hotel that claims to be a beautiful traditional Andalusian Palace house very close to the historic centre of Seville.

I will admit our first decision was between a boutique hotel and a big multinational chain, which in most cases is also a choice between traditional and modern decor (and possibly between traditional and modern service).

Without labouring our decision, we finally decided to book this hotel. Positives were availability, parking, a walk-in shower, a central location, and some form of room service (if a bit limited).

We booked a non-refundable, 30 square metre, 'Preferential Room with Terrace', on the hotels website.

Tripadvisor gave the hotel a 5/5 and rated it #1 of 206 hotels in Seville. The key elements that caught my attention were valet parking, free high-speed wifi, non-smoking rooms, desk, coffee/tea maker, satellite TV, and bidet (for my wife). At the time the hotel had 383 excellent reviews from 406.

Booking gave the hotel an exceptional 9.6.

I guess the name of the street and the hotel comes from Federico Gravina (1756-1806), who became Commander-in-Chief of the Spanish Navy, and finally died from wounds received at the Battle of Trafalgar.


Booking and pre-arrival

Before making the booking I had telephoned a small number of options, and Hotel Gravina51 provided the most complete replies. They had rooms available, secure parking, rooms with and without showers, but confirmed that room service did not offer cooked meals, however they did mention sandwiches, tapas, etc. were possible.

Along with the booking I confirmed in writing my understanding about the parking for a large car and the availability of a room with a walk-in shower. The reply was less than exact, and in particular mentioning that rooms with or without showers was dependent upon availability. My reply was quick. I needed a walk-in shower for mobility issues, and without a shower I would have to cancel. The reply was friendly and confirmed that a room with a terrace and a shower would be available.

Just before arriving at the hotel I received an email informing me about a change in the access route to the hotel. Very useful since it enabled me to re-program our car GPS system.


Arriving at the hotel and check-in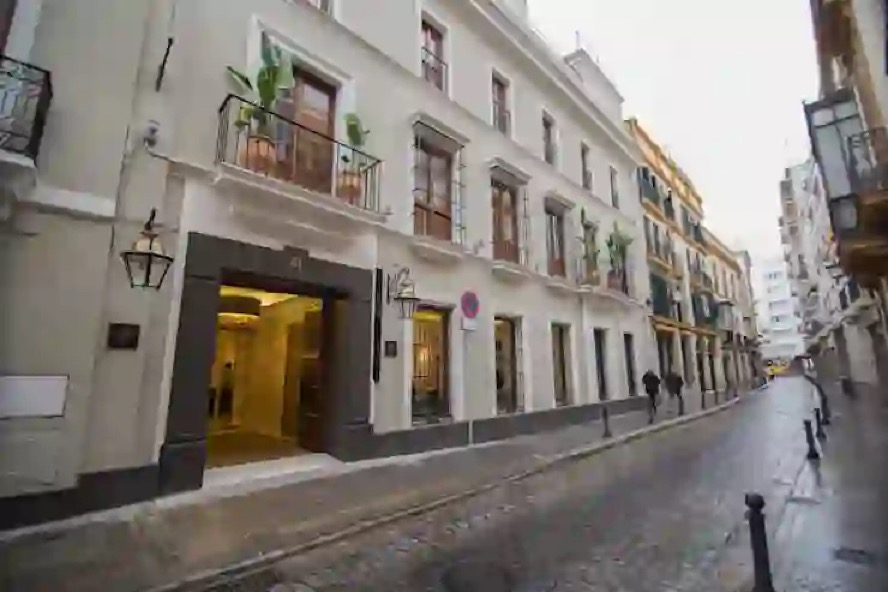 Seville is never an easy place to drive to, from, or through. But with the information provided by the hotel, and a quick check on Google Maps, we were well prepared. We did have to drive a short distance into some kind of no-go area. We found the right road, but was actually quite surprised by the fact that it is a very narrow side-street. Frankly, the street is so narrow that you don't really get a full idea of the hotels location and façade. The wide-angle photograph above understates the narrowness of the street.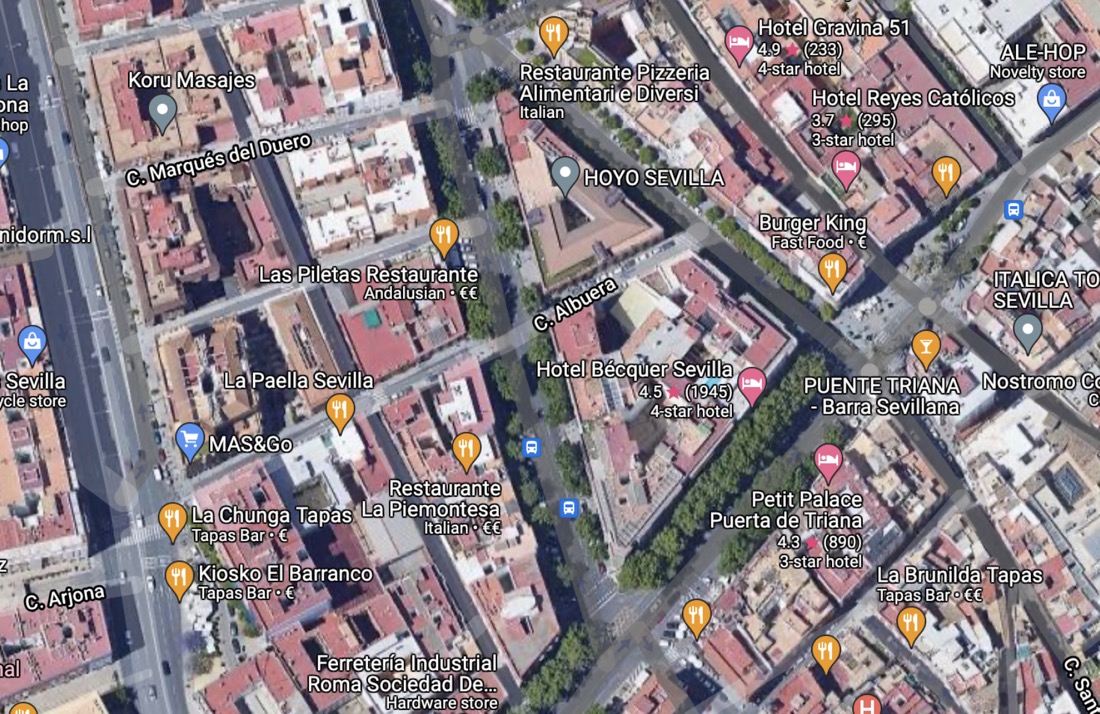 Because we had been informed that the one-way Calle Gravina had been inverted for the Christmas period, we had to drive along C/ Arjona and then turn left in to the tree-lined C/ Reyes Católicos. We drove up to C/ Puerta de Triana, which looked as if it had some access limitations on it. But we could see the Burger King, and knew that C/ Gravina was just past it on the left.

The street is so narrow that it's automatically blocked when you stop in front of the hotel, although there are no bollards in front of the hotel so it is possible to pull in and park on the pavement. The staff in the hotel were very welcoming and quick in unloading baggage.

The porter videoed the entire car, then took it to the garage. An excellent idea!

In the reception we were welcomed and offered a glass of a very good Cava. Excellent and friendly check-in, and by the time we arrived in our room, the bags had been delivered.

As far as I could see the hotel appears to be two existing buildings joined together, each building having an interior patio.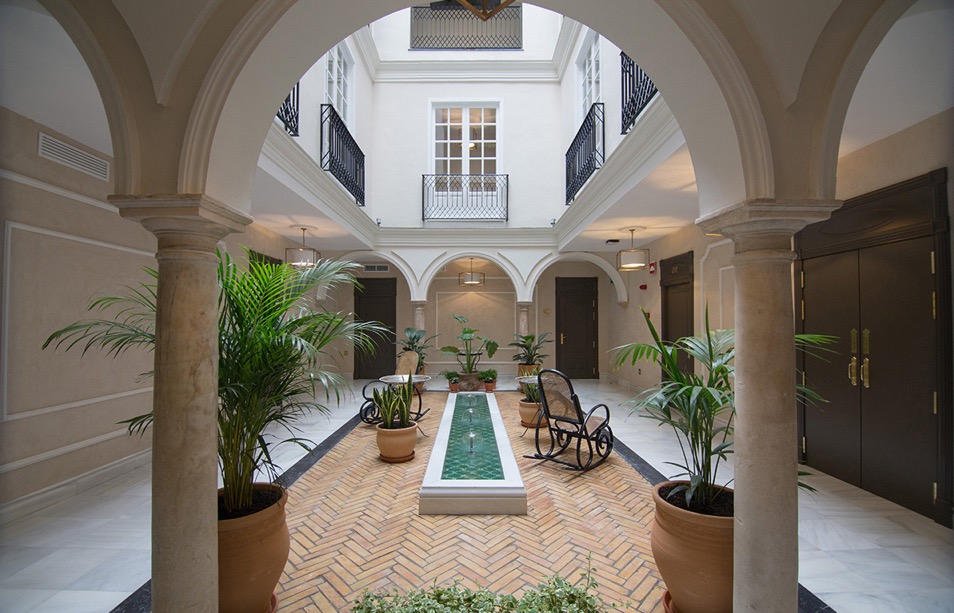 To the left there was a three-storey building with a largish, covered central patio with a small central water feature. To the right was a two-story covered squarish foyer providing access to the bar (on the right) and breakfast room (on the left).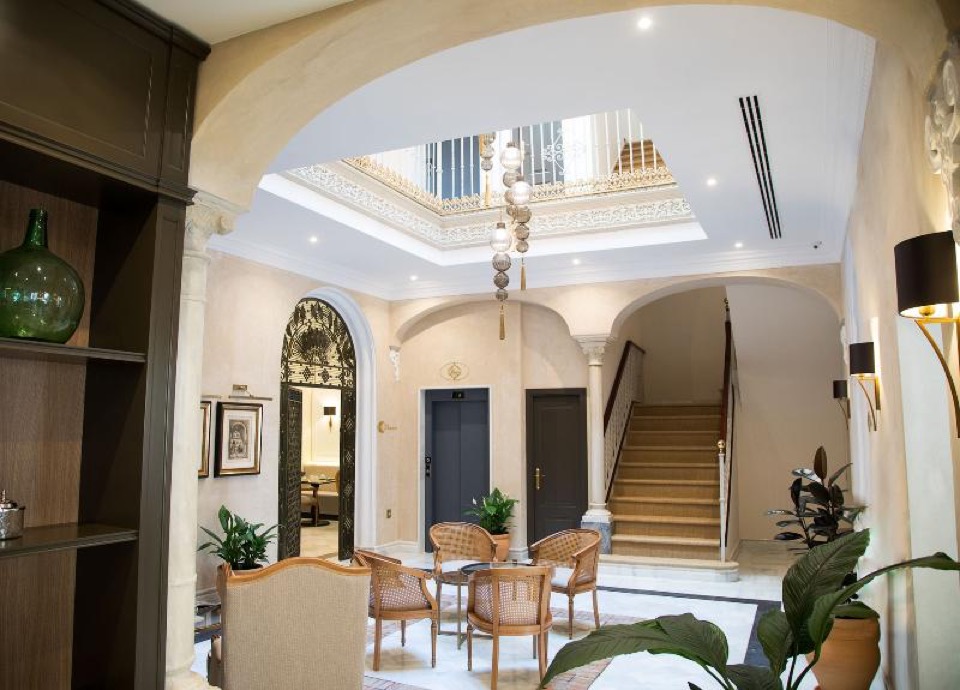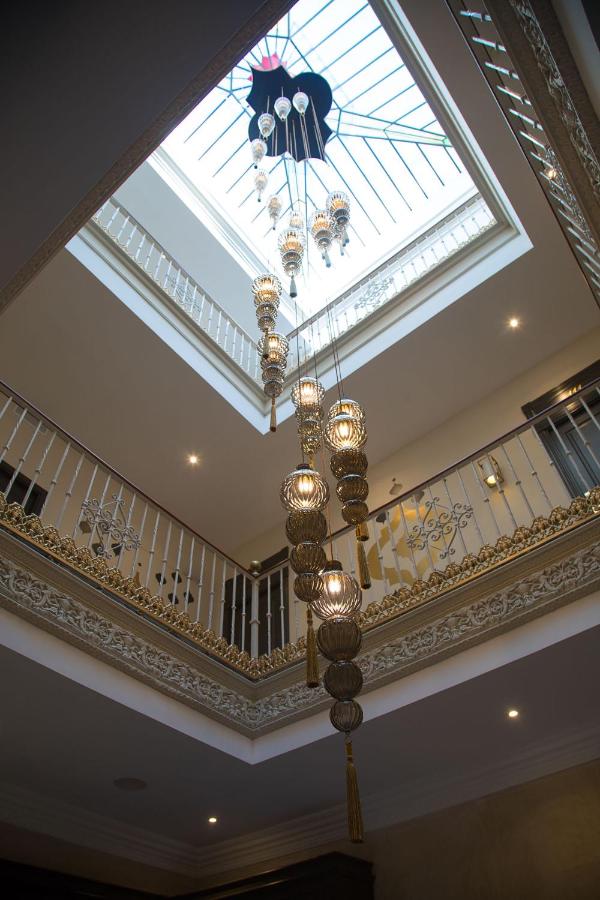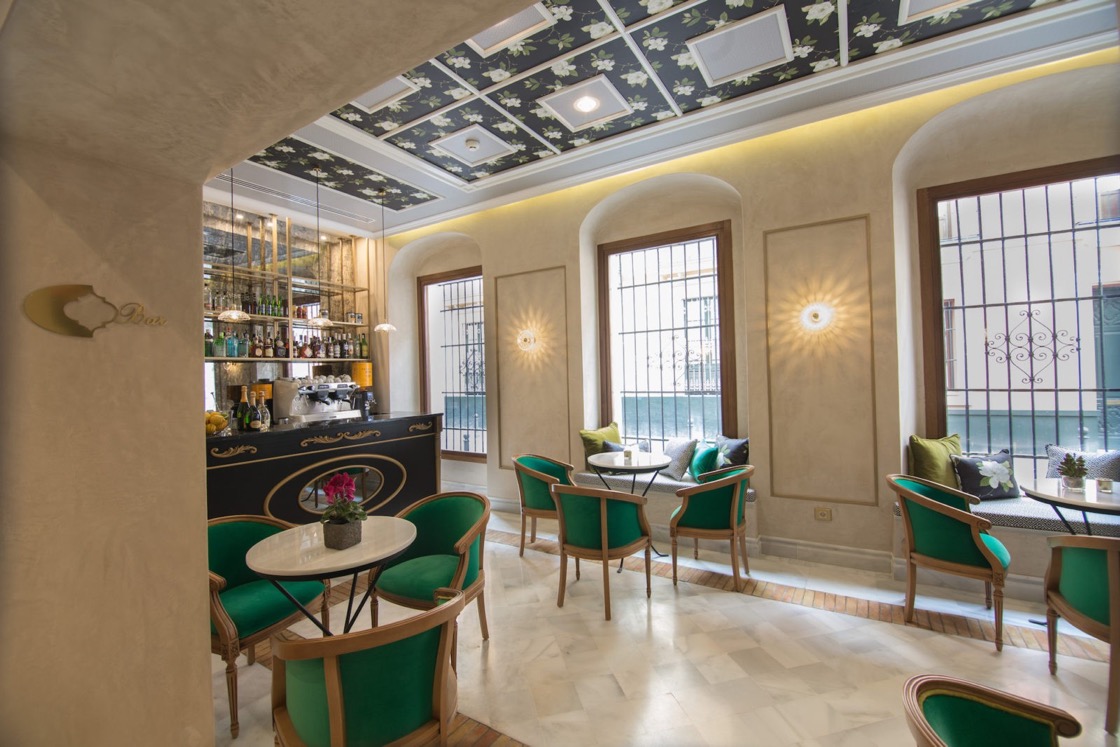 We did actually take the occasional daytime tea and coffee in the bar. It was almost always empty, but the service was immediate and friendly.

Overall the decoration was tradition, but of good taste. Shelving was occupied by the usual decorative un-read books, nick-nacks and trinkets of little interest or value (i.e. shelves with stuff on them).

Our room was on the first floor of the foyer on the right. There were separate lifts in the two separate patios, as well as ample stairways.


The room

We had booked a 30 square metre 'Preferential Room with Terrace'. First impressions were not totally positive because the room was not the 'classical' square space you might usually find in a purpose built construction. But it is perfectly understandable, adapting to an older building imposes significant constraints on the way space can be used. It is part of the charm of a boutique style hotel installed in a older, traditional style building.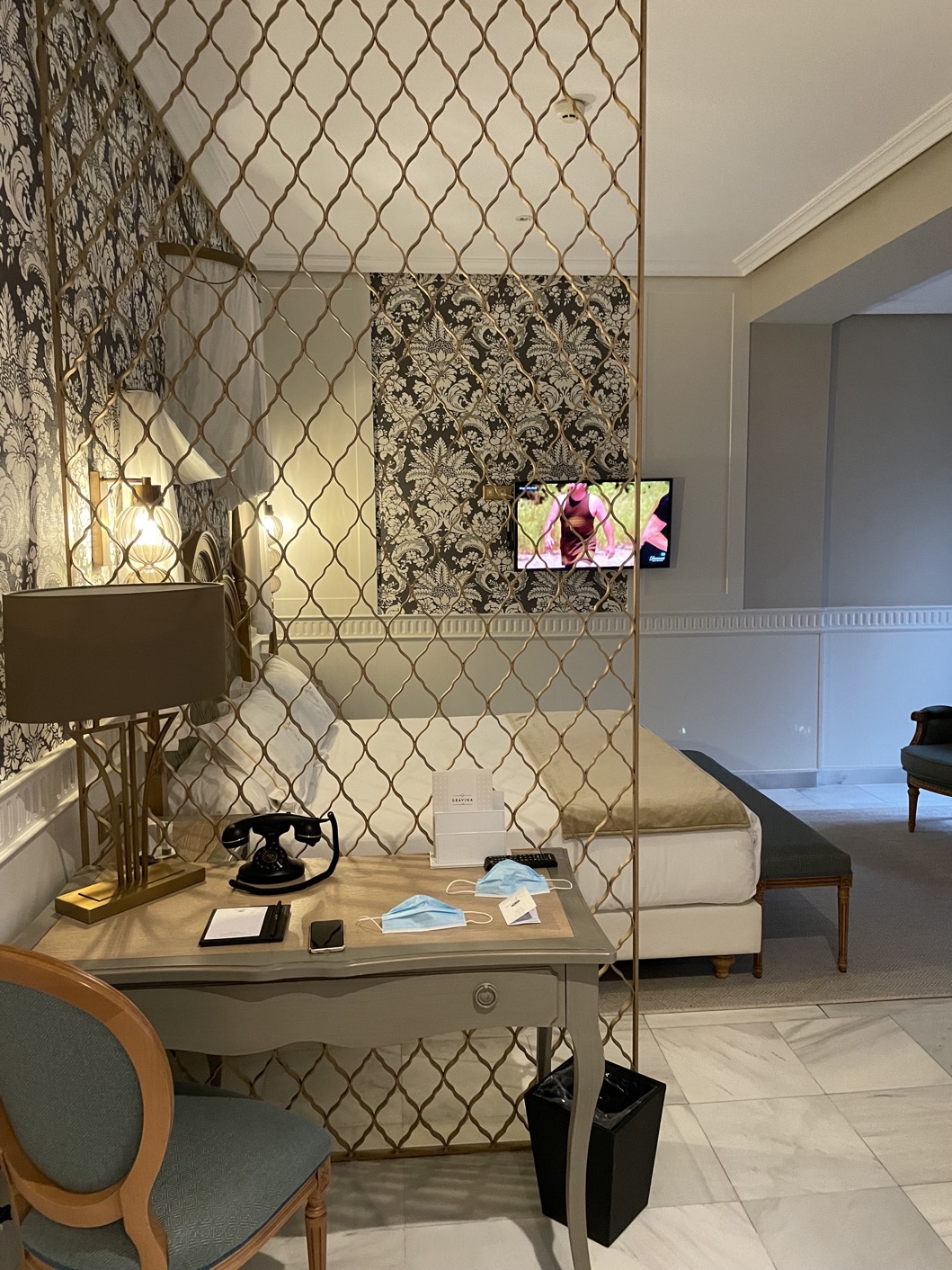 Above and below we can see the room furnishings and decorative elements. I couldn't put a distinct style to the room, but late-19th century might do. In terms of features the room had everything we needed, an excellent bed, a desk and chair, wardrobe, sitting area with two comfortable chairs and a small table. Positives in terms of functionality included 3 suitcase racks (an outstanding feature), a decent size and easy to use wall safe, and a small fridge with free drinks. I particularly liked the way the TV could be swivelled to face the bed or the sitting area. I also found the ceiling and occasional lighting well located and very functional. This was particularly important because the room did lack some natural light. Change of sheets and towels daily was a big positive. It was also particularly nice to see a bottle of cava on ice in the room, and a large bottle of water.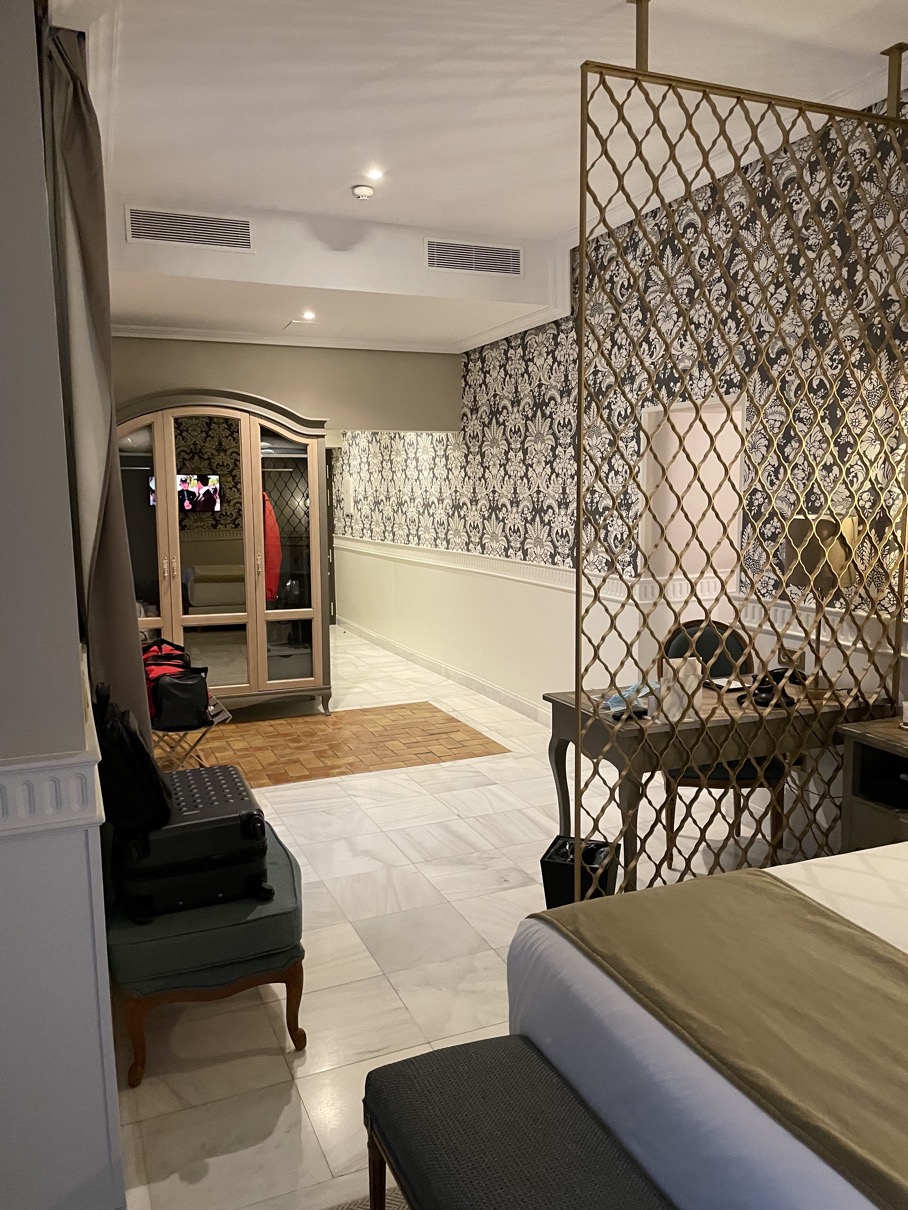 Nit-picking negatives in terms of functionality were:-
The wall safe was near the floor (too low) and you needed to be on your knees to use it.
The side table between the two sitting chairs was just a bit too small.
There were eight good quality free hanging coat hangers (free hanging is excellent), but we could have done with a couple more.
I had to telephone twice to the reception because the room heating suddenly turned cold, and had to be reset.
There were some very nice bathrobes and slippers, but the hotel had fallen into the usually trap of buying extra-large and then washing them so they finally they end up a medium (and the large size ends up a small).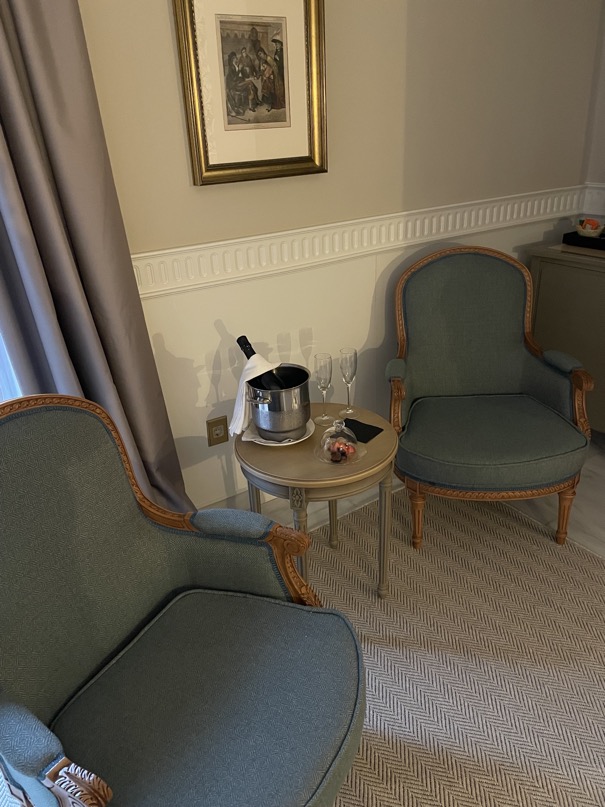 Decoration was coherent in terms of style, textures and colours, not totally to my taste, but it was coherent. I particularly liked the decorative grill that separated the sleeping area from the desk, etc. it was a simple feature, but very effective. Positives were the overall comfort, but there were a few negatives, namely:-
I found the strong black-white wall decoration a little heavy, and I would have preferred something a little lighter and more colourful.
I hate throws on the bed, and they collect dust and dirt.
I did not like the mini-baldaquin or canopy over the bedhead.

Frankly in the world of COVID I would certainly have removed both the throw on the bed and the canopy.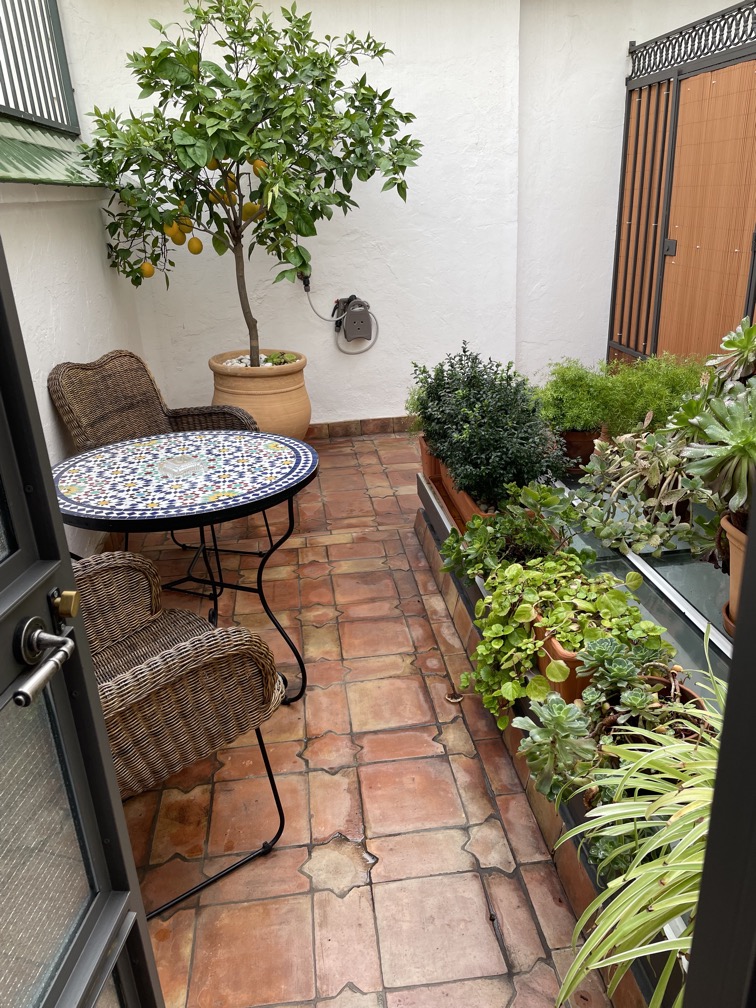 We had booked a room with a terrace (see above). In itself it is a terrace, but it certainly did not meet my expectations. Fortunately it rained throughout our stay making the terrace totally useless. Had the weather been nice, I would certainly have been very disappointed with it. In addition, on one day we found the terrace door unlocked after the room had been serviced.

Servicing of the room
We found the room spotlessly clean.
It appeared that every time we left the room it was immediately serviced - a very positive point.
I once had to call down and get the towels and bathroom mats brought up.


The bathroom

My wife and I are quite attentive to both the functionality and appearance of the bathroom. Despite the somewhat quirky design, the bathroom with the shower was perfect. In the photographs of the room, one can see the open entrance to the bathroom. This accessed a small area with double hand basins. A positive was that the plugs on both basins actually worked and retained water.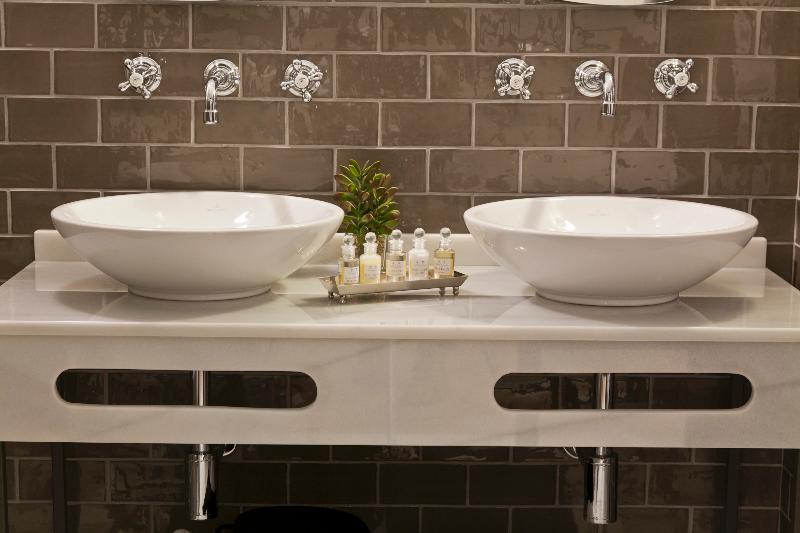 Beyond the space with the hand basins there was a frosted glass door with industrial style metal frames, providing access to a second space with a WC, bidet and shower.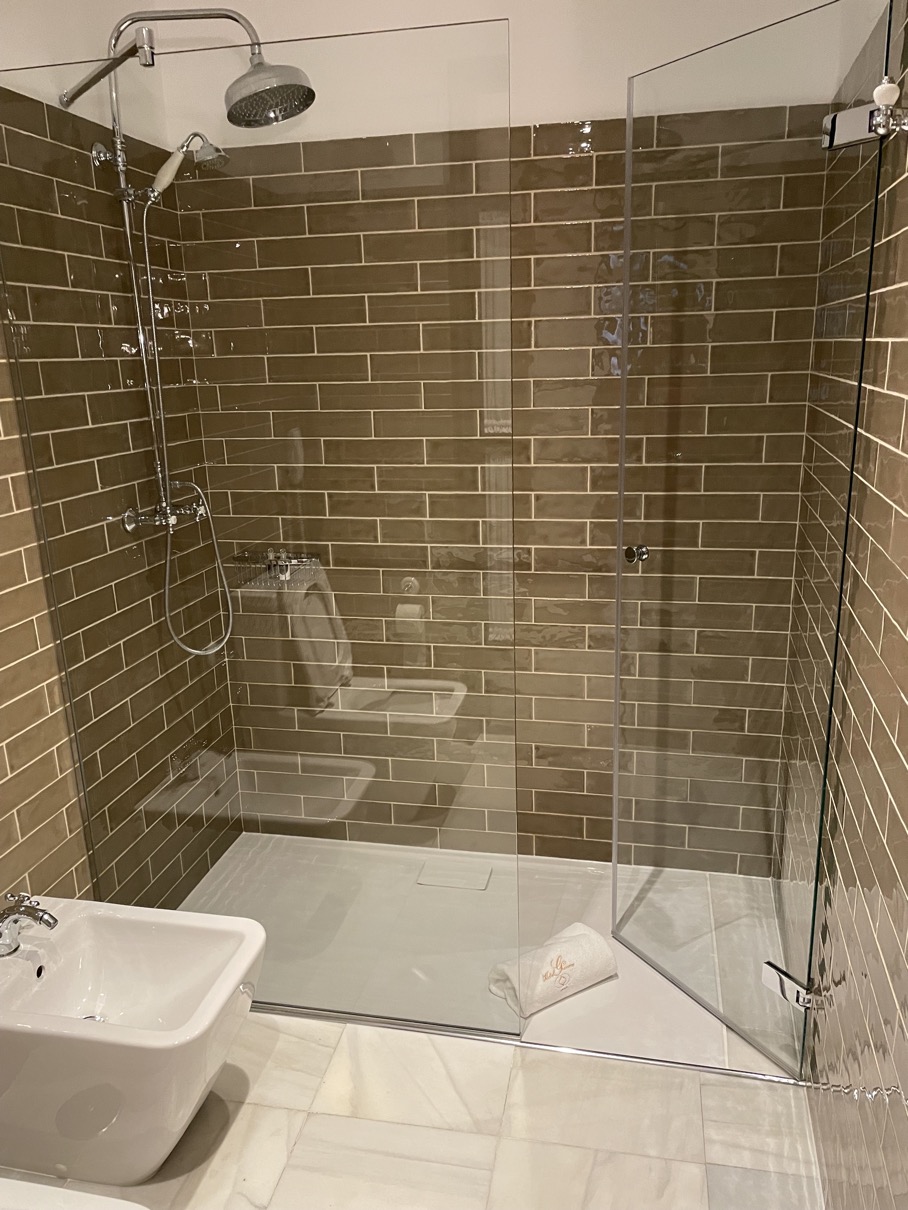 One substantive negative was that the taps were not temperature controlled mixers. The hot water was very hot and the mixing to find the desired temperature was delicate. Otherwise an excellent bathroom.


Breakfast

Breakfast was included in the room rate, but we decided each day to take breakfast in our room (except on the last morning when I took breakfast in the breakfast room).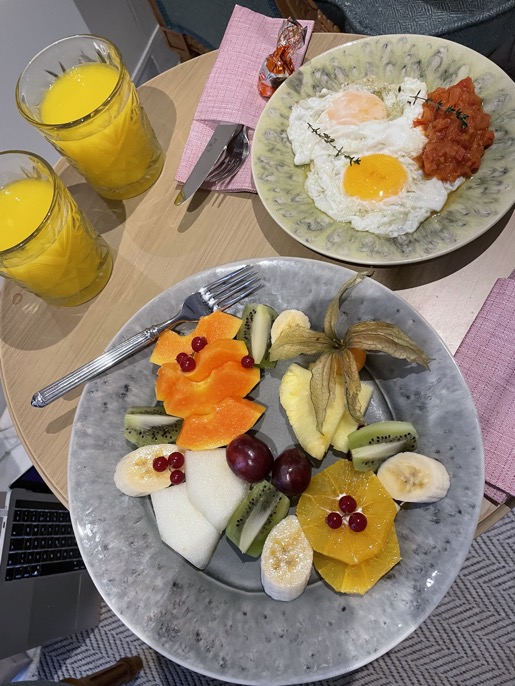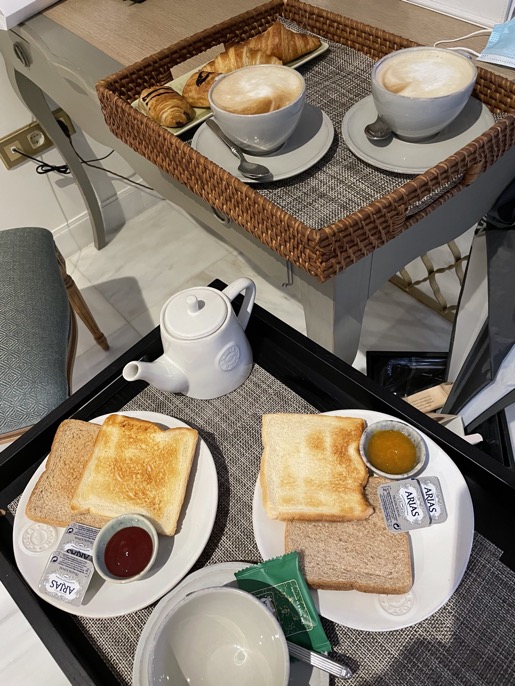 We could order what we wanted, and we started with a large plate of fruit, orange juice, coffee and green tea. I had already taken my share of the fruit plate shown above, so you can see that it was abundantly served. I ended up ordering two large coffees, pastries and toast, and wife liked her fried eggs.

Just as an example, at breakfast there was a separate egg menu, including "oeuf a la Portuguese" (scrambled with tomato fondue and toast), egg casserole with roasted tomato, truffle oil and bacon, omelette stuffed with caramelised onion, bacon, and Manchego cheese, Spanish omelette (tortilla) with Payoyo goat cheese, … need I go on?

Excellent breakfast, great service.

Before leaving I did take breakfast downstairs in the breakfast room, and below we can see that the offer was complete, and the high quality of preparation and presentation was particularly noticeable.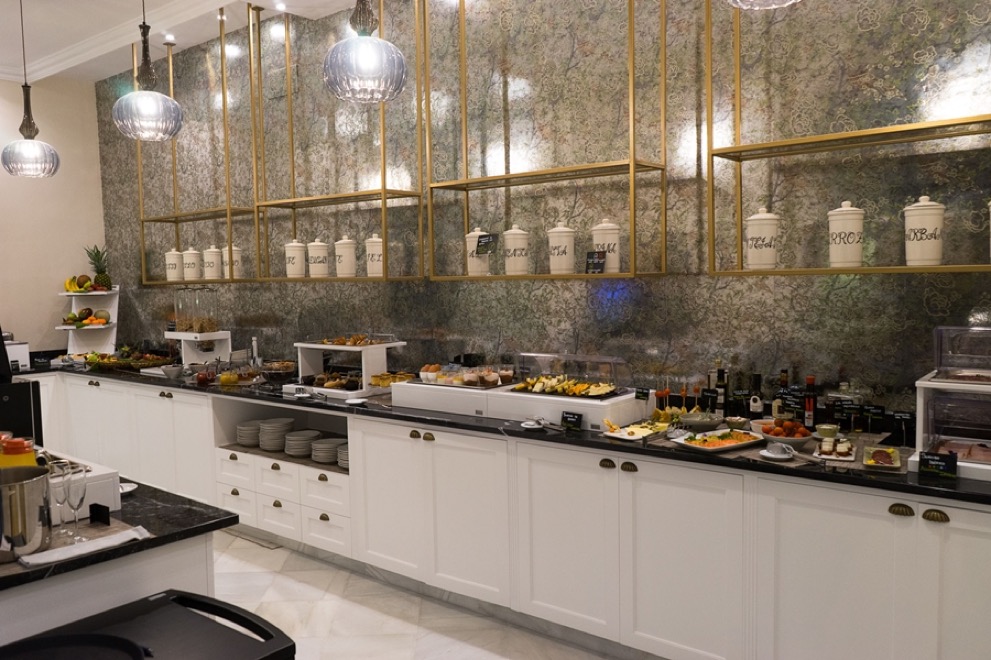 Room service

Room service was a potentially weak point. We had been informed that room service was limited to sandwiches, tapas, etc. and that the hours were 19:00-22:00, except on the evening of the 24 December when they were 17:00-20:00.

The menu actually was more focussed on snacks and sandwiches, and there were no tapas options. There was a Spanish ham option, toasted cheese and ham based sandwich, and club sandwich, and roll with salmon (shown below), and excellent tomato and mozzarella salad, vegetable soup, etc. What was available was adequate, well prepared and well presented. We would have liked some tapas options, something more Spanish rather than simple international options.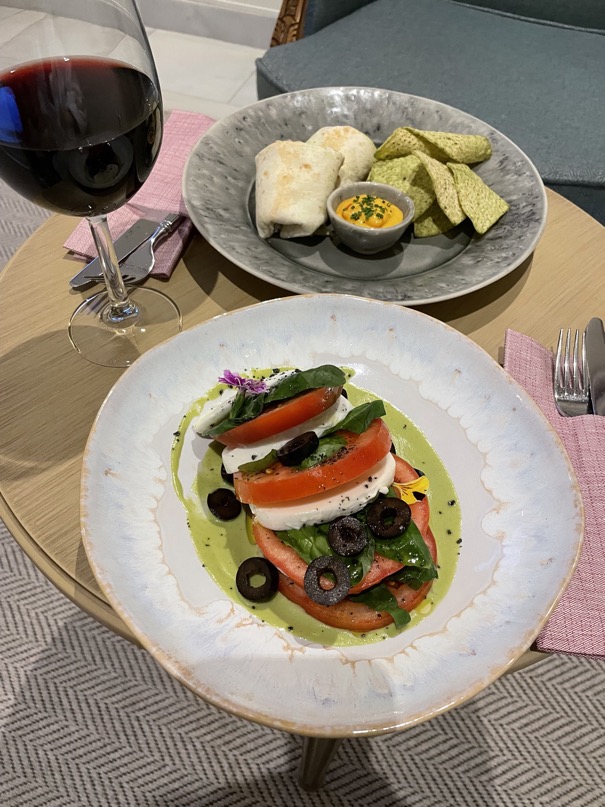 I was a little disappointed because on the hotel's website it clearly stated that room service offered "local cuisine, with premium quality dishes". We had been warned that the room service menu was limited, but I expected just a little bit more.

On the other hand room service prices were competitive, with main dishes ranging from €14 to €18.


Overall conclusion

Despite the odd negative comment we were very happy with our choice. The hotel had opened in 2018, but with COVID had closed until Sept. 2021. So in many ways it was a new hotel. We could see that great attention had been paid to the renovation and decoration. The workmanship was exceptionally good. Photographs on the Internet show a lighter and more colourful decoration in the hotel rooms, but the overall impression is exactly what you expect and get, a very high-quality 4-star boutique hotel.

The service was very friendly and very professional. The price was very competitive for the quality and class of hotel, and for the stay over Christmas 2021.

Would we recommend it? Yes, no hesitation.
Would we stay there again? We tend to move around and try different hotel options. When we return to Seville we would probably look for a different hotel with an improved room service menu, and a real balcony or terrace with a view.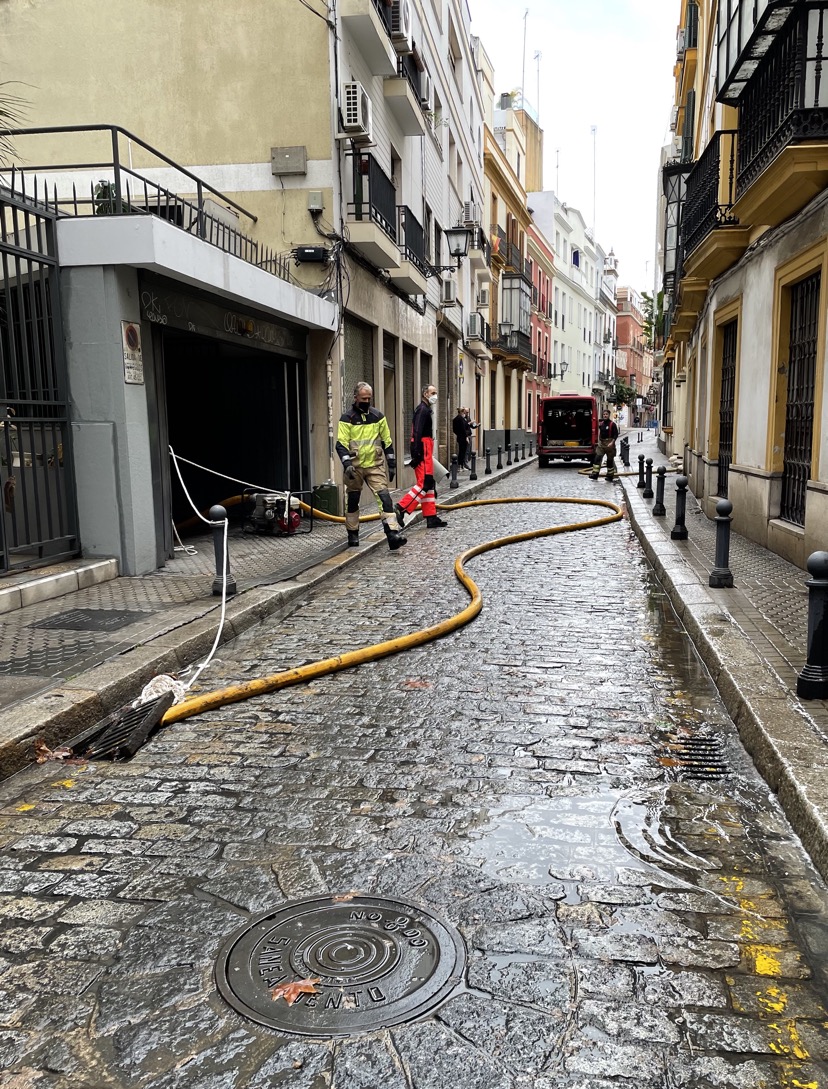 One noticeable feature of our small side street, C/Gravina, was the problem of flooding. During our stay there were several sustained downpours. This resulted in flooding in the underground carparks, which in turn meant blocking the street to pump out the water. And this was followed by 'dead' cars being pulled out from the same underground carparks. One car looked like it had been completely covered in water and dirt. The owner did not look happy!