Phuket - Angsana Laguna Resort
last update: 04 April 2020


Our New Year trip for 2020 ran from late January 2020 to mid-March 2020 and involved 8 nights in Dubai and 43 nights in Phuket.

Summary: The Angsana Laguna Resort is classed a 5-star resort. According to factual evidence the resort, and our one-bedroom loft, was 5-star. The factual evidence includes such things as the size of the room (88 sqm), facilities in the room (e.g. separate WC, separate shower, mini-bar, TV, A/C, …), the pleasant gardens and fantastic pool, the reserved access to the beach, the services on offer (e.g. 24-hour reception, porters, same-day laundry,…), and the selection of on-site bars and restaurants (albeit overpriced).
However, the reality is that the resort, and our one-bedroom loft, did not deliver on the promised 5-star experience. The general decor, in particular in our room, was dull and a strong link with local Thai culture was missing. The fixtures and fitting in the room were old fashioned, and the bathroom, mini-bar area, doors and windows, etc. need to be substantially modernised. Both in our room and across the resort, maintenance was no more than adequate. The breakfast experience was more canteen than 5-star.

Assessing this resort is all about quantity versus quality. The resort has most of the things you would expect from a 5-star resort, but the level of quality did not meet the same standard.

For me a 5-star resort must transmit in every way a sense of luxury, at a level that matches or exceeds what we enjoy at home.

The decor should be more than just appealing, it should have a coherent signature style and have a touch of the grandiose. The level of service at all times must be of the highest level. A 5-star hotel should be visibly luxurious and all equipment should be of outstanding quality and be impeccably well maintained. Furnishings should be outstanding, highly comfortable and stylish. It is not sufficient that a 5-star hotel is in the right location, it must also provide the ultimate, luxury 'memorable experience'.

The Angsana Laguna Resort is more like a nice 4-star Club-Med. The one true redeeming feature was the friendliness of the staff, particular housekeeping. And the staff working in the breakfast area were outstanding. They did a great job and were always welcoming and smiling in the morning.

Our assessment is not based on price or value-for-money, it simply compares what was presented and implied on the hotel website, with what was delivered.

We would not return to the Angsana Laguna Resort, nor can we recommend the resort. It promises too much, and does not deliver. And frankly we do not see a compelling reason why we would want to return to Phuket.

I think our travel agent, Trailfinders, could have been more proactive in offering us a variety of options. Having said that, the decision to go to Phuket and take the Angsana Laguna Resort was ours, and ours alone.


Selecting the Angsana Laguna Resort

During the lengthy booking process our travel agents,
Trailfinders
, suggested we consider the 5-star resort
Angsana Laguna
in Phuket. Checking with
Booking
the Angsana Laguna scored 8.8 for staff, cleanliness, and comfort, an 8.5 for facilities, an 8.3 for location, an 8.2 for wi-fi, and a 7.8 for 'value-for-money'. When we look at
Trip Advisor
the Angsana Laguna scored 4.5/5 and of the 2,631 reviews 2,274 were 'good' or 'excellent' (86%).
A more detailed review of some of the 'negative'
reviews of the Angsana Laguna yielded the following comments:-

The hotel is big and spread out, making everything a 10-15 minute walk, and the local village is a 20 minute walk (everything much cheaper in the local village)

The restaurants on-site were seen by some people as too expensive, whereas the local offerings served excellent food at great prices

Spa prices looked far too high

A bit remote, so evenings out are about a 20 minute ride away, and you will have to travel to see the attractions

Several comments about noise at breakfast, often caused by large Chinese tourist groups

Insects, etc. in rooms (mostly ants).
Let's deal immediately with these scores and comments. We would have scored the staff a top mark, room cleanliness was good but site cleanliness could be improved, and room comfort was good but not 5-star level. The facilities were variable, but usually very good, and the location with the access to the beach was excellent. The wi-fi was reasonable in the room, but poor near the pool. The hotel is spread out, and is not next to the local village, but the sites 'remoteness' was known and accepted, so not a problem. The on-site restaurants were far too expensive, and although we did not try the spa, their prices also looked dissuasive. Mini-bar prices were over-the-top. The breakfast was a bit like a 'canteen experience', and the Chinese and Russians can be a bit noisy. However, due to the
coronavirus
outbreak we did not see many Chinese, and any family with small children is bit noisy. For us it was the way the breakfast was organised that must be improved, although the staff on duty were fantastic.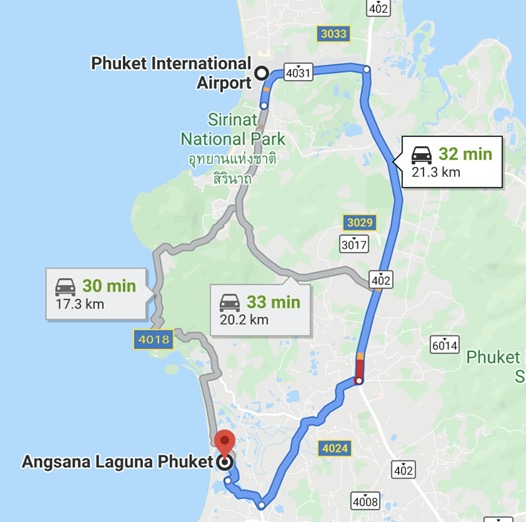 The resort is about 18 kilometres from the airport, but the beach is only 50 metres from the resort.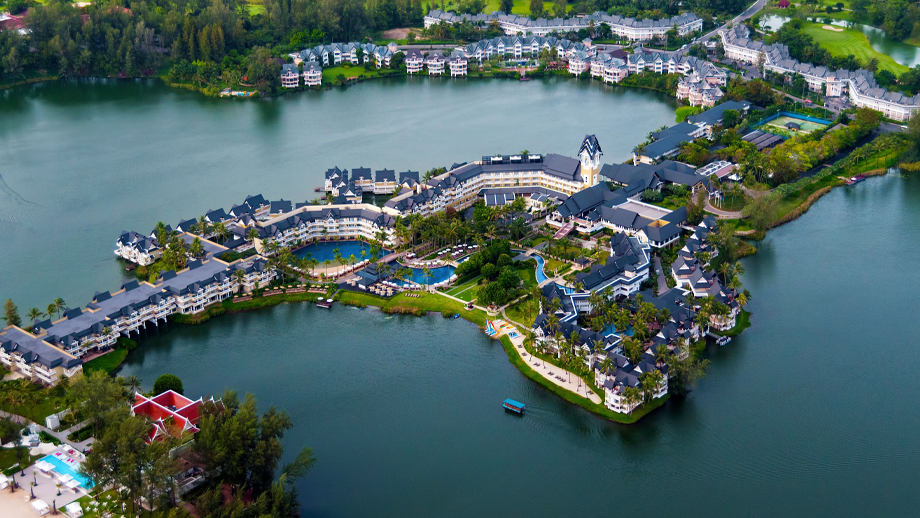 The hotel's website presents an impressive resort concept. The key ideas are a 600-acre 'integrated resort' with "pristine beaches with warm white sand", a 300-metre free-form pool, four restaurants, two bars, and a beach club, a spa and wellness, …

Also there is mention of a yoga centre, complimentary water sport activities, a shuttle service within the Laguna complex, and an 'events centre' to help organise dining options, tours, etc.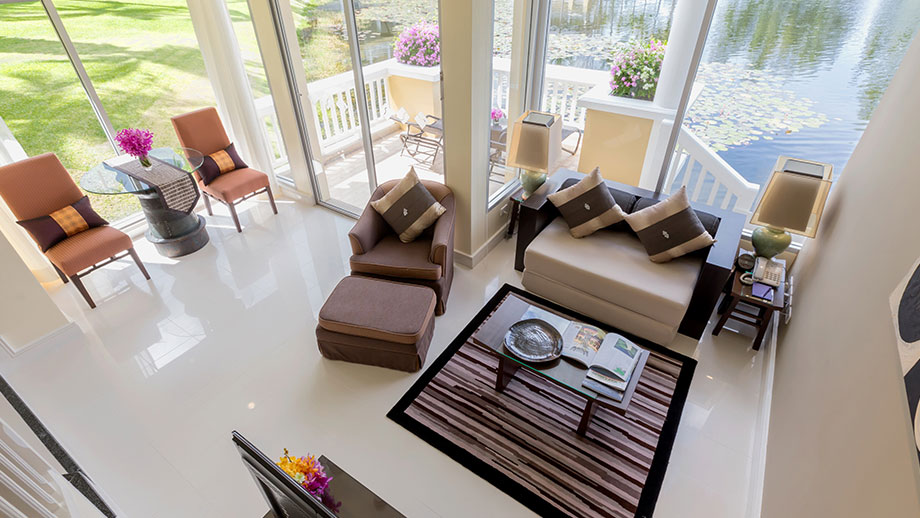 Given our desire for a quiet premium room the travel agent recommended a 'unforgettable' 88 sqm One-Bedroom Loft with 'spectacular views'. This is a double storey layout with a lounge on the ground floor and an 'elevated loft bedroom' with en-suite and including a 'rooftop rain shower'. The website also mentions an outdoor soaking tub, electronic safe, mini-bar, and wi-fi.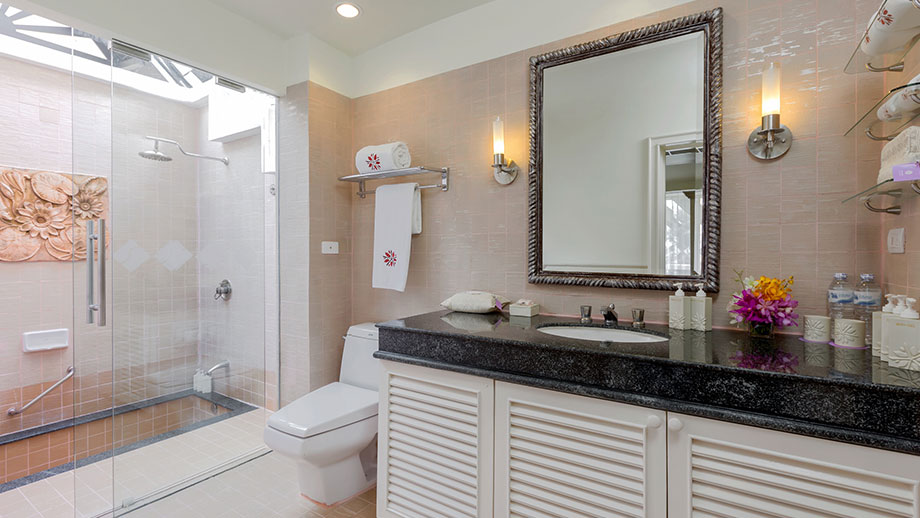 Judging by the website the One-Bedroom Loft is the top of the range option for a couple.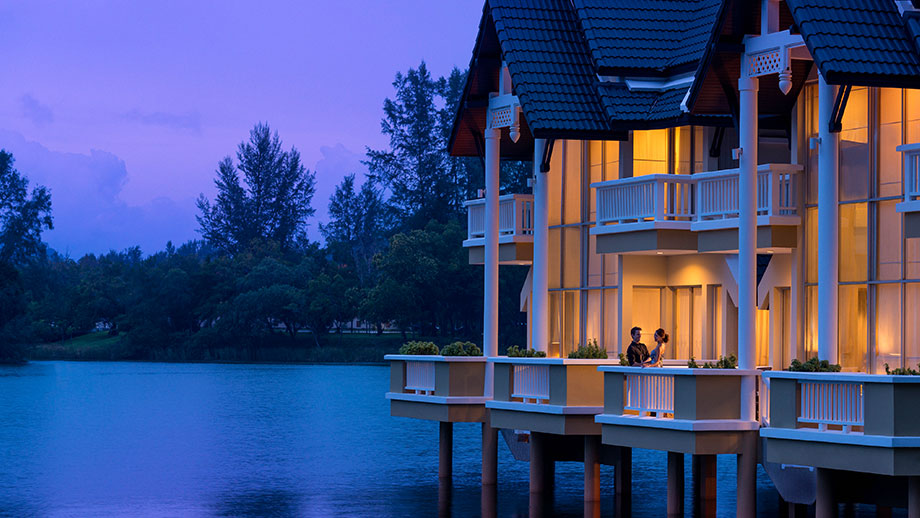 In addition Booking mentioned a few more details about the loft option, namely:-
Air conditioning
In fact there were two different air conditioning units, one downstairs and one in the upstairs bedroom
Coffee machine and electric kettle
An odd looking illy coffee machine with capsules, and an small electric kettle and a collection of teas, sugar, etc. and milk
Bathrobes and slippers
Free toiletries
A very complete set of toiletries was provided along with liquid soap, bath gel, body lotion, and shampoo and conditioner
Hairdryer
Ironing facilities
In the wardrobe there was a ironing board and electric iron
DVD player
In fact in the living area there was a BOSS radio/CD and upstairs there was a Pioneer bluetooth speakers system (but without a power cable)
Fan
I guess this refers to the ceiling fans, one downstair and one upstairs
Flat-screen TV and satellite channels
In fact there were two flat-screen TV's, the larger one downstairs and the other in the bedroom
Luxurious pillow menu
I never saw a menu but we each had two pillow options, and they were both very comfortable
Free bottled water
A real positive, there was 5-6 bottles left in the room each day
Free parking
A positive for our rental car

Oddly Booking mentioned 'towels', 'private bathroom' but 'shared toilet'. Interesting features for a 5-star resort hotel. It was also nice to know that the room has a desk, carpets, a wardrobe, and sockets near the bed.
Just to complete the details, our One-Bedroom Loft in fact had two private toilets, one downstairs and one in the upstairs 'private' bathroom. Also the towels were excellent and abundant.

Finally there was mention of a free boat shuttle on the lakes, and a free shuttle to the Laguna Phuket Golf Club.


Arriving at the hotel

We had spent the previous 3 days in a Horizon Club Executive Room in the excellent 5-star
Shangri-La Hotel
in Downtown Dubai. We arrived at Phuket International Airport on an Emirates business class flight, and had been fast tracked through customs, etc.
We landed at at about 20:35 and in under 30 minutes later we were looking for our pre-booked car to the hotel.

The 'private vehicle' pick-up was waiting for us, and as far as I could see he was also waiting for two other parties travelling with Trailfinders. We were told to wait, and I must admit the porter from the airport was very professional in waiting with us. About 15 minutes later we were shown to a very ordinary minibus that would take us to our hotel.

The hotel entrance is quite impressive, and at the time the hotel was decorated for the Chinese New Year. So there were lot's of red lanterns, etc. The hotel staff were friendly and professional in collecting our bags and processing our check-in.

I guess we followed our luggage, but that meant being shown back out of the hotel main entrance, down a service road and through a service part of the hotel, to reach the gardens near our room. From there we were shown through what looked like another short service corridor to the bridge that would lead to our one-bedroom loft.

Attributing no criticism to the hotel staff, but once left in our one-bedroom loft at 22:30, I felt a little bit disappointed. The route to arrive at our room was not the most awe inspiring, the decor in the room looked dull, and the fittings a little dated. Having slept the previous night in an outstanding room in an excellent 5-star hotel in Dubai, our new hotel room was decidedly underwhelming.

And why had we found a made-up bed in the ground floor living room? Did they not know we were just a couple? Did they not care? How long had this loft been waiting for its next client?

Still, nothing a hot shower and good nights sleep wouldn't solve.

The porter had left our bags in the downstairs living room, so the first thing was to taken everything upstairs and unpack. There was enough space in the wardrobe, but not much space to open suitcases, etc. It was nice to find lots of coat hangers, and a good range toiletries in the bathroom. The outdoor soaking tub and 'rooftop rain shower' looked a bit odd, but the large shower in the bathroom was fine.

My wife and I finished with a perfect night's sleep on an excellent bed, … but first impressions count.

I've had time to weigh up my initial reaction, and to try to integrate it to an overall assessment of our 43 night stay. It was natural to compare the one-bedroom loft with our room in Dubai. There was also an element of fatigue, after a comfortable, but long flight. I have since walked the route we took to arrive at our one-bedroom loft.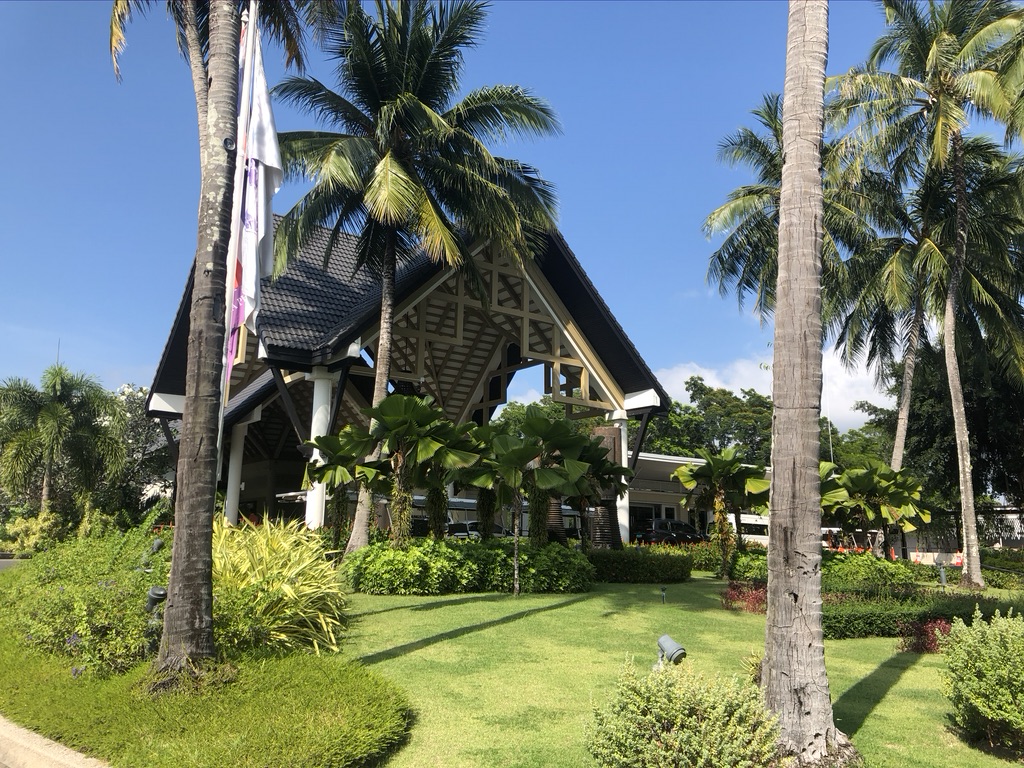 Even if we arrived after-dark, the hotel entrance was certainly impressive, as was the reception area.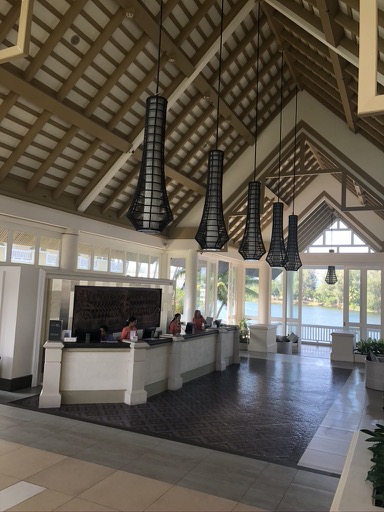 But taking a route through the hotel service area was less impressive.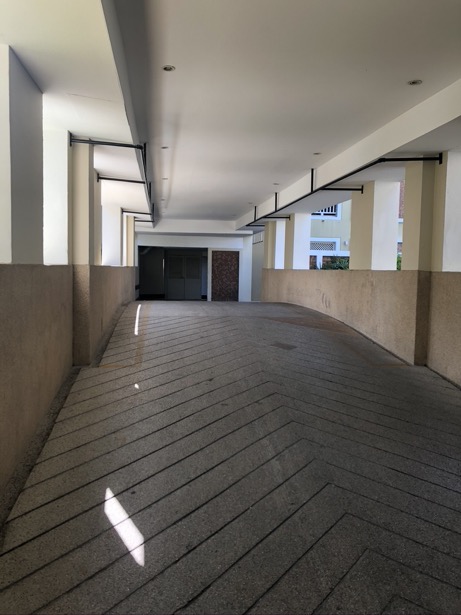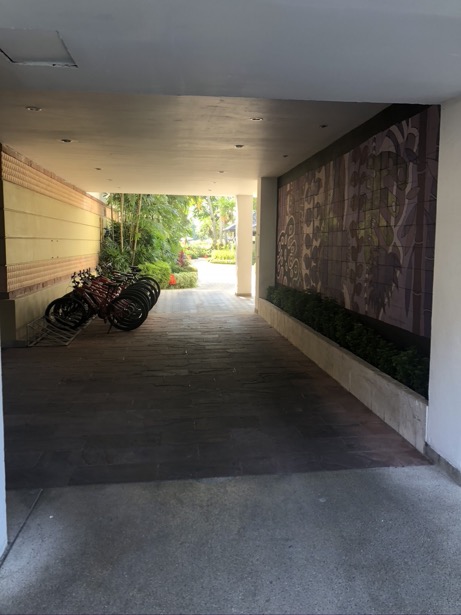 However, even at night one could see that the gardens were well manicured and lush.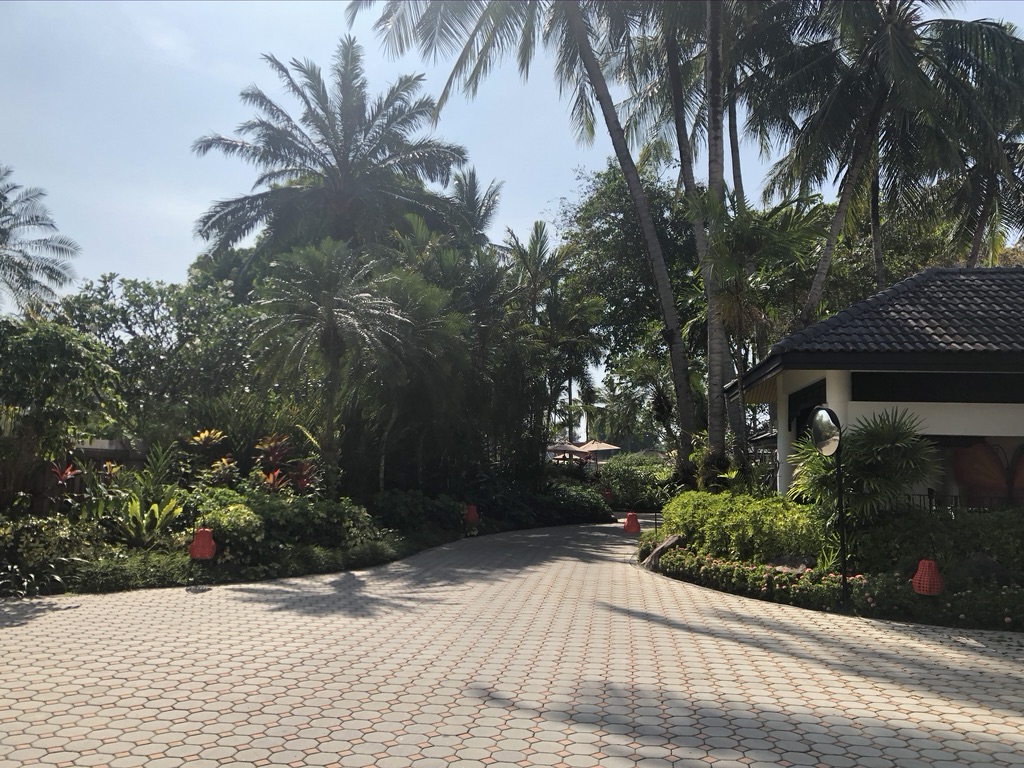 But then it was back through what looked like another service corridor.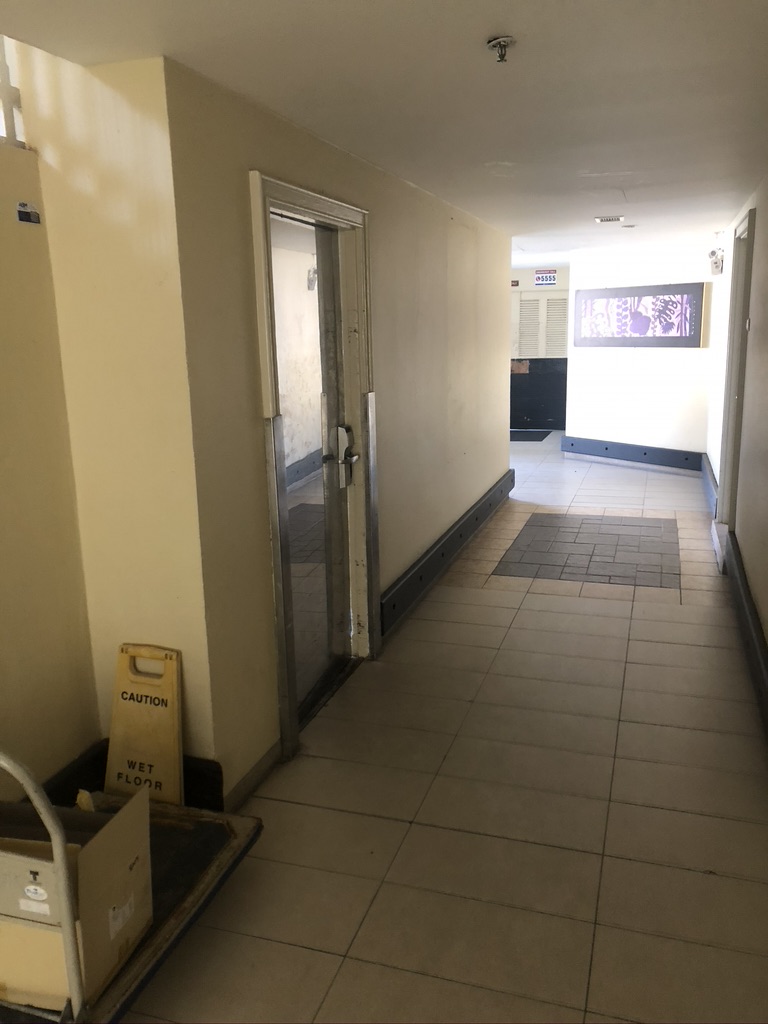 Now it's important to note that the above corridor is in fact our access corridor to our luxurious one-bedroom loft. We used it several times per day, and the least I can say is that it's not very 5-star.

The final point concerns the decor and fittings of our one-bedroom loft. I will admit that the photographs on the hotel website look attractive, and do faithfully present what is there. And those on the Booking website are even more faithful to the reality. But nothing can replace those first impressions of someone who is tired and finds that what he sees does not meet his expectations.

No matter how you look at it, the fittings are old fashioned and don't meet modern 5-star standards. Secondly, the decor is dull, and the colours and abstract wall decorations (paintings?) could be found in any 3- or 4-star hotel anywhere in the world.

This is not to say that there are not many positive features about the resort and about our loft. You will see on this webpage, that I try to weigh the pro's and con's, the positives and negatives, the up's and down's, of our 43 night stay in the Angsana Laguna Resort.


Back to 'square one'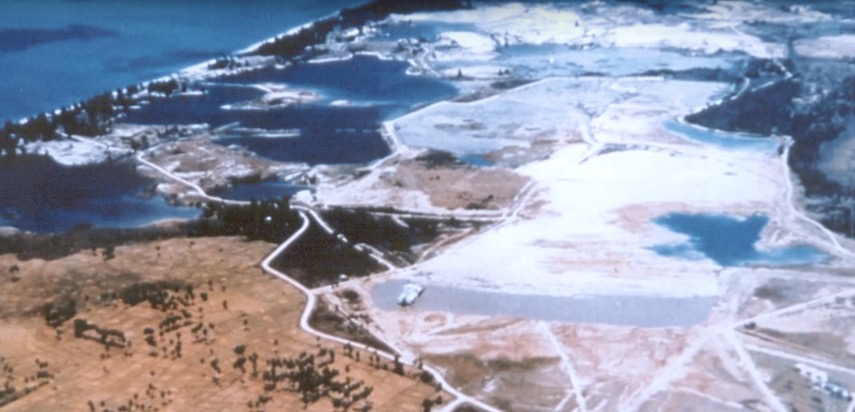 My understanding is that the resort complex in Laguna started in the early 1980's with the land acquisition and development of what was to be Asia's first integrated resort complex. I think it might have been in 1983 that a large parcel of land on the site of an abandoned tin mine was purchased. There is a video dating from 2012 that celebrates 25 years for the Laguna resort. I guess the 25 years dates from the opening of the first hotel, the Dusit Thani, in 1987.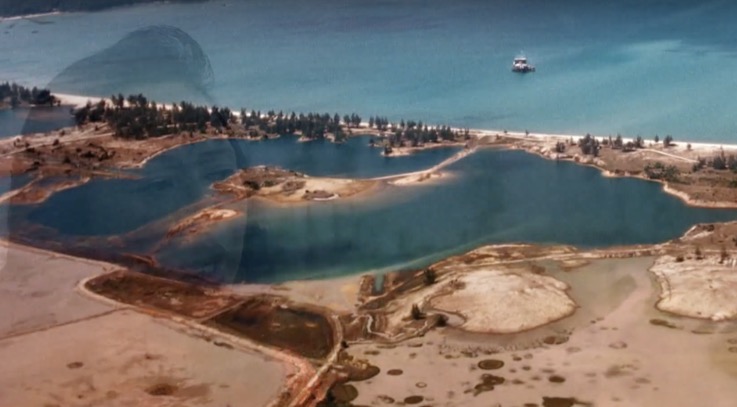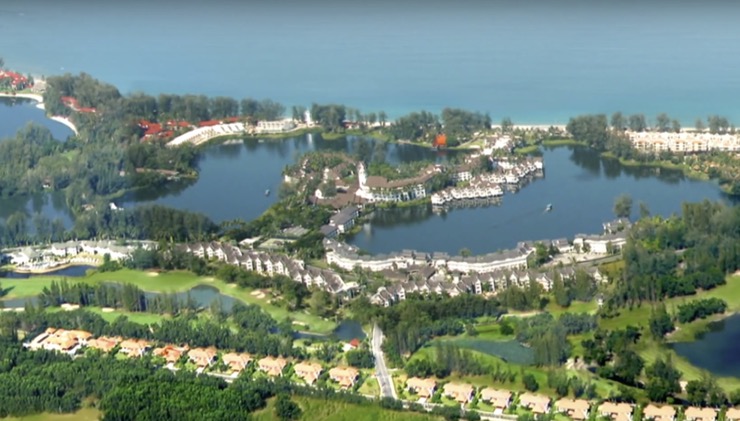 According to the video there were four people from Singapore who started the development. There was Ho Kwon Ping, now chairman of the Singapore-based Banyan Tree Holdings. Wikipedia mentions that he co-founded Banyan Tree with his wife, and he opened the first 'boutique' Banyan Tree Resort in Phuket in 1994. The name is supposed to have originated from Banyan Tree Bay on Lamma Island, an island off Hong Kong where Ho and his wife lived for three years. According to the same video his wife, Claire Chiang, was also involved in the initial development in Laguna. The other person seen in the video is Kwon Cjan Ho (or Ho Kwoncjan or Ho KwonCjan), the brother of Ho Kwon Ping, who appears to be an award-winning architect, and the designer of some of the resorts.

What they planned with the original purchase at Laguna in Phuket was to link the lagoons and add hotels, housing, and a golf course. The first hotel was developed in 1987 with the Thai company Dusit Thani, and the first Banyan Tree resort followed in 1994. At the time it was said that Patong Beach had already started to develop a backpacker tourist offer with cheap huts on the beach and a few bars in the village.

One report mentioned that the beach of Bang Tao was a magnificent stretch of sand, but the tin mining had scared and poisoned streams and the sea. Many felt at the time that the area was beyond repair.

What is impressive is the way that the site has been recovered from abandoned and poisoned tin mines and made into an attractive resort. What is equally impressive is the way the site has evolved with the market. Initially it was seen as an integrated destination resort, and often it is still presented as such. But over time the site became a mixed-use hotel and residential community. And today the aim is to turn it into an affluent urbanised resort city by the sea. There was the initial Dust Laguna hotel and the Banyan Tree Resort. Then came the Pacific Islands Club and the Sheraton Grande Laguna Beach and the investment oriented Sheraton Island Villas (now all branded under Angsana). Then there was the condominium hotel Allamanda, and finally the core Banyan Tree branded residences and the resort building lots on the Laguna Phuket Golf Course. But the development never stopped, because later there was a vacation ownership offering known as Laguna Holiday Club, and the residential community called Laguna Village. Following that there were signature villas and townhouses, and after that a shift to selling landed properties.

Judging by all the building on the site, it looks like the latest model is for family-sized vacation apartments in buildings of 5-6 floors, overlooking the lagoons.

As a group Banyan Tree appears to operate 47 resorts and hotels, 64 spas, 75 retail galleries, and 3 championship golf courses, in 24 different countries. The development and selling of residential properties in 6 countries is also mentioned. Certainly there is a lot of building around the Laguna resort.

According to one report they adopted an 'asset-light' strategy where they only fully own a few resorts, partial own others, and many others are actually fully owned by third parties. According to one report (albeit from 2016) occupancy in the flagship resorts had dropped to only 58%. It suggested that they were being squeezed by the loss of high-paying Russians and by Chinese package tour operators looking for discount deals.

To the brands Banyan Tree and Angsana they have also added Cassia for serviced apartments and Dhawa for lower cost hotels aimed at a younger design-conscious market.

The Banyan flagship brand was launched in 1994, and the Angsana brand was launched in 2000. The Cassia brand was launched in 2014, and the Dhawa brand was launched on 2015. An agreement with AccorHotels was signed in 2016. In 2018 Banyan sold its resort in the Seychelles. Also in 2018 Banyan Tree reduced it holding in Banyan Tree Assets (Chine) to only 4.2%. On the other hand in 2018 they signed 26 new hotel management agreements.

There was in 2017 an option for Accor to acquire up to 10% of Banyan Tree, but this option was not exercised and has now lapsed. However there does appear to be also a 10-year collaboration agreement with Accor that includes co-development, including branding serviced residences. It looks as if Accor will manage hotels under the Banyan Tree brand. There is a specific mention that Banyan Tree will have access to Accor's global reservations and sales network and loyalty program.

There is a report from 2019 entitled "Why Invest in Angsana", with the subtitle 'Accor Global Development' (pdf here). Angsana claims 3 'unique selling points', namely:-
Family getaway (is that particularly unique?)
Premium resort which actively engages guests (we did not see this 'active engagement')
Leading spa brand (but considered by many people to be overly expensive).
The claim was that the Angsana brand included 14 hotels and another 15 in the 'pipeline' (8 of them in China). The Angsana Laguna in Phuket was presented as one of their 'flagship' resorts. Interestingly there was also mention of the 'Rice Bowl' as an Angsana 'signature' restaurant, but oddly there wasn't one in the 'flagship' resort in Laguna Phuket. There were also references to the Xana Beach Club and the Kids Club. We used the beach club and appreciated the location, etc., however the Kids Club looked totally under-used in our hotel.
So, being generous, "Why Invest in Angsana" looks like a work in progress.


The Laguna Complex

Today the entire complex includes 1,000 acres of landscaped parkland with a myriad of lagoons and canals, a 3 kilometre stretch of white sandy beach, 7 deluxe hotels, 5 spas, a shopping village, and an 18-hole golf course. Below we have a map of the entire complex, but you can also download a
pdf version
.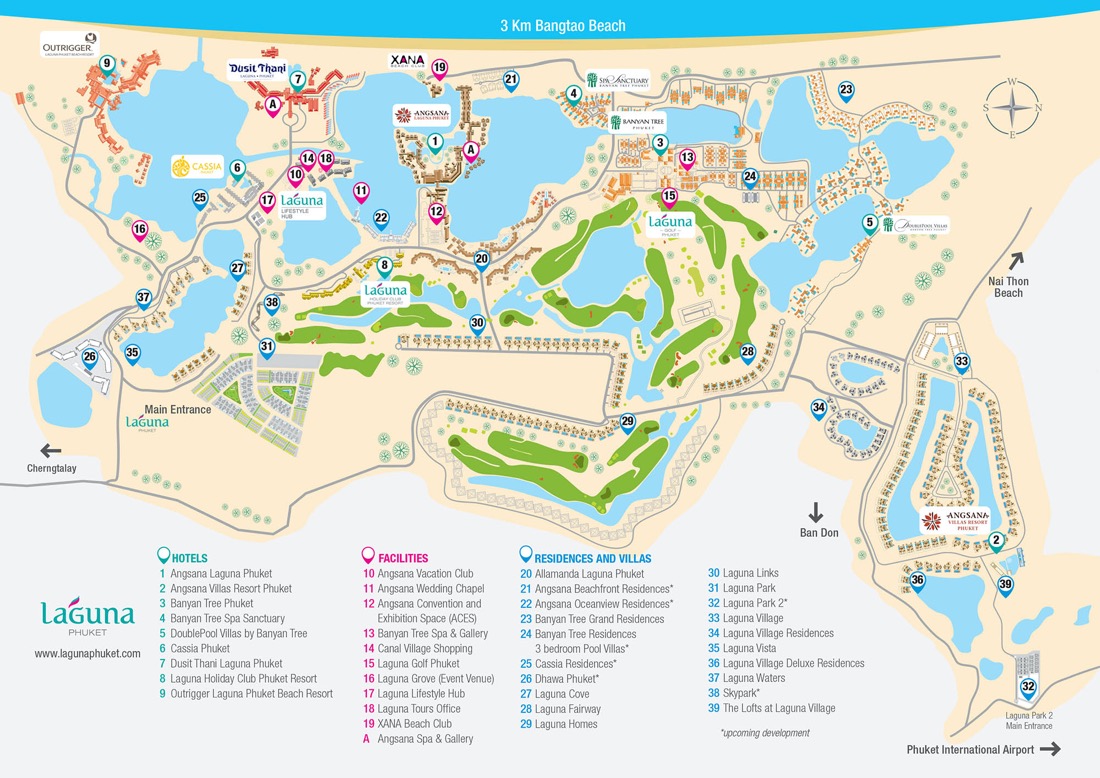 Angsana Laguna Phuket can be found as a 5-star resort hotel, as a villa resort, as a vacation club (and holiday club), and as a 'residences'. The villa resort is residential-style accommodation including large 1-bedroom or 2-bedroom suites and 2-, 3-, or 4-bedroom villas with kitchenette, etc. As far as I can see the vacation club is a membership club that provides some kind of preferred access to apartments and villas, including in Angsana resorts, Cassia service apartments, and Banyan Tree resorts. The residences are an ownership model with management, exchange, service, etc.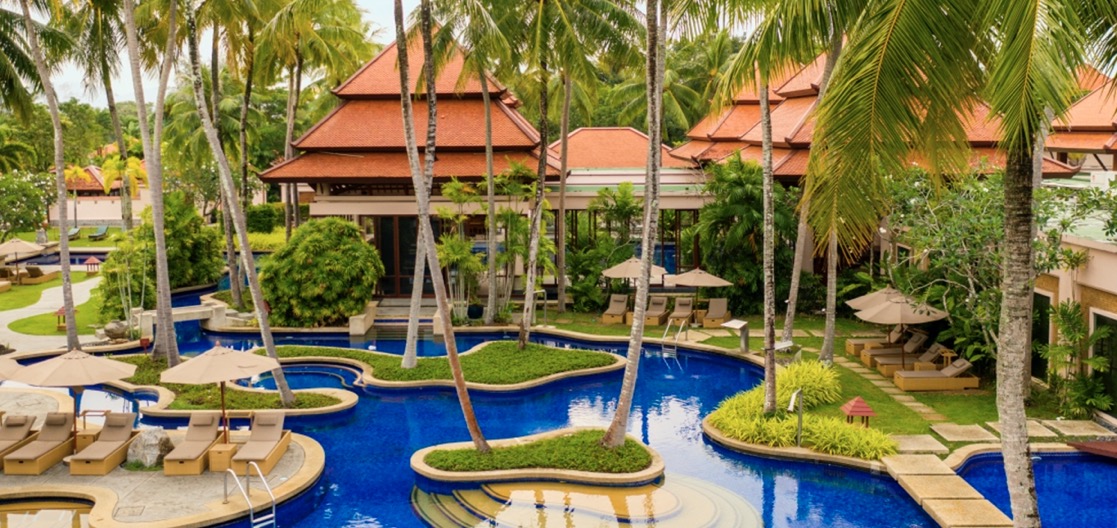 Banyan Tree Phuket is the premium 5-star all-pool villa resort on the complex.



Dusit Thani Laguna Phuket is another 5-star resort.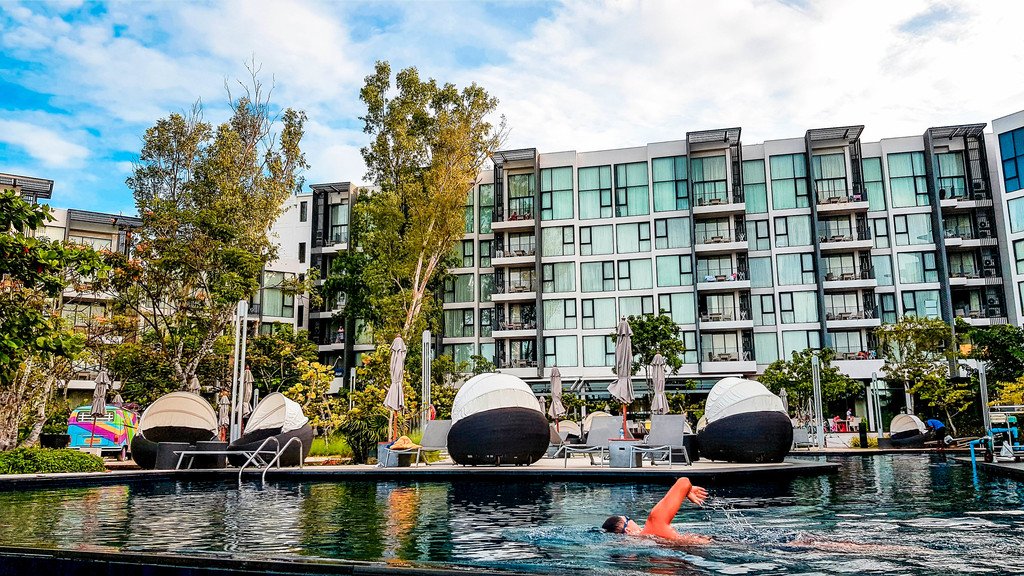 Cassia Phuket is part hotel and part serviced apartments.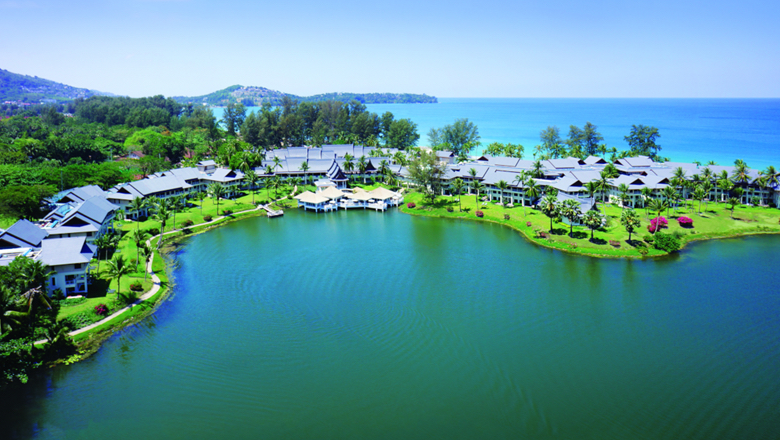 Outrigger Phuket is a beachfront resort which includes villas with their own kitchens and some with their own pools.



Allamanda Laguna Phuket is a family-friendly 4-star hotel.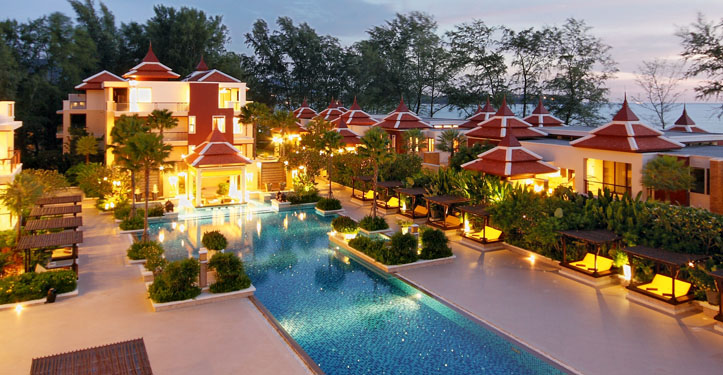 There is also a Mövenpick Resort Bangtao Beach Phuket which does not appear on the map of the complex, however the small 5-star resort sits between one of the lagoons and the beach.

There are a number of interesting video's that describe parts of the Laguna complex:-
Laguna Phuket Aerial Tour by SkyCAM
Angsana Laguna - Phuket Thailand
An Aerial View of Laguna Phuket
Dusit Thani Laguna Phuket
Angsana Laguna Phuket Resort - Hotel Video Guide
Laguna Phuket
Angsana Laguna Phuket - Accommodation
Outrigger Laguna Phuket Beach Resort - Hotel Video Guide
Angsana Villas Resort Phuket, Bang Tao Beach
Mövenpick Resort Bangtao Beach Phuket
Allamanda Laguna Phuket
Cassia Phuket
Banyan Tree Phuket

The real question must be about the price differences between the different hotels on the Laguna complex. A first idea on daily rates might be as follows (without discounts, etc.):-
Banyan Tree Phuket - 20,000 Baht/night
Mövenpick Resort Bangtao Beach Phuket - 7,000 Baht/night
Dusit Thani Laguna Phuket - 6,400 Baht/night
Outrigger Laguna Phuket - 4,800 Baht/night
Laguna Holiday Club - 4,400 Baht/night
Angsana Laguna Phuket - 3,300 Baht/night
Allamanda Laguna Phuket - 1,400 Baht/night.

However if we look at Booking and compare prices for the same week in early March 2020 we find the following results (one week, double occupancy, simplest option, non-refundable, and with breakfast):-
5-star Banyan Tree Phuket - €2,370 (Booking score 8.7)
5-star Mövenpick Resort Bangtao Beach Phuket - €2,393 (8.8)
5-star Dusit Thani Laguna Phuket - €1,376 (8.7)
5-star Angsana Laguna Phuket - €1,266 (8.6)
5-star Outrigger Laguna Phuket - €1,136 (8.9)
4-star Laguna Holiday Club - €643 (8.4)
4-star Allamanda Laguna Phuket - €539 (7.9)
4-star Cassia Phuket - €564 (8.6).


Our hotel - The Angsana Laguna Resort

So we stayed 43 nights in a one-bedroom loft in the 5-star Angsana Laguna Resort. We have already seen that our initial reaction was one of disappointment. We expected something more from a 5-star resort.

In this section we will step back and try to describe our stay, and weigh up the positives and negatives.

We have seen that the Angsana Laguna is in many ways the centre-piece of the entire Laguna complex. Below we have resort map, and a pdf version is also available
here
.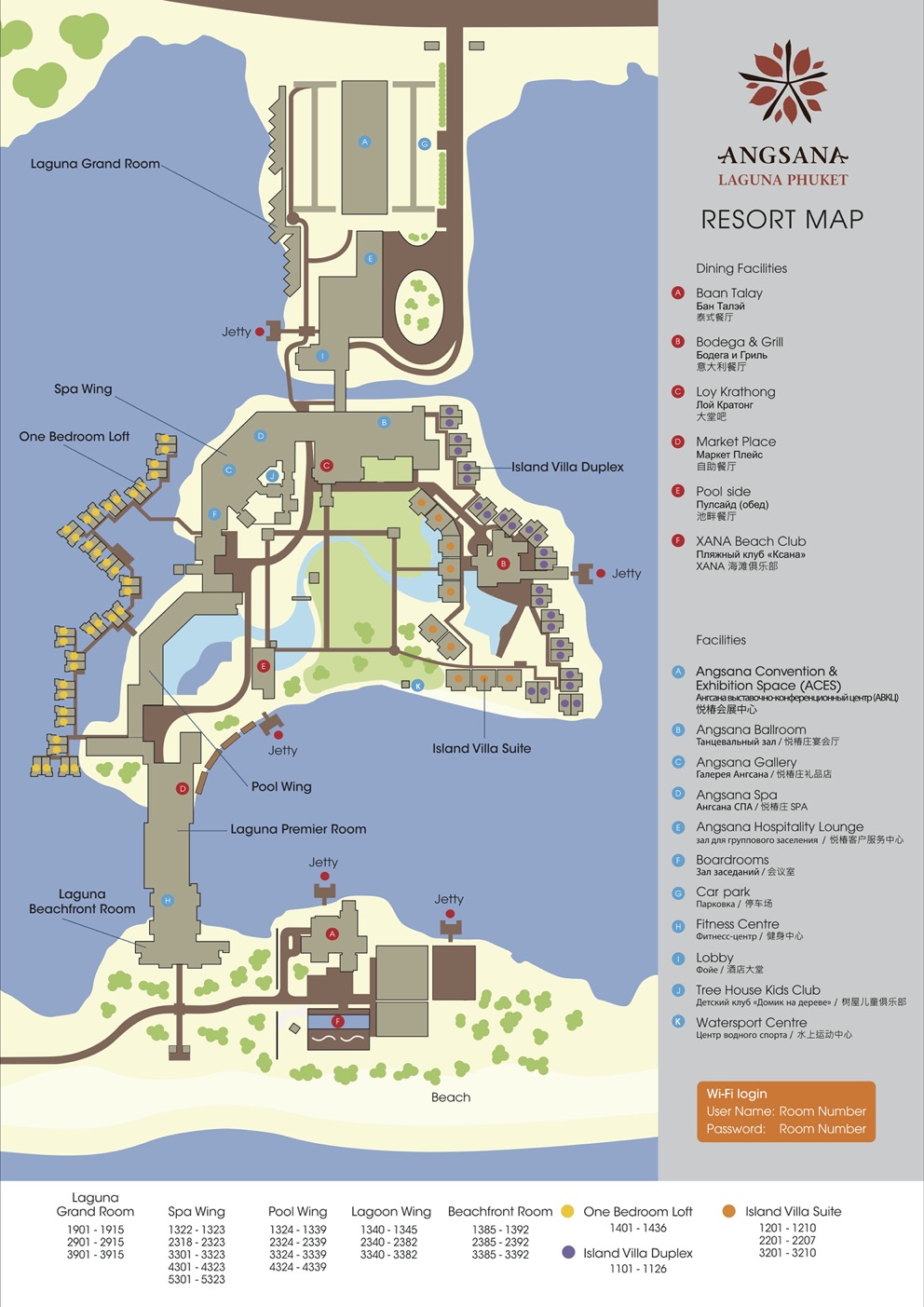 We can see quite clearly the different accommodation and restaurant options.

Let's first look at our one-bedroom loft. We have already highlighted our initial impressions, but now is time to look at the details.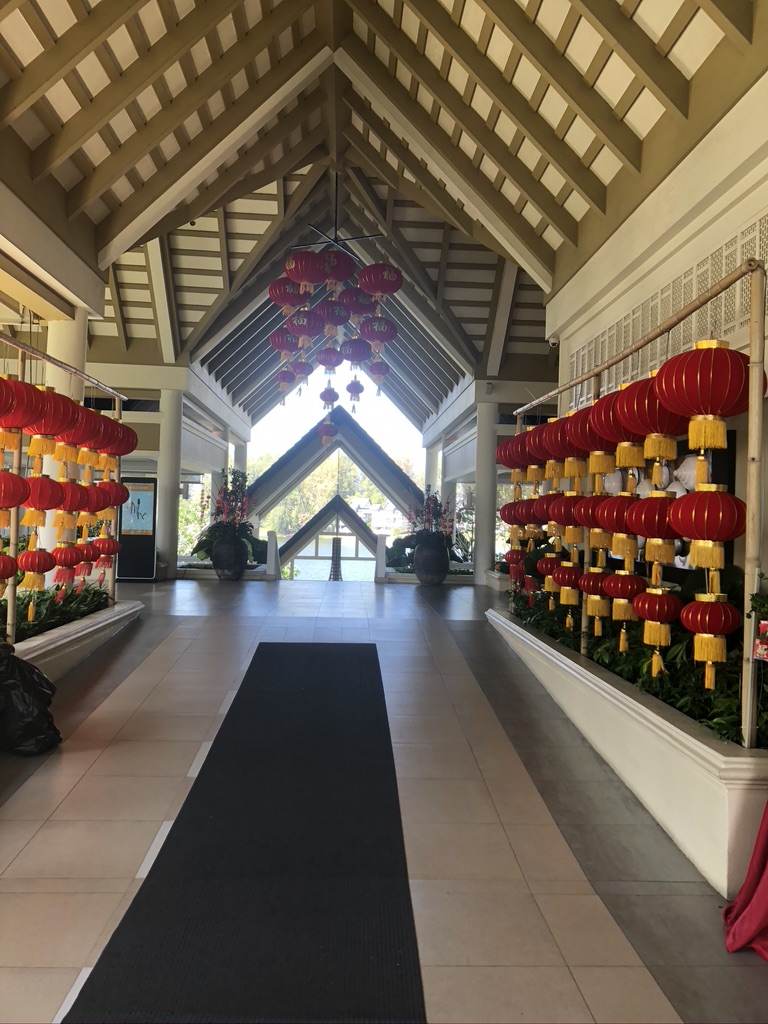 So we start with the impressive resort entrance, all decked out for the Chinese New Year (25th January 2020).

And the equally impressive reception area.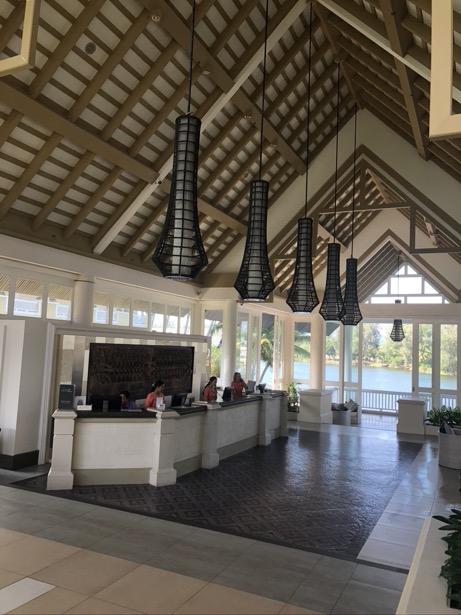 There are two 'conventional' ways to procedure to our loft, the first being to remain on the same floor and pass through the Angsana Spa wing, and then go down one floor. Or the other alternative is to go through the Loy Krathong lobby and bar, and then go down the steps to the central garden. This second route is by far the more impressive, and taking this route would also have given us an idea of the facilities on offer. Unfortunately the route we were shown was neither of the these two options, and we had the privilege to see some the resorts 'entrails'.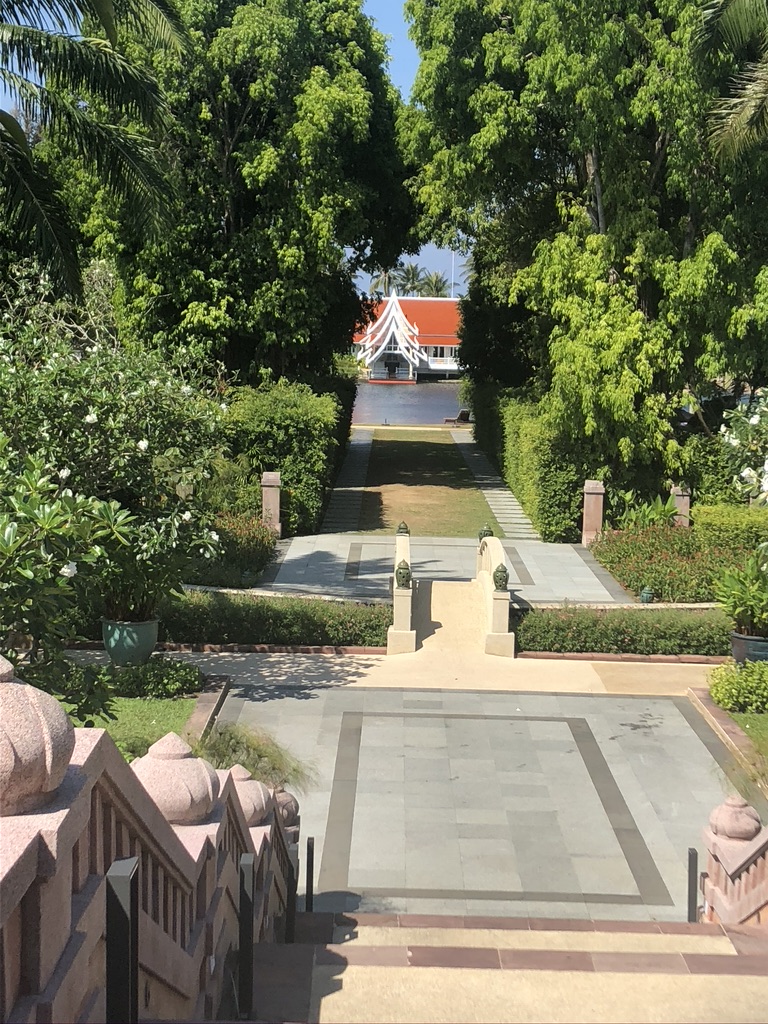 In both cases you always ended up having to go through a service corridor to get to the bridge that took us to our loft.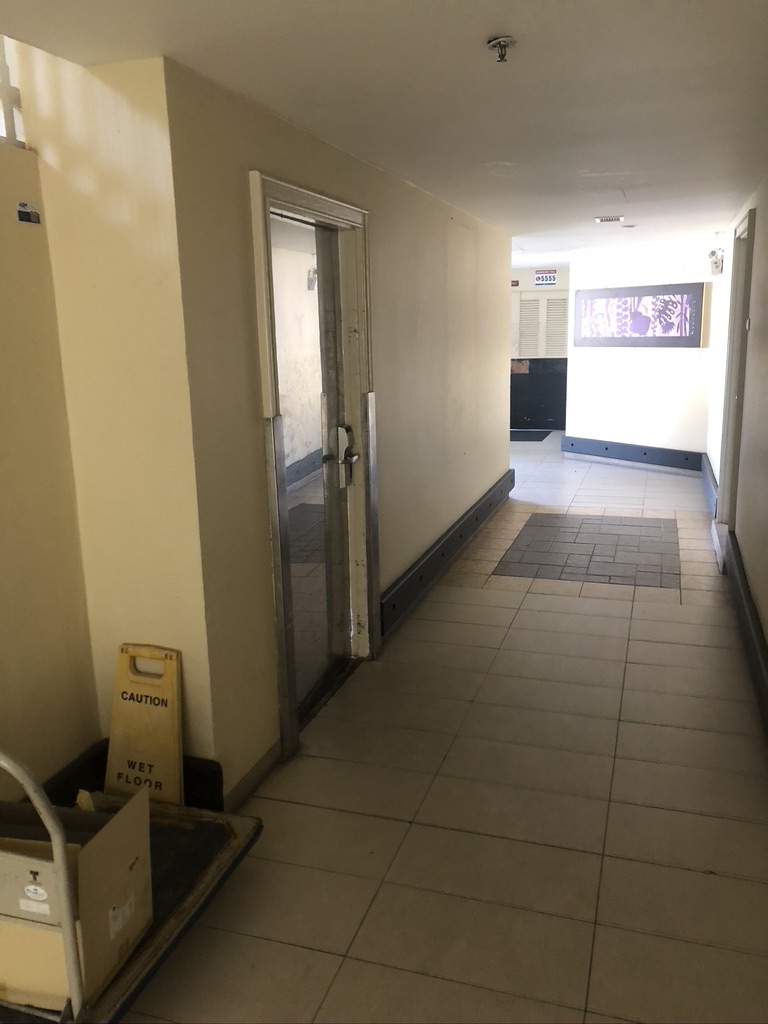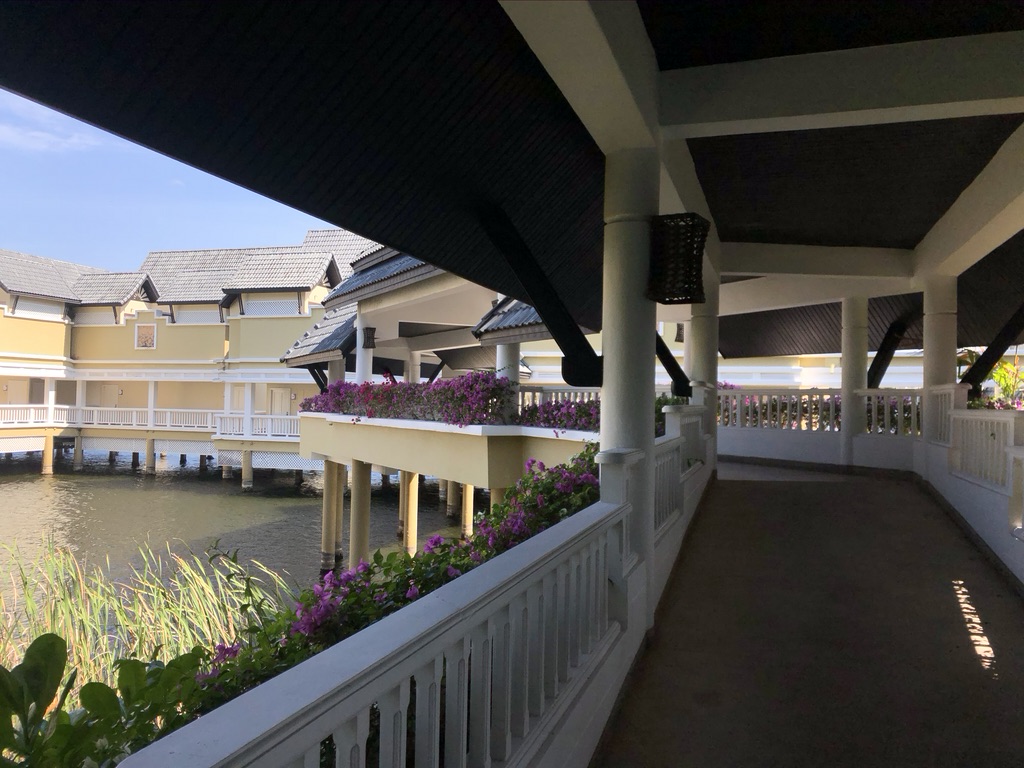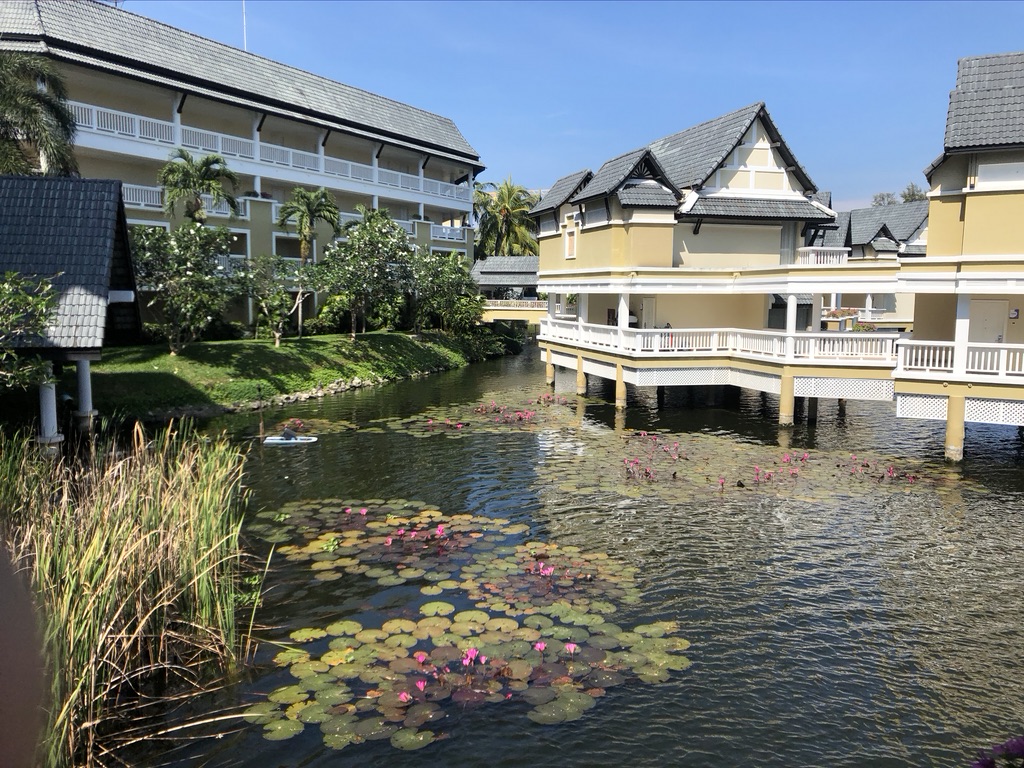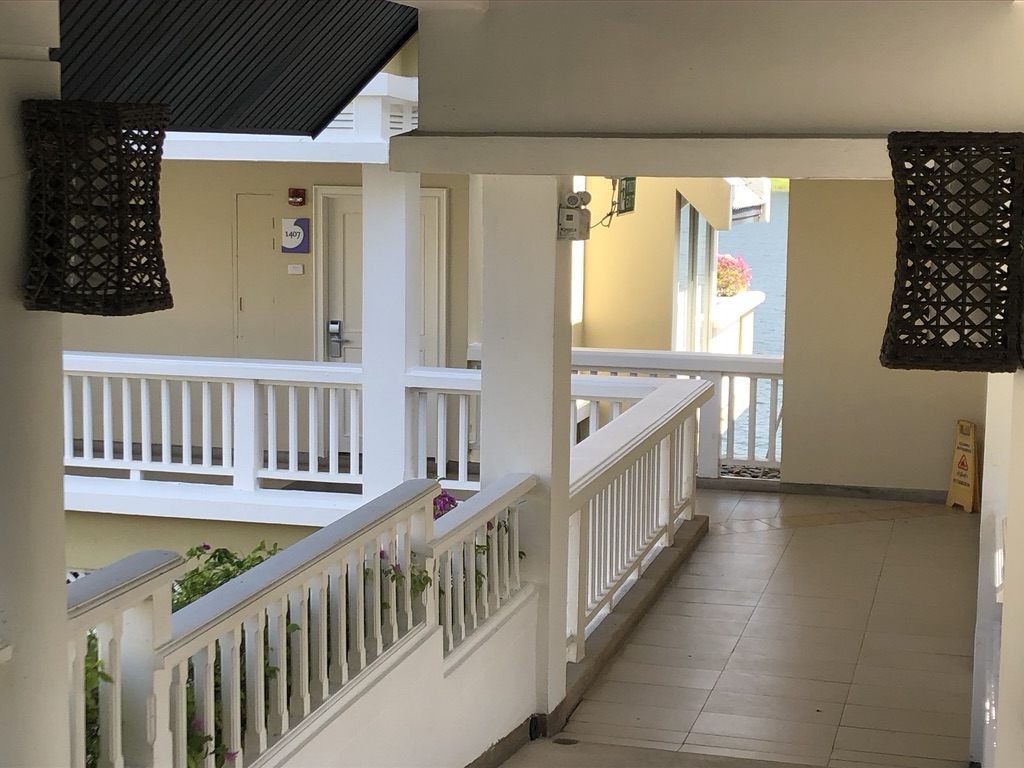 It's difficult to say very much about this bridge, except that it's not bad, it's not that well maintained, and it's not really 5-star.

The main door to the loft was solid if not particularly evocative of Thailand. A positive was that the key-card system worked perfectly for the 43 nights we were there. Given how often these cards fail, etc. that was a real positive. In addition the main door had a functioning dead bolt, and I also used at night my personal security wedge on the main door.

Entering the ground floor of our loft, our first impression was of a room that was not trying to impress us. My immediate reaction was that I had seen this type of room before in small towns on the US Pacific coast. The key is that in those small town we were surprised to find such a nice civilised 'motel-style' room, whereas here in Phuket we had expected more of a 5-star resort.

As we entered into the ground floor room our initial impression improved a little. There was a bit of space and height to the room, but finding a made-up bed in the ground floor living room did not suggest a 5-star organisation. We had booked as a couple, and so why the extra bed?

Later we had to ask them to remove the spare bed, and just leave us with somewhere to sit in front of the downstairs flat-screen TV.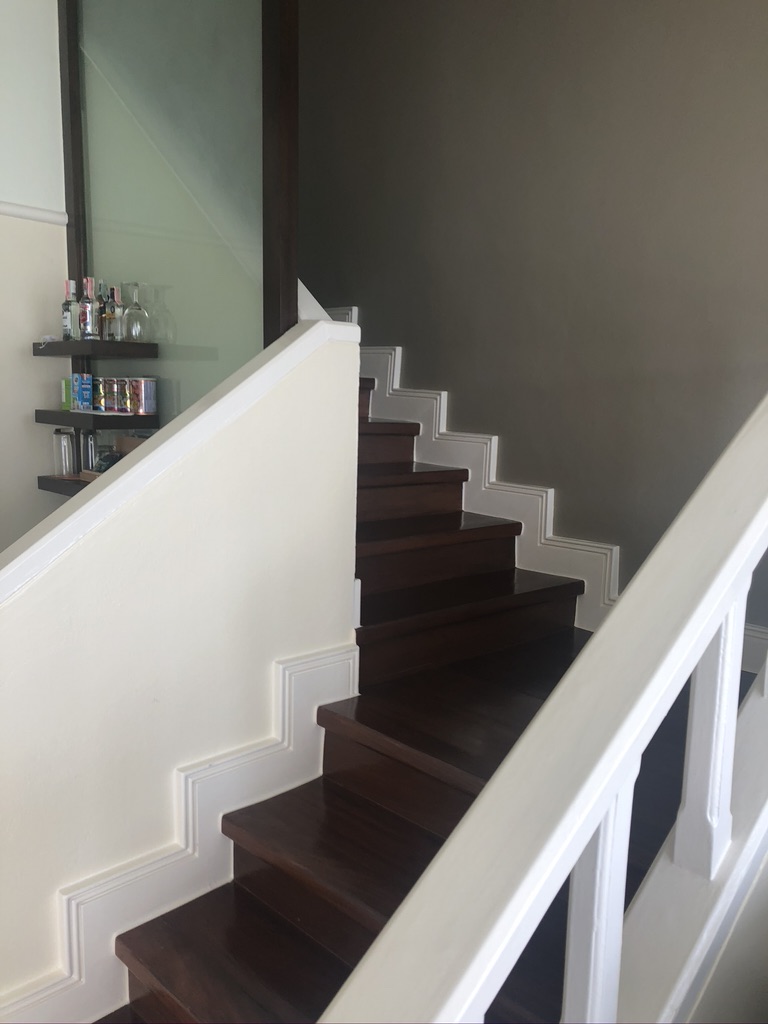 On one side of the living area there was a staircase leading up to the bedroom. It consisted of 3 sets of treads and two landings. The treads and landings were in a dark wood, and the handrails, newels, balusters and stringers were all painted white. We will come back to the stairs later, but for our first evening they delivered us safe and sound to the upper floor bedroom.

Frankly, the bed looked inviting, and we managed to unpack without too many concerns. All that was now needed was a good shower. On one side of the bathroom was the 'outdoor soaking tub and rooftop rain shower' which frankly looked a bit odd, and which did not attract us at all.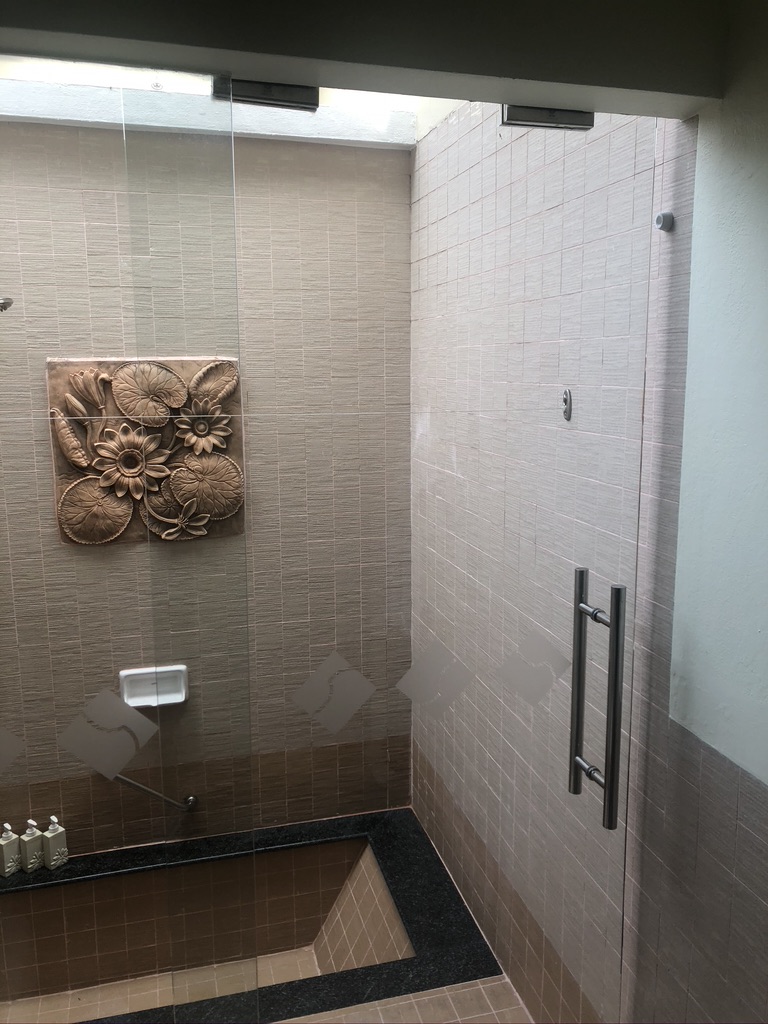 And on the other side of the bathroom there was a large indoor shower, which looked to us the far better of the two options.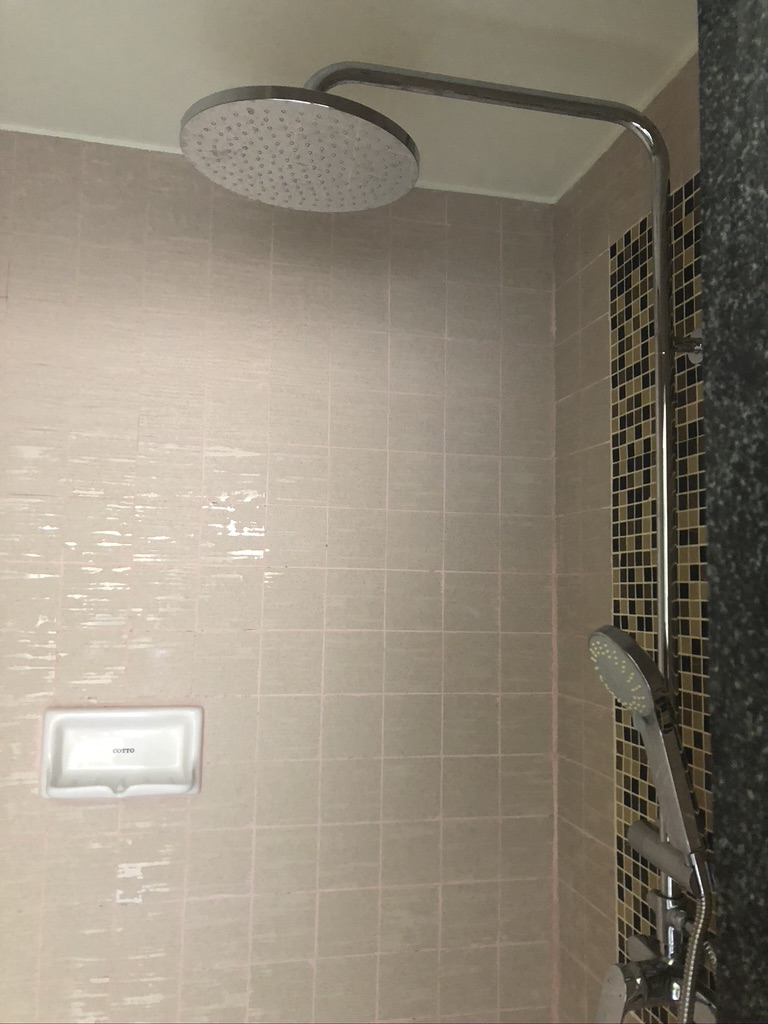 During our first morning we could look out from the ground-floor terrace and appreciate the view over the lagoon.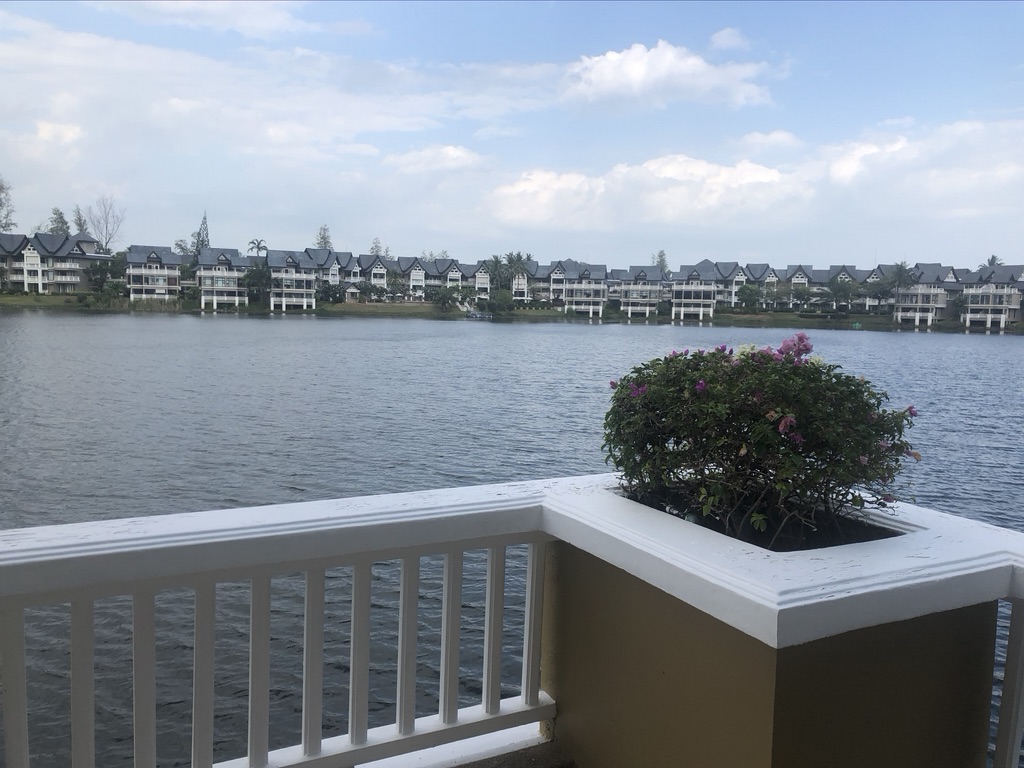 I certainly don't intend to create a day-by-day review of our loft, nor in fact of our stay at Angsana Laguna Resort. So let's try to list the pro's and con's of our one-bedroom loft.

Pro's
The loft-style with the double-height living space was spacious, light and airy, well laid out.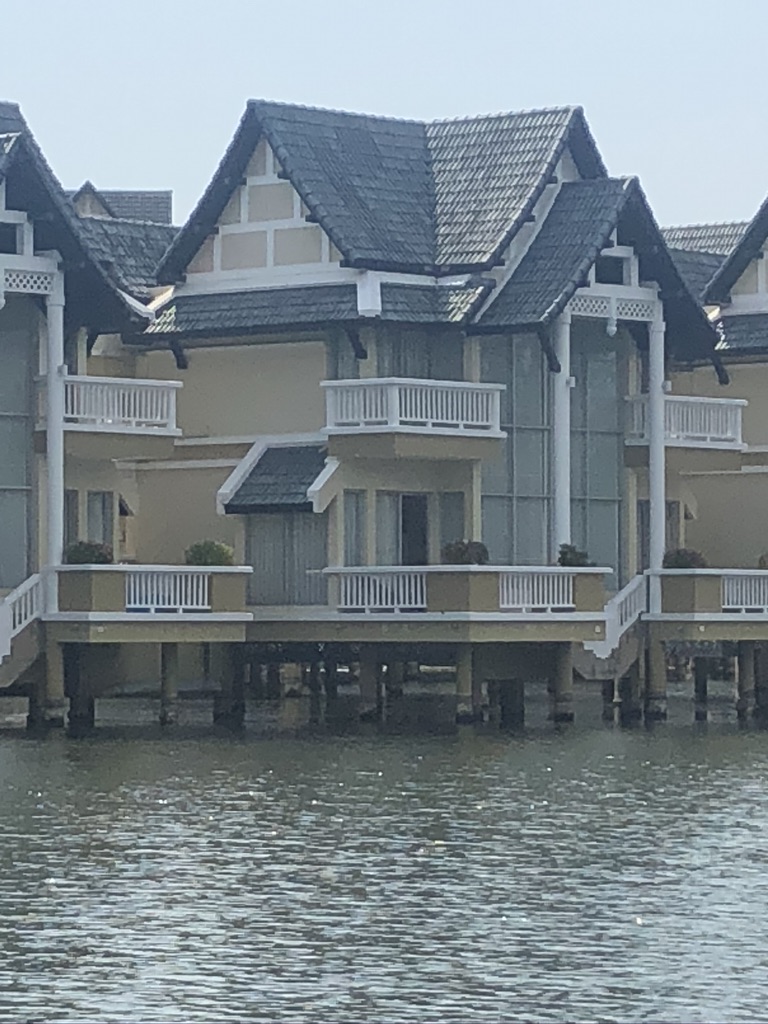 This is a view of our semi-detached loft taken from the lagoon shuttle.

Nice view across the lagoon
Usually a quiet area of the resort
Adequate outside space, even if the upper balcony appeared a bit useless
Two solid loungers on the terrace
The dark wooden furniture was solid with a slightly oriental look
The minibar was well stocked, but overpriced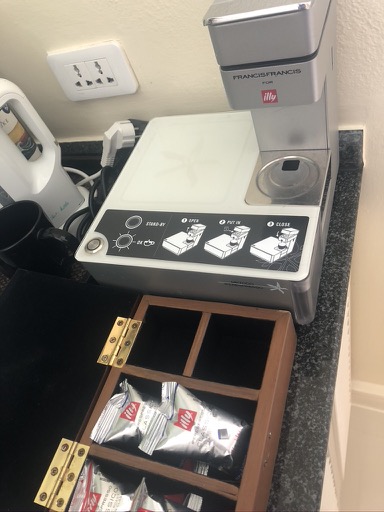 There was an illy coffee machine and capsules, and a kettle with a green tea option (my wife's favourite)
Separate A/C downstairs and upstairs
Ceiling fans both downstairs and upstairs
49" flat-panel TV downstairs, and a slightly smaller flat-panel in the upstairs bedroom
BOSS radio/CD player downstairs (a 'pro' we never used)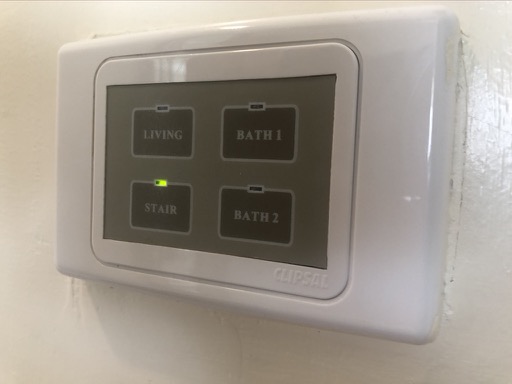 Modern spot-lighting and touch sensitive light switches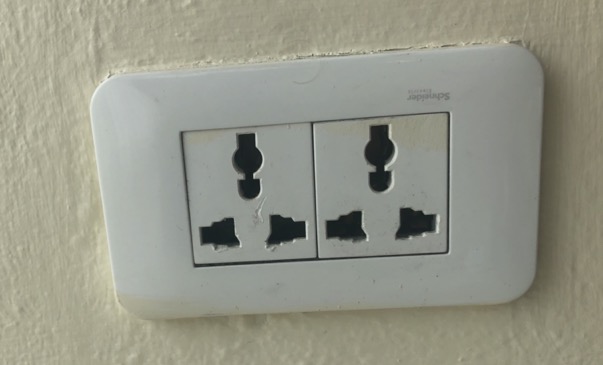 Plenty of multi-plug sockets (but no USB charging points)
A 'Do not Disturb' button with a red light outside the door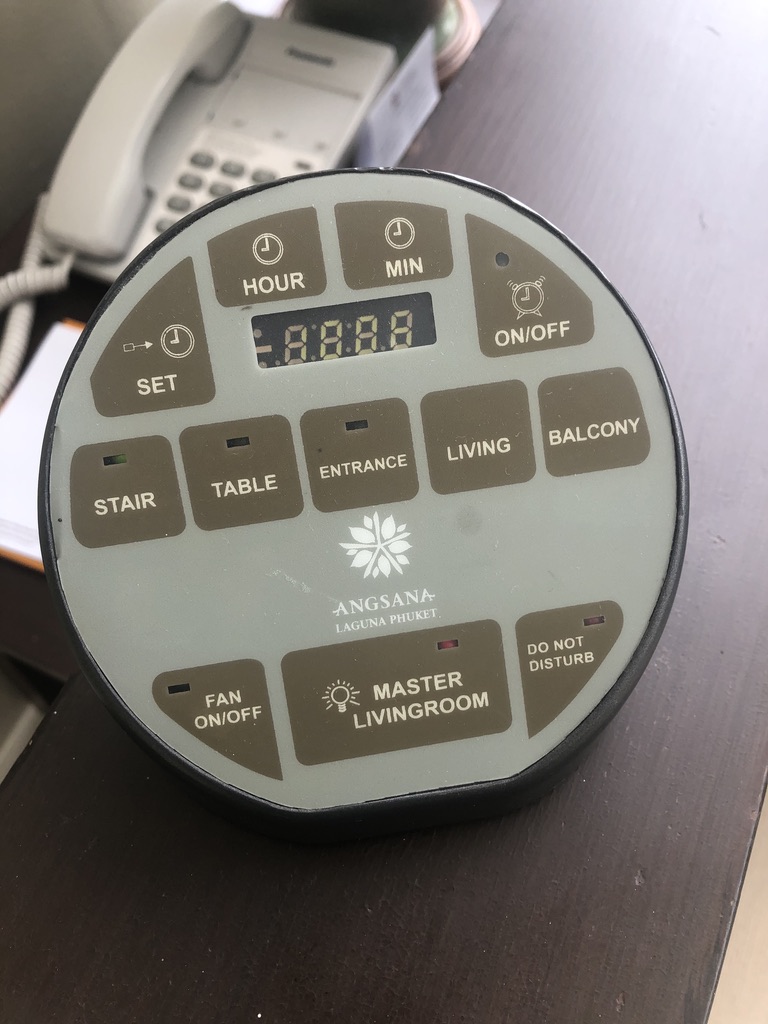 Interesting and effective command system for the lighting, etc. (which oddly started to 'play-up' just before we left)
Bathrobes and slippers (we used the bathrobes, but not the slippers)
Hairdryer (worked perfect, but needed a longer cable)
Weight scales (didn't used those either)
Glass tops on many surfaces
Electronic safe large enough for laptop,…
I liked the dark teak used for the stairs and bedroom floor

And finally, the girls who did the cleaning were a real asset to the resort.


Con's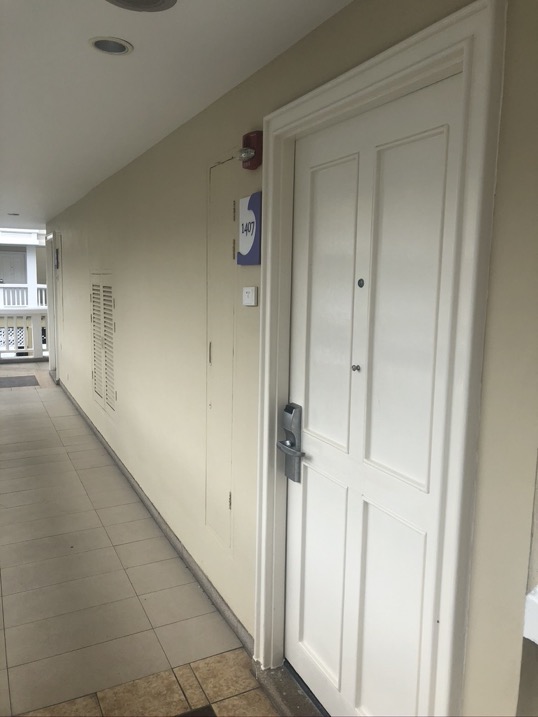 Lacks 'curb appeal'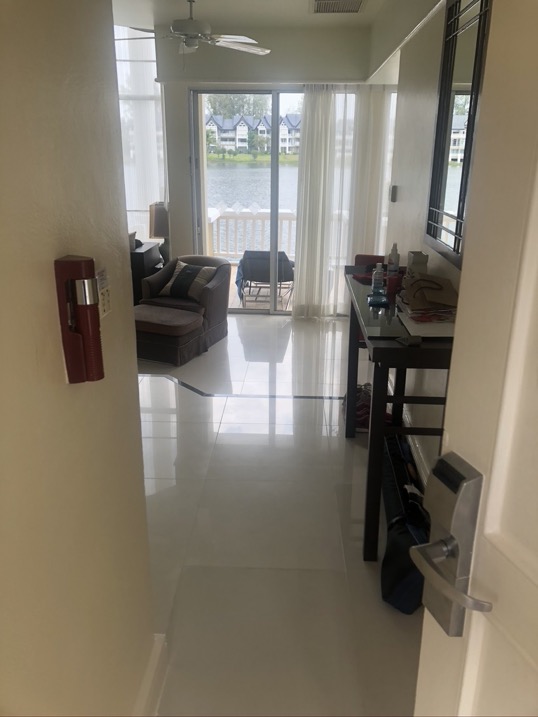 Unimpressive first steps into the apartment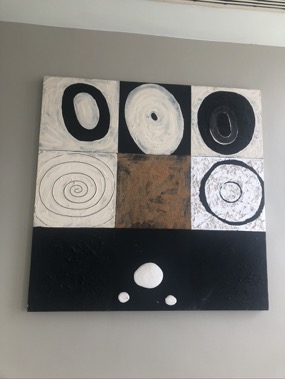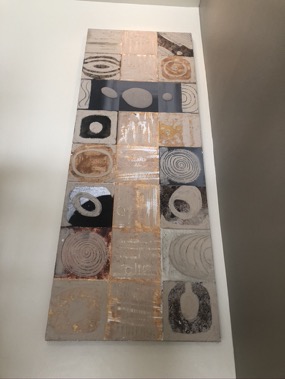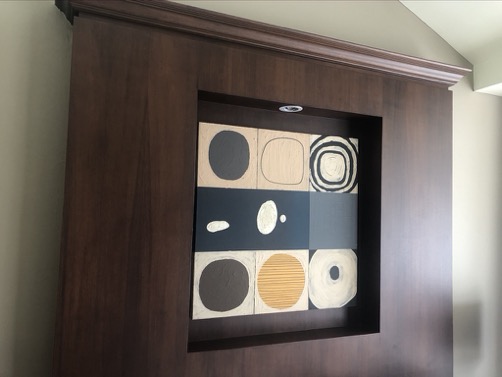 Very banal and dull decorative elements, e.g. paintings, carpeting, curtains, etc., and lacking a 'touch of Thailand' (except possible for the dull brown cushions)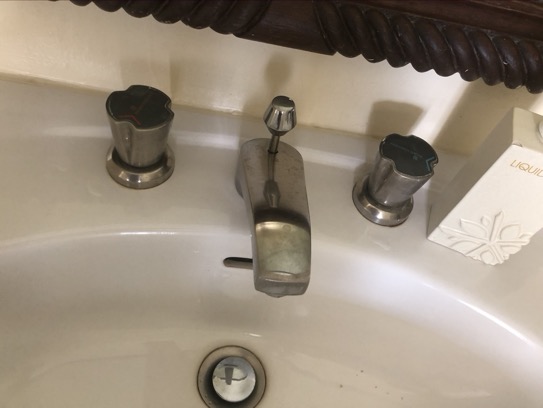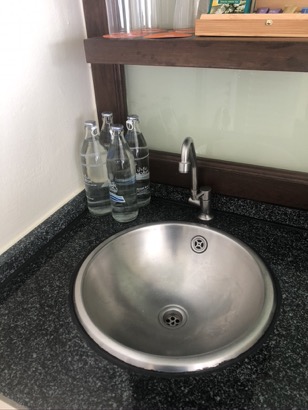 Dated fixtures, particularly in the bathroom, downstairs WC and minibar area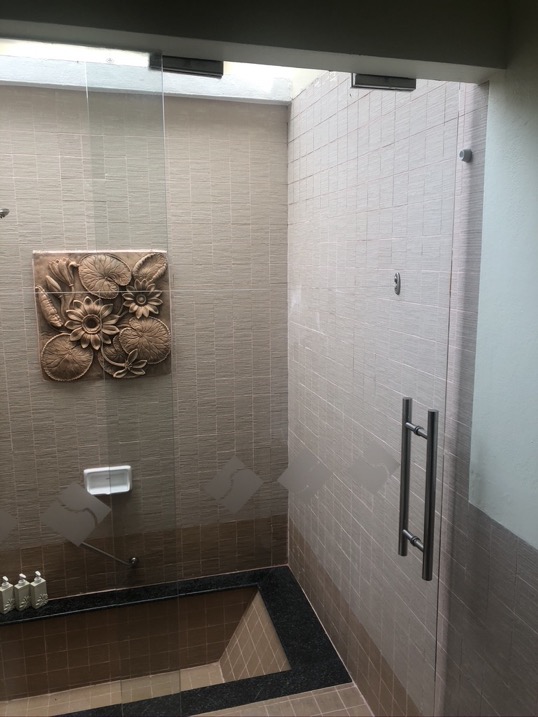 Security weak given the easy access through the outside shower area in the bathroom
The security issue is worth an in depth discussion. The main door to the apartment looked solid and secure, however the security on the windows was very DIY.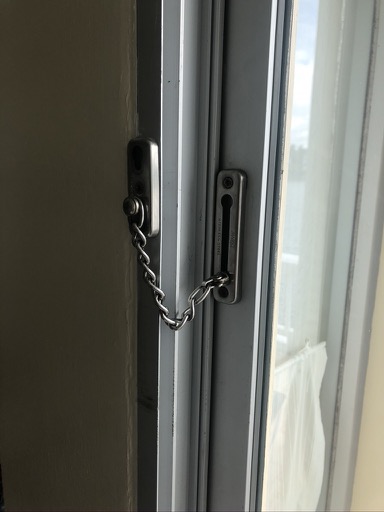 And as we can see above, the upstairs bathroom has an 'outdoor soaking tub and rooftop rain shower' accessed through a sliding door, with no locking or security. It would be easy for an agile thief to enter any loft. In addition the room is equipped with an electronic safe. However it is installed in a wooden wardrobe that is free standing in the room. So it's an electronic safe, but not a wall-safe.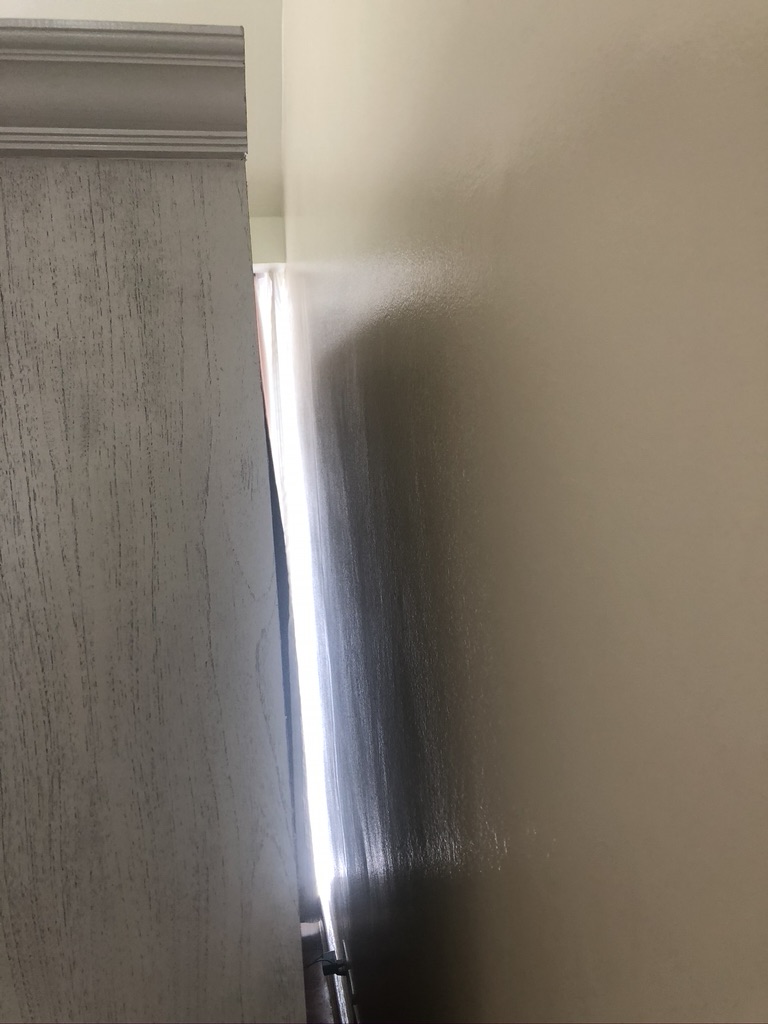 The stairs are wide and not that difficult, however the dark treads and the incomplete handrail could pose a problem for some people.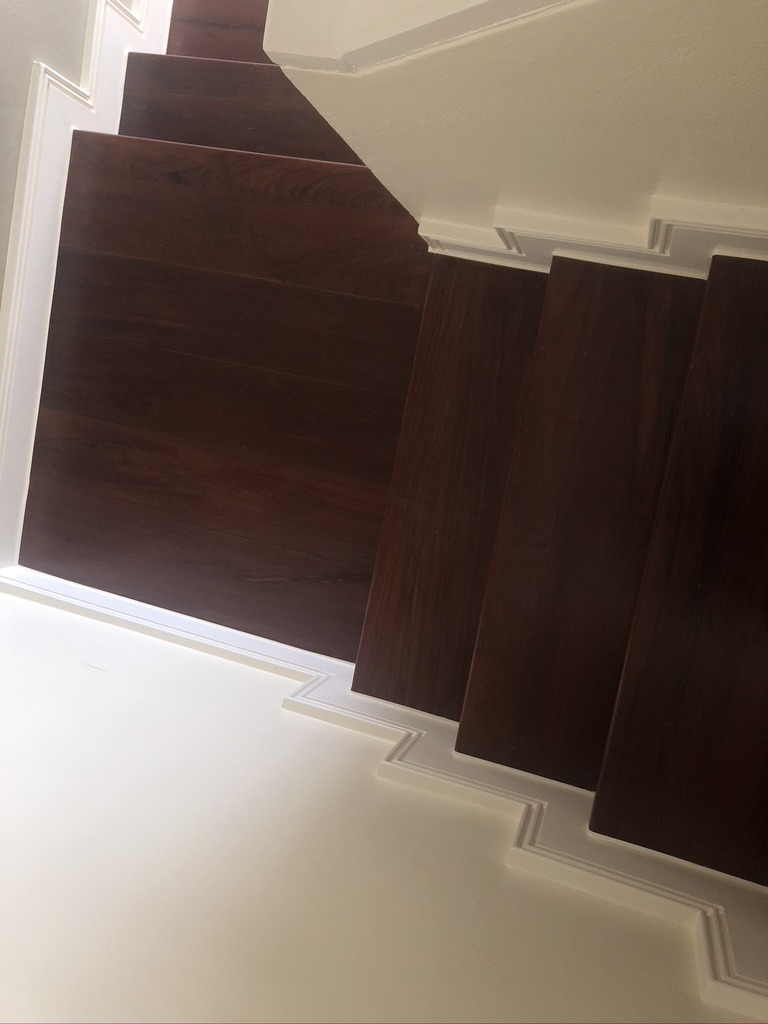 Again it's worthwhile discussing the safety elements of the loft. As you can see above the treads and landing are in a dark teak and unfortunately the last tread and the upper landing have a very similar colour and this could lead to an accident.

Concerning the more general issue of access for those with reduced mobility, the Laguna complex is quite vast and the Angsana Laguna is spread out, and this could pose a problem. Many of the doors have doorsteps that could cause a problem. Also there are many hump-back bridges (some quite pronounced) that could also pose a problem. And the 'outdoor soaking tub' is likely to be useless for anyone with limited mobility.
I don't consider these issues a real 'con', but it's worth noting for those people who have a real mobility problem. I did not see mobility issues addressed in any of the resort literature or descriptions on the web.


The food at the Angsana Resort

The resort offers a number of dining options, namely:-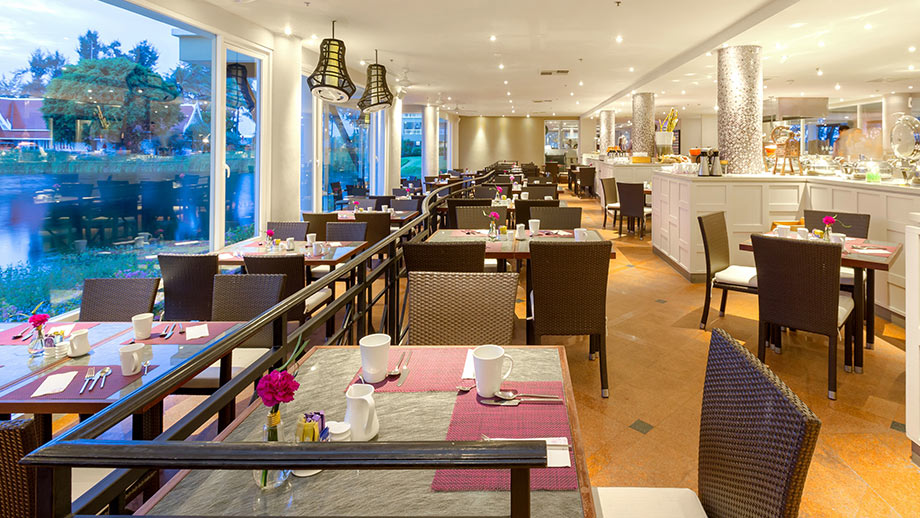 Market Place - served the daily breakfast, and 2 different weekly evening buffets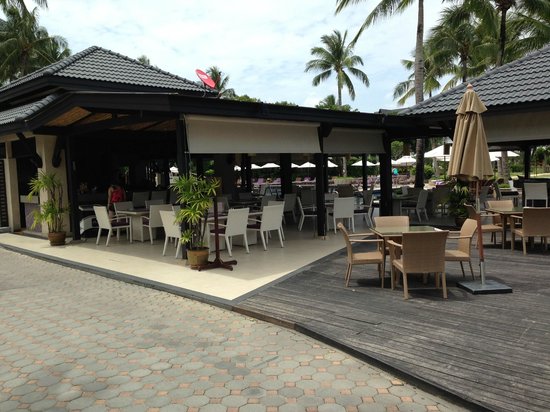 Poolside - offered a simple daily menu including sushi, as well as a weekly BBQ and a 'night street market' once per week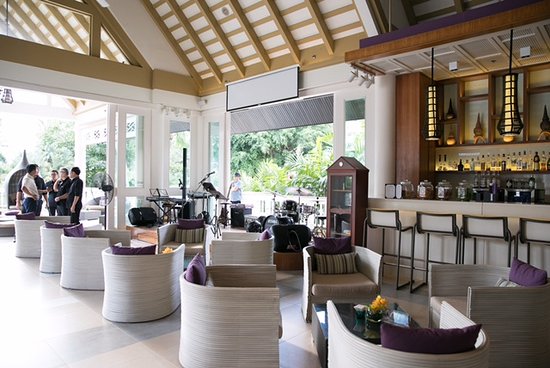 Loy Krathong - is the hotel lobby/bar which offered a weekly tea buffet and a daily noodle option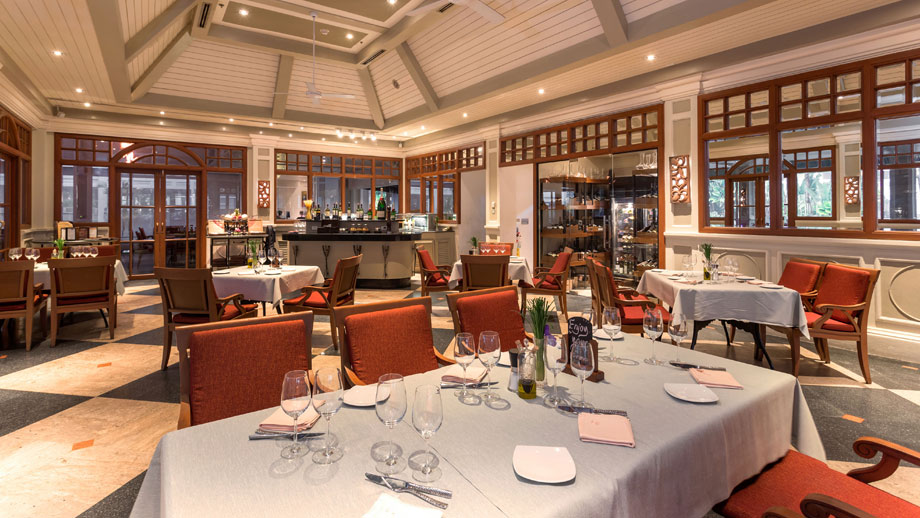 Bodega & Grill - offered a daily steak and Andaman prawn option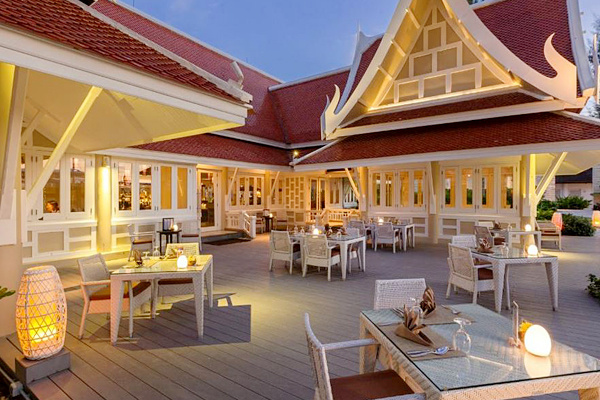 Baan Talay - offered a Thai dinner buffet twice weekly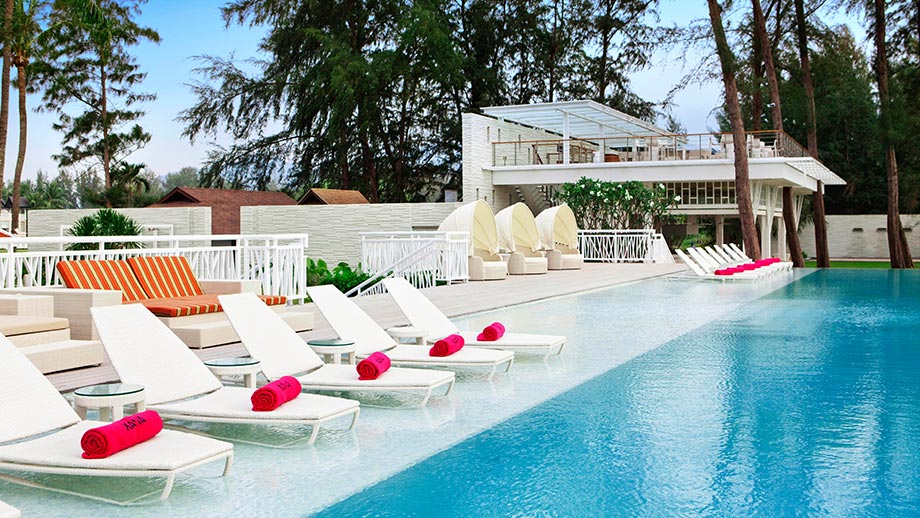 Xana - is the beach club, and it offered a cocktail hour, and buffet options twice weekly.


So our first morning started with breakfast at the Market Place. There are a number of zones within the restaurant. There is an area inside the restaurant that is at the same level as the serving area (good for those with mobility issues). Another area is a few steps below the entrance and serving area, and this feeds to a small outside terrace area. The last area is in fact in the access corridor, and does not appear that well lit.

Breakfast is a substantial affair, since it covers a wide variety of national habits and tastes, e.g. European, Thai, Russian, Chinese, etc. You find a coffee station, a noodles station, and an eggs station, and then a wide variety of vegetables and fruit, in addition to the usual pastries, etc.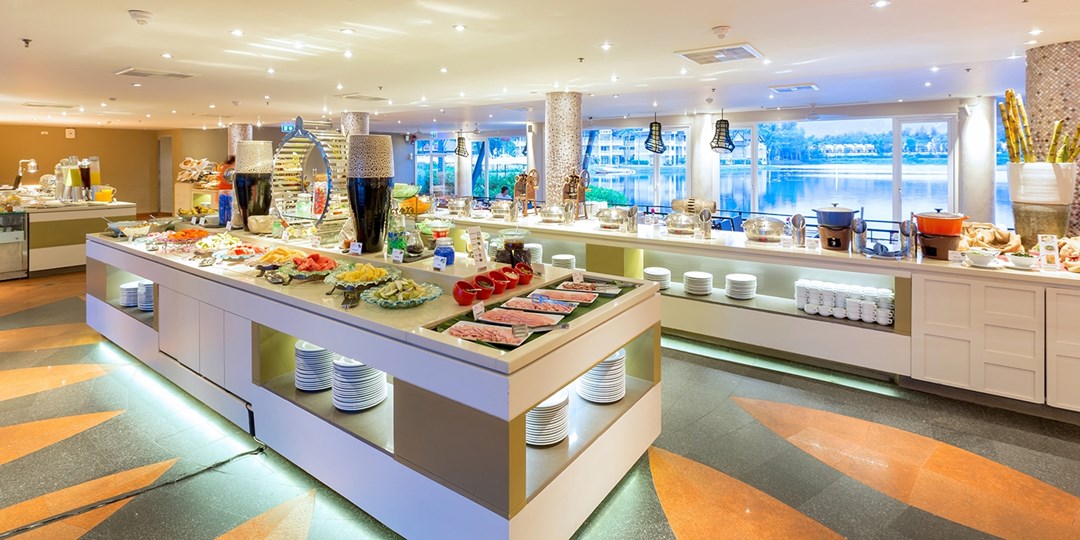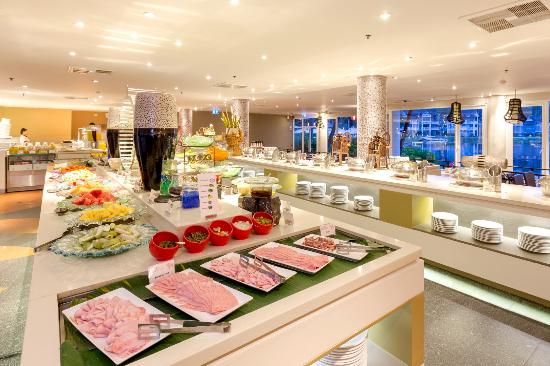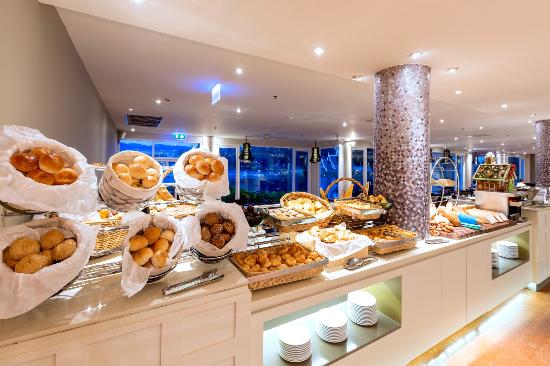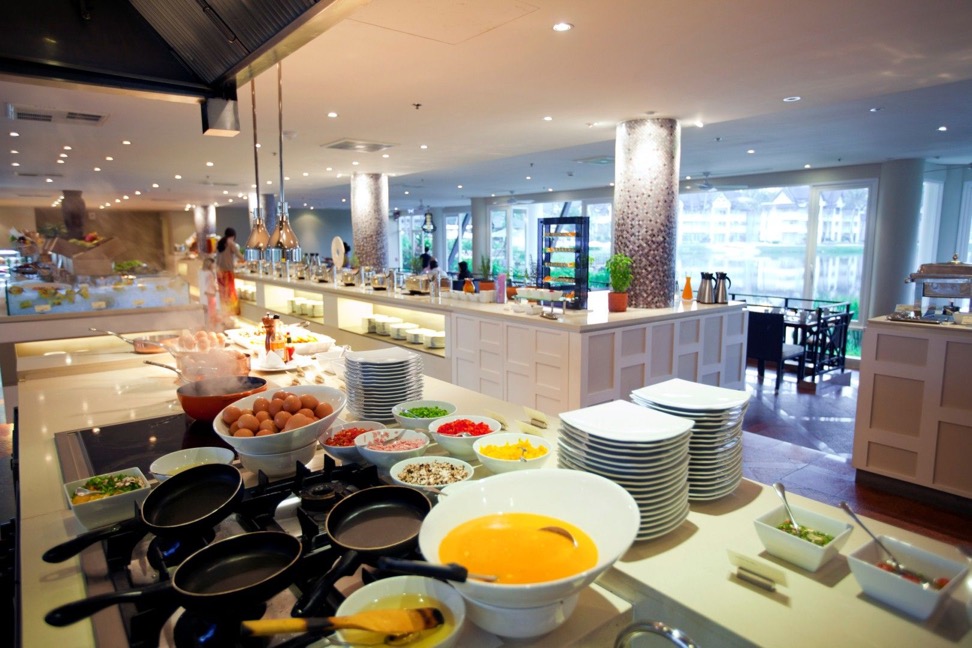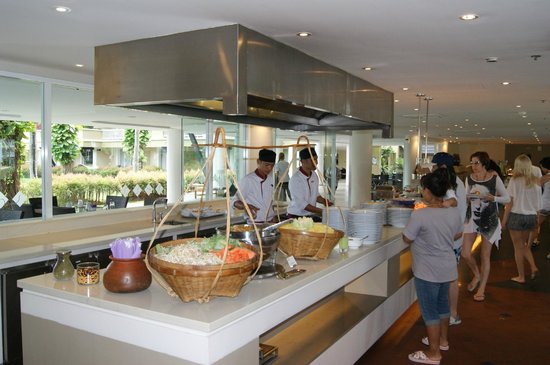 The reality was that the space available was insufficient when the hotel was full. Whilst everyone is very civilised there were times when the breakfast looked more like a canteen than a 5-star resort.

The coronavirus scare meant that during the latter part of our stay there were far few people in the resort, and therefore the 'breakfast experience' became a calmer more serene affair.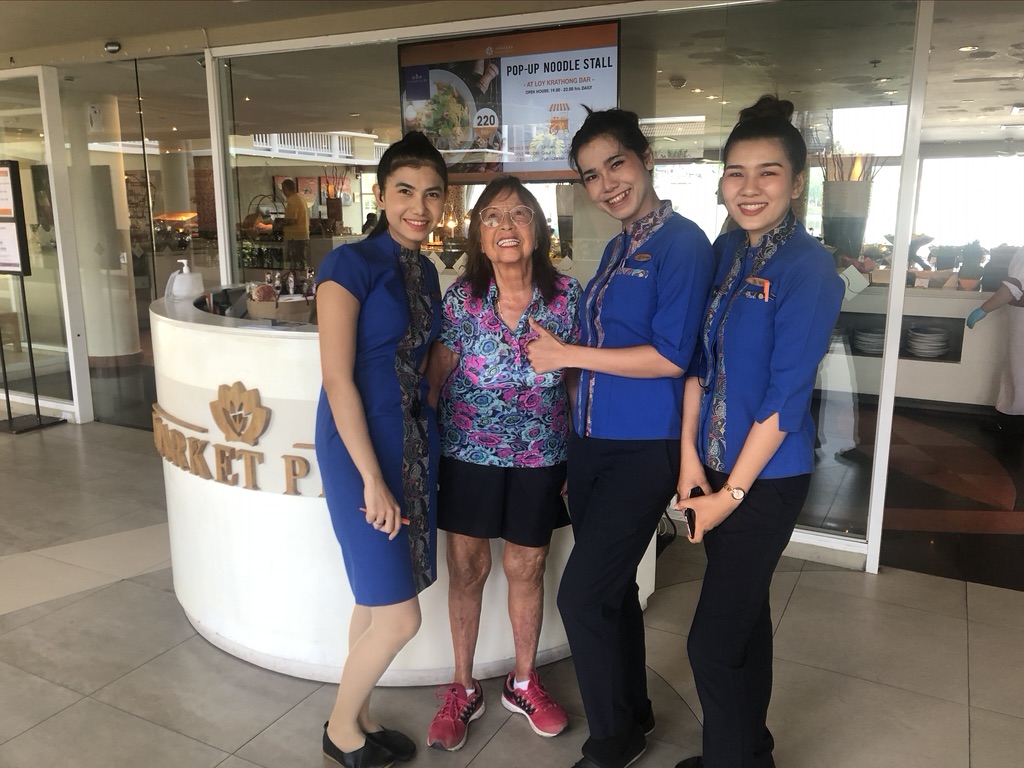 On the upside, the breakfast staff were fantastic. It is really so important to find friendly, smiling faces in the morning, and they delivered. We were welcomed, shown a table, and our coffee and tea order taken. Then it was a friendly free-for-all to get your omelette, fruit, pastries, etc. After a few days we had our place booked, even if it was not in the quietest of areas.

People mention the Chinese or Russians as being noisy or unfriendly, but we would not agree. Yes, the Chinese like to chat, and the Russians like their food, but we found them perfect normal holiday goers. Eating a bit too much, and having trouble keeping their active and noisy children in order.

Concerning the other restaurants, etc., our considered opinion was as follows:-
The Market Place 'Taste of Asia' buffet was not that good
The Poolside provided snacks and light meals, and in a very relaxed environment, and the Poolside BBQ buffet was very pleasant (if a bit expensive)
During our last week the format of the Poolside BBQ was changed, unfortunately for the worse.
Bodega & Grill provided an excellent, if expensive, grill option in a semi-sophisticated atmosphere
Xana offered an excellent beachside BBQ, but totally over priced.

As you see, we felt that the occasional buffet was excellent, but generally the prices were just exaggerated. I would say that we spent about half our time dining in the resort.


One pleasant alternative was to take the boat to Canal Village (another place on the lagoons) and dine at a small restaurant called the Albatross (prices were about 25% below resort prices). There was the option to go to one of the other hotels in the Laguna complex and charge the meal to our room, but we did not really use this possibility.

Many people might ask "why not go to the local village?". All the guide books more or less put out the same message. There are plenty of exclusive and up-market places to eat, etc., both in the Laguna resort and in the local village called Cherng Talay. The chic eateries will send a car for you, but you will end up paying the same or more than in the resort. You may eat better than in the resort but we were usually after something simple in the early evening, and didn't fancy going to a lot of trouble when we wanted a quick evening meal (the word lazy comes to mind). Of course the guide books mention 'mouthwatering pub grub' but we did not come halfway across the world for 'pub grub' (nor for fast-food options). There was also an abundance of little Thai eateries in the village, but looking at them we were often left with the question of hygiene. When we did venture out, we ate very well for a more than reasonable price. But we must admit we were not very adventurous, and often ended up eating overpriced resort-style Thai food. To give you an idea of the prices in our resort:-
Thai spring rolls (12 pieces) - 275 Baht
Satay Chicken (10 pieces) - 325 Baht
Chicken Tikka - 300 Baht
Phad Thai Goong - 315 Baht
Phad Thai Gai - 315 Baht
500 ml Singha draught - 190 Baht.


The gardens and the pool

The gardens are quite impressive and are well maintained, but the key feature was the vast pool that twisted through the gardens for nearly 300 metres. In addition the first part of the pool has a small sandy beach next to the Poolside dining area.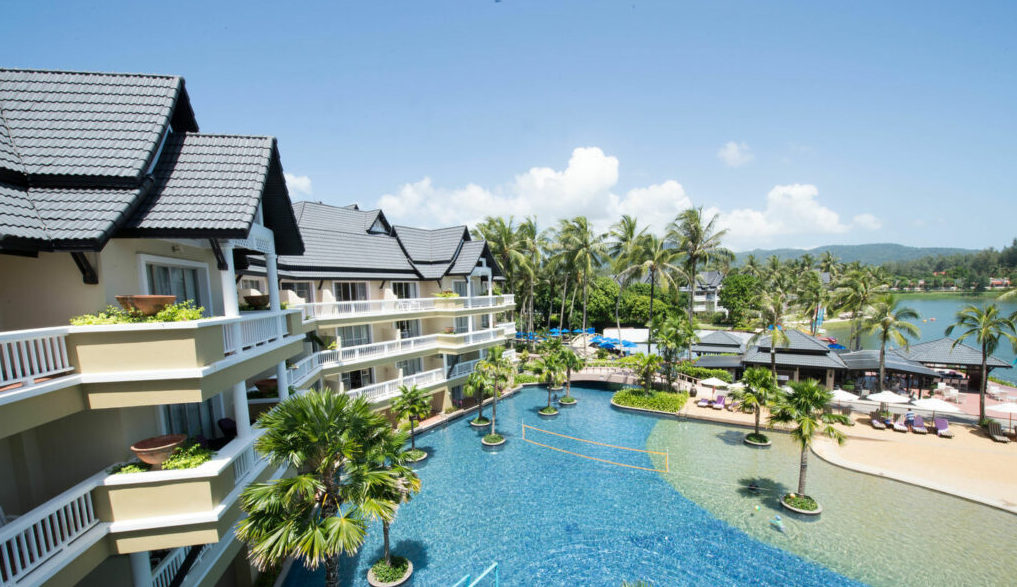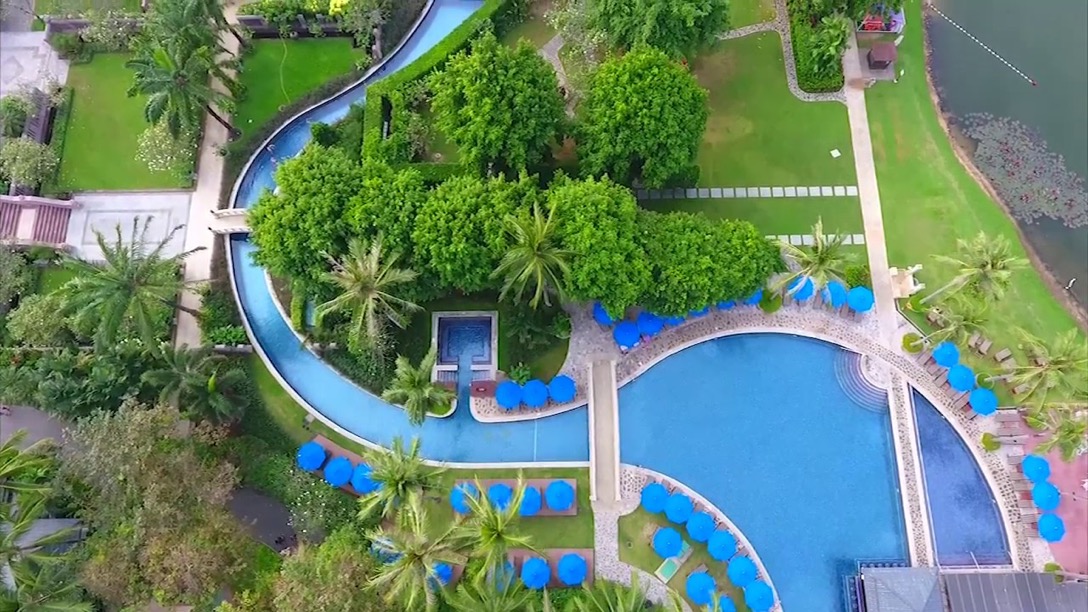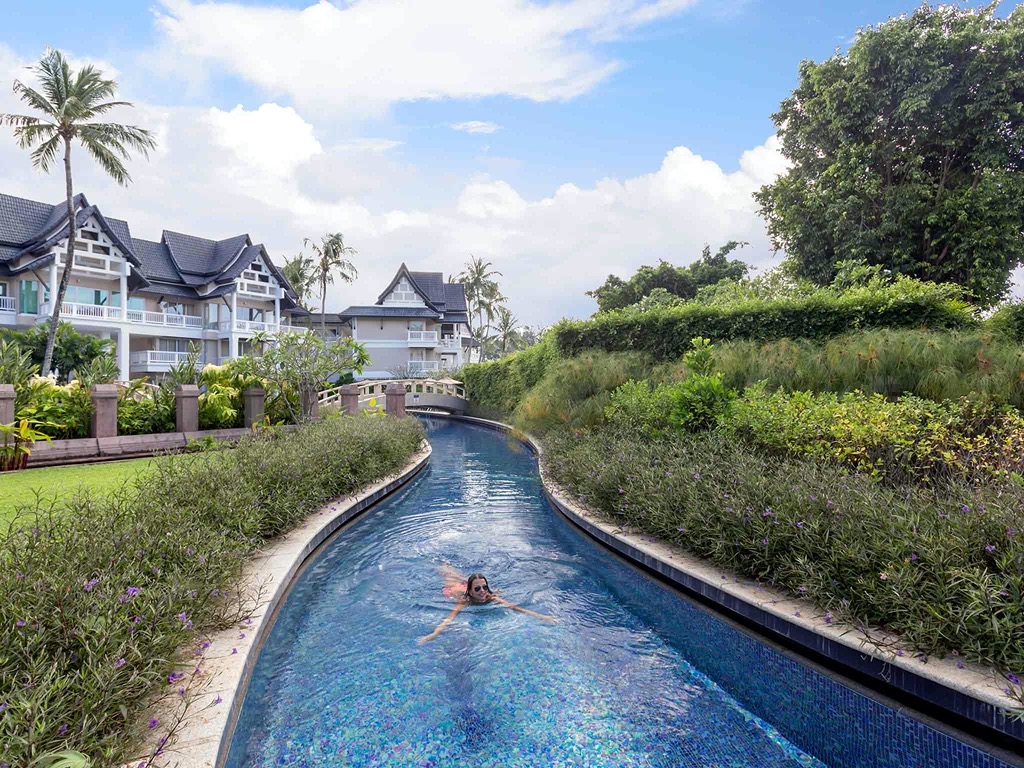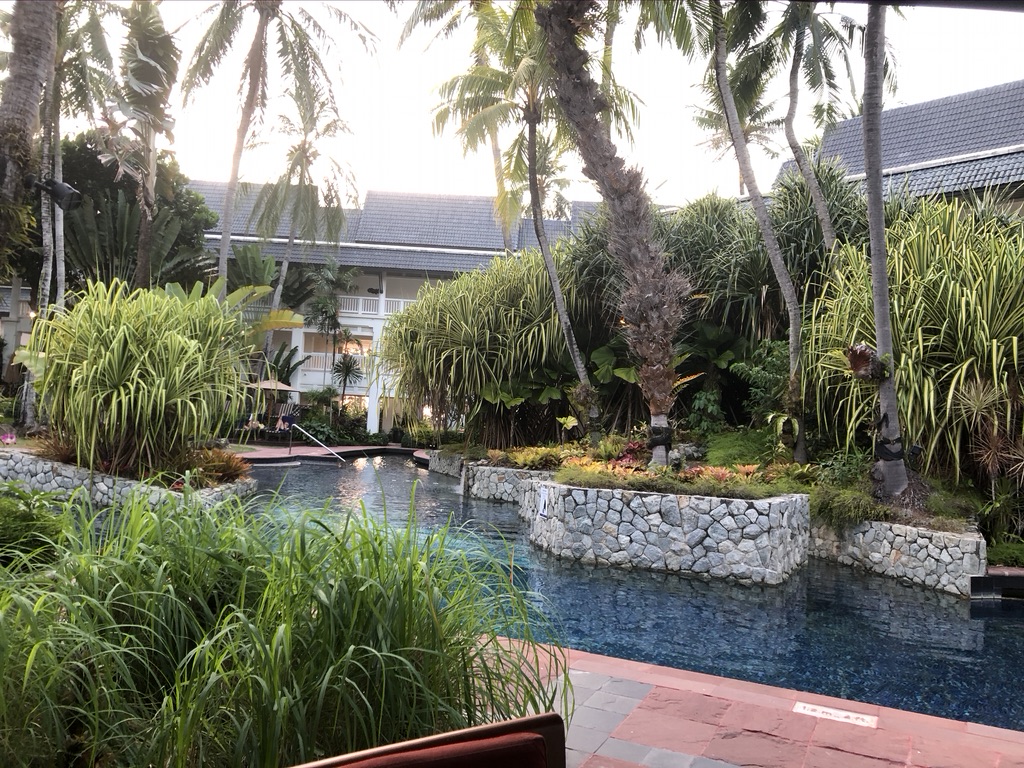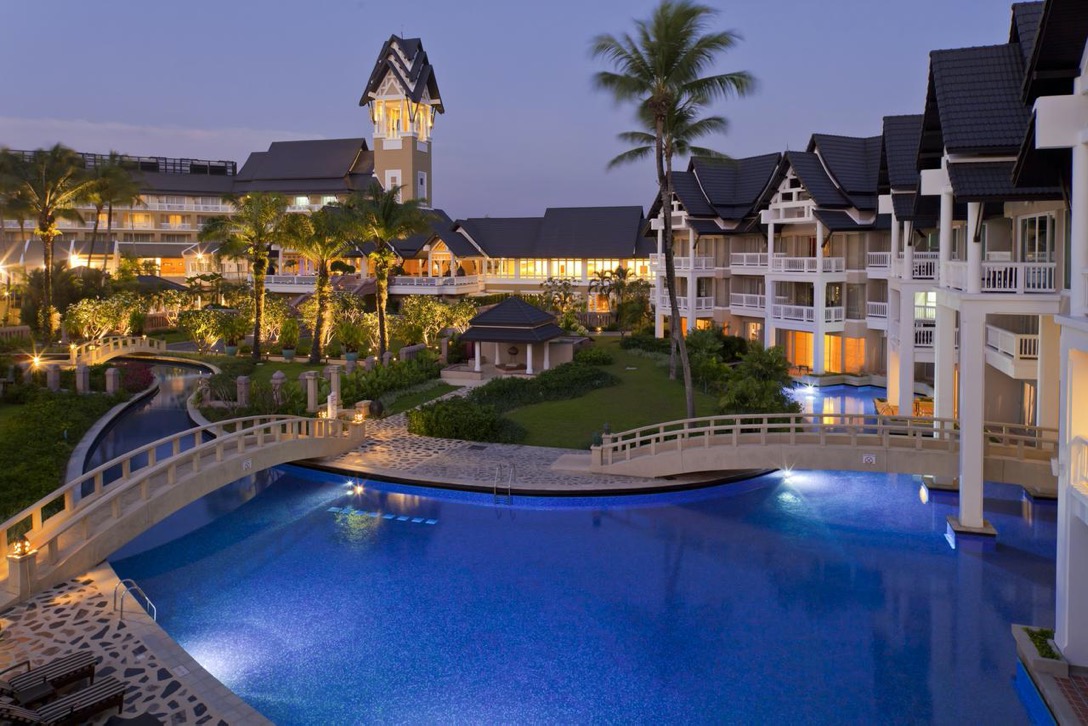 And here we have a better view of how the pool twists and turns as it goes from one end the resort to the other.


The gardens are nicely maintained, and I have prepare a separate webpage on some of the plants and flowers we saw in the gardens.


The lagoons

The lagoons are the most important part of the entire Laguna complex, and they represent a massive amount of work in turning them from abandoned tin mines in to a resort feature. Below we can see the lagoons, with Angsana Laguna in the middle, and Banyan Tree in the distance.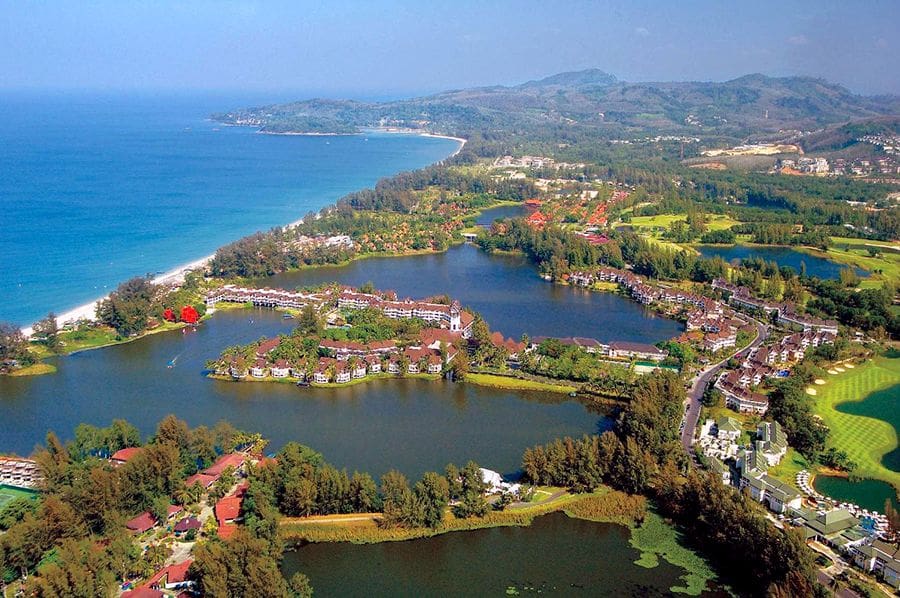 And below we have a different view, looking over the residential areas around the gold course, and towards the sea.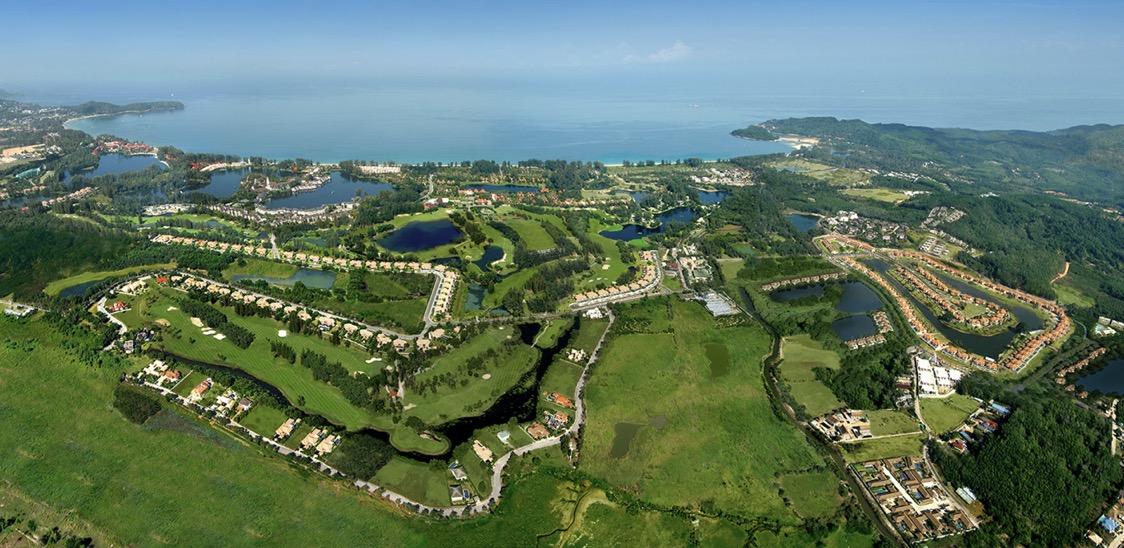 People still tend to think of Laguna as a collection of resort hotels, but this is far from the truth. Over the last 20 years Laguna has sold more than 1,400 properties and there are more than 400 still for sale. So there are more properties on Laguna than hotel rooms. As we travelled around the lagoons on the free shuttle boats, it was evident that the next step were mid-rise buildings with up to 5-6 storeys. Laguna has always managed to add value to properties not directly on the beach, and these new buildings continue along those lines, but commanding premium prices for lagoon views.

So our starting point was the Poolside landing, and we can see below one of the lagoon taxi's or shuttles.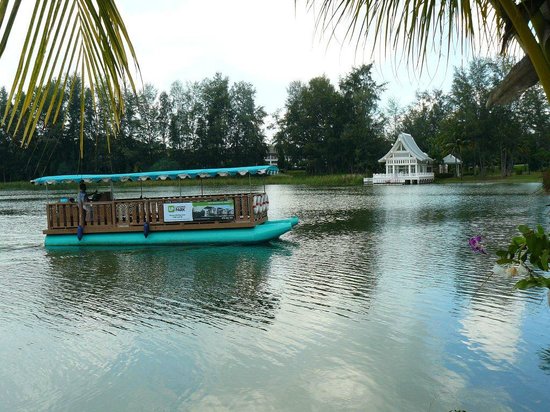 There were also two different services, one going back and forth between Angsana and Banyan Tree, and the other visiting Angsana, Canal Village (the local market) and Outrigger. Below we can see the building used for weddings, and below that we have the landing for Canal Village.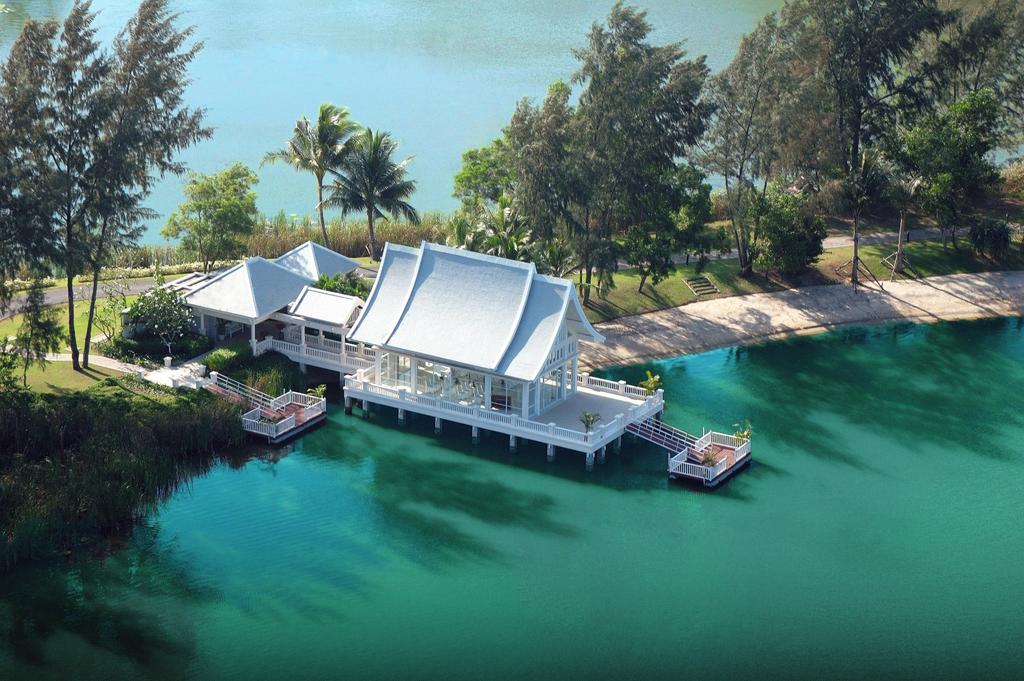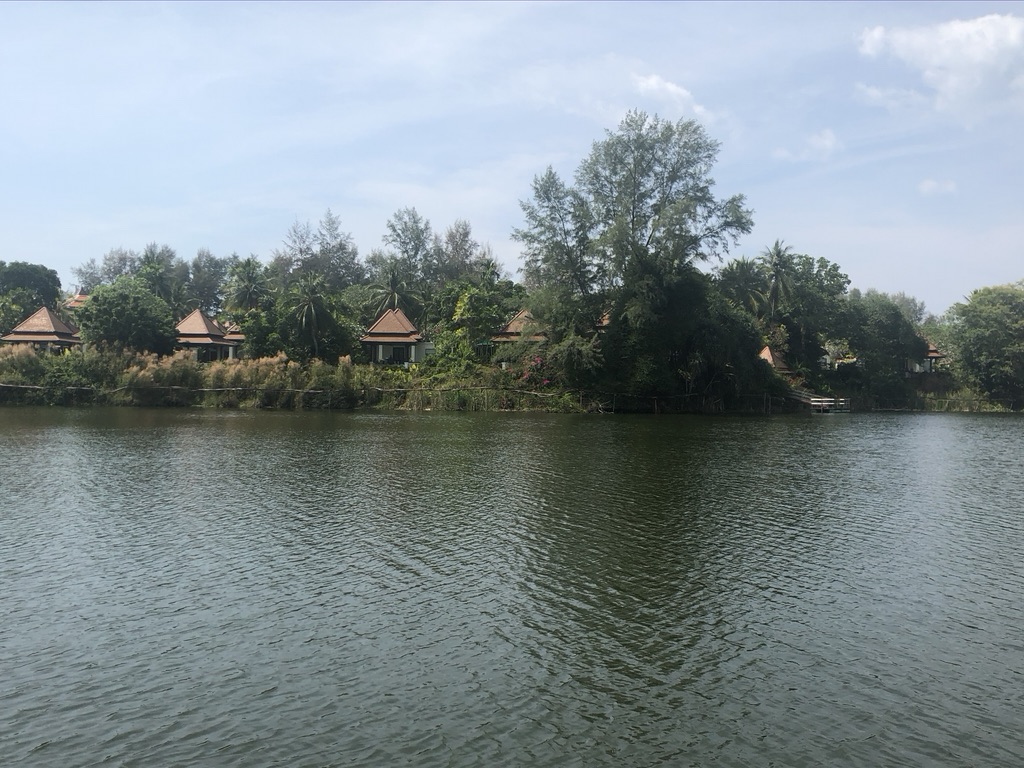 And here we have four different views of our resort complex, that sits more or less like an island in the middle of the lagoons. Above we have the Banyan Tree villas, and below three views of the Angsana Laguna Resort.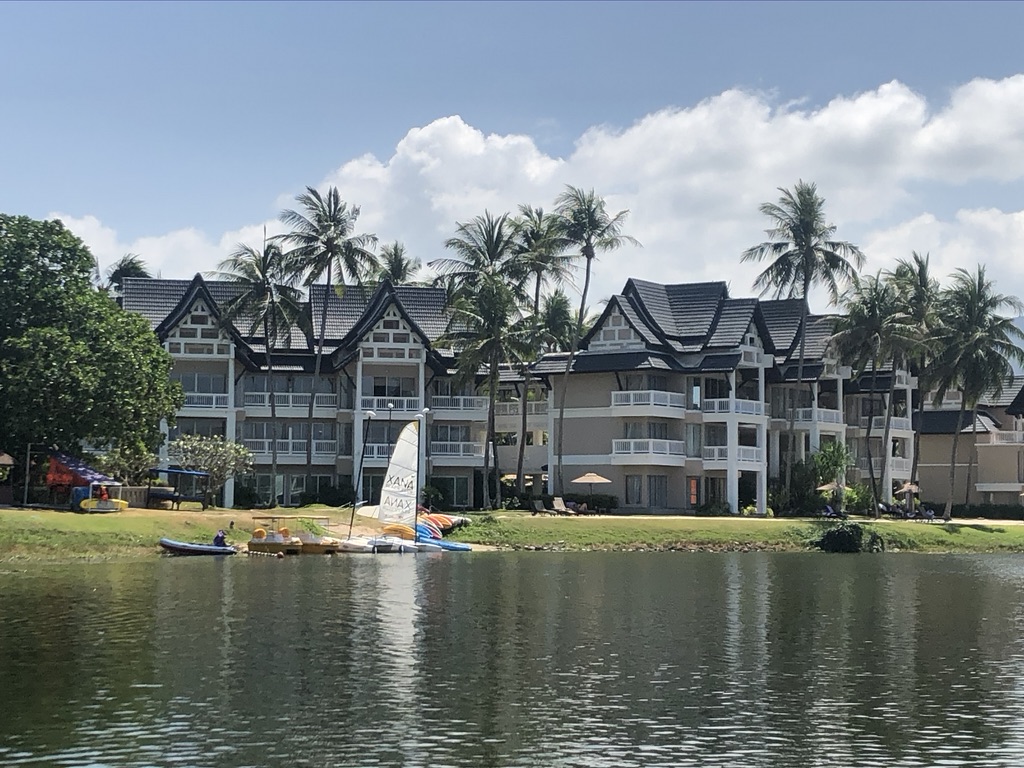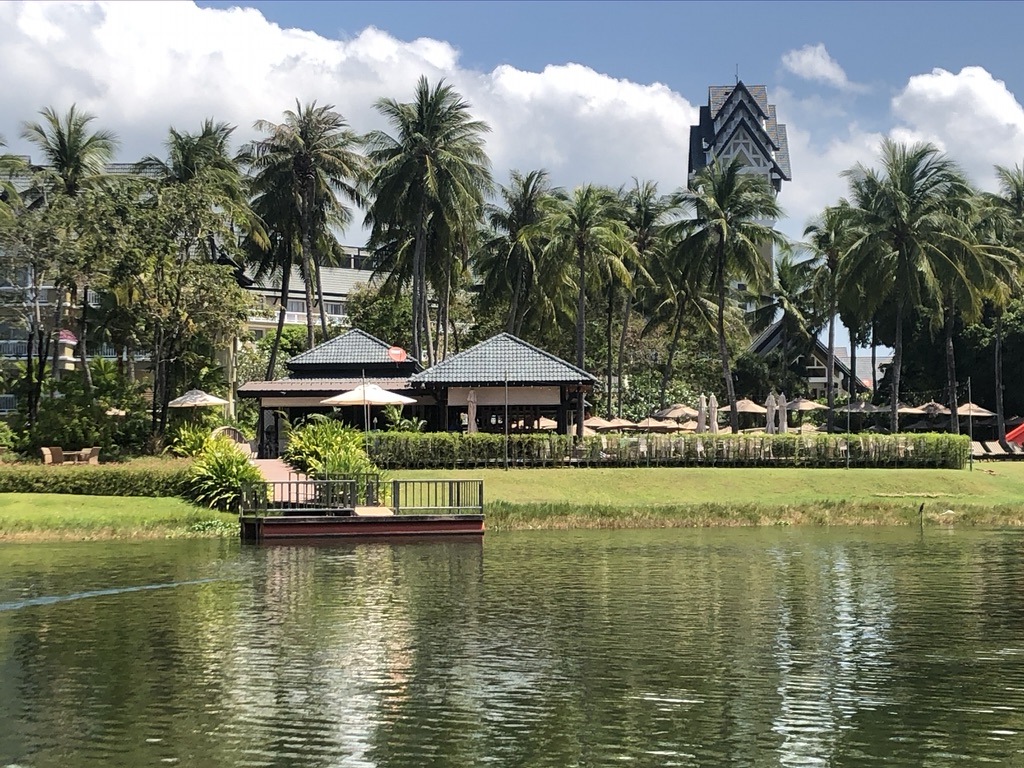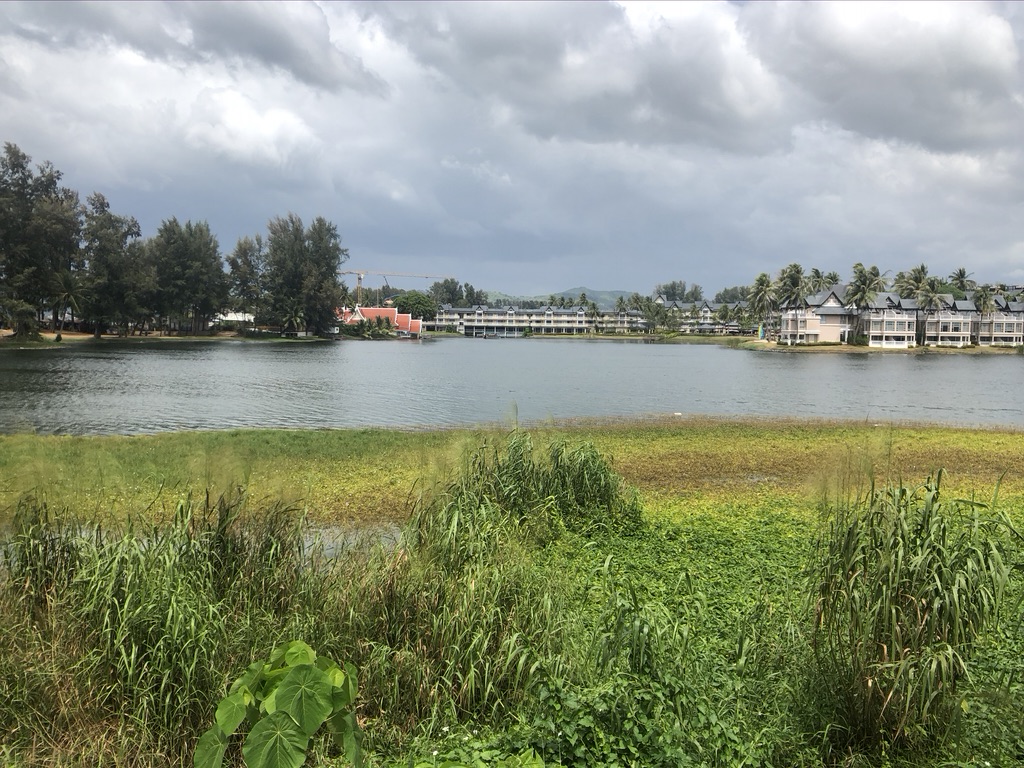 The lagoons are quite extensive, and beyond 'our' lagoon there was one servicing the Outrigger Resort and the Cassia Resort (see below).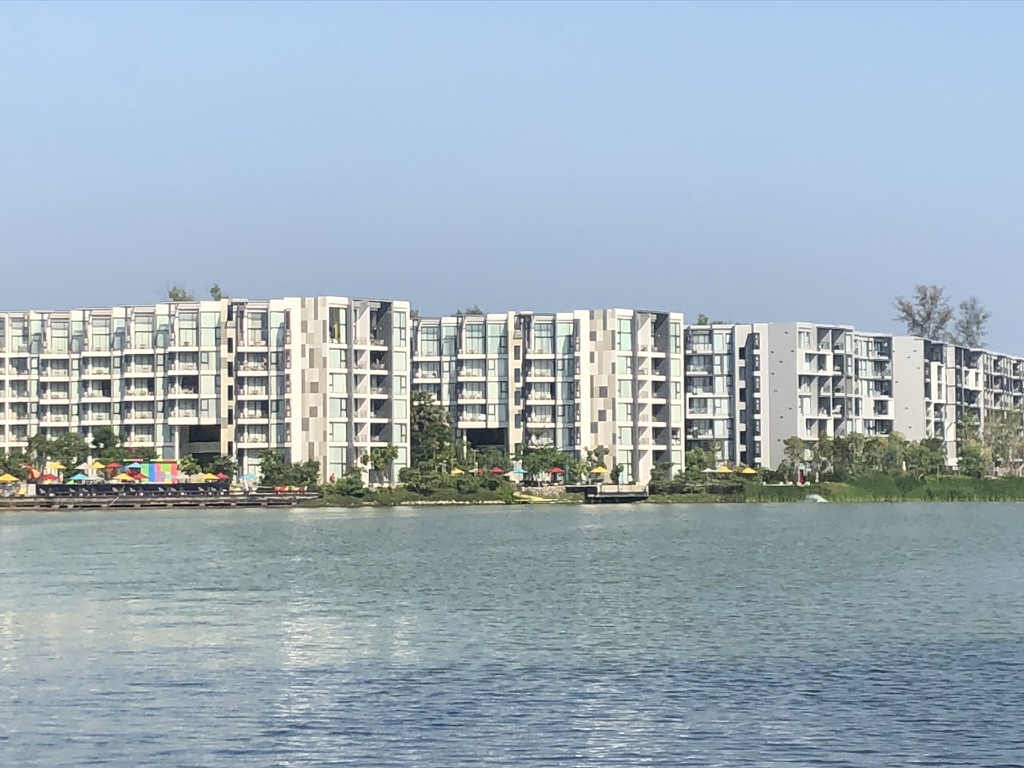 And here is a panoramic view from our loft terrace.



Below we have two views of the latest developments on the lagoons. The first is Dhawa Phuket, a lower cost resort designed for younger couples. The second is the Angsana Oceanview Residence, which is at present being built at the entrance to the Angsana Laguna resort.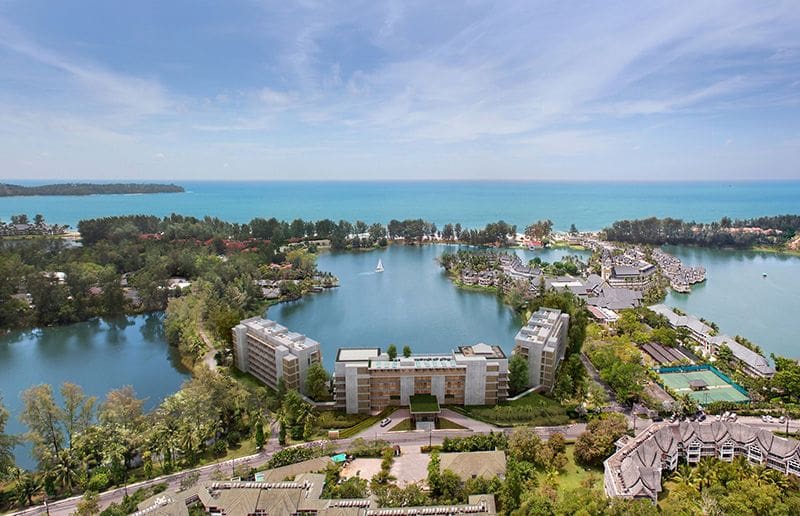 And what about the beach?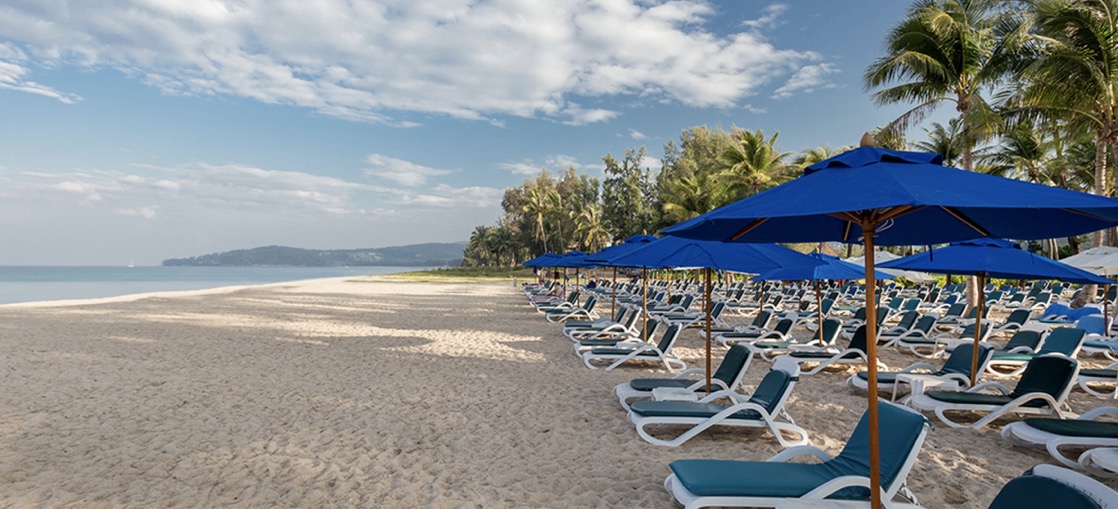 This is the Bang Tao beach as it appears on the Angsana Laguna website. As you can see it's perfect. You can pick your lounger, and there is no one from the hotel to bother you. And in fact the beach is, as they say, virgin, with not a soul to upset your view of the perfectly still Andaman Sea.

The Wikitravel webpage for Bang Tao needs a serious update, as does the above photograph.

Cherng Talay (often spelt Cherngtalay and also sometime spelt Choeng Thale) is a part of Phuket's western coastline (and named after a local village). Most people will never have heard of the place, but everyone has heard of Laguna. The 10 kilometre long area includes the 6 kilometre long Bang Tao Beach, and the smaller Layan, Pansea and Surin beaches. These beaches usually figure on '10-best' or 'best of' lists of beaches in Phuket.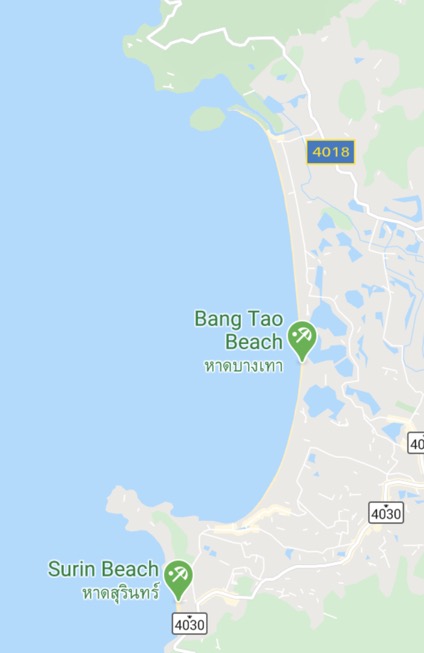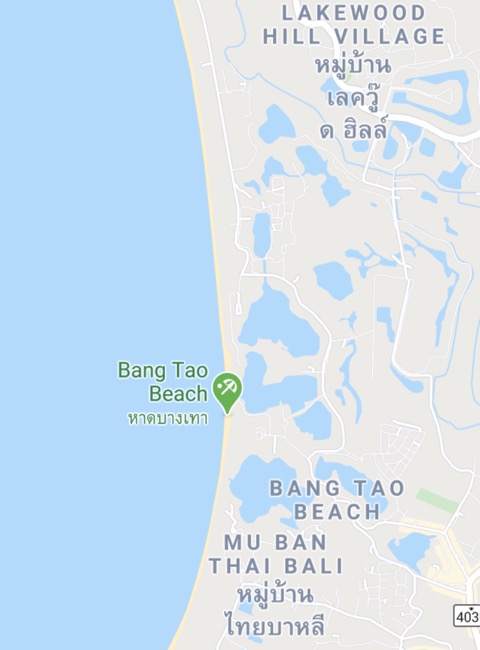 Bang Tao is one of the longest beaches on Phuket Island and the Laguna complex is one of the most up-market areas on the island. It said that there are lots of possibilities to access the beach, and there are numerous lounger areas and beach-side restaurants. On the Web you can easily find very compelling photographs, such as the ones below.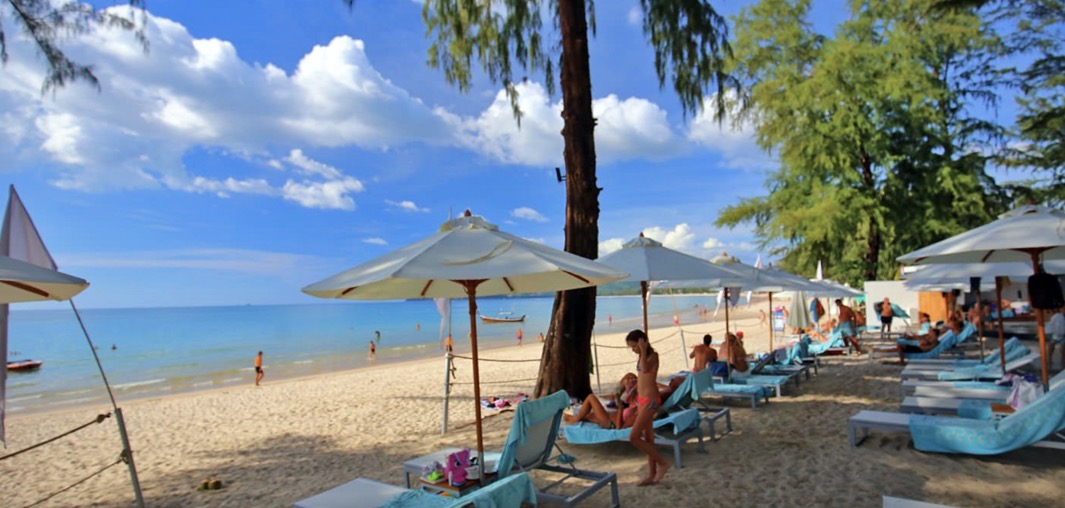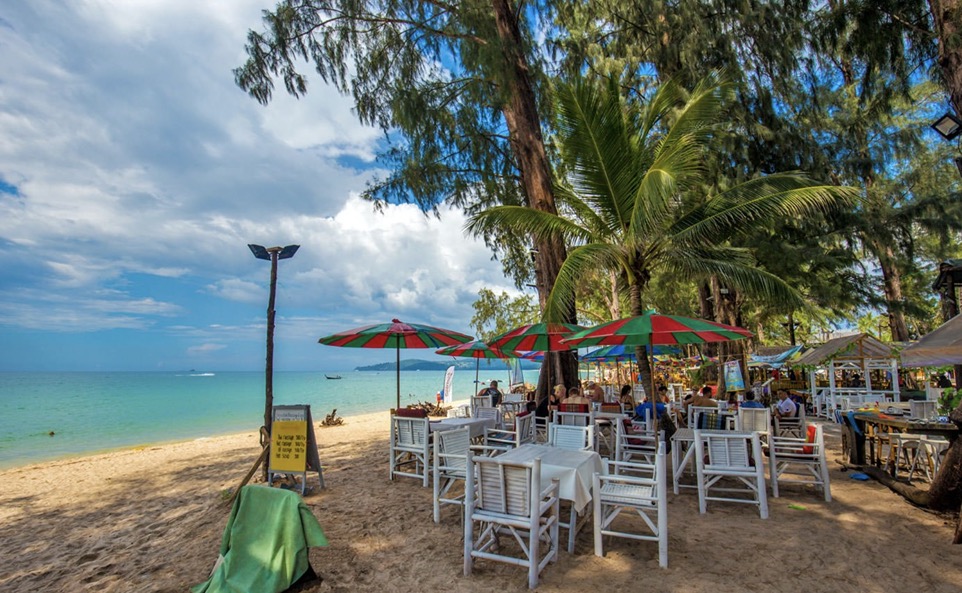 These places are said to be further south than the Outrigger resort, but I'm not convinced that they are still there. When reading about Phuket beaches, start by looking at the date on the piece.

From May 2014 Thailand was ruled by a military junta, but in 2019 there was a new general election. One of the things they did in summer 2014 was to send in soldiers to remove some beach vendors and dismantle illegal structures (massage huts, food stalls, …). They also tried to clamp down on prostitution, and prevent robberies, bag snatches, etc. The idea was that beach vendors could only occupy a part of a beach (e.g. up to the tree line) and were only allowed a limited number of loungers and umbrellas (often only one row). Everything was to be properly packed away in off-hours, and no cooking was allowed on beaches. One of the problems was that resorts themselves had also encroached onto the beaches. In many cases even permanent structures were demolished.

People have said that many of the restaurants and bars that you find in various villages, etc. were created when the owners were forced to leave the beach areas. Now since 2019 the different vendors, etc. have started to creep back onto the beaches. You can see small food stands appearing and loungers taking up more and more space. According to many reports the one thing you must do is try the beach massage, and the one thing to absolutely avoid is the jet-ski scam. We avoided the scam, and the massage.

Looking again at the wonderfully virgin beach area of our hotel, the first things we noticed was that the loungers and parasols were different and most of the loungers occupied. It's true that they maintain a decent distance to the sea. Our routine would be to go to the beach about 11:30, and find it reasonably crowded. But we could always find a couple of loungers in the 3rd or 4th rows. We would pick up our towels from the beach kiosk, nod to the security guard, and get ourselves installed.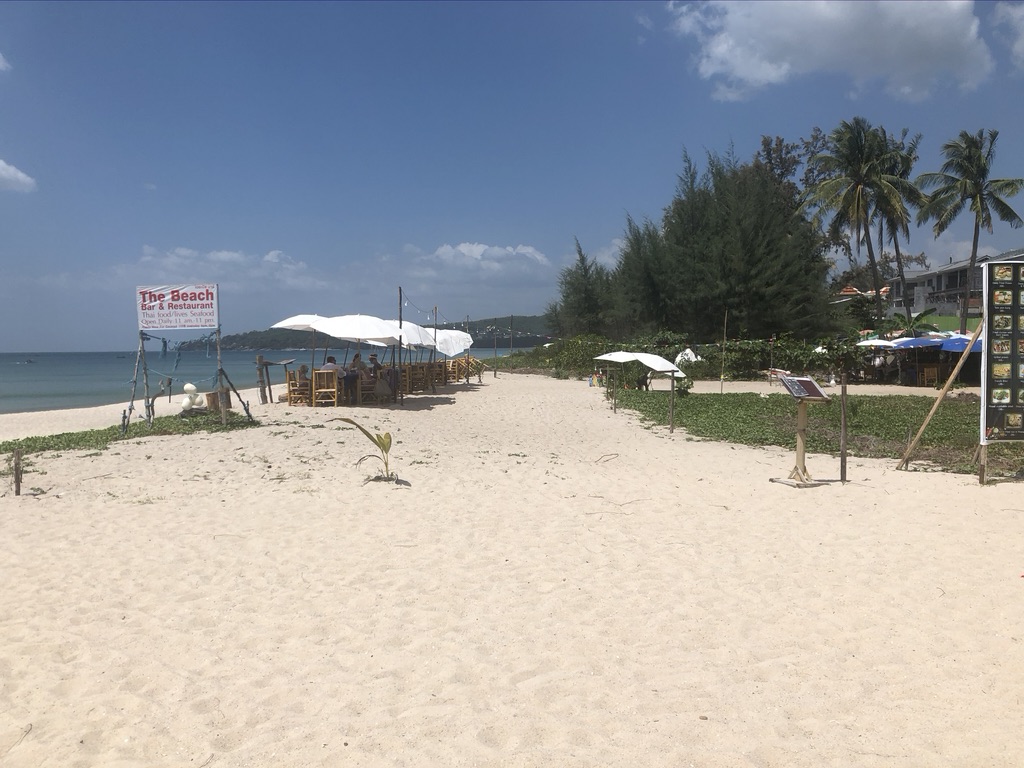 Looking to the right (direction North) we could see a small 'market' of beach stuff, drinks, etc. The most important people on the beach are the women who go back and forth offering food and drinks. Each is well protected from the sun, and each carries at least one panel or board with a list of what's on offer. You may initially be suspicious, but they provide a real service, The resort does not service the beach, and so these ladies will provided you with drinks, food, etc. at what some might consider exorbitant prices, but quite reasonable considering the circumstances. For example, if you order a small bottle of water you will pay 50 Baht (the cost in a supermarket is 12 Baht). But they will bring it to you ice cold and protected in a small thermal bag. If they know you, they might even bring it in a small plastic bucket filled with ice. Like I said, a true service, and certainly worth the 50 Baht.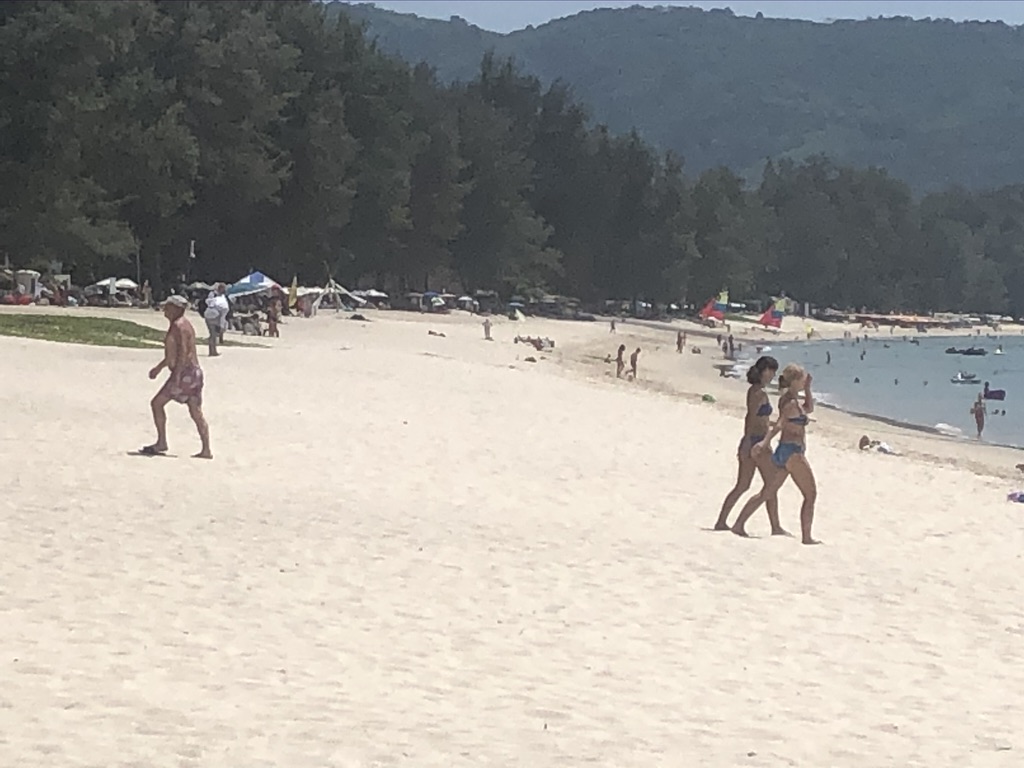 Looking to the left (direction South) you can see firstly the beach massage tent, and then the long line of shanty 'kiosks' under the line of trees. Each is trying to sell beach clothes, food and drink items, or jet-ski and/or boat trips. You can walk down to the tsunami warning tower, and see all the car parked. Bank Tao has at least 10-15 roads that provide official access to the beach, and who knows how many other unofficial tracks.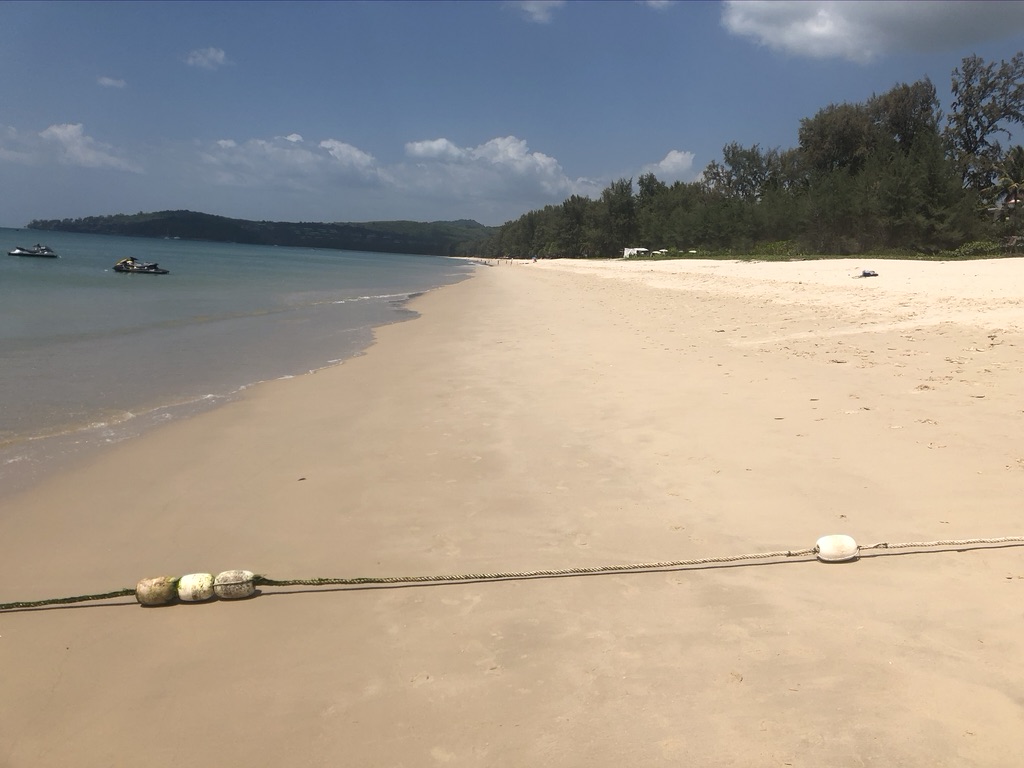 I must admit that looking further North along the beach it rapidly became almost uninhabited, simply because that were no major hotels on that part of the coastline. But it makes for an idyllic photograph.

The beach 'experience' will be entirely different if you are in a resort with beach access, or if you just drive to the end of a road and hope to find loungers and food and drink at discount prices.


Is Angsana Laguna a real 5-star resort?

I've clearly stated in the introduction to this webpage that the
Angsana Laguna Resort is not a 5-star resort, but more like a nice 4-star Club-Med
.

My starting position was that the type of accommodation, the practicalities of the breakfast experience, and the overall quality of the site, makes Angsana Laguna look like a mid-to-up-market Club-Med. I could not see enough 5-star qualities, so my subjective view was that the Angsana Laguna was a nice 4-star resort.

But of course this statement much depends upon what the definition of 5-star is! Or for that matter what a 4-star resort means, or even what's the difference is between a 4-star and 5-star 'experience'. And remember, we are talking about a resort in Thailand and not a palace in Paris.

Let's just think about the
difference between an urban hotel and a beach resort
. A urban hotel should be both practical and try at the same time to reflect something of the cultural and history of the place. Whereas a resort is a place for romantic or family based holidays, and it should try to provide a unique location-sensitive experience. In both cases location is important, but resorts must also be judged by their outdoor spaces and their leisure and sports options. The key is that the purpose of an urban hotel and a beach resort are fundamentally different, as someone said, an urban hotel is a place to stay when you are away from home (i.e. a residence), whereas a resort must be a "
home away from home
". People will usually try to spend as little time as possible in an urban hotel, in many cases staying there is just a business necessity. But that should not stop some urban hotels trying to deliver a 'luxury experience'.
On the other hand, staying in a resort is one of the key attractions of a vacation package. The resort should captivate the visitor, and in some ways it must be a hotel with more 'bells and whistles'. An urban hotel might have a pool, but a resort will have three. An urban hotel might have a fitness centre, but a quality resort must have a spa. One will be near the metro or airport, the other will be on the beach. 'Practical' is a key word for an urban hotel, but part of the appeal of a resort is that it is not necessarily a practical, rational choice. Location is important for both, but it is 'everything' for a resort. A 5-star resort must be the ultimate, luxury experience, in the right location. You might decide that the urban hotel was a 'good choice', whereas the resort must deliver a 'memorable experience'.

So what makes a 5-star resort for us? What did we want, and expect?
First we wanted a resort that was a gated, secure place with quiet areas, and access direct to the beach. We wanted it to be near interesting cultural attractions, and to offer a view of a different lifestyle. We liked the idea of a resort spread over a large natural and picturesque area (i.e. the lagoons), and where there was plenty of space to relax. We would have preferred not to have a resort dominated by package tours. We expected that a 5-star resort represented the highest standards in luxury and comfort, and be designed with stylish interiors and impressive outdoor areas. Rooms should be spacious, impressively furnished, and designed for the long-term stay. We were not too interested in glitz or bling, but we expected lush vegetation, the use of rich local materials, attractive high-quality fittings, and all finished with just a delicate touch of over-the-top luxury. We were not too worried about food options, but liked the idea to indulge in the tastes of local cuisine. The idea of a spa and wellness options was attractive. We certainly checked for the recognition of past guests, e.g. testimonials, reviews, etc.


For example:-
On Expedia our resort scored 4.3/5 and only about ½ the reviews rated it as a 5/5 experience
(
Expedia, Orbitz and Travelocity all offered identical reviews)
Booking and Hotels both gave our resort an 8.6/10
Tripadvisor gave our resort a 4.5/5 but rated it only 17th out of 48 hotels in the region. Only two resorts in the region looked like they really consistently delivered a 5/5 experience (Trisara and The Chava Resort), which was to be expected given the prices.


Initially I tried to set aside the issue of cost, value-for-money, etc., and just look at what the Angsana Laguna Resort claimed, and see if it delivered on those claims.
Interestingly the hotel
website
makes no claims about a star rating. But it does tell us that there are pristine beaches, warm white sand and a 300-metre free-form pool. The resort is supposed to be close to Phuket City but offer the tranquility of a tropical island. Rooms are "
perfect for your needs
" with chic interiors, colourful styles and laidback luxury. There are endless dining options, and there is a spa and wellness.

So what would make Angsana Laguna Resort a 5-star resort, or for that matter a 4-star one?
The
Booking
website does not really help. Firstly it tells us that it's a 'fabulous' 5-star, beachfront resort. Then it mentions 'world-class service' in a 'modern tropical getaway'. The rooms include a 40" flat-screen TV, Sealy bed, luxurious pillow menu, and free bottled water. A number of local attractions are mentioned, along with dining options.
In the description of the room there are practical elements that might be expected of a 5-star room, e.g. hot tub, terrace, A/C, safety deposit box, ironing facilities, sofa, desk, coffee machine, electric kettle, TV, telephone, minibar, parking.
The description of the hotel includes a long list including daily housekeeping, dry cleaning, business facilities, 24-h security, free shuttle service, shops on site, and spa and wellness services.


Assessing this resort is all about
quantity versus quality
. The resort has most of the things you would expect from a 5-star resort, but the level of quality did not meet the same standard.

For me a 5-star resort must transmit in every way a sense of luxury, at a level that matches or exceeds what we enjoy at home.


The decor should be more than just appealing, it should have a coherent signature style and have a touch of the grandiose. The level of service at all times must be of the highest level. A 5-star hotel should be visibly luxurious and all equipment should be of outstanding quality and be impeccably well maintained. Furnishings should be outstanding, highly comfortable and stylish. It is not sufficient that a 5-star hotel is in the right location, it must also provide the ultimate, luxury 'memorable experience'.


Does 4-star or 5-star have a well defined meaning?

The first problem is that I've not been able to find a clear set of 'star' classification criteria for hotels in Thailand. In fact, as far as I can see there is no international standard for 'star' ratings. The World Tourism Organisation tells us that the US assesses 199 criteria (and uses a Diamond rating), whereas Germany has 270 criteria but only some are mandatory. Portugal has a self-assessment system with 139 criteria, and the UK has a voluntary system with 498 criteria. Also the importance attributed to different features of a stay will vary. In Europe the bedroom counts for 25% to 32% and the bathroom for 12% to 18%. Services are important as is the front desk and food & bar. But globally the bathroom often counts for more (10% to 21%), and services, front desk, and food & bar, count for a little less.

So we need to set some criteria to determine if a hotel has a 4-star or a 5-star rating. This way we can look 'objectively' at what Angsana Laguna offers.

Let's start with the bedroom. We would expect a 4-star or 5-star hotel
bedroom
to always have the following:-
Electronic key access
Coordinated furnishing and decor
Telephone with external line
Desk, work table, chair, and desk lamp
Quality bed/mattress (100% cotton)
Good lighting options
Wardrobe (with min. 10 hangers)
Seating
Bedside tables and a reading light by each bed
Internet connection
Enough power sockets
In-room heating
TV+services (e.g. children's programs, international news, sports and movie channels)
Luggage rack

We might expect of a 5-star bedroom:-
Additional 3-4 sqm (often 40 sqm is used as a standard for a 5-star apartment)
Larger bed
Artwork on walls
Sofa and small coffee table
Adjustable A/C
Minibar with fridge and local brands, plus expresso coffee machine
Wall safe
Full length mirror
Pens and note pad
Blinds to fully darken room
Two pillow per person
Bathrobes and slippers
Trouser press
Umbrella and shoe horn
More power sockets
Lighting in wardrobe

A 4-star or 5-star
bathroom
can be expected to have:-
Decent sized
en suite

Bathroom amenities and toiletries
Bath rug
Several towels per person
Good lighting over wash hand basin
Waste bin
Mirror, plus power socket near mirror
Ventilation
Vanity mirror

We might expect of a 5-star bathroom to also have:-
Separate WC
Hairdryer
Stool
More amenities and toiletries
More towels

A 4-star or 5-star hotel can be expected to have the following
facilities
:-
Lift access to all floors
24-hour front desk
Lounge or lobby area
A/C in public areas
Parking or valet parking
Luggage storage
Accept international credit card
Accessibility options for guests with reduced mobility (in addition to legal requirements)
Front-line staff in uniforms

In a 4-star resort you would expect a swimming pool


We might expect of a 5-star hotel:-
Porters
24-hour valet parking
Concierge
Sporting facilities
Gift shop
Adapters available
On-line booking service in all major languages
Secretarial service
Staff with name tags

In a 5-star resort you would expect a pool service, and almost certainly a spa


A 4-star or 5-star hotel can be expected to have the following
food & beverage
options:-
Room service
Bar in the lobby area
Breakfast

We might expect of a 5-star hotel:-
Dinner services
Room service breakfast
Room service beverage offer
Lunch service
24-hour room service
One food outlet should operate for at least 18 hours/day

A 4-star or 5-star hotel can be expected to provide the following
services
:-
Fax & photocopy service
Wake-up calls
A-Z hotel information
Internet in pubic areas
Public phone in lobby
Guest PC in public space
Shoe shine service/machine
Daily cleaning and change of linen on request
Message delivery services
Business centre
Money exchange

We might expect of a 5-star hotel:-
Laundry services (same day)
Ironing board & iron
Daily newspaper available
Ticket and transport services (e.g. shuttle, airport service)
Turn-down service
Staff covering more languages
Guests should be accompanied to their rooms
Hairdressers.

Clearly you would expect all hotels to provide a safe, functional and well maintained infrastructure. You would normally expect 4-star and 5-star hotels to have appropriate local decoration in both common areas and bedrooms. A 5-star hotel should be able to accommodate all guests for breakfast, i.e. no waiting. A 5-star hotel should also offer speciality restaurants and private dining options. Both 4-star and 5-star restaurants should use linen, good quality glass ware, chinaware, and cutlery/flatware. Both 4-star and 5-star hotels should have a conformable outside space, including terraces, gardens, or roof gardens. All 4-star and 5-star resort-style hotels should have swimming pools for both adults and children, and a health club (gym).

Many criteria are simple to measure (e.g. have/have not), but others can be quite subjective. For example, the
decor
of a 'normal' hotel should be appealing, but you would expect a 4-star hotel to have an impressive decor, and a 5-star hotel to be grandiose or have a signature style.
You would expect a 'normal' hotel to be well maintained, and for any machinery to be in acceptable and safe working order. A 4-star hotel should impress you, have equipment of excellent quality and everything should be well maintained. Furnishings should be excellent and be comfortable. A 5-star hotel should be visibly luxurious and all equipment should be of outstanding quality and be impeccably well maintained. Furnishings should be outstanding, highly comfortable and stylish.
The gardens of a 4-star hotel should be reasonable big, impressive to view, nicely landscaped, and well tended. The gardens of a 5-star hotel should be also be big and impressive, but the maintenance should be pristine.
In terms of service, a 5-star hotel should have friendly, multi-lingual staff that are never too busy to answer clients question, are able to solve immediately a clients problems, and can dedicate time to interacting with clients.

There will be also a lot of other 'hidden' criteria that go towards 5-star excellence, e.g. how waste is recycled, water management, standby generators, site security, treatment of food stuffs, staff canteen, salaries & healthcare, training, etc.