Phuket - Renting a Car and Driving
last update: 09 May 2020


Our New Year trip for 2020 ran from late January 2020 to mid-March 2020 and involved 8 nights in Dubai and 43 nights in Phuket.

According to Wikipedia Phuket Province covers an area of nearly 600 square kilometres, and includes Phuket Island and 32 smaller islands around its coast (Phuket City is the capital of province).

As far as I can tell Phuket Island is about 48 kilometres long (North-South) and about 21 kilometres wide (East-West). So it's just a bit smaller than Singapore.

In our booking we had included a pick-up and drop-off for our hotel, so would we need a rental car?


Renting a car in Phuket

Initially I could not make up my mind. We would be staying for 43 nights, so a rental car might be a good idea, but possibly just for a few days.

You need to know how to drive on the left, and have an
International Driving Licence
(which I obtained from my local automobile club). The quality of driving is said to be very poor, and Thailand is one of the most dangerous countries in the world to drive in (ranked 9th). A rental car gives you freedom to make self-drive tours, but it will just sit in it's parking slot when you spend the day on a beach or take a full-day tourist trip somewhere. A rental car can help you escape your hotel and find lower restaurant prices in a nearby village.

Some people see a rental car like others see running water, a daily necessity. Many people really enjoy the possibility to visit different beaches and to drive to the local village in the evenings.


People suggest that the rental car will pay for itself when the cost is set against the price of an airport-hotel round trip in a taxi. Even if taxi prices are considered high on Phuket, this is almost certainly not true. The cost of a taxi from a round-trip from the airport to our holiday resort was 1,400 Baht, whereas our rental car cost about 850 Baht/day. On top of that we arrived at about 20:15. So starting a vacation by driving in a place you don't know, in dense traffic, on poor roads, at night, when you are tired, may not be the best idea.


We finally decided that it would be a good idea to pre-book a car but only for a part of our stay.

Naturally Google provided us with a starting point, e.g. ads and recent reviews on rental cars in Phuket. The first decision was to go for a sub-compact or compact. We pre-booking about 4 weeks before our visit, and a simple check on prices once we had arrived in Phuket told us that we had done the right thing. We were in Phuket in the high-season and at the start of the Chinese New Year, but a very un-scientific check appeared to show that prices had nearly doubled over those last four weeks. On top of that, it was said that some of the companies at the airport actually can run out of cars during the peak-season.

Some, so-called 'independent' reviews, suggest keeping with the recognised international rental car brands, other equally 'independent' reviewers, suggested that prices were more competitive with the small 'street-corner' companies.

The argument for the international brands is to avoid 'bad surprises', and if you book early you can get the class and model you want. A 'bad surprise' is linked to how well the insurance 'kicks-in' in case of an accident. Another issue is that smaller, local companies have better prices, but the cars are older and possibly not well maintained.


Running a comparative check for a 1-week sub-compact rental (4-door, automatic, A/C, pre-pay) from Phuket airport, produced the following result.
Using two different international comparison sites, prices ranged from 4,550-8,950 Baht (that's $149 to $293), and from 4,280 to 6,950 Baht. And using the 'no-name' Car-2rent the price range was 4,915-5,220 Baht (€146 to €155).
Doing a check for a Toyota Yaris or Mitsubishi Mirage yielded a price of 5,425 Baht on the official Europcar website, 5,092 Baht on an international price comparison website, and 4,915 Baht on Car-2rent.
Following through on the above example, the real question was about what was included in the price quoted on the Internet?
The Europcar offer was inclusive of tax, Basic Collision Damage Protection and Basic Theft Protection (each with an excess of 9,000 Baht). Excluded were Super Collision
Damage Waiver
(2,247 Baht per rental), Super Theft Protection (1,123 Baht per rental),
Personal Accident Protection
(1,123 Baht per rental) and fuel.
The international comparison website offer mentioned for the same car with Europcar the same basic protections, plus a free additional driver and a local SIM card. They offered, through RentalCover.com, 'full' protection for another 3,628 Baht, and mentioned in addition cover for windows, mirrors, wheels & tyres, and breakdown charge.
Car-2rent included for 'free', Collision Damage Waiver, Theft Protection (the Basic package offered by Europcar), and included Third Party Liability with a maximum coverage of 1 million Baht. In addition Car-2rent offered a third-party additional insurance through AXA. This insurance means that you have to pay the different additional charges in case of damage or accident, but then can claim the costs back from AXA. The limits were for the security deposit (3,000€), roof (600€), windows and windshield (800€), floor pan (500€), tyres (100€ replacement or 50€ repair), roadside assistance (300€), with a maximum compensation of 3,000€.


Reading through the different reviews, etc. we felt that Europcar might just have the edge in terms of service and car condition. One reviewer noted that prices were more or less the same for international and the larger local brands, but it looked as if, on the day, Sixt, National, and Hertz were offering the best prices on sub-compacts. There were as many negative comments as positive comments for companies such as Avis, Hertz, etc.

Some solid advice concerning insurance, was to always be covered for collision, third party liability and theft. We were asked to leave a security deposit in the form of a authorisation on our credit card for 9,000 Baht. We also noted that it was always advised to bring the car back full, otherwise there is a heavy surcharge.

The best independent advice I could find was to count on about 1,400 Baht/day for a sub-compact or compact, and to add an additional 500 Baht/day for the high season. Lower prices could come with an older car, or with a reduced insurance package.

I found three different types of offers. Firstly, the internationally known companies, and secondly, the local Thai companies. You can find both at the airport and in Phuket City. Thirdly, you can find resellers, who appear to offer very good discounts (ca. 20%) on cars from one or other of the international car rental companies. After tracking though a multitude of options I ended up with
Car-2rent
.


Every time I book a rental car I am certain that I'm paying too much, and that a better deal is 'just around the corner', but I didn't find it.


Two of the most irritating things I found were:-
Firstly, some companies did not provide a fixed price for what I was looking for, e.g. I got a 'call this number…'.
Secondly, I tried a number of rental periods, and some companies refused to offer me a price for more than a certain number of days. In one example it was over 30 days, and in another it was over 24 days.

There are a lot of things you need to check
when collecting the car
:-

Read the contact (many are available online)

You must return the car with a full tank (you pay more for the refuelling)

Check to see if there is a limit on the mileage (excesses can be very high)

Don't return the car late (you can be charged an excess)

Make sure the car looks good, is clean, has lowish kilometres, etc.

Before taking the car, make a full inspection outside and inside (take photographs and a video)

Make sure the rental company indicates all the defects, etc. that you have identified

Check the license plate, the tread on the tires and if they are fully inflated

Check the engine cavity, and the trunk for the tools, etc.

Check the glove compartment for the manual, etc.

When returning the car, go through all the same checks.
Completing the booking

I decided to go with the offer from Car-2rent plus the AXA extra coverage. The actual car was from Europcar.
I received an 8-page voucher from 'CarTrawler'. It provided me a complete summary of the hire contract. Included in the price with taxes, airport fees, breakdown assistance, unlimited mileage, the Basic Collision Damage Waiver, the Basic Theft Waiver, and the third Party Liability Protection. As described above the full damage and theft insurance were excluded as were the 'extra insurances' as provided by AVA through CarTrawler.
The voucher also explicitly stated that I would need to have a full driving licence, and International Driving Permit, a valid credit card for the deposit, a valid photo ID, and
a printed version on the voucher
.


Car pick-up in Phuket Airport

I went to International Arrivals at Phuket airport (Level 1). Technically it is a closed area, but they will allow you to enter for the rental cars.

The people on the Europcar desk were very quick and efficient. They did not ask for a printed version of the voucher, nor my International Driving Permit. They wanted my passport, the deposit guaranteed with my credit card, and my national driving licence. I picked up the receipt and within 5 minutes I was outside waiting for the car.

The receipt told me I was paying 857 Baht/day rental (€25.45/day).

The exit from Level 1 is I think exit 6, the nearest side entrance. There is a smallish waiting/parking area. The car appeared within 5 minutes and I was invited to inspect the car with one of the Europcar valets. The car turned out to be a silver grey 4-door Yaris with 36,000 kilometres.

First appearances can look deceptive. The car looked in excellent condition, clear and without any major damage. Inside it looked new and clean. But going around the car with the Europcar valet we found a total of 17 scratches, dints, defects, etc., including two damaged hubcaps and a collection of scratches on the hood.
I photographed and videoed the damage, but sometimes it was difficult to take a decent image on a silver surface in full sunlight.
Inside the car the condition looked very good, and I checked that the fuel tank was full. Once I had accepted the car I check the operation of the A/C, wing mirrors, radio, etc.

In Europe the kind of external damage would not be accepted for a rental car, but all things considered I felt pretty happy with the car.


Driving in Phuket

If you trawl through the web the essential advice for drivers in Phuket appears to be:-

Driving is a high-risk activity in Thailand, it's one of the most dangerous countries to drive in.

The highest risk is with scooters and motorbikes.

Drive defensively. Drive slowly, and leave lots of space between you and the next vehicle.

Scooters can pass you on both sides, cars will change lanes without indicating, and they can U-turn on some streets.

If you have an accident involving someone else always call the police, and always get a report. One report mentioned that it's best to call the tourist police on 1155 (and ambulance on 1554).
Driving from the airport to the hotel

The key thing is get settled in. I took a comfortable driving position, adjusted the mirrors, etc. I also set up Tomtom GO on my iPhone (I had already fixed my hotel as 'home').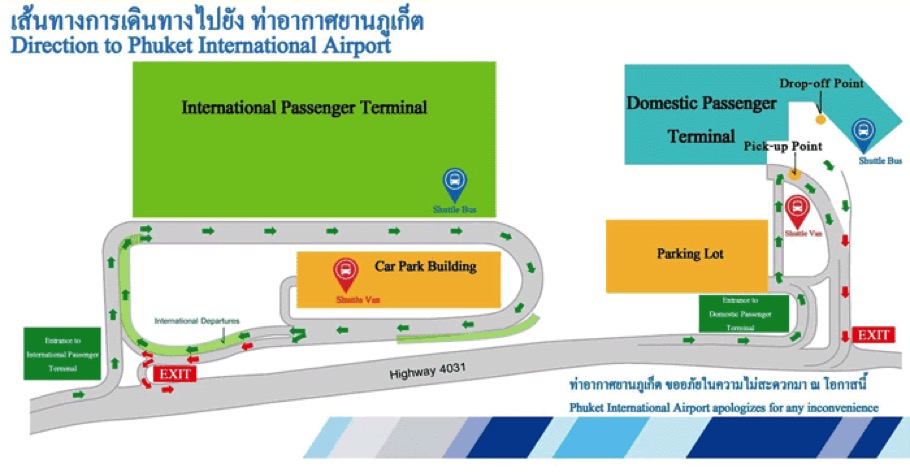 You can't see the exit and parking on the above plan, but its situated to the right of the International Passenger Terminal (so between the green and blue boxes). Coming out of the parking area I needed to be careful to ensure that, driving on the left, I came out on the Highway 4301 going to the right in the above diagram.

Unfortunately my TomTom told me that I was going in the wrong direction and needed to take a U-turn. Now U-turns in Thailand can be a bit of a surprise for a European driver. Generally we see signs saying no U-turn, but in Thailand the U-turn is a perfectly valid and accepted option.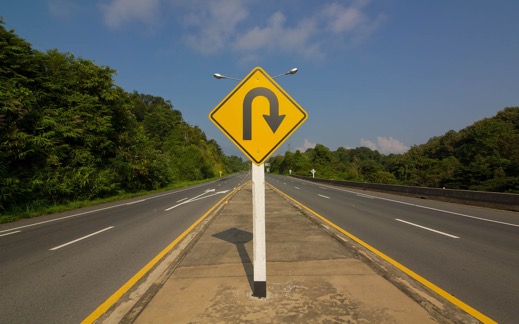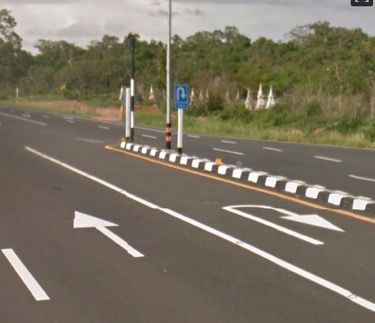 You have to pull into the right-hand lane, and wait until a space appears in the on-coming traffic. It might look dangerous, but in fact I think every driver knows how to deal with it in a civilised manner.

The U-turn is really useful, but looks a bit dangerous. When we were out driving, there was almost always at least one U-turn somewhere. As you can see above it's signposted, and there are lane markings. The above photo is a very simple example, but often they are more complex. I will run through one particular U-turn we had to take every time we went somewhere.
You need to move over into the outside lane. Always indicate well in advance. This was important because there was usually a lot of traffic and you needed to get into the right lane about 800 metres before the U-turn (i.e. before it was marked on the road). U-turns always have a specific lane, but they can take two different forms. The first is where the road widens to add the extra slip lane. The second is that the existing lanes twist to create an additional slip lane, within the same road width (e.g. using the space or 'hard-shoulder' on the drivers left-hand side).
In our case there was an extra slip lane, which you should NOT take. If you look at the above photograph you will see that when you make the U-turn you will cut across the on-coming traffic, even if there is a slip road on the other side to help you re-enter the traffic flow. So in this case what they do is to put a series of bollards blocking the U-turn lane. You are now forced to stay in the 'fast-lane' and out of that slip-lane to make the U-turn. But the good thing is that once you have made the U-turn you have not cut across on-coming traffic and you are nicely in the outside lane so you can re-join the traffic flow safely. There are a couple of additional points to note. Firstly, cars on your left (remember your driving on the left and are in the fast-lane) will also try to cut across and make a U-turn in front of you. Secondly, and more dangerous, is that scooters and motorbikes are not stopped by the bollards, so they will use the U-turn slip lane and you might not notice them. When you make your U-turn, and are looking at on-coming traffic you might not see a scooter on your right trying to make the U-turn in front of you.
The simpler U-turn just involves a short slip road on your right, and then you will need to cut across on-coming traffic. The key here is to realise that scooters and motorbikes are also in the on-coming traffic, and travel faster than you think. You might think you have enough time to make the U-turn, but then find a scooter having to swerve to avoid you.

Now we will look at another type of U-turn. This is where the U-turn slip lane is created by twisting the existing lanes. The lanes twist to left, creating a space for a slip lane within the same width of road. They are essentially squeezing the shoulder lane on your far left. The same things happens on the lanes of on-coming traffic. You need to move over to the outside lane to be ready to take the slip lane for the U-turn. Always indicate well in advance. What you will be doing is to make your U-turn into a slip lane that will later merge back into the flow of on-coming traffic. Someone in front of you maybe trying to do the same thing as you, but in the opposite direction. The U-turn will be tight and you need to be careful. You can't do such a tight U-turn and you will inevitably run out into the on-coming traffic. So you need to give yourself plenty of space.
This U-turn may sounds simple, but it's not. Let's assume you are not taking the U-turn. Your road will twist to the left to create the U-turn lane, and it will also create the slip lane used by vehicles wanting to join your road. You will often see cars, etc. waiting to make the U-turn and join your flow of traffic. Some will do this properly, some will not. So you have to be very cautious. In addition there maybe the option for those making a U-turn to actually drive straight across your road to an exit on your left. And finally any scooter or motorbike looking to take the U-turn could be on your left, on your right, or in front of you. And if they are not in front of you, they might suddenly appear out of nowhere.
Finally there is one last possibility. Sometimes you will see that no one is trying to make a U-turn in front of you, and the slip lanes are empty. This is an ideal opportunity for the idiot behind you to overtake you in the U-turn slip lanes. Yon need to be always looking in your mirrors on both the left and right.

So back to my drive to the hotel. Taking a 'simple' U-turn I got back onto the 4031 going in the right direction, and my TomTom was ready to take me to my destination.

I did notice two specific things about my particular rental car. Firstly, the steering was a bit soft, and secondly, the brakes were very good. My biggest problem was switching on the windshield wipers instead of the indicator, but this problem only last 10-15 minutes.

My approach was to keep to the left-hand lane where possible (the slower lane), give plenty of space to the car in front, and watch 360° for scooters and motorbikes. I made one mistake when I did not get into the right lane early enough to turn right. Frankly, most of the drivers appeared to be driving perfectly normally. In the 27 kilometres to my hotel I notice only two cars clearly being driven dangerous (i.e. speeding and jumping lanes). In addition I did not have too many problems with motorbikes, and nothing even mildly dangerous. However, I did notice that some drivers tended to ignore motorbikes, and gave them very little space when overtaking. I also noticed that the cars behind me left me a reasonable space. Initially I thought that this might be because all rental cars should have green number plates. However, my number plate was not green, and there were local cars which had green number plates.

I mentioned that drivers left me a lot space. I later saw that this was actually not true. Driving in the 'slow' left-hand lane you are mixing it with all the scooters and motorbikes, etc. and there are few cars. Everyone appears to leave a bit more space because they are not sure what the person in front will do, e.g. turn left, overtake a scooter, break for one reason or another, etc. When I realised that it was actually better and safer to drive faster in the 'fast' or outside lane. You always had to be careful to look out for those who will tailgate you because there's a lot of traffic or because they want to get past. And everyone is perfectly happy with 'undertaking' slow cars who won't move from the outside lane.


Driving from the hotel to the 'Central Festival' shopping centre and back

It was easy enough to work out that there were several large shopping centres in Phuket, all more or less near Phuket City. Our first target was the 'Central Festival' shopping centre, although it now appears to be just branded '
Central Phuket
'.

The first problem is that the address on the web is 74-75 Vichitsongkram Rd. Wichit, Mueang Phuket District, Phuket 83000. You can see it on Google Maps, but the address was not known on the TomTom. Luckily Soi Vichit Songkram came up, and nearby I could see 'Central Festival Phuket'. TomTom has a nice feature in that you can touch on a place and it will use it as a destination.

There is also a TESCO Lotus Extra at 104 Chalermprakiat Ratchakan Thi 9 Road, Ratsada, Mueang Phuket District, Phuket 83000. So it was on the same road as the 'Central' shopping mall, and less than 2 kilometres from it. However, again TomTom did not recognise the address. So again it was a question of hunting around until I could find a 'target' and then programming it in 'My Places'.

The drive to the 'Central' was uneventful, however the drive back was more interesting. Leaving 'Central' at about 16:45 and driving away from Phuket City there was a lot of traffic, and lot's and lot's of scooters and motorbikes.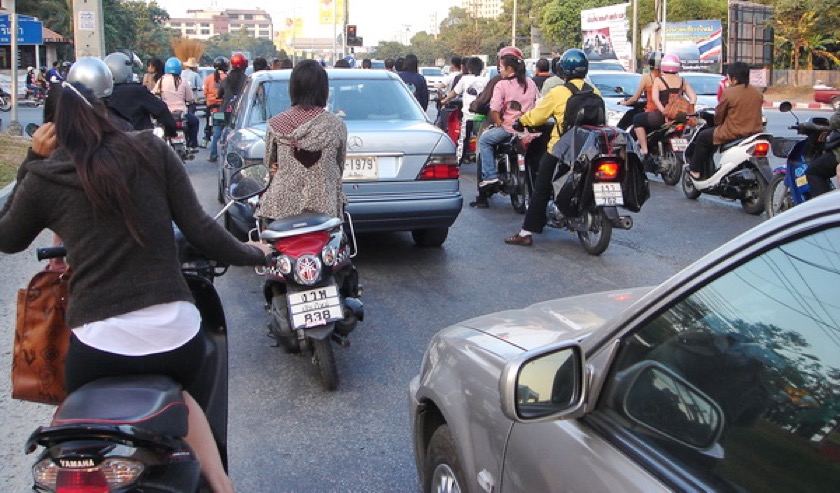 There were so many scooters and motorbikes that they can cause their own traffic jams and accidents, since there is only so much room left between you and the curb and the gap between you and the next car is only so big. The closest near-accidents I saw were between two scooters both wanting the same space to under-take on the left. However, at the same time I felt everyone was driving with a heightened sense of attention to other road users.

When driving on highways and some other roads, you can see several lanes. Highways might have two lanes plus a third, and some single-lane roads might have something that looks like an addition lane on the left. Below we can see what most Europeans would take as a hard-shoulder designed for emergencies. In Phuket its possible to see this lane being used by scooters and motorbikes (thus passing on the inside). It might be used by people turning left, by people parking, etc., and in many ways it looks like, and is used like, a valid driving lane. But often the traffic in that left lane was slower. Initially I tried where possible to stay out of this lane but keep in the slower of the remaining lanes. Late I understood that by driving just a little faster I could keep in the outside lane, which I felt kept me further away from scooters, etc. and thus safer.


I tried to always drive without deviating from my line, etc. making it easier for others to predict what I might do. I would always indicate in plenty of time, and change lanes slowing (checking in all my mirrors).

Generally I found Thai drivers of cars and scooters quite courteous, and certainly not out to kill themselves or others. Some motorbike riders appeared more prone to risk taking, possible due to the idea that they have the horsepower to get out of trouble. For me the biggest risk takers were those not wearing helmets, or with passengers not having helmets.

One person I saw had his helmet between his knees on the petrol tank of his scooter. Others had helmets, but their children didn't. You will see quite often scooters carrying three people. Frankly the worst drivers on scooters or motorbikes were manifestly tourists.

In our trips to the shopping malls we only saw police on the road three time. Once it was two policemen on a scooter checking a shop. The other time it was a group of police standing on a side street and stopping everyone on scooters and motorbikes and checking their documents. The third time it was police stopping everyone on scooters and motorbikes on a main tourist road. You could see people turning back and riding away in the opposite direction because they did not have their documents or were not wearing a helmet.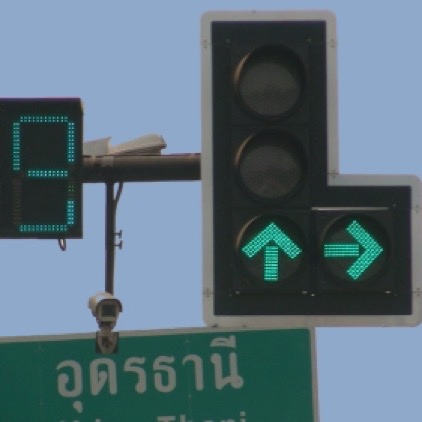 One interesting situation occurred in front of the following type of traffic lights. I was going to turn right, and I had moved into the right-hand lane. I was in front of the queue, waiting for the light to turn green again.
You can just see the number 9 to the left of the picture. Many of the traffic lights in Thailand have a two-digit seconds counter, with red counting down, followed by green counting down to when the traffic lights will change again to red.
You do have to be careful because traffic lights can be before the junction, on the junction, or over the junction.
At my junction the first interesting point was that when the lights turned red, only the drive-straight arrow turned red. The turn-right arrow was just blanked-out.
Initially whilst our traffic light was red, the lights for oncoming traffic clearly had stayed green. Now all the traffic on my left-hand side (i.e. traffic not turning right) simply continued to drive straight on through the red traffic light. In Europe this would be against the law, but in Thailand I think this is allowed, simply because everyone drove straight-through.
At one moment in time oncoming traffic stopped and the traffic from my right took priority. The straight-through traffic on my left allowed priority, but nevertheless was ready to continue to drive through, given the chance.
Finally my light turned green, and I could turn right. Fortunately a few scooters and motorbikes had taken up position in front of me, so I just followed the pack. Fortunately so, because a 4x4 in oncoming traffic had decided to turn left. They took their 'priority', and the fact that the scooters and motorbikes gave way warned me to do the same.

Also it appears, as in the US, that you can turn left if it's free, even against a red traffic light. This does mean moving into the left lane, which might not exactly be a lane in the full sense, and it might be occupied by scooters and motorbikes under-taking, so you need to be very careful.

I do wonder about what Thai traffic law says about this type of junction, but I'm pretty sure they say that a red light is a stop.



Driving to see the Karon View Point and the Big Buddha

This trip from Bang Tao Beach to see the Big Buddha, via Patong Beach and the Karon View Point, brought home how hilly Phuket Island is, and how the road infrastructure is in poor condition.

Firstly, the navigation program gave our predicted average speed at about 50km/h, but the reality was that you would be hard put to average much better than 30-35km/h. In part this is due to traffic, and in part due to the difficult road conditions (surfaces, pot holes, etc.).

Phuket is the most dangerous province in Thailand for road accidents, and according to some reports Thailand is 2nd in the world with 44 road fatalities per 100,000 people, just behind Namibia on 45. I've read that Thailand is the 1st for road fatalities on motorbikes. It is said that traffic accidents are the second biggest killer of tourists, after drug overdoses. The number of deaths from road accidents on the island is around 280 annually. Almost certainly the biggest cause of accidents for tourists is drink-driving at night while driving a scooter or motorbike without a helmet. Also scooter or motorbike riders are vulnerable on the roads, and lorry and bus drivers in Thailand have a bad reputation.

It all starts with obtaining a driving license. It's been stated that you need a one day training course, a written test and a driving test lasting about 10 minutes to get a driving license in Thailand. I'm not sure if this is true. Many people claim that Thais drive too fast. Firstly, most of the roads I drove on had an 80km/h speed limit, and it looked to me that most people respected that limit. However I did notice that Thais tailgate almost all the time in the fast lane, perhaps aiming to stop people jumping into spaces left between vehicles. In addition to the road conditions, I personally think that they (Thais and tourists) are less respectful of road signs, stop light, etc., and I'm not sure that the U-turn and rules concerning turning left at red lights are the safest options. You also see so-called 'ghost-riders', people riding up a road the wrong way so as to avoid having to go on and use the next U-turn.

If you drive defensively I think you can get around on Phuket Island without too many problems, but you can clearly see moments when an accident could have occurred, but didn't. Every one of these moments is an invitation for increased caution. And I cannot understand why Thais will ride scooters and motorbikes without a helmet, yet if you look carefully they have one on their lap or between their legs. And you often see adult Thais riding with children in their lap or on the pillion seat without any helmets or protection. And I might add, these comment are as justified for Thais and tourists, women and men.

It appears that they put the helmet on only when they see the police. In our trip to the Big Buddha were saw two police roadblocks. You know they are there because you see Thais stopped on the side of the road putting on their helmets. You also see some turning back because they don't have any papers, etc. In addition, no one wears protective clothing, so if the accident is not fatal then the corporal damage will probably still be extensive.

As one person wrote, "drivers worldwide are idiots, it is how a nation handles this idiocy that make the difference". The same person noted that the number of road traffic collisions between different countries is not a big as people tend to think. Fatalities are often also linked to how accidents are managed by the police, etc. and how people are treated immediately after the accident (e.g. speed of intervention, professionality of ambulance crews, time to get to hospital, efficiency of hospital emergency departments, etc.). Some Thais have an even more cynical view, and affirm that poor people (those who often have to take their kids to school on an old scooter) can't change things. They concluded "even if we die for no reason, our lives are worthless".

However, for the sensible law-abiding tourist who drives carefully, it is the hills (some people call them mountains) on the island that are probably the biggest hidden danger. The roads are exceptionally steep and winding, and the main problem are scooters and motorbikes. The roads can become treacherous for everyone when it has rained, but for inexperienced riders the road surface can act just like black ice.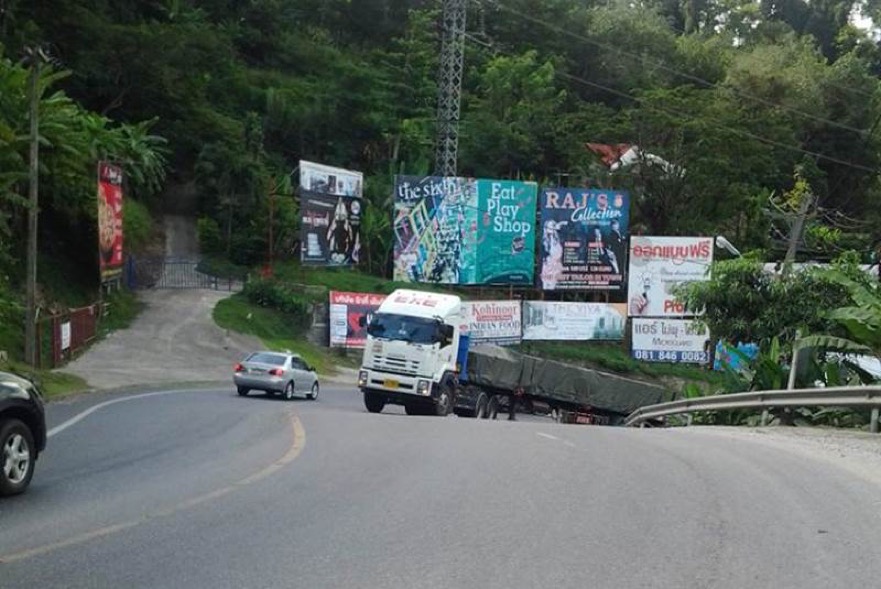 We did not have any problems on our trip, but you just have to remember that the road up to the Big Buddha has an average gradient of 6%, and in one part it's at 17.2%. On another road often called the 'monkey hill', the steepest uphill gradient is 25.6%, and the steepest downhill gradient is 22.2%.

I personally found when driving in Phuket that road 'cant' was sometimes wrong. My car's steering was a bit soft, but the brakes were really great, however I felt on corners that the camber of the road or cross slope was not quite right. For example, I had the feeling that on a bend the car would drift to the outside of the bend, and a very positive steering was needed to keep it on line. In a couple of cases I really felt that the camber was going the wrong way.

And my last comment on this webpage, is about potholes. In our drive to the Central shopping mall the roads were in a reasonably good condition, but during our drive from Bang Tao to the Big Buddha, we encountered a surprising number of potholes. Reading up on the topic I found that potholes have been a major topic in Phuket for sometime. One woman actually took a bath in one pothole, and there was a report of someone repairing their own potholes. I counted in excess of 20 potholes that needed much attention to navigate, and a couple of them could have easily damaged the car. So I close this webpage with a photograph of someone pointing to a pothole.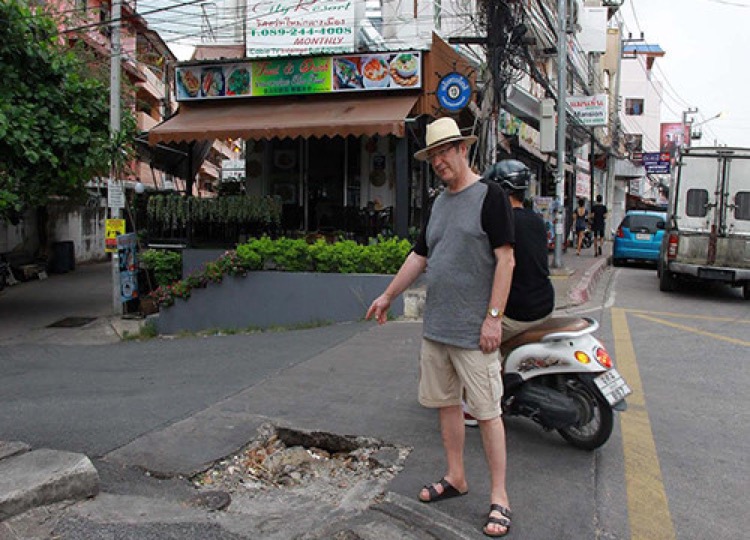 Drive safely….