London - Heathrow T5
last update: 20 March 2020

Our New Year trip for 2020 ran from late January 2020 to mid-March 2020 and involved 8 nights in Dubai and 43 nights in Phuket.

This webpage is a review of Heathrow Terminal 5 (T5), our landing terminal in London Heathrow and later the terminal for the return trip to our home airport.

Given that T5 is designed to handle 30 million passengers per year, someone once called the terminal "Britain's front door". So I've also included here a little review of the terminal architecture and construction.

You can also check out this 20 minute 4K video visit of T5, and this video looks at the baggage handling system in T5. There are also two videos, one on arrivals and the other on departures.


Landing in London

We flew into London on an
Airbus A320
, which was a short-hop
BA
flight landing in Terminal 5. Our next flight was to Dubai on an Emirates
Airbus 380
,
leaving from
Terminal 3
, so we had pre-booked an overnight in the nearby
Renaissance Hotel
(not a hotel we would
recommend
). Later we would leave on a BA
Airbus A319
from Terminal 5 to return to our home airport.


T5 arrivals - the practicalities

Frankly I'm not sure which was our arrival gate, but fortunately
we had a wheelchair waiting for us
. My wife had hurt her back, and we felt that the long walks, etc. inside airports like Heathrow and Dubai would be problematic. So we had pre-booked assistance. The guy who picked up my wife was fantastic. I know we took the '
rapid train transit system
' (TTS) and it took us directly to Terminal 5A, so we must have disembarked in Terminal 5B.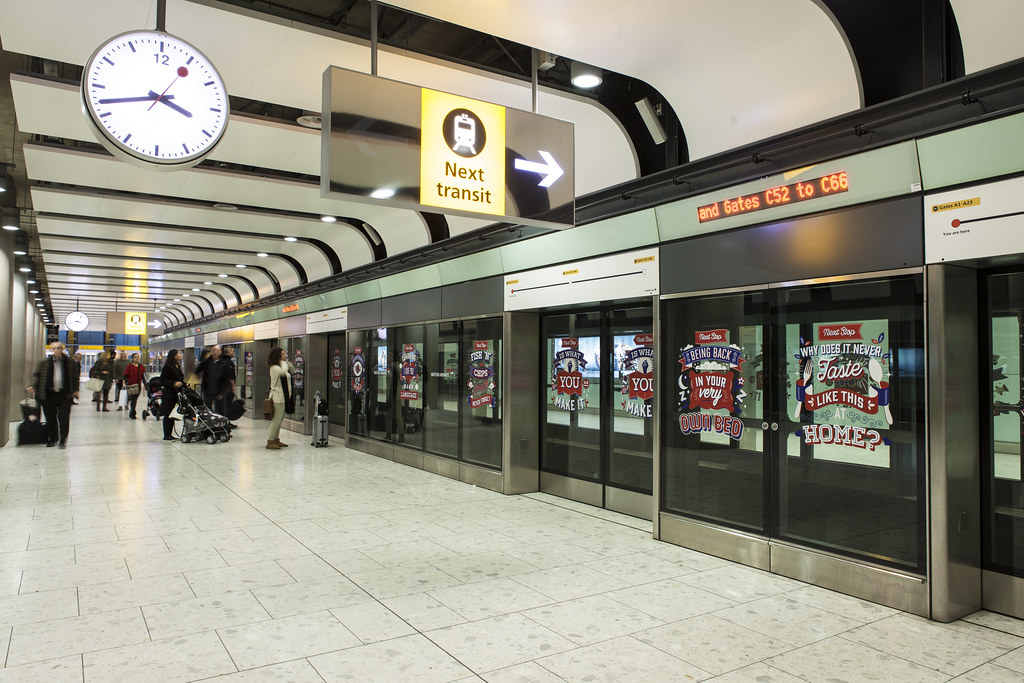 Our guide knew which lifts (elevators) to take, and there was a special line at immigration (UK Boarder) for assisted travellers, so we were through in minutes. Once past immigration we were 'landside', and now we just had to pick up our luggage.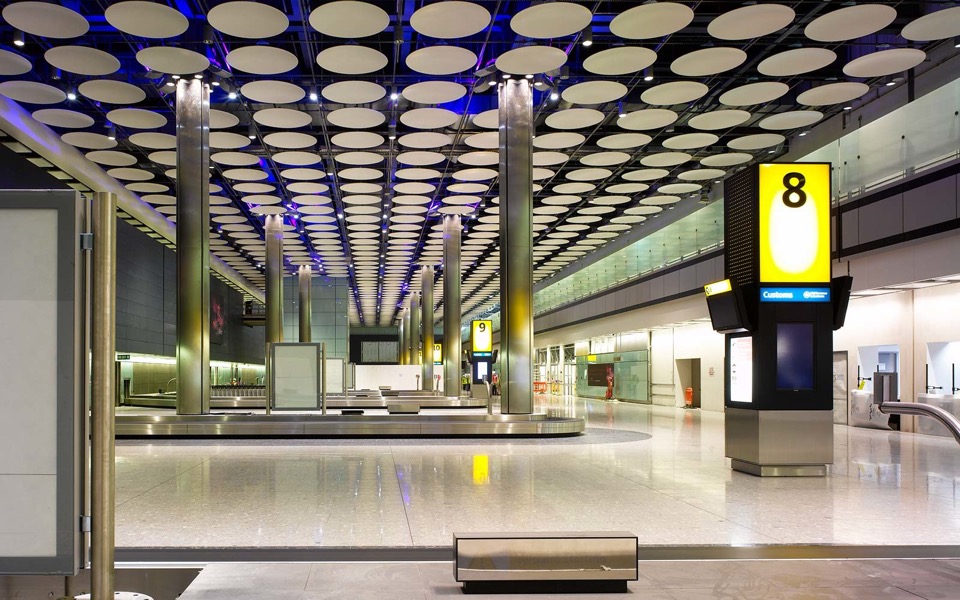 We had a few minutes wait but the coloured straps on our suitcases made it easy to spot them as they appeared on the carousel. Also our golf clubs came around at about the same time. I had booked a private pickup to take us to the hotel, and as we passed through the green 'Nothing to Declare' the driver was waiting for us.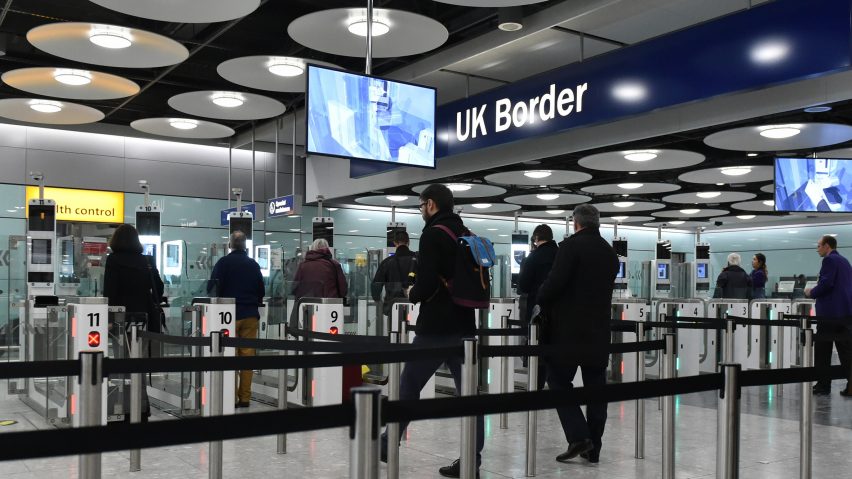 The guy with the wheelchair came right out to the parking. A perfect gentleman, and he refused a tip. The private pickup was expensive, but it was getting late and it was nice to get to the hotel quickly.

I can certainly advise anyone with mobility issues to ask for assistance. The distances are substantial and a wheelchair is a gift from heaven.


T5 departures - the practicalities
The last leg of our round trip to Dubai and Phuket was a simple hop from Heathrow Terminal 5 back to our home airport. We stayed in the Sofitel Heathrow which is connected to T5 by a walkway. It's a bit of a walk but we could find free trolleys. Someone with major mobility issues might struggle.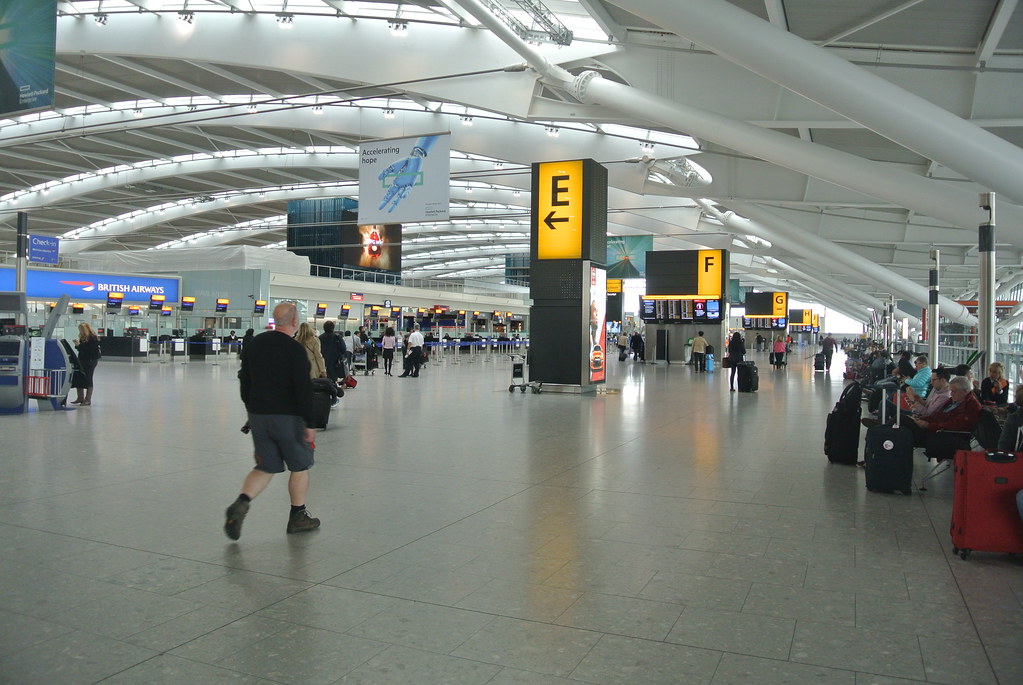 As you enter the departures hall you are immediately faced with a multitude of options. We entered near 'zone A' (on the far left) and right in front of us was an information desk. Frankly I'm not sure if these desks are in front of each entrance, and it could be that the desk was specifically for 'assisted departures'.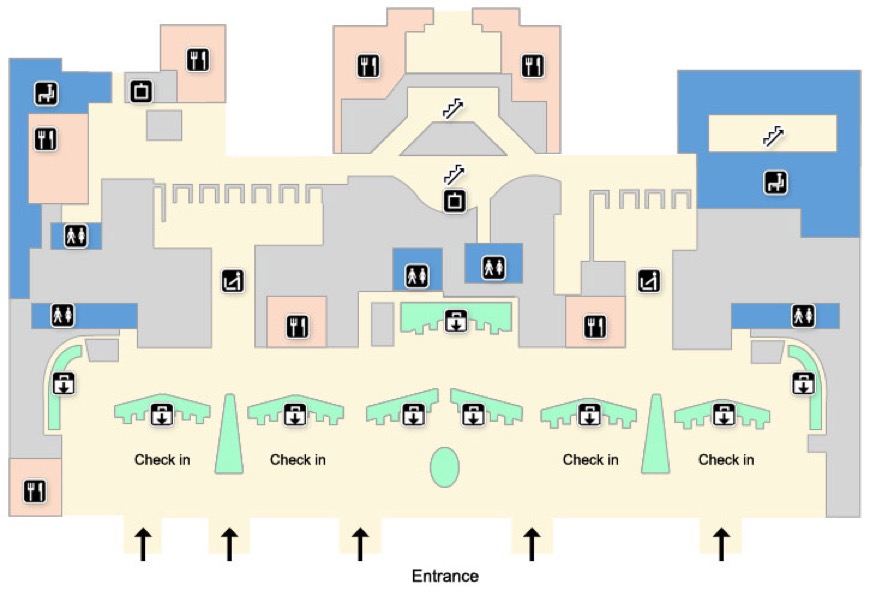 In any case it worked perfectly. The person obviously saw that my wife had a crutch and needed assistance. She immediately called over a wheelchair which took us to a special area (zone A) for assisted departures. In the above map it was the curved green area on the far left. There is a special check-in area for people needing assistance. I've read that there is a similar area for assistance near zone G.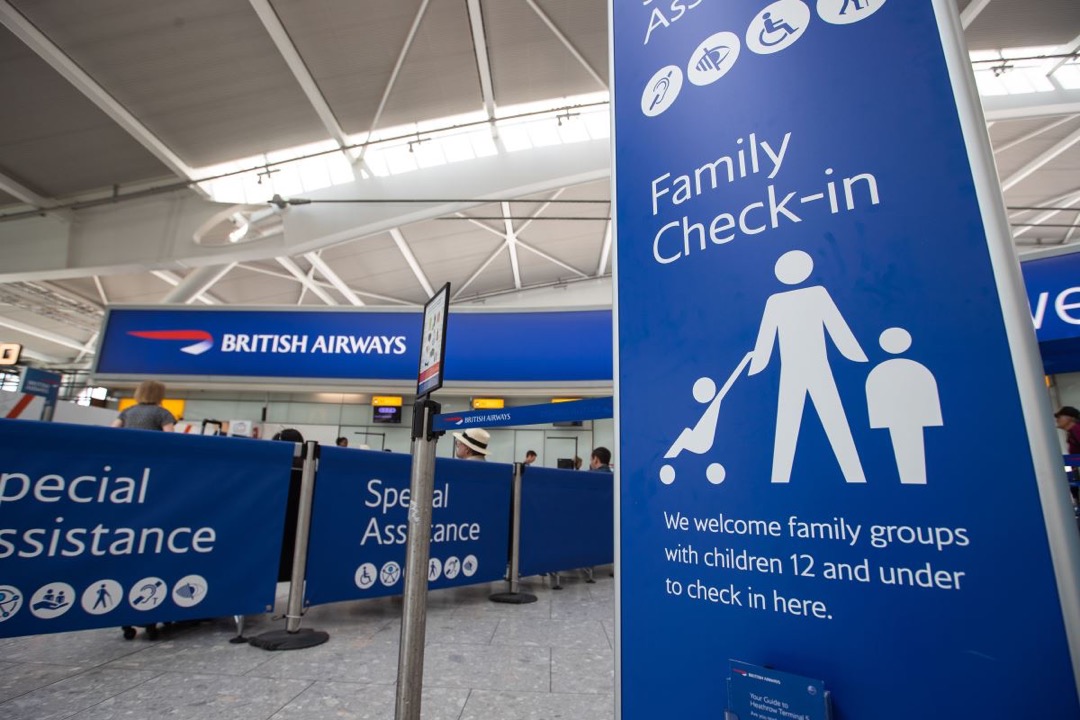 There is also a special area for families with children under the age of 12. You can check-in luggage on the spot. We had to drop the golf clubs off at a desk for over-sized luggage, but it was just nearby. The guy then wheeled us through passport control and security, before taking us up to the BA lounge. Again priority is given to wheelchairs, etc.

At the time it did not particularly register with me, but during security we went through a new type of portal scanner. They have been around for some years, but it was the first time I've been through one in an airport.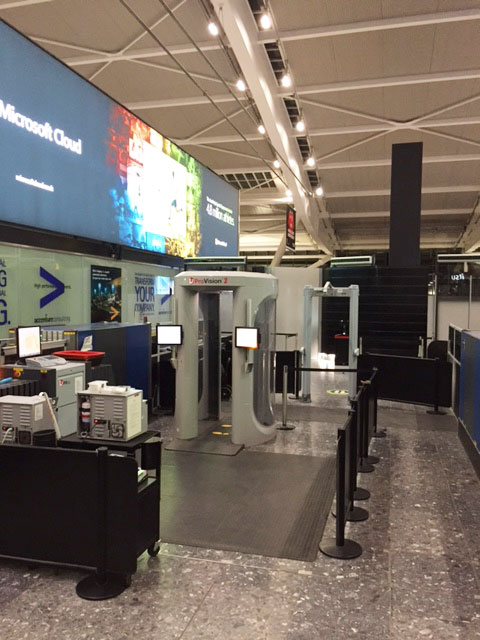 On the return flight from Heathrow to our home airport, we were subject to a full body scan. I had read that they were being used in numerous airports, etc., but it's the first time I've seen one. I had no option but to use it, without any indication that it was not a routine security scan. I suppose I could have refused and had a 'pat-down', but I've read that in the UK the passengers can not refuse the scan. I've read that the market for these machines is still quite small (ca. $120 million for 2021), meaning that they are not routinely installed everywhere. Secondly, there was no indication of the type of machine being used, e.g. millimetre radio-wave scanner (active or passive), or backscatter X-ray scanner. Was I checked with the later radio-wave model or the older backscatter X-ray model which is known to emit low-energy X-rays that can bounce off a passenger's body and increases the risk of cancer, particularly with the staff operating the machines?
The idea of the backscatter X-ray full body scanner is that low energy X-rays are used to penetrate through clothing, but most of the waves bounce off the skin surface. So detection is at the same side as the emitter, and the image is of objects hidden under clothing or taped to the skin.
The millimetre-wave (MMW) version uses part of the spectrum between radio waves and infrared waves. The waves pass easily through textile fabrics but cannot penetrate skin. In addition part of the thermal radiation emitted by the human body is also within the same frequency range, allowing so-called active and passive scans. The passive scan just uses the natural thermal radiation, whereas the active scan used the reflected signal from the millimetre-wave scan. There is also a sub-millimetre wave (SMW) scanner that produces higher resolution images, but with less penetration through fabrics. The reflection from the body is used to create a 3D image for the security check. They are faster and only require a single stationary position. It looks as if the one I saw (and 'used') was this type. Frankly, I'm not sure why they would use this for someone wearing a t-shirt and light-weight trousers.
More generally these types of scanners were installed in 2010 after security controls failed to detect someone who then went on to attempt a terrorist attack on a Northwest Airlines flight from Amsterdam to Detroit. At the time the use of these scanners generated some considerable controversy, still today there are questions about passenger privacy.

In the BA lounge they operate an interesting system for those needing assistance. We were taken to a special desk in the lounge, given a 'beeper', and then installed comfortably. The idea is that when the 'beeper' called we would go to the same desk to find the person that would accompany us to the gate.

This worked perfectly and about 60 minutes before take off we were accompanied to our departure gate. At the gate we found a so-called 'ambulift' waiting for us.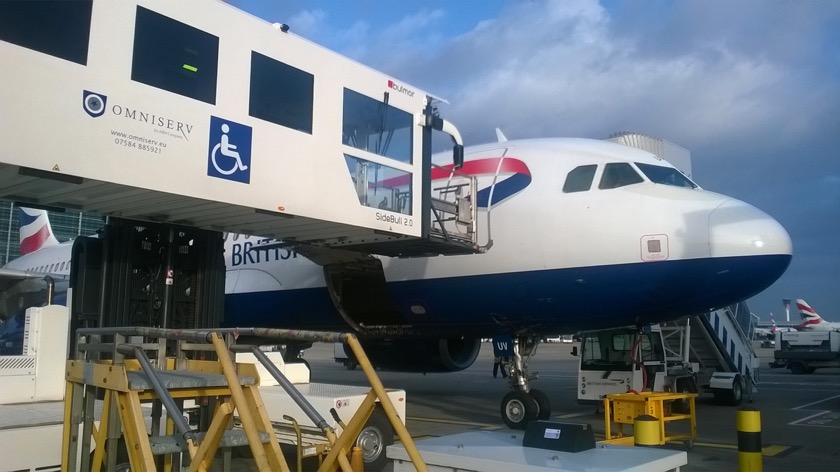 This is a special van that carries passengers and can lift them up to the front of the aircraft cabin door. It's used when the aircraft is parked on an apron and when passengers must use stairs to get into the cabin. With the 'ambulift' all you have to do is walk directly in to the cabin, thus avoiding the steps.


Heathrow T5 - a bit of history

Wikipedia has an extensive
history of Heathrow
, but alongside the official story there are a number of websites that
campaign against aircraft noise
from Heathrow, or who lobby against the
third runway
, or who believe that the
environmental impact of aviation
contributes to
climate change
.

Wikipedia also has an extensive description of
Terminal 5
, and Heathrow also has a
website
with more day-to-day traveller-oriented information.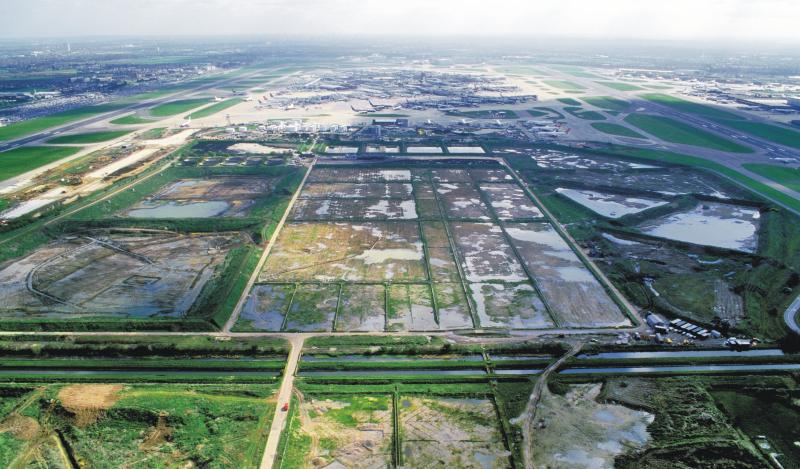 The land on which T5 was built was once the Perry Oaks Sludge Works, built in 1934 it was demolished in 2002.

Terminal 5 (T5) was opened on 14 March 2008. It was seen at the time as being particular innovating in both design and functionality (thus accepting a degree of risk and uncertainty). The initial opening was marred by a major problem of lost luggage and a failure of the luggage handling facility (apparently the fault of the IT system). It took 4 months to resolve the issues.

T5 was designed to be home for all of BA's domestic and international passengers at Heathrow. So it was designed to have an annual capacity of 30 million passengers and be compatible with the A380 airliner, the world's largest aircraft. T5 is in fact a large complex of buildings sitting on 260 hectares (i.e. the size of London's Hyde Park).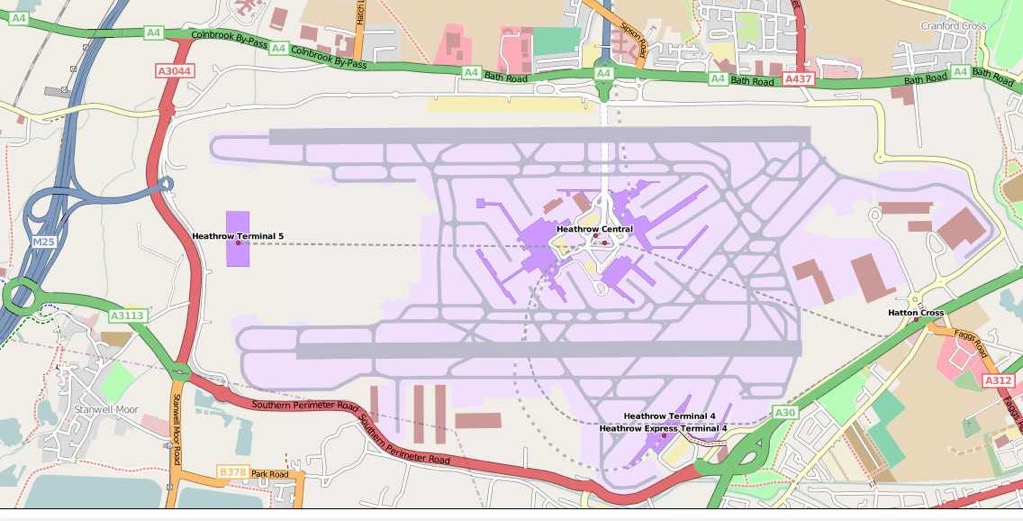 Above we can see T5 sitting between the northern and southern runways at the western end of Heathrow. The below diagram dates from 2009 (so some parts are still under construction), however you can see how T5 integrated into the entire Heathrow site.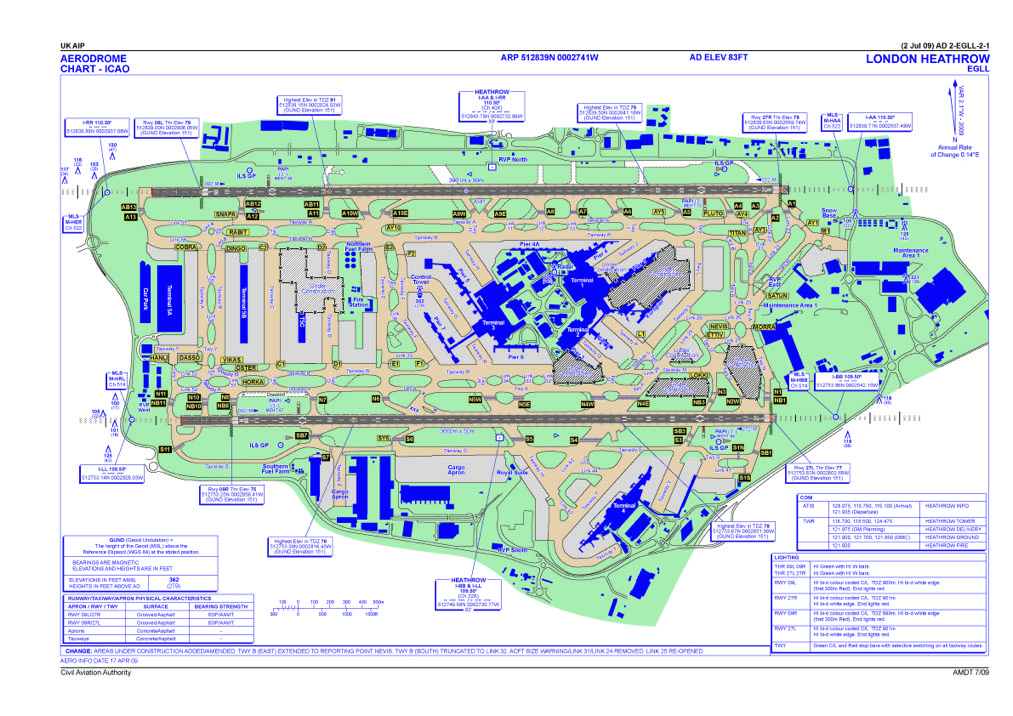 T5 actually comprises a large four-storey terminal building (T5A) and two satellite buildings (T5B and T5C), which are connected to the main building by an underground people mover transit system. So T5 has 62 aircraft stands. Additional airfield infrastructure, a 4,000 space multi-storey car park, a large hotel and an 87-metre high air traffic control tower make up the rest of the T5 site. An underground railway station with branches of the Heathrow Express and the London Underground's Piccadilly Line provides transportation to and from the centre of London. T5 also has its own road links to the neighbouring M25 motorway.

Planning for T5 actually began in 1986 and ended in 2001 when the project was granted consent to proceed with construction. This phase included the longest public inquiry in UK planning history, which lasted from 1995 to 1999. As a result of the inquiry, the project was subject to 700 restrictions, including the diversion of two rivers to meet tough environmental conditions. A budget of £4.3bn was established in 2003, but the final budget was nearer £5bn. At one point in time T5 was the largest building site in Europe.

Behind the scenes BAA (now called Heathrow Airport Holdings) decided not to use a fixed-price contract, and instead decided to accept the risks in building T5. Between 2000 and 2002 they had studied every major UK construction project over the previous decade that had cost £1bn+, and every international airport opened over the previous 15 years. The poor performance of such 'mega-projects' was always associated with fixed-price contracts designed to transfer risk and responsibility to a prime contractor, such as with the Channel Tunnel project. These 'mega-projects' experienced cost, time and quality overruns because of disputes and legal battles between clients and contractors over responsibility for scope changes. BAA's research found that no UK construction project had been delivered on time and within budget, and only a few of them had good safety records. Informed by a statistical analysis of airport projects, BAA predicted that without a radically different delivery strategy, the project would be £1bn over budget, one year late and result in two fatalities. The worst case scenario was 40% over budget, 2 years late and 6 fatalities. BAA's benchmark study identified poor systems delivery and integration (e.g. baggage handling) as one of the main reason why international airports failed to open on time. They also found that projects involving a high technology component were less successful. The risks of cost and time overruns associated with integrating new technology were minimised on T5 by the decision to use existing technology and mature products. Where new technologies were introduced, they were first installed, tested and proven in trial or operational environments, such as in one of BAA's smaller airports.

A good example of the need to be flexible and to be able to cope with design changes, was the fact that the specifications had to be changed to cope with the Airbus A380, which at the time was not fully developed. Two additional events also had considerable impact on the overall design, the first was the new safety legislation introduced after the deadly fire at Kings Cross Tube station, and the other was the new stringent airport security measures introduced following the 9/11 terror attacks.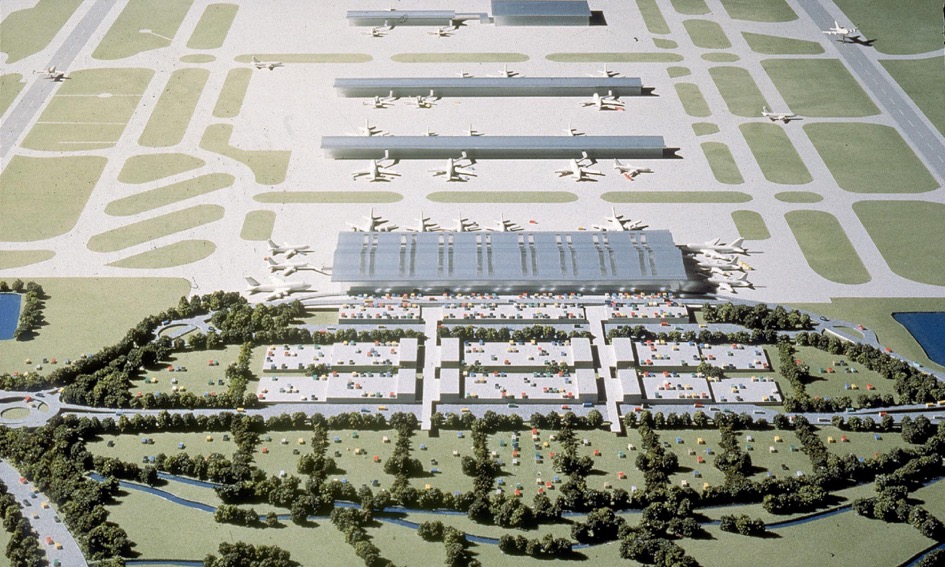 The main design activity started in 1989, when Richard Rogers Partnership won a national competition to design a new high-profile, iconic building with a 156 metre single-span "wavy roof" and a glass façade. The building is also 396 metres long, which makes it the largest free-standing building in the UK. Construction of T5 involved both the construction of infrastructure and buildings (July 2001 to March 2008), and the integration of systems and retail fit-out of the buildings (January 2006 to March 2008). In all there were 16 major projects and 147 sub-projects, with the smallest valued at £1m and the largest being the £300m extension of the Heathrow Express underground rail station. The construction phase involved a large network of suppliers including 80 first-tier, 500 second-tier, 5,000 fourth-tier, and 15,000 fifth-tier suppliers.

I've read that during peak construction there were 8,000 people on-site and monthly expenditure was in excess of £80 million.

A joint BAA and BA "start-finish" team worked for six months on systems testing and operational trials prior to opening, including 72 proving trial openings, each involving 2,500 people. Despite being fully aware of the possible risks that could occur during opening, the BAA-BA team were unable to prevent the major difficulties arising when it opened for service on 27 March 2008. In the five days after opening, BA misplaced 20,000 bags and cancelled 501 flights, incurring costs of around $31 million. The terminal achieved the first full schedule of operations 12 days after opening. A UK government report concluded that the chaotic opening could have been avoided through "better preparation and more effective joint working" between BAA and BA. A major cause of the problem was BA's decision to press ahead with the opening in the knowledge that its staff had insufficient training and familiarity with the terminal's facilities and baggage handling system.

So although they did have some problems when T5 opened for service, the project claims to have opened exactly on schedule, within budget and with a satisfactory safety record.


Terminal 5 architecture

When you are trying to get through border controls and security checks, or when you are rushing to a gate, you don't really stop to appreciate T5's architecture. But if you do stop, even for a moment, you can't but see the massive structural components.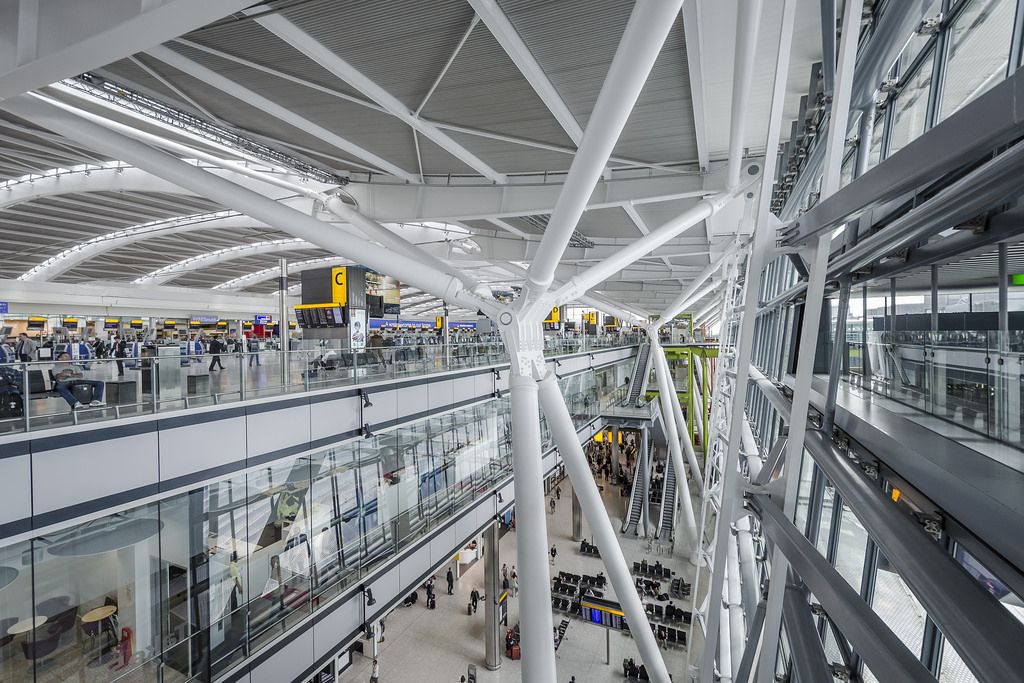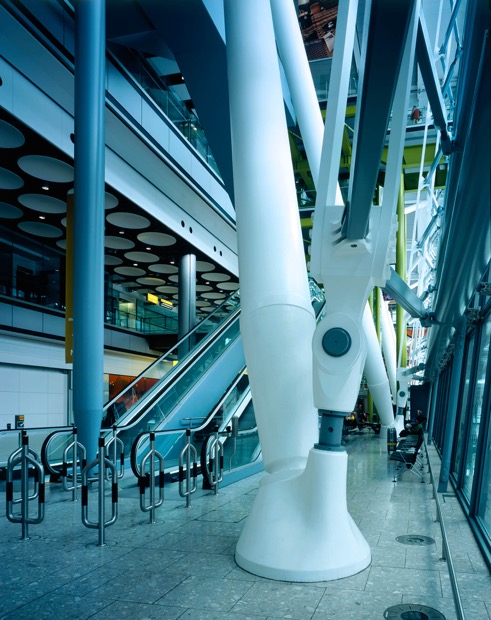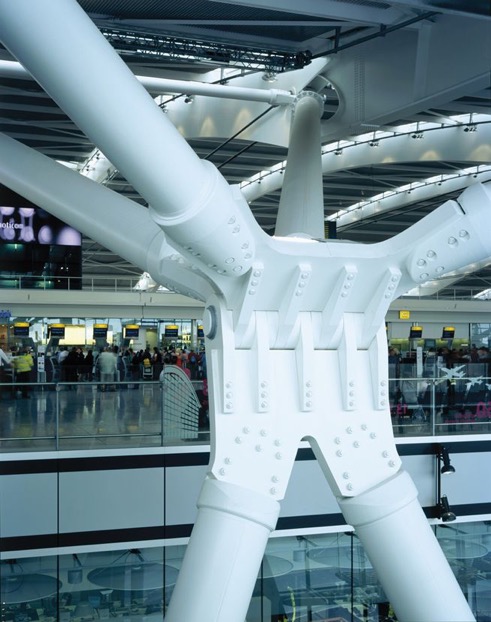 Do you ask why such a massive structure was needed? Probably not! But it's one of the most important questions to ask, if you want to know why T5 looks as it does.

The terminal owners, at the time BAA, wanted to create a building that would be architecturally stunning and provide a memorable experience for travellers. It's one of those things, if you get it right no one notices, but if you get it wrong you never live it down. So the idea was to focus on a big open space, natural light, simplified passenger circulation, shorter walking distances, and spectacular airfield views. There were constraints on the overall height of the building, in part because the building sits between two runways. But equally there were greenbelt considerations, and of course the roof had to resist likely wind variations, etc. The modelling of the overall roof design and performance was vital. For example, a 5 mm saving in the rafter flange thickness resulted in a saving of 800 tonnes of steel on the roof (on a total weight of 18,000 tonnes). Also it was decided not to hide the buildings engineering, but to highlight features of the structure as sculptural objects. Exposed welds, as-cast steel surfaces, and visible bolts all create a sense of scale and add 'texture' to the building.


So the 156 m clear span roof encloses a floor space of nearly 300,000 square metres. The shell of the building, along with all the columns and beams supporting it, is completely separate from the four floors it encloses.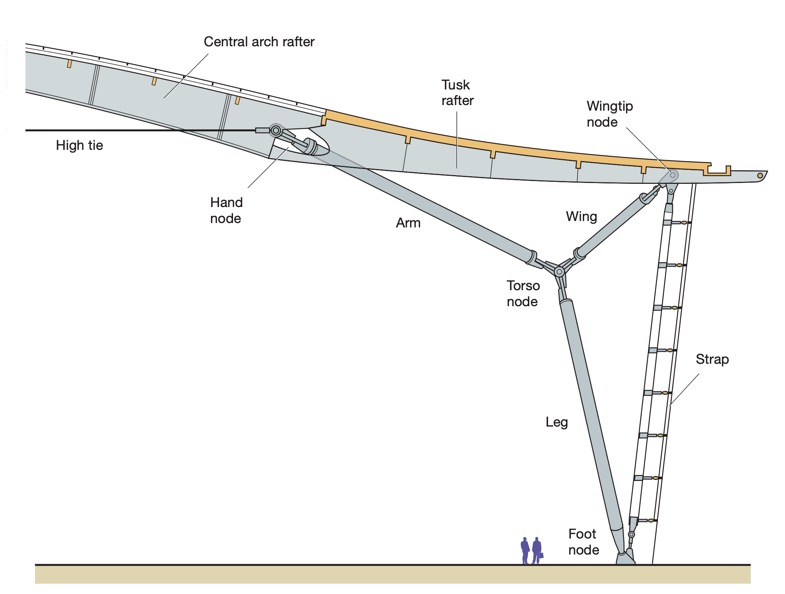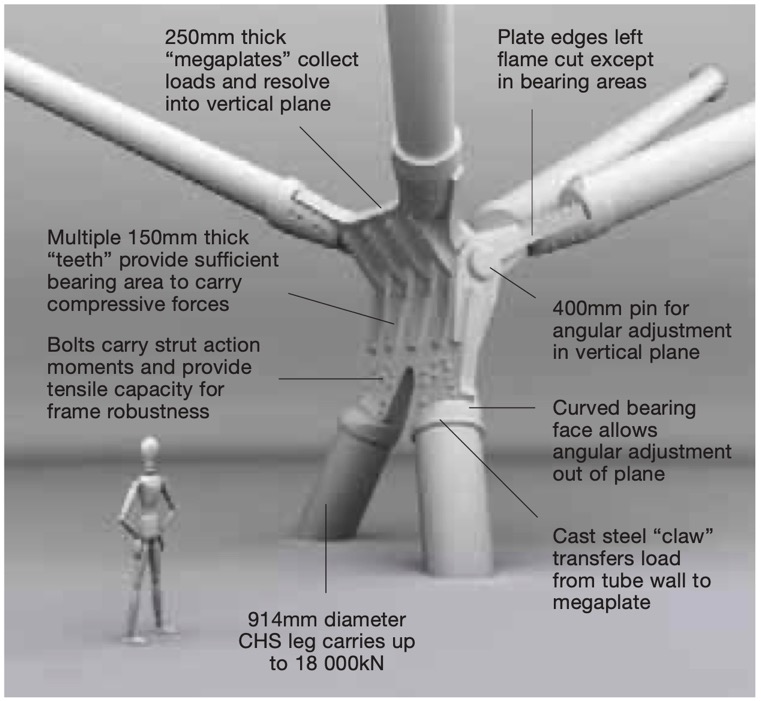 There is in fact open space all around the perimeter and across the top of the building, so you could completely demolish the interior four floors and rebuild without touching the perimeter walls or roof. Now you understand why modelling for the impact of wind was so important, since the roof actually moves under uneven wind loading. In addition there is a five storey basement housing the railway station and plant (e.g. baggage handling, etc.).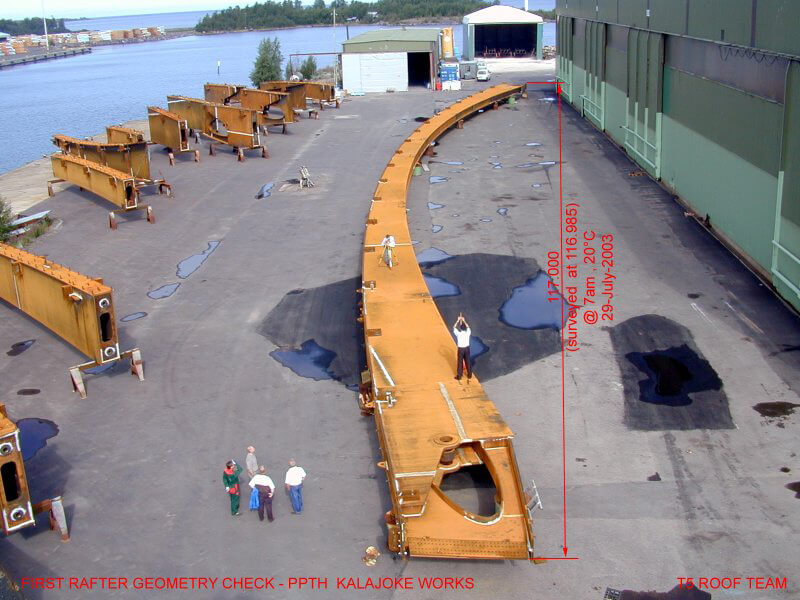 It might be nice to design such a clear-span roof, and create models to understand how the huge compression forces can be manages so that they don't buckle individual parts of the structure. But the next question was how to build it. This type of roof can't be built in-situ. It would be difficult to imaging lifting all the components into the air, bit by bit. So the central roof section was assembled, clad, and pre-stressed at ground level before being lifted into position using lifting towers and strand jacks. Below we can see the first roof section being pre-assembled to ensure that they are perfect for mounting on the construction site.

The central roof section became a self contained element once it had been pre-stressed by the tie cables, so it could be jacked up into place in one piece.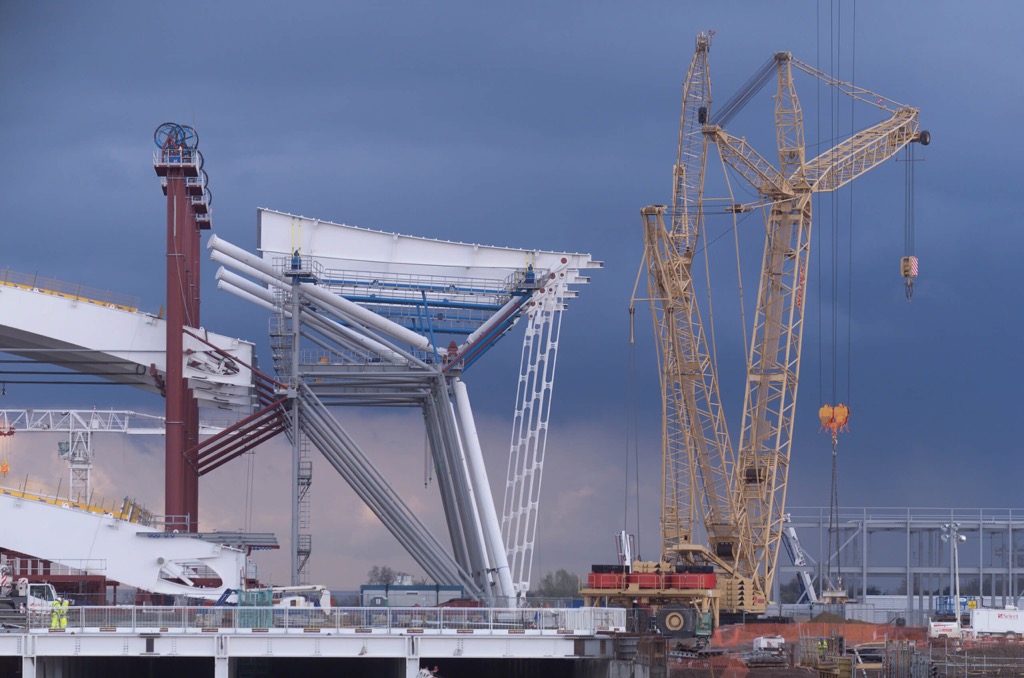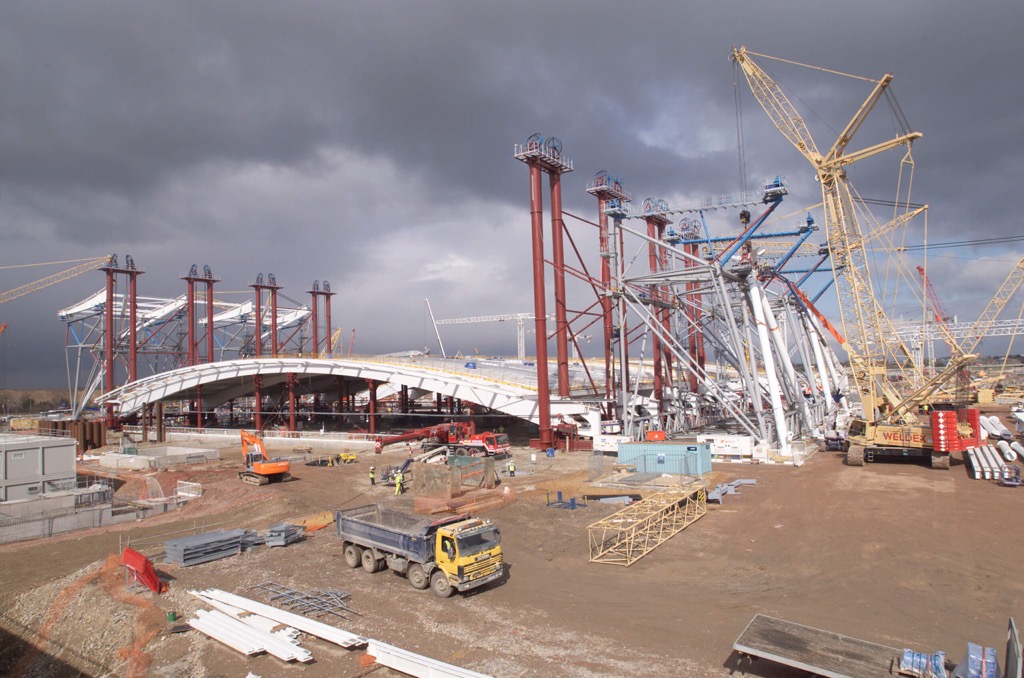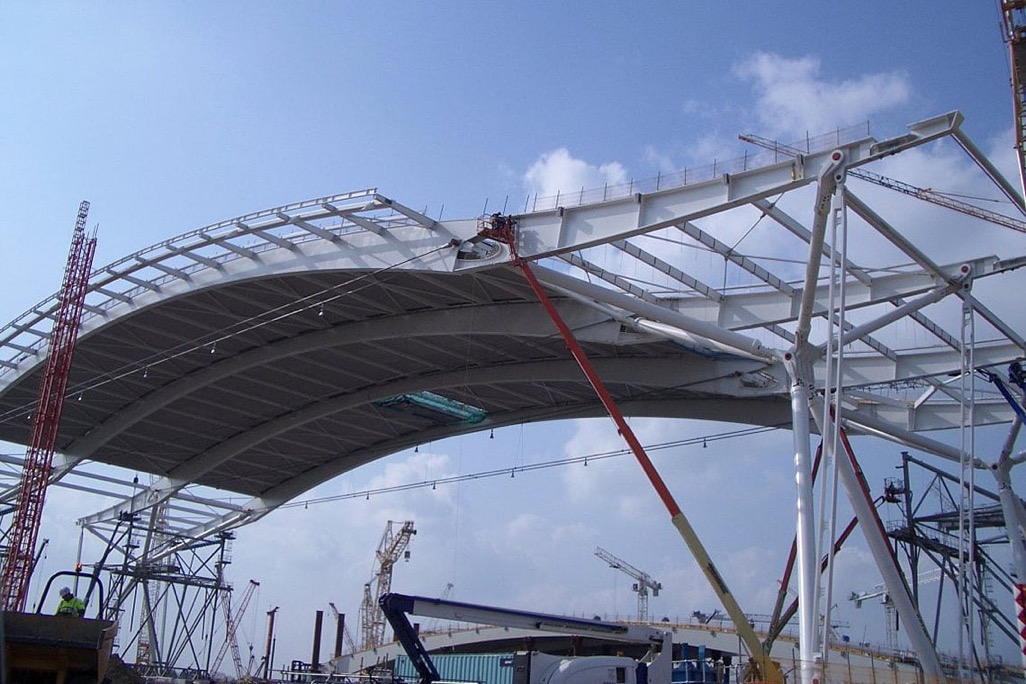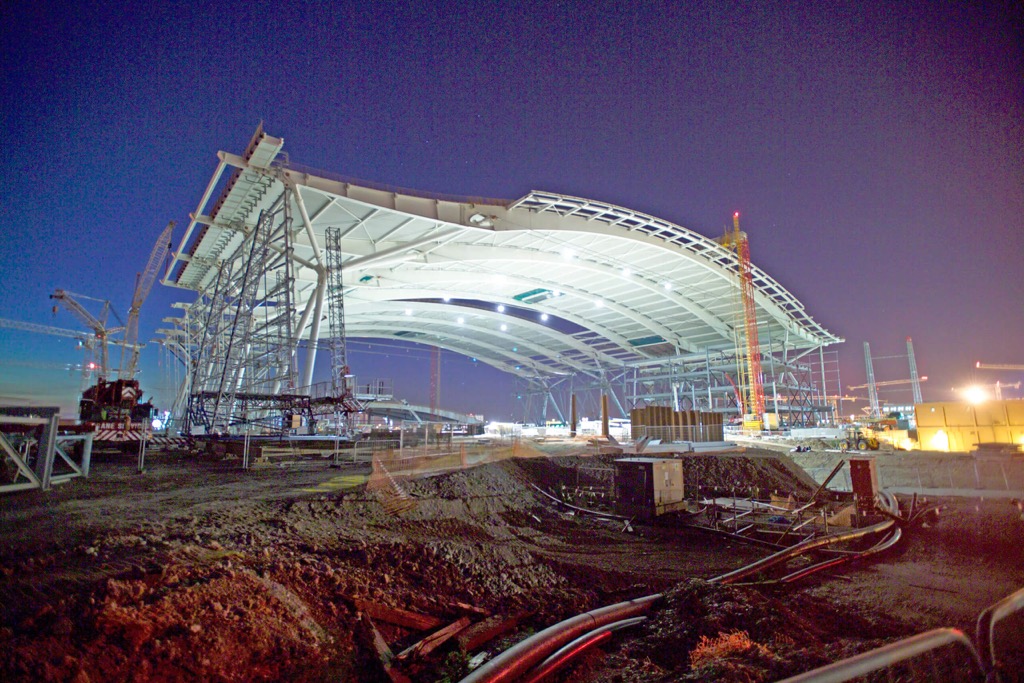 This approach had two additional advantages, firstly the work remained below the airport 43 m radar ceiling for the height of the cranes, and second it reduced the amount of work to be done at heights (reducing risk of accidents). The result was that with the basement slab, roofing and façades, the building became quickly watertight.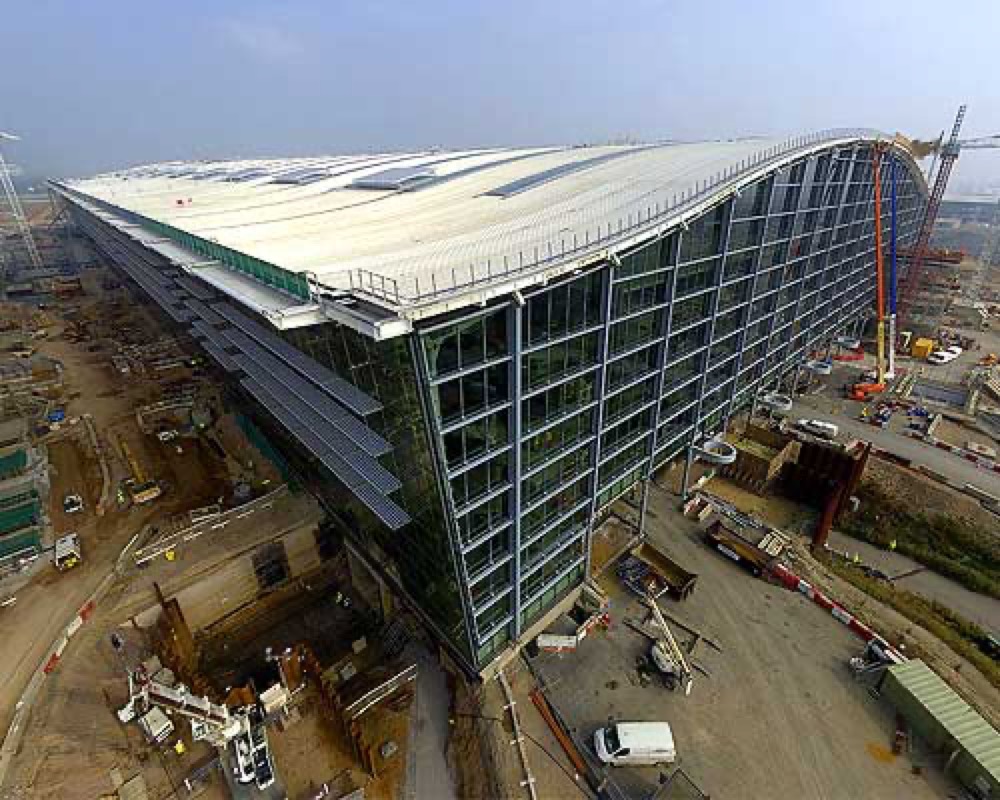 The building was finished off with a façade with very limited visual barriers, and the weight of glass and steel is carried to the apron level by a series of steel props. On the landslide the glass is laminated to resist blast in case of a terrorist attack.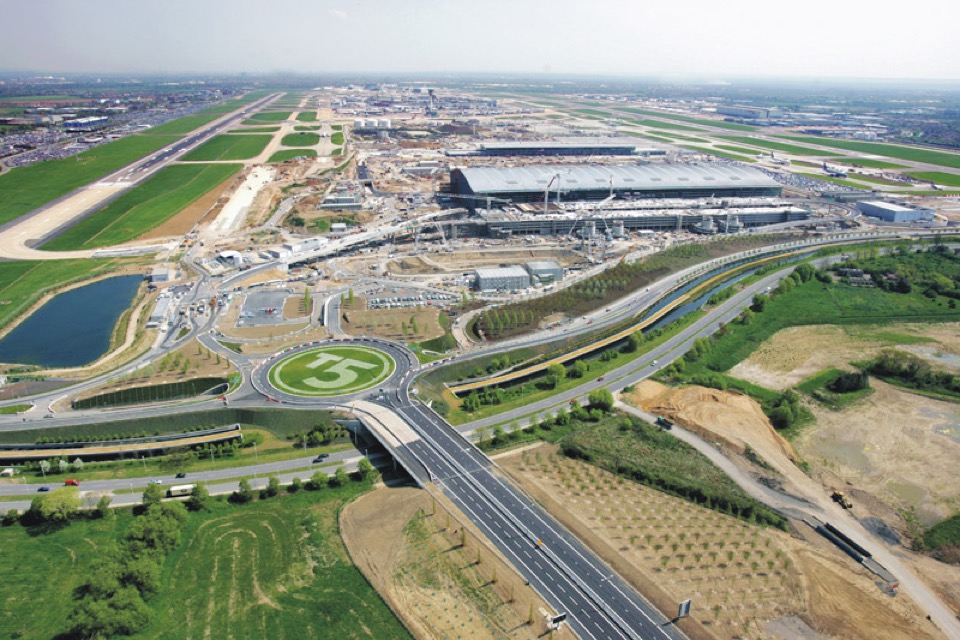 We can see T5 being finished, and that in itself was another mammoth task. Inside T5 there are 96 self-service kiosks, 90 fast bag drops, 54 check-in desks, and 11 baggage reclaim belts that can process 12,000 bags an hour. Then there are 1,500 CCTV camera, 1,100 secure access points, and 55,000 electricity sockets. Connecting all this together there is 2,700 kilometres of electric cables, 700 kilometres of multi-core fibre cable, 3,500 fibre patch panels, and nearly 4,000 kilometres of data cables. The structural components and glass walls were all highly reflective to radio-frequency waves, so installing the WAN and free public wi-fi were non-trivial challenges. In fact a £2 million test facility was built to stress-test all the IT components planned for the building.

If there is one memory I retained from our visit to T5 it was the natural luminosity and the 'whiteness' of it all. All that 'whiteness' is in part thanks to 850,000 litres of fire-retardent paint!